It's hard to believe that Drink Tea & Travel has now been a part of our lives for 6 years.
*This post may contain affiliate links, as a result, we may receive a small commission (at no extra cost to you) on any bookings/purchases you make through the links in this post. As an Amazon Associate, we earn from qualifying purchases. Read our full disclosure
On May 1, 2020, we celebrated the 6th anniversary of our beloved website that over the years has grown from a little side hobby to a professional business with a loyal readership and growing influence.
In celebration of this big milestone, we wanted to take a step back and to recap the journey that we've been on since May 1, 2014. If you ever wondered how this blog came about and how it evolved, read on for all the juicy details.
The Early Days
Drink Tea & Travel technically began back in 2011, when I (Oksana) left her home in Canada to get my Masters at Hult International Business School in London and Shanghai. I set up a Tumblr account called Drink Tea and Travel and promised friends and family to publish a few notes about my experience on the "blog" to keep them updated. It sounded like a great idea, but the pages set empty for that entire year. I was having too much fun living the international student life and had very little time to write about it.
Once in Shanghai, I published a few photos from my travels across China and later from my 2 months trip around South East Asia
In 2012, I finished my Master's and after spending 7 months working in Shanghai, I decided to move to Australia.
The Beginning
When Max and I started living together in Australia, our life was very normal. We were working 9-5 jobs, living a pretty normal life as ex-pats in Australia. On weekends, we would meet up with friends, go out to clubs, go to festivals, take day trips to enjoy the Gold Coast beaches.
But during the week, life was a bit more… boring. Max had a big group of friends in Brisbane, so he spent a lot of his free time doing sports and I spent mine dreaming about our next trip.
Having already traveled quite a bit, we had become a go-to for many friends and family looking for travel advice, so I thought why not start documenting some of our travels to share with others. I signed up for a WordPress.com account and started writing.
I wrote about my personal travels in the UK, Europe, China, South East Asia and our recent trip to India and Sri Lanka.
I started reading about "travel blogging" and even took a course on How to Start Travel Blog. I quickly learned more about the world of travel blogging and realized that this hobby had the potential to become a real business! After all, there were already a number of people who got "paid to travel the world".
So a dream was born…
We realized that if we ever wanted to turn the blog into a serious business, we'd have to treat it like a business from the start. A cheesy blog on a free blogging platform wasn't going to cut it, so over the next few months, Max and I spent all of our free time building the first iteration of DrinkTeaTravel.com. We learned how to build a website using WordPress, how to code CSS, how to set up social media profiles, and so much more!
It took months, but on May 1, 2014, we finally set the website live!
Traveling Soon?

Here is a list of our favourite travel providers and accessories to help get you ready for your upcoming trip!
But once the excitement of the initial launch wore off, we were faced with a new challenge.
How can we keep creating new content if we aren't traveling?
The blogging lessons kept reminding me that publishing consistent content, but with only 4 weeks of vacation per year and a huge $100,000 school debt to pay off, we couldn't really afford to travel a lot.
Australia Travels
Setting the blog live was a big achievement, but our dream of traveling the world was no closer. Despite what many people may think, starting a blog takes a lot of hard work and usually doesn't pay off for the first few years.
We knew that if we wanted to one day quit our jobs to travel the world long term, we'd have to prepare for it. ⁠
First, we had to get rid of our debt (well, it was my debt), but what's mine is yours, right? So we came up with a saving strategy and tightened our finances. According to our math, we needed until mid-2015 to become debt-free. ⁠Waiting for a whole year wasn't ideal, but we knew it was the right thing to do financially.
We longed to explore and needed to travel to create fresh content for the blog, so we turned to our back yard in Australia. At first, the idea of traveling domestically wasn't exciting. It wasn't as sexy as going overseas and visiting more countries.⁠
Luckily, Australia is an incredible destination with so much to see and being based in Brisbane, we had plenty to explore at our doorstep. ⁠
Every weekend, we would visit beaches, towns, or National Parks. We camped, we day tripped, and once in a while, we'd jump on a hot camper van relocation deal to do a cheap road trip. We took advantage of work trips and used long weekends and public holidays to go on longer trips. In early 2015, we took a week-long trip to Tasmania and a 10 days trip to Western Australia. ⁠
We wrote about all of our Australia travels on the blog and by mid-2015, DrinkTeaTravel.com was full of articles with tips and advice on traveling around Australia. ⁠Many of these, would become our cornerstone content for years to come. ⁠
In mid-2015, when the debt was finally paid off, we walked into our respective manager's offices and handed in our resignation letters.
First Big Break
Our announcement about quitting our job to travel the world garnered a lot of responses from our small but loyal blog following. By mid-2015, our articles about Australia had gained some traction and we were starting to see healthy growth in traffic and readership.
Using the blog as a portfolio, I was able to secure a few freelance writing gigs and our website building skills landed us a few small clients. It wasn't a ton of money, but every little bit was going to help us offset our travel costs.
One day, just a few weeks before our departure day, we got a message from a former colleague of Max's who at the time was working for a travel insurance company in Australia. ⁠He saw a post about our travel plans and wanted to know if we'd be interested in partnering with his travel insurance company for this trip. 2 days before we left, we signed our first official branded partnership agreement!⁠
This partnership along with freelance gigs, and bits and bobs of income from the blog, helped us finance our initial 4-month long 10 country trip through Asia and Europe.
A Bump in the Road
2016 was supposed to be the year of great adventures and 5 amazing honeymoons. It was the 2nd year of the blog, but our first full year of being full-time travelers, bloggers and digital nomads.
Our wedding day was an amazing way to ring in 2016! It was a beautiful day that brought together our closest friends and family in Max's backyard in Costa Rica. After the festivities ended, we took a short trip to Nicaragua with a few friends and a much needed R&R trip to explore Costa Rica's Nicoya Peninsula. But our focus was on planning some epic travels in South America – Peru, Colombia, Brazil and Bolivia.
As it turned out, life had other plans in store for us…⁠
It was the end of February and the crowds on the beaches were starting to subside, so naturally, we spent more time enjoying the sun, sand and surf! We'd gone out surfing in Costa Rica a few times before. Max has been surfing since he was a kid, but I was still learning, getting better every time.
In fact, that day felt like my best day ever. I had managed to catch at least 10-15 waves. My last wave was no exception. I felt the wave under my board and was up on my feet riding it within a few seconds. I didn't fall. I didn't get hit by the board. I simply jumped off when the board reached the shore…⁠ It was nothing more than bad luck. A freak accident. My left foot didn't absorb the impact. I fell down and immediately felt an unmistakable crack in my shinbone.
There was no question about what had happened. I could see the outline of bone protruding from under the shin.
I knew that a broken leg was a serious injury, but as we waited for the ambulance to arrive, I kept asking Max: "Will we still be able to hike to Machu Picchu in 4 weeks?" ⁠⠀
Everything Happens for a Reason
Needless to say, we did not make it to Machu Picchu in 2016. Oksana's broken leg changed the course of our travels and our blogging business more than we could have ever predicted.
The accident set us back not only mentally and emotionally, but also financially. Instead of spending our savings on the much-anticipated trip to South America, we were forced to drop $7,000 on surgery. (Life lesson here, friends – don't forget to buy travel insurance, no matter how small or low risk the trip may seem.
Luckily, recovery post-surgery was relatively fast and we were back on the road within a few months, but travel in 2016 just wasn't the same.
We traded active holidays for low key trips that allowed us to explore despite Oksana's physical limitations. ⁠In mid-April, less than 2 months after the accident, we rented an RV and set off on a cross country US road trip.
In May, we took a voluntourism cruise to the Dominican Republic. Cruises have never been our choice of adventure, but due to Oksana's mobility limitations, it was one of the few travel options we had.
Little did we know the tremendous impact that cruise would have on our personal lives and on our travel blogging career. It was on this cruise that we met so many great people and made some life long friendships, had many "aha" moments about our business, and gained a newfound appreciation and drive for our digital nomad lifestyle.
Finding our People
After a slow start of the year, we were keen to cram as much travel into the rest of 2016 as possible.
We explored Costa Rica, spent some time in Canada, took a month-long trip to Cuba, and another month in Brazil, but the highlight of 2016 was our trip to Croatia. ⁠We rented a sailboat and joined our friends, Carey and Demir, who we met on that cruise to the Dominican Republic, for an amazing 2-week sail along the Dalmatian Coast. It was an adventure of epic proportions.
We spent days island hopping, swimming in the Mediterranean Sea, exploring caves, national parks, and getting lost in tiny alleyways of seaside towns. Food was so fresh and sooo good, the weather was great, and life on a sailboat really felt like a dream come true.
In the evenings, we'd crack open a bottle of wine and spend hours talking about our alternative lifestyles. Carey and Demir were fellow entrepreneurs and life hack extraordinaries, they too had recently quit their jobs to live a digital nomad lifestyle.
Having left our jobs behind, our lives were no longer normal and many of our friends found it hard to relate and understand our new norm. We were thrilled to have found another couple who understood the ups and downs of running your own business, spending 24/7 with your partner, and all the complexities that come with a nomadic lifestyle.
We shared tips, exchanged advice and laughed at our misfortunes.
We didn't know it at the time, but that trip became an important catalyst in our lives. Over the next few years, we would go on to build a community of like-minded entrepreneurial couples that we appropriately called the "Power Couples".
Our New Mission
In early 2017, 18 months after we quit our jobs and started traveling full time, we decided that we wanted our travels to have a bigger purpose, a mission that goes beyond just galavanting around the world.
By that point, we had seen the impact that our travels have had not just on us, but also on the planet, on the countries we visit, and on the communities we interact with.
So we made a commitment to pursue a more Sustainable Travel Lifestyle.
… to travel more responsibly – taking nothing but photographs and leaving nothing but footprints.
… to honour our hosts – their local customs, and traditions and connecting with local people in a more meaningful way.
… to reduce our environmental impact – and respect wildlife and their natural habitat.
… to support local economies – by investing our tourist dollars into local businesses.
… to choose eco-friendly suppliers – hotels, tour operators, and partners with existing environmental policies and community projects.
With this new focus on sustainable travel, we approached travel in 2017 from a slightly different perspective, focusing on making responsible eco-conscious choices in every aspect of our travels and making a positive impact on the communities and destinations that we visit.
We had much to learn (and we still do), and every responsible tour that we joined, every sustainable hotel that we stayed at, taught us more and more about the importance of our new mission.
It was a great year for travel! We finally got to Machu Picchu, albeit a year later than planned, travelled extensively throughout South America and visited a total of 20 countries.
⁠It was also a great year for our blog. DrinkTeaTravel.com turned 3 years old, our readership had hit a new high and so had our earnings. We expanded our travel coverage from editorial and photography to videos and worked with a number of partners, tour operators, hotels, and tourism boards.
We had finally figured out this travel blogging thing and were ready for a new challenge…another blog? another business?
But another opportunity knocked on our door…
Our New Project
At the end of 2017, we found out that an old hotel, just a few hundred meters away from Max's family home in Costa Rica, has gone up for sale. The price was attractive, so we met with a realtor for a walkthrough of the property. The place was old, run-down, grimy and unloved, but it had so much potential.
Buying a hotel was never a part of our big plan.
Sure, years of travel and living out of hotel rooms has made us feel like we were experts in the field, but it was far from the truth. And yes, we did at one point talk about building a few simple cabins and putting them up on Airbnb for extra income, but it was mostly, just talk.
But this opportunity seemed too good to pass up. Is this the new business idea we'd been looking for? The opportunity we had been waiting for? ⁠We ran some numbers and decided to put down a low ball offer.
We let the hotel owners sit on the proposal and left Costa Rica for our first-ever trip to Africa. We climbed Mt Kilimanjaro (on Oksana's birthday), went on our first safari, hiked up an active volcano, tracked mountain gorillas, chimps, and much more. ⁠After a few weeks in Africa, we had practically forgotten about the hotel and assumed that the deal was not accepted.
⁠But one day, in early December, we got the scariest and most exciting email of the year. Our offer was accepted.
We were now proud owners of a run-down old hotel in Costa Rica!⁠⠀
From World Travelers to Construction Managers
When we got back to Costa Rica in early 2018 and ran over to inspect our new purchase, we fell into a bit of despair. Our newly purchased hotel looked so much worse than we remembered. It was cracking at the seams and peeling at the sides and needed thousands and thousands of dollars in repairs and many many months of our hard work and dedication.
So we cancelled our travel plans for the first half of 2018, put our travel blogging on a bit of a back burner and threw ourselves into this renovation project.
We had learned so much from our eco-conscious travels in the last year and we couldn't wait to put our learnings into practice. Armed with the best ideas and practices from eco-hotels from around the world, we committed to turning this run-down hotel into a beautiful sustainable eco-lodge that would follow our own eco-conscious principles and lifestyle choices. We called it, the Drift Away Eco Lodge.
We spent months on the ground in Costa Rica working on making our vision a reality. We hired a local construction crew but didn't hesitate to get our hands dirty in every aspect of the job. We picked out every single piece of construction material, designed and outfitted the rooms, built the hotel's website, hired staff and dealt with mounds of paperwork to acquire permits to set up operations.
The renovation took a lot longer than we anticipated, but we finally opened our doors in September 2018 and welcomed our first guests at the hotel shortly after.
In October, we welcomed our first retreat at the hotel, a week-long Power Couples Mastermind, gathering 9 phenomenal entrepreneurial couples, who just like us lived an alternative lifestyle. Hearing their feedback about the hotel was incredibly powerful and gratifying. The place looked AMAZING!
After almost a year of hard work, sweat and some tears, it was incredible to see our vision of an eco-lodge come to life. But living in Costa Rica and running a hotel full time was never our dream, so at the end of that year, we hired full-time managers to oversee the hotel's operations on the ground. It was time for us to get back on the road!
Top 50 Most Sustainable Destinations
After spending the majority of 2018 working on the hotel renovations in Costa Rica, we were eager to get back on the road. To help us narrow down our bucket list, we put together a list of Top 50 Most Sustainable Destinations in the World.
The list would help us guide our travels for the next few years and help us learn about sustainable travel practices around the world. 2019 was the first year on this mission!
We visited Indonesia to dive in Raja Ampat, one of the most biodiverse places in the world. In the first half of the year, we also spent a lot of time in Australia, traveling slowly, spending lots of time with wildlife and in nature and learning from sustainable tour operators. In the second half of the year, we traveled to Africa, focusing our time on South Africa, Botswana, and Namibia, a few of Africa's top destinations with impressive sustainability credentials.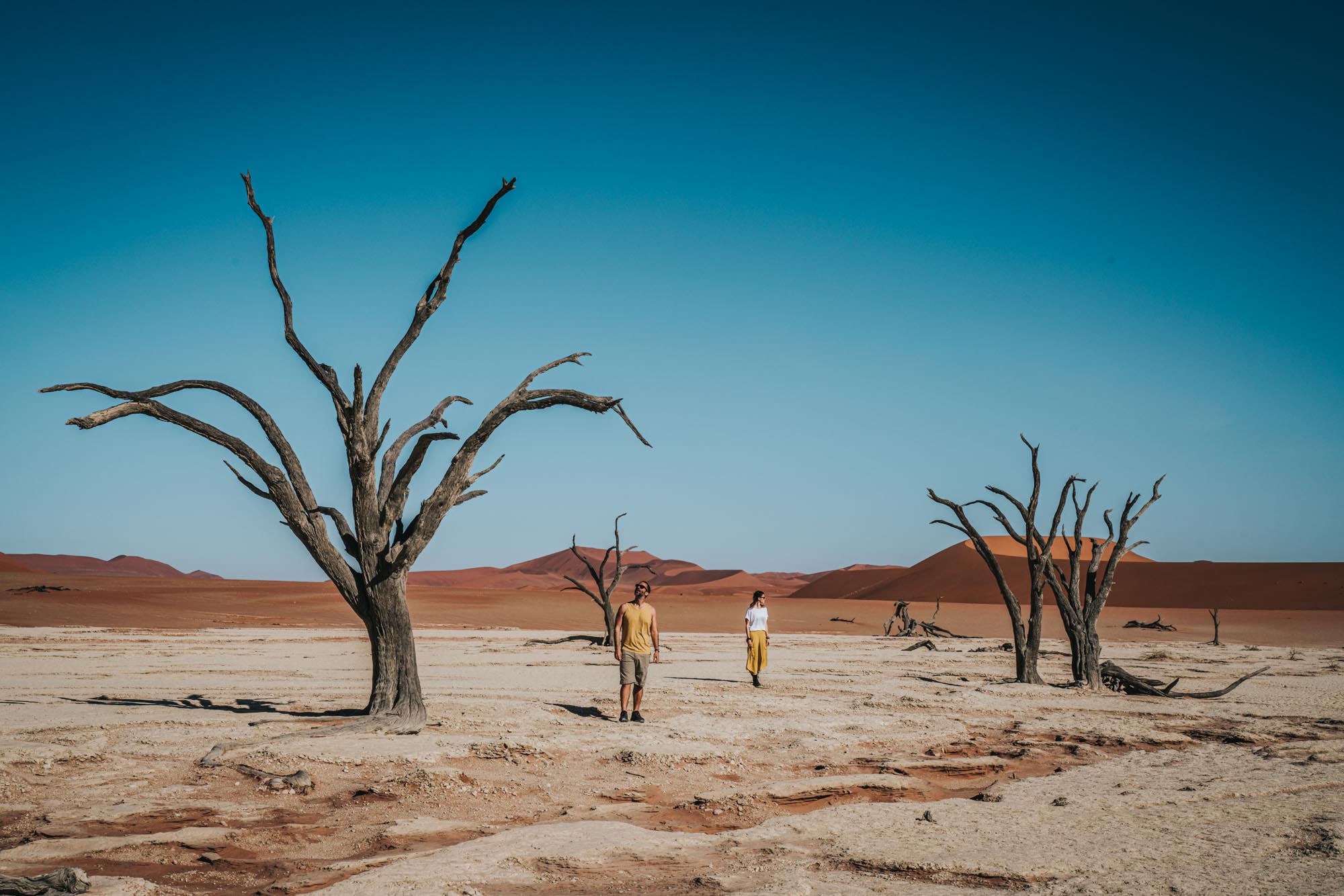 Mid 2019, we started a new Video Series to showcase some of these sustainable destinations and share what we have learned about sustainable travel practices on the ground. In early 2020, this video series won a Silver Medal in the North American Travel Journalist Association Annual Awards.
2020 & Beyond
We were excited to continue our mission to discover and explore the World's Most Sustainable Destinations in 2020, but just as we set off on our trip to Europe, the world became paralyzed with COVID 19.
We are spending our COVID 19 quarantine in Costa Rica but are eagerly awaiting an ok to resume our travels. We have no doubt that we'll be back on the road soon and will continue to explore the world in a sustainable way.
Hope you continue to follow our adventures!
Did you enjoy learning more about the last 6 years of Drink Tea & Travel? We'd love to hear your comments below!