*This post may contain affiliate links, as a result, we may receive a small commission (at no extra cost to you) on any bookings/purchases you make through the links in this post. As an Amazon Associate, I earn from qualifying purchases. Read our full disclosure.
Bolivia has no shortage of impressive sights and natural attractions, but a
mountain biking adventure on Bolivia's Death Road,
located outside of La Paz in the Yungas region, is a trip like no other.
Planning a Trip in the time of COVID?

Keep in mind that information found in this article may have been impacted by travel restrictions and other closures. Double check opening hours, tour providers and hotel status before you go. And don't leave your home without travel insurance! If you are looking for an insurance provider that covers COVID-19, we recommend SafetyWing. Get Medical and Travel Insurance starting at just $40/month and you can sign up even if your trip has already started!
The Death Road (known locally as El Camino de la Muerte or simply Yungas Rd) is considered by many to be one of the most dangerous roads in the world. The narrow 3-meter wide road stretches for over 40 miles with sheer cliffs and very few guard rails. In 2006, it was estimated that over 300 people died on this road every year, yet the danger of the experience is precisely the appeal!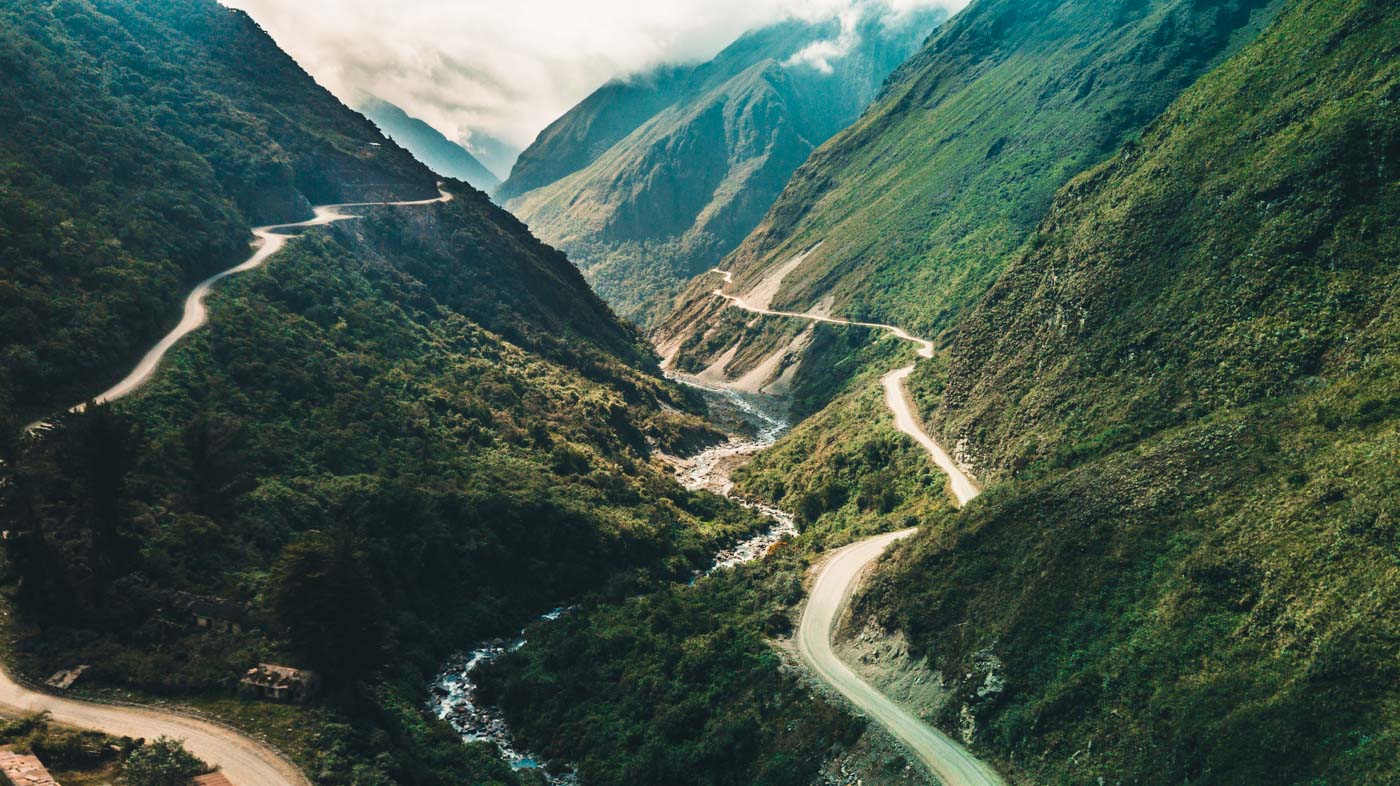 There was no way in hell Oksana was going to join me on this little adventure, so I took it upon myself to take one for the team.
Choosing an Operator for Biking on Death Road in Bolivia
Choosing a reputable operator is the key success factor for any type of trip, but when it comes to Death Road, Bolivia, bikes…then it's even more important! One failed break, one less-than-perfect bike can put you at a serious risk of injury, or worse!
Trip Advisor reviews for Bolivia tours and a few local recommendations helped us select Barracuda Biking as the operator for this trip. Their Certificate of Excellence and hundreds of Excellent reviews made me feel confident that I was in good hands. Seeing their equipment on the day (original Kona bikes, and full suspension with hydraulic disc brakes) confirmed that I'd made a good choice for my adventure on the Death Road, Bolivia.
Biking On the Death Road in Bolivia
Our day started with an early morning meet up in La Paz's Central District. After meeting the guide, Gustavo, and the rest of the riders, we all jumped in the van heading for the Mirador La Cumbre.
Once at the top, we got a serious safety briefing (these guys don't joke about safety), got our gear, tested our brakes, and started our descent on Death Road, La Paz.
The first part of the road was fast but easy, it was paved and gave everyone in the group a chance to get used to the gear and find their own pace. Then after a quick 10km ride back in the truck (the uphill part of the road), the paved road disappeared and we now found ourselves on the narrow Death Road, Bolivia.
We hopped on our bikes and started the ride, passing through some pretty spectacular scenery as we descended into the rainforest. There were plenty of stops and picture ops along the way and while the ride was adrenaline filled experience, thanks to my bike riding experience, I never felt unsafe or like I was pushing my limits or the limits of the bike.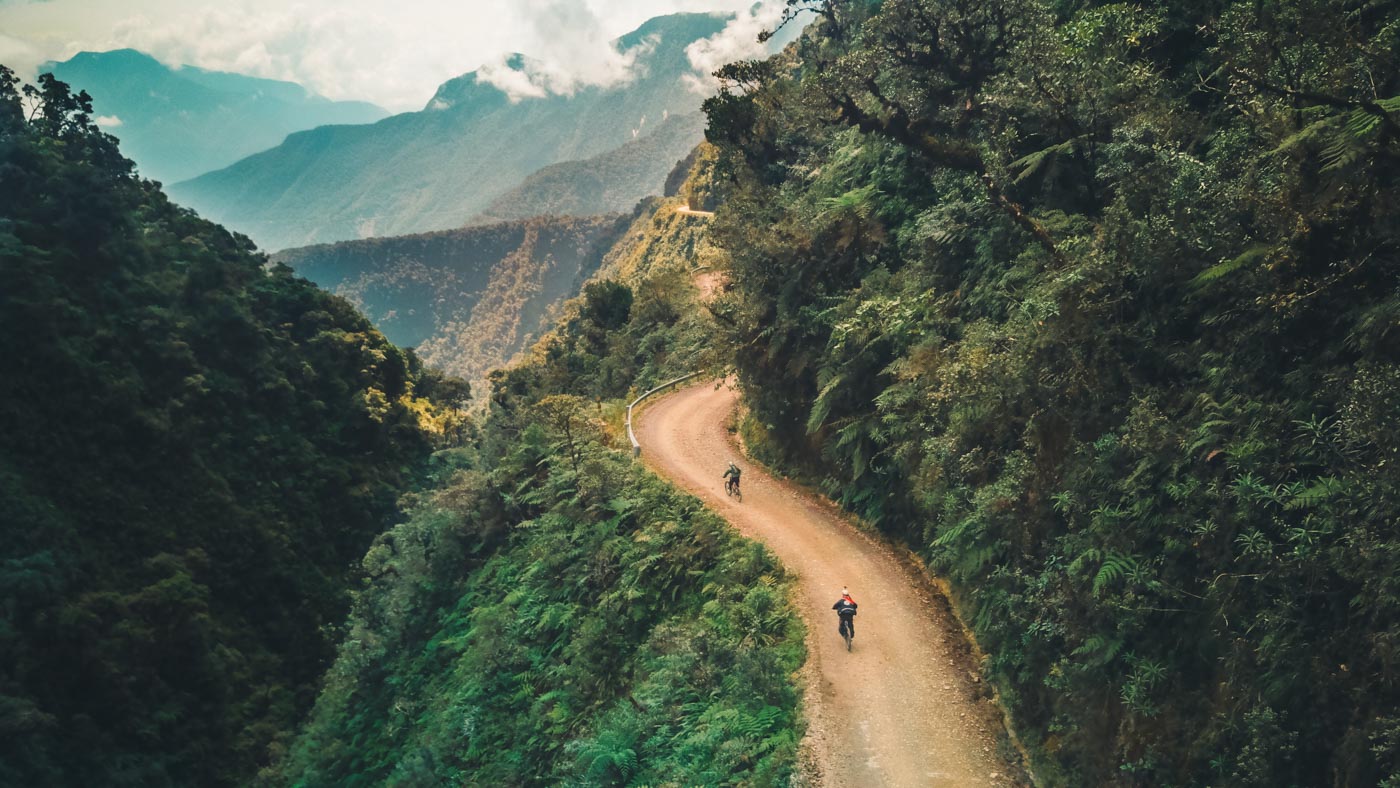 By the time we reached the bottom, we were more than ready for lunch. Biking down the Death Road Bolivia certainly works up an appetite! Luckily a hearty buffet lunch awaited us, along with a dip in the swimming pool, and hot showers. We had about an hour to rest, clean up and get ready for the long bus ride back to La Paz.
The Death Road, Bolivia – Should You Do It?
It was an awesome day and definitely a highlight of my time in Bolivia. If there is one thing I'll note for anyone thinking about conquering the famous Death Road, it's don't hesitate and DO IT. If you go with a reputable operator with good gear (Barracuda Biking was awesome), follow the safety instructions and make sure you aren't pushing your own limits during the ride, you'll enjoy the trip and the spectacular scenery along the Death Road.
If at any point along the way, you find yourself feeling uncomfortable with the road, the bike, or anything else, remember you can stop halfway through, jump into the support vehicle that follows the riders and enjoy the scenery from the safety of the bus.
Essential Travel Info for Conquering the Death Road, Bolivia:
Getting there: Mountain biking trips along the Death Road can be organized from La Paz, where a number of agencies run this Bolivia tour as a day trip (7am-9pm). You don't need to prebook and can sign up for the tour the day before.
Cost: Barracuda Biking offers these Bolivia tours for $90.
Skill Required: To safely conquer the Death Road Bolivia, you must be comfortable riding downhill on a mountain bike. Those that aren't can still experience the road by tagging along in the support vehicle that follows the riders throughout the day.
Disclaimer: Max was a guest of Barracuda Biking on this tour of the Death Road, however all opinions expressed in this article are my own.