Barcelona is a city so exciting and vibrant that you may not ever want to leave. It's packed with awesome things to do, mouth-watering food, and rich history.
*This post may contain affiliate links, as a result, we may receive a small commission (at no extra cost to you) on any bookings/purchases you make through the links in this post. As an Amazon Associate, we earn from qualifying purchases. Read our full disclosure
However, if you find yourself a bit overwhelmed by the crowds and you're looking for an escape, consider escaping the city and taking some Barcelona day trips!
Traveling Soon?

Here is a list of our favourite travel providers and accessories to help get you ready for your upcoming trip!
There are so many gorgeous spots in Catalunya that can be reached easily from Barcelona.
There are historic cities, small villages, and all kinds of nature excursions. Barcelona is a wonderful place, but if you have a chance to visit some of the day trip destinations, don't miss it. We've had the chance to visit quite a few of them, and here are some of our favourites.
The Best Day Trips from Barcelona
Montserrat Monastery/Mountain
Perhaps the most popular day trip from Barcelona is Montserrat, a striking rocky mountain and a monastery of the same name. For the devout, a trip to Montserrat is a pilgrimage and a highly significant religious act.

For the average tourist, the visit is more about the history and the beautiful nature surrounding the area.
You'll be whisked to the top of the mountain in either a cable car or funicular. Once at the top, you'll have the chance to explore the sacred monasteries, the Stations of the Crosswalk, and various steep but rewarding hikes in the area.
Girona
To the north of Barcelona, close to the French border, you'll find the city of Girona. With the population of just 100,000 people, Girona is an easy spot to explore on a day trip.
The best part of the city to explore is the walled Old Town, where you could get lost exploring narrow romantic alleyways. The Old Town looks like something out of a fairytale, with its winding waterways, colourful houses, and cobblestone streets.
The churches in Girona are also some of the most gorgeous in Spain, and you could spend a number of days exploring those alone. The best way to explore the city is by walking and while you can certainly explore on your own, we recommend joining a walking tour so you can learn the most about the city's rich history from a knowledgeable local guide!
Girona is one of our top picks for best day trips from Barcelona, we really enjoyed our time in this lovely city!
Costa Brava
The Costa Brava is the coast of Spain between Barcelona and the French border to the north. The entire coastline is dotted with unbelievable beaches and perfect seaside towns.
If you're looking for some quality sand and surf, then this day trip from Barcelona is for you. We recommend visiting places like Tossa de Mar, Cadaqués, and Llafranc. Make sure to not miss the Cap de Creus, a rocky peninsula that makes a great place for hiking.
Hitting up all these spots in one day maybe a bit of a struggle, so if you are short of time consider joining a tour to get the most of the region.
Horta de Sant Joan
About 2.5 hours southeast of Barcelona, you'll find Horta de Sant Joan, a tiny mountain town full of adventurous corners to explore. The most famous mountainous area is Muntanya de Santa Bàrbara, which is full of exciting hiking trails and epic views.
People also visit Horta de Sant Joan to see the Pablo Picasso Center, where you can learn all about his life and work. Another notable museum is the Eco-Museum of the Natural Park of the Ports, which would interest most environmentally-conscious travelers. In addition, don't leave before attending a local olive tasting.
Tarragona
As one of Catalunya's most stunning port cities, Tarragona has lots to offer visitors. This is one of the best towns to visit on a day trip from Barcelona. Tarragona boasts great weather, pristine beaches, and a charming old town.
While you're there, make sure to visit the town's main attractions like the Tarragona Amphitheatre, the ancient Cathedral, and the National Archaeological Museum.
Figueres
Figueres is a small town to the north of the city. Many take this day trip from Barcelona to see the Dalí Museum, Figueres' claim to fame. In fact, the whole town is crazy about him and his work, since it is the famous artist's birthplace.
Not only does he have a museum dedicated to him, but he also has a theatre in his honour and many other buildings, monuments, and foundations around the city. While in town, be sure to visit the Castell de Sant Ferran, the city's hillside fort.
Parc Natural del Delta de l'Ebre
This unique nature park is about two hours south of Barcelona and offers excellent opportunities for birdwatching. Located on the edge of the Ebro Delta, it's a perfect spot for those who want one of the best day trips from Barcelona that isn't a city trip but rather a natural escape.

Tortosa
Right to the west of the Parc Natural del Delta de l'Ebre is the town of Tortosa, one of the best day trips from Barcelona for so many reasons. Tortosa has gorgeous cathedrals, a towering castle, beautiful public parks, and lush botanical gardens.
There are countless museums for history enthusiasts as well as the Ebro River that runs through the city, where you can walk and enjoy.
Medieval Villages
There are a number of small medieval villages that make awesome Barcelona day trips. Miravet, a small town just to the north of Tortosa, is one great option. Here you'll find huge castles and Roman ruins.
Another great day trip from Barcelona is Tivissa, an even smaller village full of Romanesque buildings and home of one of the oldest settlements on the Iberian Peninsula.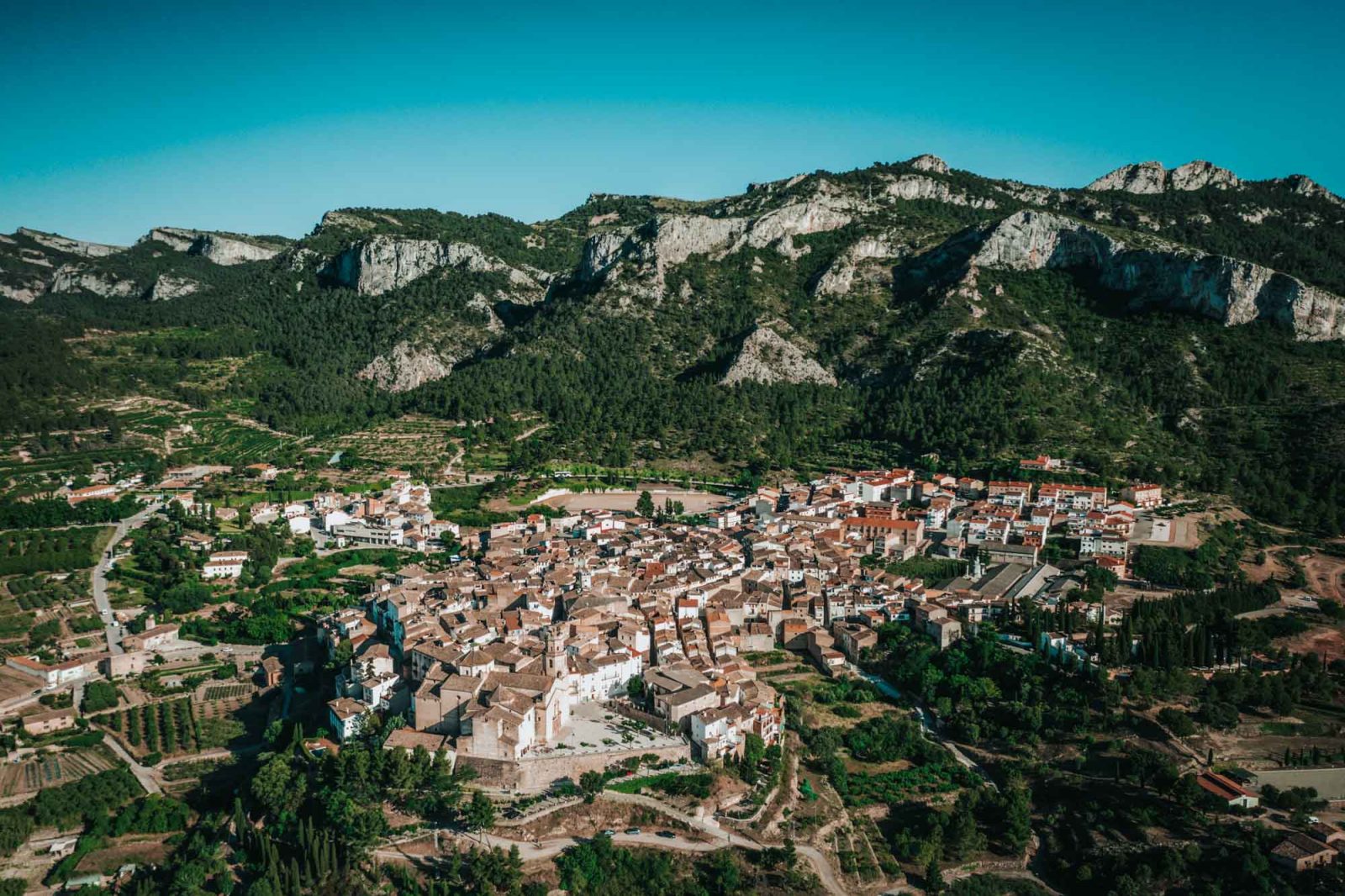 Lastly, consider visiting Sitges, only an hour's train ride south from Barcelona. In Sitges, you can walk through the historic old town, enjoy the beaches, and experience the vibe in one of the world's most LGBTQ+ friendly destinations. In general, if you choose to visit a medieval village in Catalunya, you can't really choose wrong.
If you want to go on some fun day excursions, Barcelona is the perfect home base. There are so many things to see in the region, from sacred churches and monasteries to peaceful nature to rich history and art. With so many options for Barcelona day tips, you'll likely have to visit a few times before you can take them all. Each one of them has something special to offer and each will delight you in different ways.
Have you ever take a day trip from Barcelona? Where would you most like to go?
Disclaimer: This post contains affiliate links which means that we receive a small commission on your bookings at no additional cost to you.