*This post may contain affiliate links, as a result, we may receive a small commission (at no extra cost to you) on any bookings/purchases you make through the links in this post. As an Amazon Associate, I earn from qualifying purchases. Read our full disclosure.
As the heart of an ancient empire, Athens is one place in Greece that everyone wants to visit. From the regal hilltop Acropolis to the Archaeological Museum to the Temple of Zeus, there is enough to see and do here to keep you occupied for days.
Athens is all about history, the city draws crowds eager to see beautiful and ancient landmarks. There are tons of Athens tours that you can take to explore every corner of the city. However, when this all becomes a little overwhelming under the hot sun, consider taking one of the many possible day trips from Athens.
After visiting the Greek capital, most travelers either continue north to Thessaloniki or south to island-hop in the Aegean Sea. While these are both great things to do, far fewer people take day trips from Athens, making it an excellent idea for an escape from the bustling city. Here are a few of our favourite options for these excursions.
The Best Day Trips From Athens
Meteora
Meteora is a massive rock formation on which an incredible collection of six monasteries are built. Originally there were 24 of them, but the six that remain today are enough to give you an idea of what life was like here in ancient times.
The original monks that founded the monasteries came to the area in the 14th century and chose the rocky hilltops as a divine challenge. Today, Meteora is still a holy pilgrimage site for the devout. You can take tours inside the sacred buildings and learn about the daily operations there.
The rock formations themselves are also of great interest to visitors. You can walk around the area yourself, as well as ride on the gondolas that connect one peak to another. Meteora is a great place to do some hiking, although the trails nearby are very steep and advanced, so make sure you come prepared with the right shoes if you plan to hike.
How to get there: Meteora is located 4 hours by car from Athens, which makes for a long day trip, so we recommend visiting Meteora overnight to give yourself lots of time to explore this beautiful area.
Short on Time? Consider traveling to Meteora by train on this customized Day Trip from Athens.
Delphi
If you're interested in ancient history, then Delphi is one of the best Athens day trips for you. This small but remarkable city was once the epicentre of Ancient Greece and is world renown for its archaeological ruins. Today, the site is UNESCO-protected.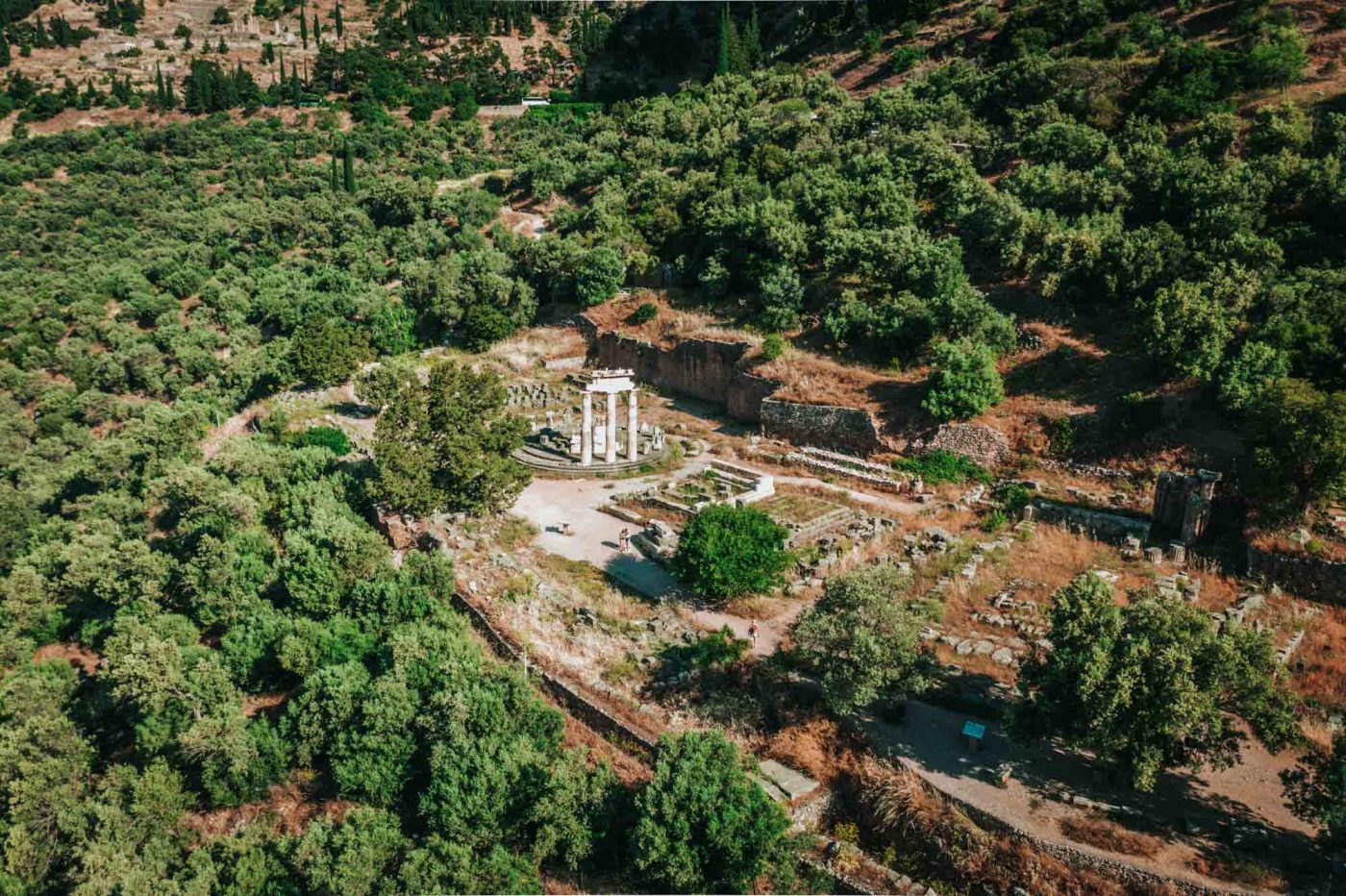 When you're visiting Delphi on one of your Athens day tours, you'll have time to explore some of the fascinating ruins nearby, such as the Temple of Apollo, the Treasuries, Sibyl Rock, and the Theater.
If you have time, there are countless other points of interest that you can visit on the site including a large and comprehensive museum. With your guide, you'll learn the incredible history of this place and how its religious and historical significance has stood the test of time.
How to get there: About two and a half hours to the northwest of Athens, Delphi is easy to reach by car. There are also trains that have routes there as well, although the journey will be much longer.
Short on Time? Consider taking this Delphi day trip from Athens.
Volos
Volos is a charming seaside town to the north of Athens. Tours to Volos are usually private and individualized because the city is not the most popular tourist destination, but those who take Athens day trips here will enjoy the lovely ocean promenade and the comparatively modern but still picturesque cityscape.
Volos is a great place for shopping since it is a major trade port. You'll find all sorts of Greek items for sale here, as well as various international imports. The food in Volos is also particularly well known. For the best food in town, head to Palia. In this old neighbourhood, you'll find local taverns, waterholes, and fun nightlife.
One of the very best things to do in Volos is to visit Mount Pelion, a nearby peak shrouded in myth. Not only will you learn about the legends that surround this place, but you'll also catch the best views of the city from above.
Peloponnese Peninsula
The stunning Peloponnese Peninsula sticks out into the Mediterranean to the southwest of Athens. Like most places in Greece, it is full of mythology and a bit of mystery. This is one of the best day trips from Athens for those who want a little bit of everything: long stretches of perfect coastline, rugged mountains, green valleys, and an incredible food and wine scene.
While visiting the Peloponnese Peninsula on a day tour from Athens, don't try to fit in everything or you'll end up needing more than just one day. A few of the best sites to visit are the Stadium at Olympia, the Vouraikos Gorge, Monemvasia, and Mainalo Mountain.
How to get there: By renting a car and traveling about two and a half hours to the southwest, you'll land approximately in the center of the Peloponnese Peninsula. It's great to have a car to explore this area, as it is quite vast.
Short on Time? Look into taking one of the customized Peloponnese Peninsula day trips from Athens.
Saronic Islands
In the Saronic Gulf to the southwest of Athens, you'll find a collection of picturesque islands called the Saronic Islands. The main islands of the group are Salamis, Aegina, Agistri, and Poros, all wonderful choices for day trips from Athens.
With charming towns, gorgeous beaches, and ancient ruins, the islands are perfect for some rest and relaxation away from the chaos of the big city.
One of the best things you can do on Saronic Islands day tours from Athens is to go on a cruise of all the islands. While you won't get to explore so much of the individual islands themselves, you'll get a taste of each of them while exploring the perfect blue sea in the Saronic Gulf. You'll have plenty of time to swim, sunbathe, and eat some delicious local food while you're at it.
How to get there: To reach the Saronic Islands, you'll need to take a ferry boat from the main port of Athens located just southwest of the city. Depending on the island, the journey will take between two and three hours.
Short on Time? Consider taking one of the Saronic Islands day tours from Athens.
Cape Sounion
On the southern tip of the Attic Peninsula, you'll find Cape Sounion, one of the best day trips from Athens. Best known for it's archaeological preserves, Cape Sounion is a popular destination for both travelers and Athenians alike. Most people come here for the beaches and the beautiful resorts.
One place you can't miss while on Cape Sounion is the Temple of Poseidon, an elegant seaside monument from the Golden Age of Athens. It is built on a cliff peninsula that juts out into the sea at the southernmost point of Cape Sounion, and it's one of the best places in all of Greece to catch a magnificent sunset.
How to get there: To visit Cape Sounion, you'll need to rent a car in Athens and drive down yourself.
Short on Time? Hope on an exciting Cape Sounion sunset tour from Athens instead.
As the country's capital, Athens might be the most popular destination in Greece, but that doesn't mean that any of these smaller Athens day trips are any less worthy of your time. We have personally visited and had a great experience. We'd highly recommend you get outside the metropolis and visit some of the lesser-known gems that Greece has to offer.
Have you visited Athens before? What other destinations are close enough to explore on a day trip from Athens?