Located just 30 minutes south of Australia's Gold Coast, the Currumbin Rock Pools offer an awesome day trip for anyone looking for a unique swimming spot. While many people head to Currumbin Beach on the coast, a mere fifteen-minute drive along Currumbin Creek Road follows the famous creek inland and leads you to the lush Currumbin Valley.
*This post may contain affiliate links, as a result, we may receive a small commission (at no extra cost to you) on any bookings/purchases you make through the links in this post. As an Amazon Associate, we earn from qualifying purchases. Read our full disclosure
The Currumbin waterfall and natural pools are a lovely destination ideal for nature lovers, both locals and tourists alike.
This used to be one of our favourite spots to visit on weekends when we lived on the Gold Coast many years ago. We spent many fun days on the river, enjoying good weather, refreshing pools, and good company.
Over the years, the Currumbin Valley Rock Pools have gained a lot of popularity, with more and more people, locals and tourists, heading to the pools every day.
To help you make the most of your visit, we put together this useful guide with the latest info on how to plan and what to expect at Currumbin Rock Pools!
So, without further ado, let's jump right into it!
Traveling Soon?

Here is a list of our favourite travel providers and accessories to help get you ready for your upcoming trip!
About the Currumbin Valley
The Currumbin Valley is a nearly 100 km² (62 miles²) area of natural land in southeast Queensland, Australia. Settled in the 1840s, this region was mostly used for farming before opening up to tourism. Nowadays, many people visit the national parks, an extensive network of golf courses, and of course, the Currumbin Rock Pools.
This collection of pools is found along Currumbin Creek, the waterway that runs through the entire Currumbin Valley. Large boulders and slippery rocks can be found surrounding the pools in the river. The water flows through them, creating a mild current. These natural swimming pools have become the most popular tourist attraction in the lush Currumbin Valley.
Directions to Currumbin Rock Pools
The Currumbin Rock Pools are quite easy to get to by car. If you're coming from the Gold Coast, you'll need to take State Route 3 and the Tallebudgera Connection Road, both heading south. From there, pick up the State Route 98 heading southwest to lead you to the Currumbin Valley. The ride will take about 35 minutes. If you're leaving from Currumbin, you'll only have to drive about 15 minutes along State Route 98.
One thing to note is that when you approach the pools, the signage is not the best. When you're driving along Currumbin Creek Road, make sure to keep a sharp eye out for the signs that let you know you're there.
Driving is the only way to reach the natural pools, so you'll need to rent a car in order to get to Currumbin's little treasure.
Best Time to Visit
The Gold Coast generally sees good weather all year round. The months of April to June get the most sun, but a trip to this secret swimming hole is worth taking any other time.
The pools are open 24 hours, but it's best to go between mid-morning to mid-afternoon. That way, you can catch the sun at its peak and take a refreshing dip in the pools. Keep in mind that if you go too early in the morning or a little later in the afternoon, the water temperature may be too cold to swim in.
Arriving at the Currumbin Rock Pools
To visit the pools, navigate yourself to the Currumbin Valley Rock Pools, following the directions mentioned earlier in the article. Parking is fairly limited at the pools, so the earlier you go, the better. If the dedicated car park spaces are full, you can also parallel park along Currumbin Creek Road.
The natural pools are located right by the car park, and a pebbled pathway guides guests down to the water. There's also ramp access to accommodate those with reduced mobility.
While exploring the pools, you can walk around barefoot or wear suitable shoes with good grip to help you navigate the slippery rocks. On the other side of the creek is a wide expanse of grass, with some parts covered by tall trees, which also makes for an ideal rest spot.
Swimming in the Currumbin Rock Pools
Currumbin Rock Pools is a suitable swimming spot for all ages and abilities. The water, although flowing, is generally calm. There are a few rapids along the river, as well as a small Currumbin waterfall.
Kids and dogs (who must be leashed!) will have fun splashing around on the shallow spots. Meanwhile, thrill seekers who want to swim deep can head to the smaller rapids closer to the rocks. Since the water in the pools comes directly from the mountain spring, you can expect it to be quite cold.
Unfortunately, jumping into the water is no longer recommended. This was announced in 2018 following a tragic accident.
Now, there are signs in place to warn visitors of the risk. There are no lifeguards in the area, and the pool depths vary in some spots, so make sure to be careful while you swim.
Amenities & Facilities
Most of the amenities you'll need here are provided by nature. There are tall trees all around to shield you from the sun, and the wide space surrounding Currumbin Creek is perfect for picnics, a game of frisbee, or cooling off after a swim.
Bring along snacks and cold drinks and enjoy a picnic. There are picnic tables, picnic shelters, and BBQ facilities at the site that everyone is free to use. Another option is to grab a bite at the nearby Currumbin Valley Rock Pool Café.
A public toilet is also available at the Cougal Cascades car park. There's a toilet block with wheelchair-accessible toilets for everyone's convenience, though we recommend bringing your own toilet paper to be safe.
Tips & Other Considerations
The Currumbin Valley can get crowded during the peak tourist season as it is a favourite spot for travelers, locals, and families with kids. Go early in the morning to beat the crowds!
During or after a storm, water levels can rise quickly here. Always check the local weather forecast and warnings before you go.
The water can feel icy cold at times. Come prepared with a fuzzy towel to keep you warm after you swim.
What to Pack
Make sure not to forget a swimsuit, sunscreen, a hat, a towel, and bug spray. It is also a fantastic idea to bring water shoes. The rocks can get quite slippery, and the rubber soles will help keep you from falling while climbing on them. If you want to have a picnic while you're there, make sure to pack your own food as well.
Don't Pack: Leave your paddleboards, kayaks, and canoes at home, as the river cannot accommodate such activities. Inflatables are allowed but keep in mind that a large number of them in a small space can make the experience unenjoyable for many. For this reason, we'd recommend leaving those at home too.
Tips for Responsible Visit
As with any visit to a natural area, it is your responsibility to minimize your carbon footprint as much as you can.
Practice the principles of Leave No Trace and make sure to clean up after yourself, especially if you packed your own picnic lunch. Make use of the available toilets and trash cans, only throwing away what you can't recycle.
If need be, drop off your waste at the Currumbin Valley Waste and Recycling Centre on your way out. By making your trip to the Currumbin Valley Rock Pools as sustainable as possible, you're protecting the surrounding environment and preserving the pools for future generations to enjoy.
Where to Stay near Currumbin Rock Pools
Currumbin Rainforest Treehouse – You'll find this private treehouse tucked away in Currumbin Valley. Surrounded by exotic flora and fauna and built with natural materials, the forest views and cozy ambiance are tough to beat. Imagine getting a glimpse of the rainforest while taking a shower or even cooking something in the kitchen! Note that they are a vegetarian establishment, and no meat is allowed on the property.
Bay of Palms – A peaceful resort with a great lake view, this property keeps you close to the airport, shopping centres, and other local attractions. It comes with a solar-heated outdoor swimming pool, a spa pool, a game room, a bar/lounge, and a barbecue area. If you want to learn more about the surrounding ecosystems, heritage, and culture, the concierge is also able to give great suggestions for local tours and activities.
Nearby Activities
The surrounding area is generally flat and grassy. It's the perfect place to have a picnic or play a ball game after taking a dip in the pools. In particular, Long Tan Park is a great spot for these activities.
If you're interested in seeing even more than the immediate area, there are a couple of great options.
Springbrook National Park
Springbrook National Park is a beautiful national park to the west of the Currumbin Valley Rock Pools, just five minutes along the Currumbin Creek Road. Best known for its natural bridge and glow worm caves, it's a must-see when in the Gold Coast.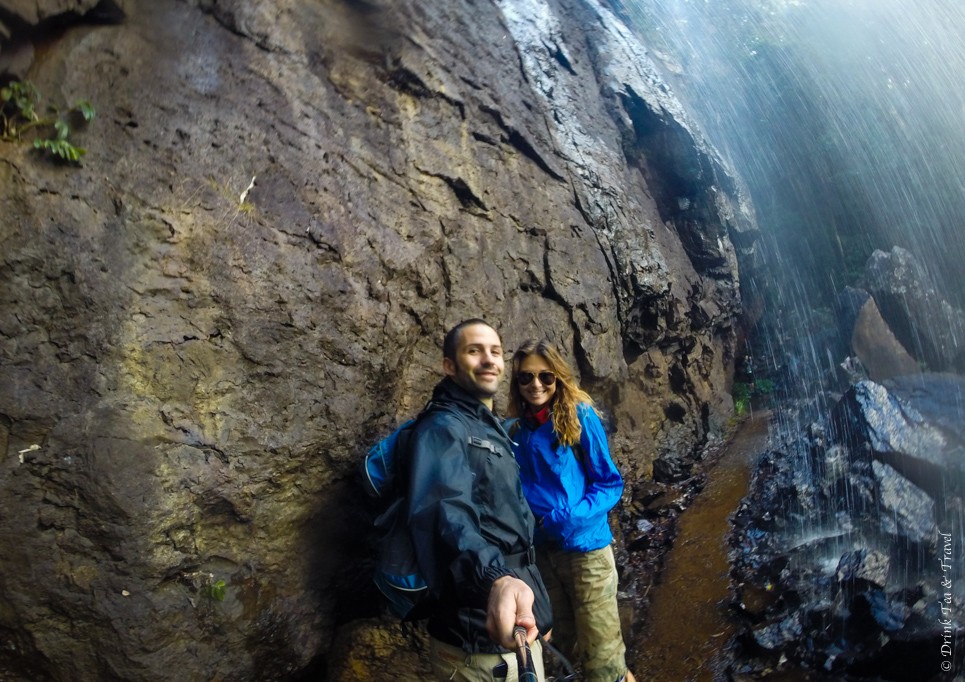 Mount Cougal And The Cougal Cascades
If you're looking for an easy addition to your day at the Currumbin Rock Pools, the Mount Cougal section is a perfect choice, and it's only a ten-minute drive west. Here, you can take advantage of their easy hiking trails that lead to cascading waterfalls, rock pools, and a historic bush sawmill.
In the Currumbin Valley, rivers and creeks dotted with waterfalls are the norm, and the Mount Cougal area is no exception. One big highlight is the Cougal Cascades, a set of lovely cascading waterfalls in the forest. In the center of the park, you can also walk up to the top of Mount Cougal for some stunning views of Currumbin Valley.
Camp Eden
If you're in the mood to do something health-conscious, head to Camp Eden, a health resort that's only a few minutes away. Book a room for the night, or try out the saunas, heated pools, and extensive spa treatments available.
If you're on the Gold Coast and looking for an alternative day trip, we highly recommend the Currumbin Rock Pools!