*This post may contain affiliate links, as a result, we may receive a small commission (at no extra cost to you) on any bookings/purchases you make through the links in this post. As an Amazon Associate, I earn from qualifying purchases. Read our full disclosure.
Aveiro is a beautiful city — dubbed the Portuguese Venice due to its river canals that spread right in its heart. This small city is beautifully balanced — modern buildings live side-by-side with traditional architecture.
In the sizzling center of the city, where traditional commerce still strives, the river runs through 4 main canals and soon opens up as it reaches lagoons before leading away to the local beaches.
Aveiro has always made its name through the handmade pinewood boats that float around the canals — tourists fill these boats called moliceiros and in each ride, the owner of the boat goes through many jokes and stories about the city. Usually, the captain is very interactive with his passengers and people appreciating the scenery, pressing the loud horn as a way of saying hi to another moliceiro or to the on-lookers sitting by the canal. The tourists in this boat are greeted by the local people with the wave of a hand — it's a ride full of stories and scenarios no one imagined possible inside a modern city.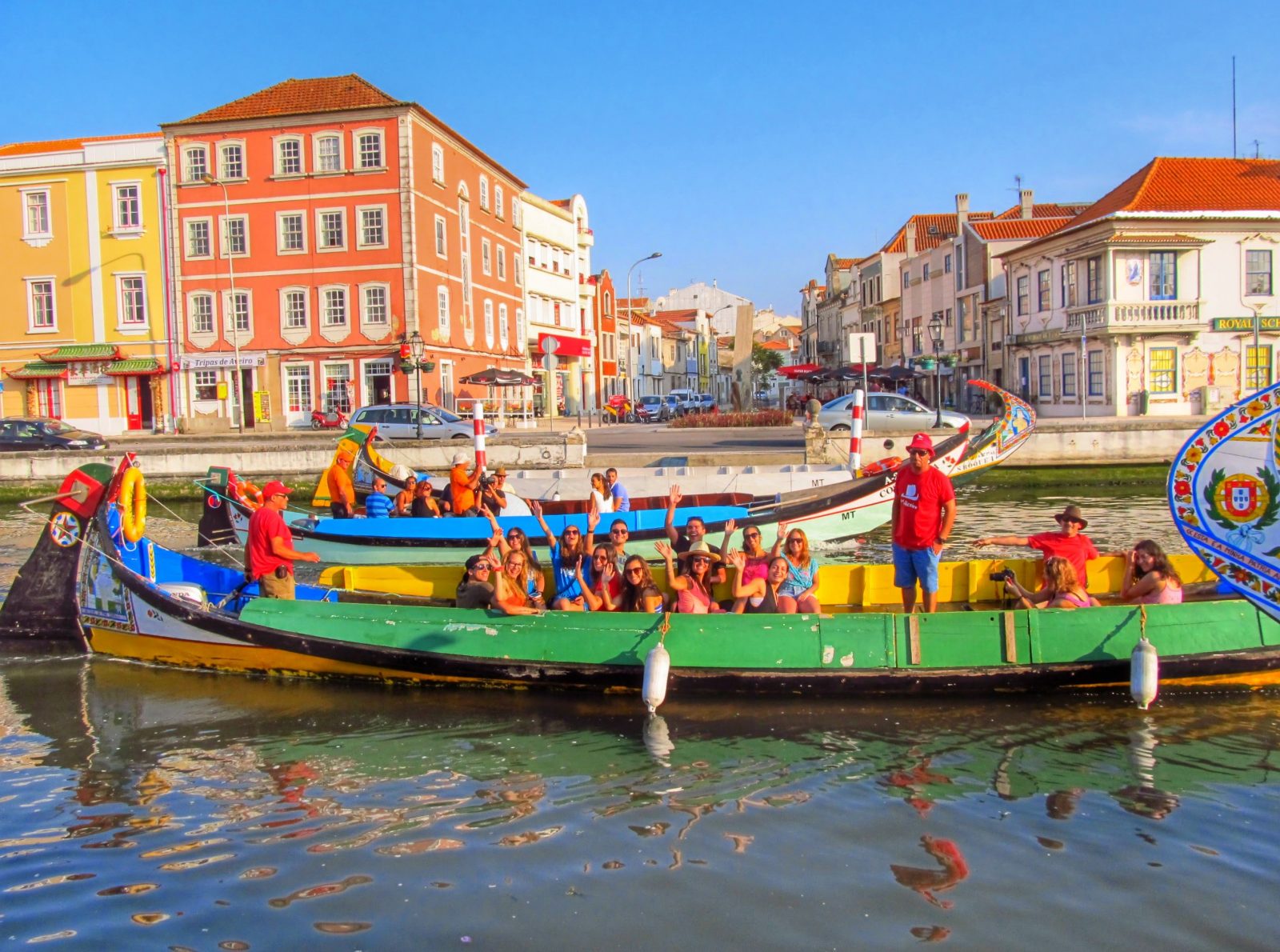 The moliceiros are the ex-libris of Aveiro and are famously known by their paintings on the outside of the bow. These boats have a long history, going back centuries — of men building them to go catch moliços, a water plant that would supply the small markets.
Rooted in these, there is a long-standing tradition that Aveiro has always protected — the artwork of the moliceiros.Most people from outside won't understand its importance because they can't read the Portuguese captions below the painting — the pun is in these.
These illustrations were made by the owners of each boat or by local painters that worked on more than one bow. The artwork presents itself as Naïve art — full of basic colours, badly drawn human figures and distorted perspectives. But that is not all. They all have something special and definitely unique — the theme of each painting and its caption (every artwork has one) are always touching the inappropriate with sexual connotations. The drawings are mainly of men appreciating women's bodies, accompanied by a quote written purposefully in broken Portuguese that hints at rude, naughty innuendos.
The fact is, most tourists don't even get to appreciate this long tradition because this story is only known by those who live in Aveiro. Even if you understand Portuguese you'll have to look at a rude scenario painted by hand and sometimes it doesn't make sense or looks too offensive until you read the caption below.
Aveiro fiercely protects this centuries-old tradition and every once in a while you'll see someone retouching the boat artwork. It's a fun oddity about the city that you shouldn't miss so here you have a few examples of bow paintings and their captions (notice that the translation is in broken English, like the original Portuguese).
Pay a visit to Aveiro and have fun figuring out the jokes! (And grab a bite of their Ovos Moles, a sugary delicacy you won't find anywhere else!)
Cultural Close-ups is a series of photographs and stories from around the world that go beyond the pretty sights and famous attractions.

This Cultural Close-Up was contributed by Jane Grates, writer, amateur twitter specialist, proud bacon practitioner, travelaholic and hardcore entrepreneur. Jane is from Copenhagen, Denmark. When not travelling or running, she spends most of her time managing Nicershoes.com.

Like this post? Pin it for later!