This post was first published in 2016 but has been updated in 2019 with the most recent information on Cuba travel tips.
These days visiting Cuba seems to be a hot item on many travelers' bucket lists. Inspired by the buzz surrounding Cuba, we couldn't pass up the opportunity to visit Cuba, and after spending 3.5 weeks there, we certainly feel like we've learned a thing or two about the country.
*This post may contain affiliate links, as a result, we may receive a small commission (at no extra cost to you) on any bookings/purchases you make through the links in this post. As an Amazon Associate, we earn from qualifying purchases. Read our full disclosure
It's a great country to explore, but even experienced travelers will attest to how different Cuba travel is compared to other countries.
If you are planning on visiting Cuba, here are a few Cuba travel tips you need to know before you go!
Learn Some Spanish Before You Go
Professional tour guides and those working in the tourism industry will have some knowledge of English, but for the most part, locals outside of resorts speak no English at all.
Luckily, Spanish is easy to learn and being able to speak it gives you a serious leg up when visiting Cuba. Speaking even a little bit of Spanish will give you bargaining power for tours, activities, and shopping. It'll also help you get an insight into Cuban customs and learn more about the history, culture, and local ways of living. Being able to converse, even a little, will help you gain even more Cuba travel tips from the locals.
Bring a Power Converter for Your Electronics
Power outlets in Cuba range between 110V- 220V. Some cities/areas have only 110V sockets while others have 220V.
Phone chargers, laptops, and most other modern electronics should work just fine, but some hair dryers, hair straighteners, head buzzers, older video camera chargers, etc. might need a converter, which you should buy ahead of your Cuban trip.
Learn the Difference Between CUC and CUP
When visiting Cuba, you'll soon learn that here, cash is king. Credit cards are rarely accepted and ATMs are hard to come by.
So if you want to avoid money problems on your Cuban trip, bring enough cash with you to last you the entire trip. Canadian Dollars, British Pounds, and Euros are the best. US Dollars can be converted but they incur a 10% exchange fee/premium. Australian Dollars are not widely accepted.
It's important to note that Cuba operates a dual currency economy. Traditionally, CUC (Cuban Convertible Pesos – bills with buildings on them) has been the designated currency for Cuba tourists while CUP (Cuban National Pesos or Moneda Nacional – bills with people on them) was the currency used solely by locals.
Today, however, both currencies circulate freely in the market (1 CUC = 26.5 CUP) and are used by both locals and Cuba tourists.
The CUC exchange rate is pegged to the American Dollar and all goods and services for Cuba tourists are quoted in CUC prices. However, it is possible to exchange your CUCs into CUPs and enjoy the low prices of the local shops (hole in the wall restaurants), produce markets/fruit & veggie carts, transport (horse and buggy rides), and some services.
Don't Forget to Pack the Essentials
Unfortunately, Cuba is not one of those countries where you can buy anything you might have forgotten at home, so take the time to think about your packing list before your Cuba visit.
Things like shampoo, conditioner, and sunscreen are expensive and hard to find. Bathing suits and any other clothing items are pretty much non-existent outside of all-inclusive resorts.
Getting Around Cuba is Not Easy
Options for getting around Cuba are still quite limited. Viazul is the most popular of only 2 bus companies offering transportation around Cuba to tourists (a few others like Omnibus are reserved strictly for Cuban nationals).
Viazul bus network connects all major cities and towns in Cuba you may want to visit during your time here, but Viazul bus tickets are expensive and very limited, however, you can pre-purchase bus tickets online well in advance of your trip to Cuba.
Online ticket sales close 1 week prior to departure date, but generally speaking, you can still buy tickets for a few days ahead at the Viazul bus stations in every town.
One of the most important Cuba travel tips, especially for those that like to leave things to the last minute – rocking up to the bus stop an hour before departure without a ticket is not recommended!
You can't buy tickets for the bus a few hours before departure. Instead, all travelers without tickets are added to the waiting list and rely on no-shows for their ticket. (All passengers with tickets have to check-in for the bus 30 mins prior to departure. It is at that point that the Viazul staff determine how many extra seats there might be available for those on the waiting list).
Stay With Locals at Casa Particulares
To save on accommodation and enjoy a more authentic travel experience, stay in Casa Particulares (licensed Bed & Breakfasts).
Rates at Casa Particulares are $20-25 USD/night in most cities in Cuba and $35 USD/night in popular places tourist destinations like Havana and Varadero. Most Casas offer guests a private double room, often with a separate toilet, hot water, AC, and sometimes even a fridge and a small kitchen/living room space.
Casas hosts will almost always offer breakfast for $3-5 USD per person and some also offer dinner for $7-10 USD per person.
Amazing coconut fish dinner at our Casa Particular in BaracoaMost Casas are simply extra rooms in people's homes, so don't expect the same amenities and services as you would find in hotels. Casas that offer more than 1-2 rooms are called Hostals (not to be confused with Hostels, that offer a typical dorm room setting). Outside of 1-2 proper hostels in Havana, you won't find typical backpacker hostels anywhere in Cuba.
At the end of your stay, ask your host to recommend a Casa for the next city you are traveling to and enjoy not having to worry about finding accommodation upon arrival. Your new Casa address will most likely be given to you on a piece of paper.
Keep in mind that most addresses in Cuba indicate both the street on which the building is found and the two streets which it is between. For example, the address of a building on Lamparilla Street between the streets Habana and Aguiar would be written Lamparilla e/ (or %) Habana y Aguiar (e/ being an abbreviation of entre, (meaning between).
Eat in Paladars or in Your Casa
If our experience is any indication, the best food in Cuba is the one you are served in Casas or in small family run restaurants called Paladars. Eating at your Casa is not only a great way to try all the local at a reasonable price ($3-5 USD for breakfast, $7-10 USD for dinner), but also a good way to give back to the locals.
We did try a few state-run restaurants during our Cuba trip and were almost always disappointed with the food.
Don't Expect Reliable Internet
Yes, the rumours are true. There is no free Internet in Cuba. You won't find it in hotels, restaurants, or anywhere else for that matter. To access the Internet in Cuba, you'll need to purchase an ETESCA Internet card (that gives you a unique username and password) and find one of the public wi-fi hot-spots (there is at least 1 in every city) to get online.
Internet cards come in 2 and 5-hour denominations, cost 2CUC/hour, and can be purchased from the ETESCA offices across the country (be prepared as the lines are always long). If getting online is important to you while you are visiting Cuba, we recommend stocking up. You are allowed to buy 3 cards per person (bring your passport).
Download Maps.Me Before You Go
Perhaps one of our most important Cuba travel tips is to download Maps.Me before you go!
Without the Internet, accessing Google Maps and navigating cities around Cuba can be very difficult. But you don't have to rely on paper maps either. Download a mobile app called Maps.Me and download an offline map of Cuba to use during your time in the country.
You'll be able to use Maps.me's navigation to get you from point A to Point B, search the map for your Casa locations (a lot of them are marked on the map) and even find restaurants, bars, and supermarkets in any city on your Cuba trip.
WHAT TO TAKE TO CUBA
As we said before, certain items are hard to get in Cuba. For this reason it's better to pack in advance and decide what you will need on your trip. Here are some of the items you might consider:
Health insurance – is mandatory for everyone who is visiting Cuba
Photocopies of all documents – you might need them depending on where you go
Plenty of cash – most transactions in Cuba are conducted with cash
Spanish-English phrasebook or dictionary – If you don't speak Spanish, you might consider bringing along a pocket book with some Spanish words and phrases.
Mosquito repellant – Cuba is a subtropical country and has many mosquitos that come out in force during the rainy season.
Toiletries and Medicine – are not easily found in Cuba, so bring enough for the duration of your trip.
Service in Cuba is Terrible
The majority of service transactions you will experience during your vacation to Cuba will be with people working in state institutions like state restaurants, hotels, tour companies, and so on.
Unfortunately, these folks are far from being happy in their jobs. Expect seeing grumpy faces and feeling like you are bothering your waiter or tour desk operator. Anyone that works in a state-run business hates their life and their attitude reflects this. They get paid $20 a month, can you really blame them?
Tipping in Cuba
There are a few things you need to know about tipping in Cuba. Drivers and tour guides in Cuba often depend on tips, so gratuities are highly appreciated. Same applies to waiters and hotel porters whose wages are often not high enough. Tipping between 10-15 percent of the total bill should do the job.
What to Buy in Cuba
While certain items are hard or impossible to find in Cuba, others are exclusive to the country. If you are visiting Cuba, there are some items that make perfect presents and souvenirs.
Among some of the most popular items that Cuban travelers often purchase are rum and cigars. However, if you would like to purchase something aside from those traditional staples, consider purchasing Cuban stamps or coins; license plates or Ernesto Che Guevara's beret which can be found at several markets throughout Havana such as Havana Craft & Souvenir Market, SUPERMERCADO 70 and MERCADO CUBALSE.
What Not to Bring to Cuba
Before you are allowed to enter Cuba, you will have to pass the baggage inspection where Cuban customs officials will inspect the contents of your suitcase and other luggage. All of your luggage will be scanned and checked thoroughly, so if something stands out, expect a question. If you don't want to get stopped before you enter Cuba, consider avoid putting certain items in your suitcase.
Drones are unfortunately not allowed in the country. If you want to enjoy scenic views, make sure to find a good rooftop instead.
Adult materials of any sort are not allowed in Cuba, so if authorities find it in your suitcase, it will be frowned upon.
Materials that are critical of the Cuban government. This goes without saying. Cuban officials won't be amused if they find out that you are carrying books, magazines or any other literature that is critical of their government.
Be Prepared for Disruptions in Your Cuba Travel Plans
Cuba travel is not for the lighthearted or the inexperienced. Lack of easily accessible Internet makes everything just a little more difficult. And it doesn't help that things in Cuba often just don't work the way they are supposed to.
Buses are frequently sold out, casa reservations aren't honoured, recommended restaurants end up being closed, ATMs are broken down, and so on. One of the most important Cuba travel tips we can share is to bring some patience on your trip to Cuba and the ability to just go with the flow!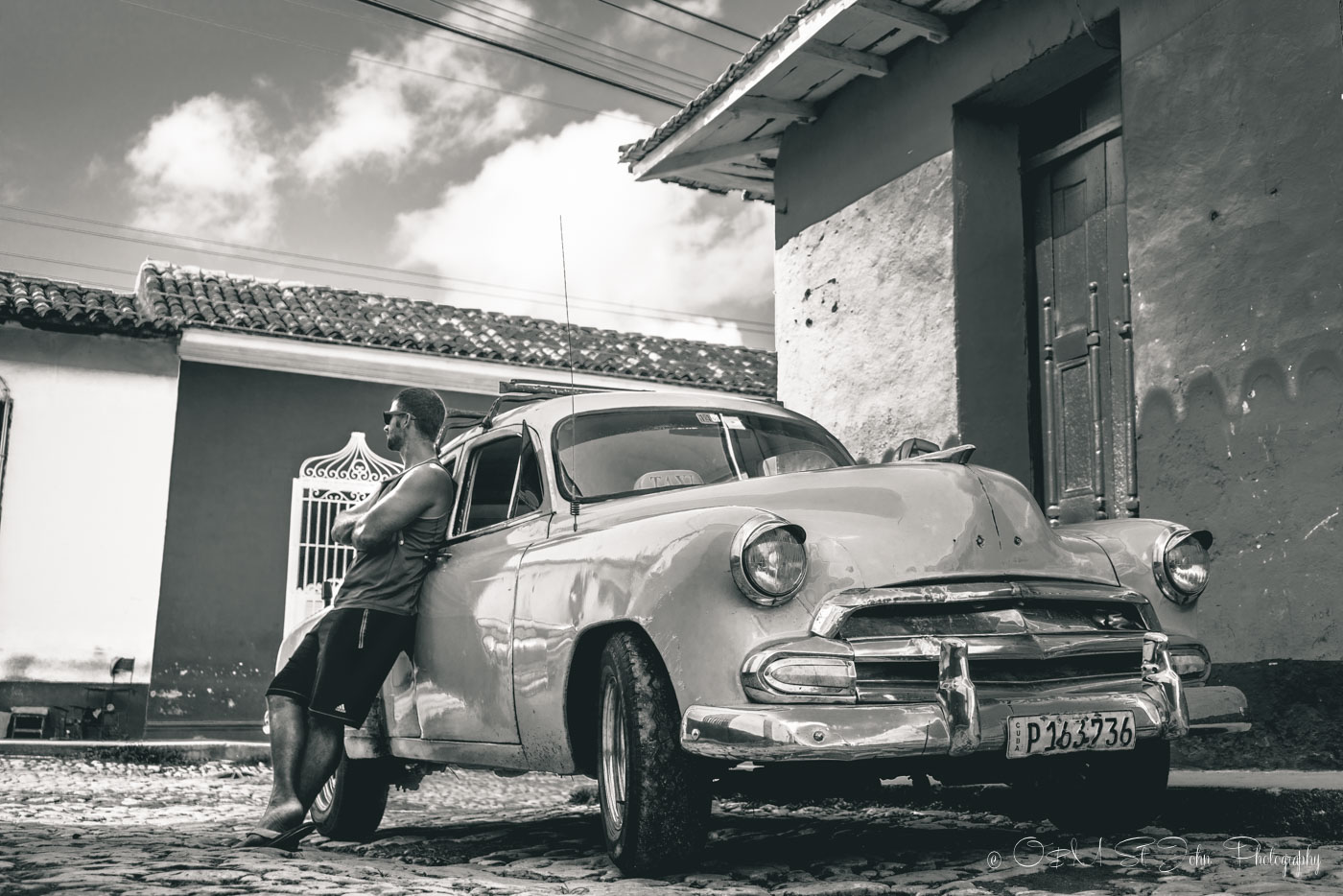 It is Possible to Just Wing It
You can book your flight, pack your bag, arrive in Cuba, and have a great time exploring the country without making any other plans or arrangements for your Cuba trip.
As much as it is harder to travel unprepared, especially in the high season, and it might be a bit pricier, it is by no means impossible. You can show up in any city and find a reasonably nice Casa Particular in under 10 mins.
You can find a collectivo taxi to take you almost anywhere in Cuba any time you want, and you can safely eat in any hole in the wall restaurant you come across when hunger strikes. If you've got a sense of adventure and an "up-for-anything" attitude, Cuba can be the perfect place for a great escape.
Tips for Americans Traveling to Cuba
While Cuba has opened up to American travelers relatively recently, there's already a lot of interest in the country. However, there is still a number of rules and regulations that apply to American citizens who are visiting Cuba. If you are coming to Cuba from the United States, here are some of the things you need to know:
1.Although travel restrictions for Americans visiting Cuba were lifted a few years ago, in 2019, the United States Treasury Department said that group educational and cultural trips in Cuba more commonly known as "people to people" will no longer be permitted. This restriction was put in place by the Trump administration to retaliate against Cuba for supporting Venezuelan President Nicolas Maduro.
In addition, cruises, yachts and other types of vessels are no longer allowed to stop in Cuba.
Currently, only Americans traveling to Cuba for one of the following reasons are allowed to enter the country:
Family visits

Official business of the U.S. government, foreign governments, and certain intergovernmental organizations

Journalistic work

Professional research and meetings

Religious activities

Public performances, clinics, workshops, athletic and other competitions, and exhibitions

Support for the Cuban people (the most common Visa category for visitors)

Humanitarian projects

Activities of private foundations or research or educational institutes

Exportation, importation, or transmission of information or informational materials
While "people to people" tourism is now forbidden for American travelers, there are still ways to visit the country if you want to travel independently. All you have to do is use ViaHero to skip the guided tour and instead, opt for an independent tour with a local guide, which would fall under "Support for the Cuban People" visa category.
However, while the U.S. has a problem with letting its citizens visit Cuba for tourism, Cuba welcomes American passports and will happily stamp your Tourist Card. All you need to do is fly from a third country ( such as Mexico ) where you can purchase a Travel Card and present it when you arrive in Cuba.
2.Visiting Cuba involved bringing a lot of cash with you because U.S. credit and debit cards are not accepted in Cuba. It's always better to bring more than less cash if you run out of money during your Cuban trip.
However, U.S. Dollar is the worst currency to exchange in Canada as it gets charged a 10 percent fee on top of the current exchange rate. Other currencies such as Euro, British Pound or Canadian Dollar don't get any additional fees, so it's a good idea to exchange U.S. dollars to other currency while you are in the U.S.
3.Couchsurfing is not allowed in Cuba. This is especially important to know if you are visiting Cuba on a budget and trying to find cheap accommodation. Under Cuban law, every Cuba tourist has to pay for accommodation unless they are friends with a local. Even then, a local has to provide authorities with proof such as photos, letters and other means of communications before receiving permission to host a foreign national at his or her place.
4.Don't expect a good variety when it comes to local markets. Instead, bring some snacks and treats with you, as you probably won't find your favourite snacks easily at a local supermarket.
5.Best time for visiting Cuba is from November through March when the weather is dry and cool, however, be prepared for the crowds as it is also the busiest season.
You Need a Passport to Visit Cuba
A valid passport is required to travel to Cuba. For example, U.S. national must have a valid passport that is valid for at least the next 6 months.
Cuba Visa Requirements
When it comes to visas, citizens of 18 countries are allowed visa-free entry to Cuba for up to 90 days. Travelers from other countries ( not including the U.S.) can purchase a "Tourist Card" at the airport before checking in for the flight.
Is Cuba Safe? Yes
Watch out for scams. Cuba doesn't have violent crime, however, petty thefts and other forms of scam sometimes take place here. While most Cubans are friendly, be wary when someone tries to show you places or walk with you to a restaurant where you might end up footing the entire bill.
Have you been to Cuba before? What Cuba travel tips would you add to this list?
Like this post? Pin it for later!