Just like your wedding day, you want your honeymoon to be a 'once in a lifetime' experience. By choosing to spend your honeymoon in Costa Rica you and your new spouse will enjoy a trip you'll never forget!
*This post may contain affiliate links, as a result, we may receive a small commission (at no extra cost to you) on any bookings/purchases you make through the links in this post. As an Amazon Associate, we earn from qualifying purchases. Read our full disclosure
Why Choose a Costa Rica Honeymoon?
No matter what either of you wants from a honeymoon, Costa Rica has it all. From luxurious resorts and stunning beaches to adventure activities, romantic sunsets, magical rainforests, or a full-blown Costa Rica honeymoon all-inclusive vacation.
We know because we choose to get married in Costa Rica, so we naturally chose to honeymoon in Costa Rica back in 2016!
Costa Rica honeymoons are especially perfect for the couple who is concerned about sustainability as many locations employ locals, are in natural areas, and are conscious about their practices. And, of course, any Costa Rica honeymoon promises to be a romantic trip! The country is filled with beaches, natural areas, and stunning views that make it easy to relax and enjoy the beautiful setting with your new spouse.
Traveling Soon?

Here is a list of our favourite travel providers and accessories to help get you ready for your upcoming trip!
Where to Spend your Costa Rica Honeymoon
You could stand in front of a map of Costa Rica, close your eyes and stick a pin at random, and you'd still hit paradise. Of course, you might want to have a little more control for the perfect Costa Rica honeymoon!
What we are trying to say is that you really can't go wrong by choosing to honeymoon in Costa Rica. The whole country is filled with beauty and activities as visitors enjoy Costa Rica's laid-back vibe.
Here are our top picks for a 7- day honeymoon in Costa Rica itinerary, including where to stay in Costa Rica for honeymoon and things to do.
Arenal and La Fortuna Costa Rica – 3 days
Arenal is a great destination to add to any Costa Rica honeymoon, no matter the time of the year. It's the perfect combination of activities, seclusion, relaxation, and beauty.
Spend a day wandering the trails of the Arenal Volcano National Park. You can hike through the lush forest and over lava rocks to a mirador (viewpoint). On a clear day, you'll be able to enjoy a great view of Arenal Volcano from the comfort of your hotel room! This destination is worth it to include in your list of where to go in Costa Rica.

If you want to take it easy and soothe the muscles after your trek, take a trip to the Tabacon Hot Springs. The Hot Springs in Tabacon are Costa Rica's largest naturally flowing thermal mineral springs and offer a perfect place to spend at least one romantic afternoon of your Costa Rica honeymoon.
Many travelers consider Arenal Volcano a highlight of their trip, so adding it to your Costa Rica honeymoon itinerary is a must!
Where to Stay in Arenal: Tabacon Resort & Spa
You can get a one-day pass or stay a night or two at the luxurious Tabacon Resort & Spa to really treat yourself. The hotel is set right in the middle of the magical rainforest and the hot springs. Relax in the thermal waters or get a couples massage at the hotel's own spa for a truly relaxing Costa Rica honeymoon experience.
Tabacon Hotel is also a great option for those who are conscious about their impact on the environment when they travel. The resort has been awarded "5 Leaves", the highest category in the Certification for Sustainable Tourism (CST), by the Costa Rican Tourism Board.
Playa Avellanas, Guanacaste – 4 Days
After enjoying a few relaxing nights in Arenal and recovering from the wedding day stress, it's time to enjoy some of the exciting activities Costa Rica has to offer. Head to Guanacaste's Pacific Coast and to Playa Avellanas, an off the beaten track beach near Tamarindo.
Playa Avellanas is known for having the perfect balance of activity and peacefulness that characterizes Costa Rica.
Spend a day lazing on the beach, enjoying an afternoon at Lola's Restaurant located right on the beach, or even surfing. Don't worry if you have never surfed before – the beach has breaks suitable for beginners and there are plenty of surf schools in the area.
There is a great selection of activities to keep you entertained and get your adrenaline pumping in this part of the country.
Why not go horseback riding on the beach at sunset? Or for the more active, mountain biking down the coast? Consider yourself a thrill-seeking couple? Then how about a zip line canopy tour through the jungle?
Honeymoon activity options are seemingly endless, and you can easily fill the rest of your Costa Rica honeymoon itinerary with lots of activities in Playa Avellanas and Arenal. But if you do have more time, then there is so much more to discover on a Costa Rica all-inclusive honeymoon…
Have Time for a 2 Week Costa Rica Honeymoon?
Then you have time to add these Costa Rica honeymoon destinations to your itinerary! Whether you choose to spend a few more days relaxing or exploring, Costa Rica is such a wonderful place to have a long honeymoon.
Manuel Antonio National Park – 3 days
A visit to the Manuel Antonio National Park is a must for nature and animal lovers. Plan to spend a whole day exploring this Costa Rica attraction. Manuel Antonio National Park is home to many endangered species, and you can spot sloths, howler and white-faced monkeys, toucans, snakes, and iguanas in their natural habitat in Manuel Antonio.
We definitely recommend that you add this destination to your Costa Rica honeymoon plans!
Where to Stay in Manuel Antonio: Costa Verde Hotel
For the perfect base to explore the National Park, and for Manuel Antonio Costa Rica honeymoon experience like no other, spend a few nights at the Costa Verde Hotel. You can even stay in their famous Boeing 727 suite! This vintage plane is a unique hotel suite that boasts stunning ocean views.
The plane isn't the only vintage thing in the Costa Verde Hotel. They take items destined for the scrapheap and up-cycle them and use them to decorate and furnish the hotel. This is just one of the many reasons it is one of our favourite Costa Rica honeymoon hotels.
They do the same with empty glass bottles they collect from restaurants, using them to make lighting fixtures and walls designs. It's creative recycling and adds an extra charm to this unique hotel.
Santa Teresa – 3 days
The town of Santa Teresa is little off the beaten track, but you'll find everything you need here to make your Costa Rica honeymoon extra special. The region is known for beautiful white sand beaches, tropical rainforest, and luxurious hotels, but there are plenty of other things to do in Santa Teresa. A Santa Teresa honeymoon is really fun and authentic Costa Rica experience.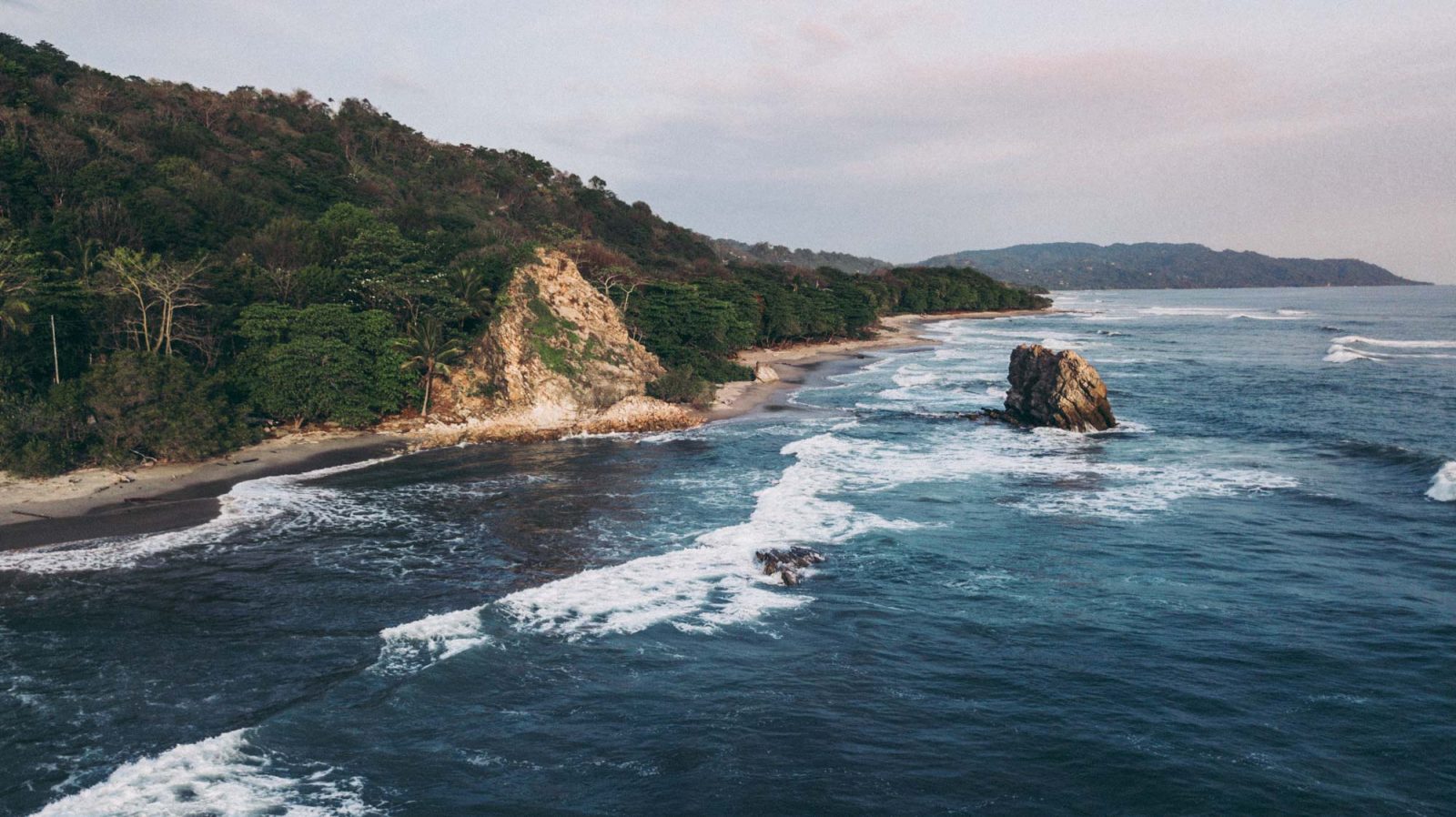 Where to Stay in Santa Teresa: Latitude 10 Resort
We recommend Latitude 10 Resort as a destination to honeymoon in Costa Rica's Santa Teresa region, and from there you can explore the untouched part of Costa Rica. Enjoy sunset margaritas on the private beach and wake up to the sound of the Pacific Ocean, or the monkeys!
The motto at Latitude 10 Resort is 'luxury that doesn't cost the earth'. The resort has a number of green initiatives, from the no-plastic policy to the native plant nursery. They are all about positive impact in the local community, offering educational programs and supporting local suppliers.
What Kind of Budget do you Need for a Costa Rica Honeymoon?
We can't lie to you, you will need to consider your budget for Costa Rica. Honeymoon hotels or an all-inclusive honeymoon in Costa Rica can cost more than you think. But it really depends on the length of your Costa Rica honeymoon, on where you want to stay during your visit, the activities you choose, the time of year you visit Costa Rica honeymoon destinations, and of course, your personal preferences.
Do you wish to splurge on your accommodations and skimp on activities, or do you want to explore as much as possible and stay in a budget-friendly hotel? Planning and budgeting for a honeymoon is much like planning and budgeting for your wedding. Spluge on the things that are important and skimp on things that won't be as memorable or important to you post-honeymoon.
One thing Costa Rica does well is eco-friendly accommodation with options available for every budget. It is possible to find Costa Rica honeymoon resorts that are beautiful and affordable.
Another decision that can determine the total cost of your trip is whether you choose to have a Costa Rica honeymoon all-inclusive package or plan the entire trip on your own.
Independent vs. All Inclusive Costa Rica Honeymoon
Packages can be helpful to try and set a more fixed cost, but independent travel to Costa Rica can be great as it gives you total freedom to explore at your own pace and budget. But after the stress of planning a wedding, an all-inclusive Costa Rica honeymoon package might have a certain appeal.
Of course, there are pros and cons for both:
Costa Rica Honeymoon Packages
You can choose between 7-day, 10-day or 2 weeks in Costa Rica all-inclusive honeymoon packages, and there's no logistical planning. No worrying about where to stay, car rental, directions, or what to do and when. You simply show up at the airport and enjoy your Costa Rica honeymoon!
Plus, a Costa Rica honeymoon all-inclusive deal means everything is paid for before you go (apart from any gifts or incidentals).
The only downside in Costa Rica honeymoon packages is that the food is usually not as good because you are eating the same thing over and over again. Keep in mind that most Costa Rica honeymoon all inclusive packages don't include tours or activities. You'll either have to budget extra or stay put inside the resort, which can be very limiting when you are in such an amazing country!
What to Budget for an Independent Costa Rica Honeymoon
If you would rather be in charge of your own Costa Rica honeymoon, here are the things you should budget for:
Flights to/from Costa Rica
The cost of flights will depend on where you are flying from and how far in advance you book. Return flights can be anywhere from $800 to $2000 for two. Try to plan ahead and keep an eye for good deals to score the best flights to Costa Rica.
Accommodation
This is where the majority of your budget will likely be spent. There are hotel options for Costa Rica honeymoons for every budget and personal preference. You don't need to stay in 5-star luxury the entire time- you can mix it up as you travel.
This is the good thing about independent travel over a Costa Rica honeymoon package – you have control of your accommodation options and can even save a little money. Deciding where to stay in Costa Rica for a honeymoon can have a big impact on your finances.
If sticking with low or mid-range hotels, budget around $800 for a 1-week stay. If you want to splurge, you could be looking at upwards of $3000 for accommodations for your honeymoon.
Food and Drink
This is where Costa Rica honeymoon all inclusive packages can work out in your favour because food and drinks in Costa Rica can set you back by as much as $100-200/day. With an all-inclusive Costa Rica honeymoon package, all your food and drinks will be taken care of, leaving less stress about money and surprises along the way.
Independent travelers will find that breakfast is almost always included in your stay, but lunch and dinner need to be accounted for as an additional expense. You can get a cheap lunch for $5-8 from a 'soda', traditional local eateries serving typical Tico food. Dinner can range from $50-$80 for two in a fancy restaurant, or $20 in a local, family-style restaurant.
Transportation in the Country
Distances between locations in Costa Rica are long! If you aren't spending your Costa Rica honeymoon in an all-inclusive resort, we highly recommend renting a car. It gives you the freedom to explore the country and to go off the beaten path on your honeymoon.
Budget roughly $40-$55 per day for a 4×4 SUV for a week, but know that if you book in advance you can get a car for as little as $15-20/day. Don't forget you'll also need gas to get around!
Sightseeing and Activities
The good thing is that much of what makes Costa Rica the perfect honeymoon destination is free. Romantic walks on the beach at sunset, breathtaking scenery, and untouched natural beauty are just some of those priceless experiences that can make for a truly amazing honeymoon.
But, there are lots of activities in Costa Rica that are worth the splurge. For example, the Monteverde Cloud Forest is a must-see and will set you back $50 per person. Whitewater rafting in Arenal can cost around $50- $90. If you decide to take up surfing while in Playa Avellanas, lessons start from $50 per person.
Get Ready for your Costa Rica Honeymoon
A Costa Rica honeymoon can be as relaxing or as adventurous as you wish, and you can enjoy luxury at an affordable price without damaging the environment. Many couples have no idea where to go for a honeymoon, but we think that a honeymoon to Costa Rica is a great choice.
We think Costa Rica is the perfect choice of where to go on a honeymoon, it's an exotic paradise with magical rainforest, pristine beaches and plenty of activities to get the heart racing! A Costa Rica honeymoon is worth every penny spent, and it's the perfect way to kickstart any marriage with romance and memories!
Did you spend your honeymoon in Costa Rica? Share your Costa Rica honeymoon tips with us below!