The boat bounced up and down fighting against the waves as we climbed aboard and settled in for our hour long ride to Sirena Station inside the Corcovado National Park.
*This post may contain affiliate links, as a result, we may receive a small commission (at no extra cost to you) on any bookings/purchases you make through the links in this post. As an Amazon Associate, we earn from qualifying purchases. Read our full disclosure
It was barely 6:30am, but we were buzzing with excitement in anticipation for our 2 days inside the park.
Traveling Soon?

Here is a list of our favourite travel providers and accessories to help get you ready for your upcoming trip!
"Every tour I lead is different", explained our guide David from the Corcovado Info Centre at our pre-departure meeting the night before. "…But one thing I know for sure is if we look, we won't find". We all nodded in understanding.
"It would be so cool to see a Puma", Max whispered into my ear as the boat sped along the Corcovado Park shoreline. "Yes, or a baby ocelot", I added, feeling like a child en route to an amusement park. But if we look, we won't find.
It wasn't long before all 12 of us were safely inside the park. Our group of 5, the overnight tour, and the other 7, the day trip tour. The paths from the beach veered in 2 different directions. David paused.
"Just remember", he said, "If we look, we won't find. Sometimes it takes hours for us to see the first animal. You never know"
And with those words engrained in our minds, we followed David into the park.
It was barely 8am but the sun was already hot with the rays playfully peeking out from the canopy above. We walked in silence, our eyes peeled on the trees.
Suddenly we heard a sound. A familiar roar and movement in the trees gave away our first sighting, a group of howler monkeys. We've seen howlers many time before (they hang out on the trees just outside of Max's mom's house in Playa Avellanas daily), but there was something so special about seeing them in the park.
A few meters further a family of coatis had claimed a tree of their own.
"It's common to see animals like monkeys, coatis, and sloths interacting with each other here in the park. They are have grown up together in this forest"
"Ooooh I want to see a baby monkey playing with a baby sloth", I announced.
"It does happen. Maybe you'll get lucky", smirked David. He slowed his pace as we approached another group on the trail.
"Look up! Mom and baby sloth", said the guide from the other group. "Top of the tree"
There was no baby monkey beside them but there was a baby sloth! We could only spot them through the telescope, but it was the cutest thing we've seen throughout our time in the park.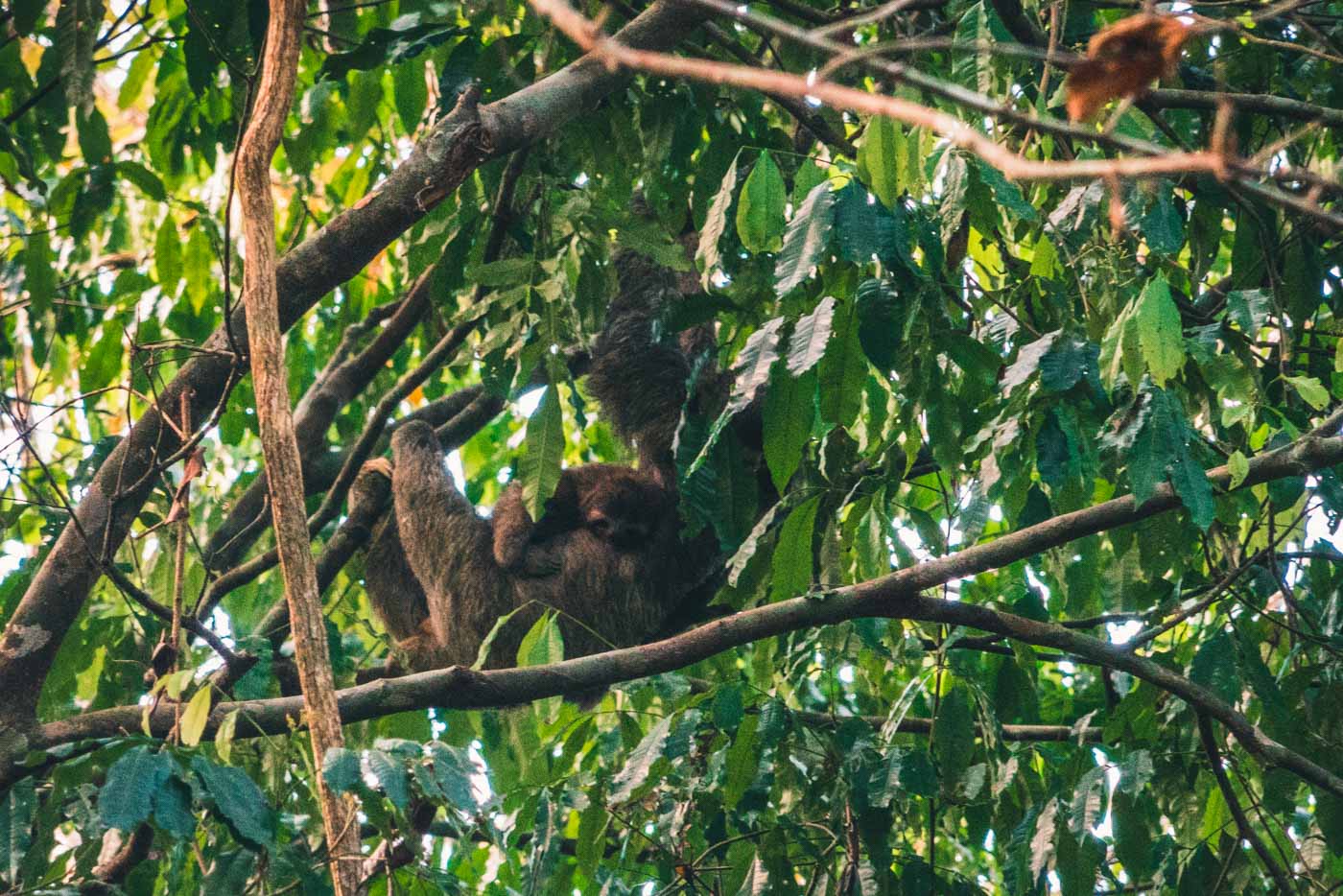 Over the next few hours, we continued to explore the trails near Sirena. Our efforts rewarded with some baby caymans, a sounder of wild pigs/pecaries, a large family of spider monkeys, many more families of howlers, a family of squirrel monkeys, and lots of birds.
Just before lunch, David led us to the river where another group was lucky to spot a Baird's Tapir, the biggest mammal in all of Costa Rica. The tapir and her baby were napping in the bushes, so we only caught a glimpse of them before heading back to the beach for a little lunch break.
3 or 4 other groups joined us on the beach and we all dug into our prepacked sandwiches while exchanging stories about this morning's sightings.
Max used the free time to catch some footage from above with the drone. Surrounded by a crowd of onlookers, we flew along the beach and hovered over the river.
"Hey, guy with the drone", I heard the voice of another guide. Worried that he might ask Max to take it down, I perked up. But that wasn't his intention. "Look down!", he yelled, pointing to where the jungle meets the river.
I followed his gaze and saw a Baird's Tapir meandering out of the bushes. I grabbed the camera and ran towards him, using my longest zoom to catch him as he made his way towards the ocean. He was no more than 100 m away. I froze in complete awe. I couldn't stop looking at him, admiring his unique features in fascination. He lingered on the beach for another few minutes and disappeared back into the bushes.
"What did I tell you, guys", said David to our group. "If you look, you won't find, but if you don't look sometimes the animals find you".
"How common is it to see a Tapir in the park?", I asked curiously.
"We often see them sleeping, like you did today, but walking along the beach like that….very rare. Just as rare as seeing a puma."
Satisfied with our time in Sirena we hopped back into the boat en route to San Pedrillo, our second stop of the day and our camping spot for the night.
Two tents were set up right on the beach in front of the ranger's station at San Pedrillo.
"Soon all other visitors will leave," David mentioned as we got off the boat "and you will be the only ones camping here tonight".
After another walk around San Pedrillo, we returned back to the rangers station just in time for sunset. We watched the sun set behind the horizon from the hammocks that hung outside of our tents, enjoying the explosion of colour over the ocean.
After a simple meal, we tucked into our tents starting up into the starry sky.
"Not a bad day in the park, eh", Max noted as we laid in our tent reflecting on the day inside the park.
The waves were crashing against the shore, the crickets singing in unison, despite the very basic accommodation, we had no trouble falling asleep to the sounds of the jungle.
The next morning we awoke before dawn and caught the sunrise on the beach about a kilometer away from the ranger station and after another unsuccessful puma search hike, we boarded the boat back to Drake Bay.
We searched (for the puma) and we didn't find, but it didn't matter. The experience of roaming the park and seeing this intrepid corner of Costa Rica up close was enough for us to mark Corcovado National Park as one of our favourite spots in all of Costa Rica.
For more on our visit to Corcovado National Park, watch our highlights vlog here:
Disclaimer: Our overnight trek to Corcovado National Park was provided courtesy of Corcovado Info Centre. As with all of our posts, all opinions expressed in this article are our own, regardless of who is footing the bill for our experience.
Like this post? Pin it for later!
Would you travel to this intrepid corner of Costa Rica for a chance to spot some rare wildlife?