*This post may contain affiliate links, as a result, we may receive a small commission (at no extra cost to you) on any bookings/purchases you make through the links in this post. As an Amazon Associate, I earn from qualifying purchases. Read our full disclosure.
When it comes to European capitals, Zagreb has got to be one of the most overlooked destinations in the region. It's a place where you can still experience Central Europe without the crowds, and for significantly less than in places like Prague, Budapest, or Vienna.
Thanks to its beautiful architecture, Zagreb manages to maintain that charming medieval 'old city' feel, while offering visitors a chance soak in the laid back Mediterranean culture with a pinch of romance. The city is filled with parks, outdoor cafes, restaurants, farmers markets, and feels alive with a buzz and excitement.
Zagreb wasn't a destination high on our bucket list or one we knew much about. But a few days in this beautiful city had us hooked. Zagreb definitely has all the ingredients for the perfect European city break.
Best Time to Visit Zagreb
Croatia is buzzing with visitors in the summer, particularly in the months of June, July, and August. And despite the fact that the majority of the tourist crowds head straight for the Dalmatian Coast, Zagreb still gets its fair share of visitors during this time of the year.
The crowds tend to subside by September-October and by November you'll find yourself sharing cozy cafes with mostly locals. In the winter, Zagreb sees the worst of its continental climate with temperatures in December – February sometimes dropping to below zero °C.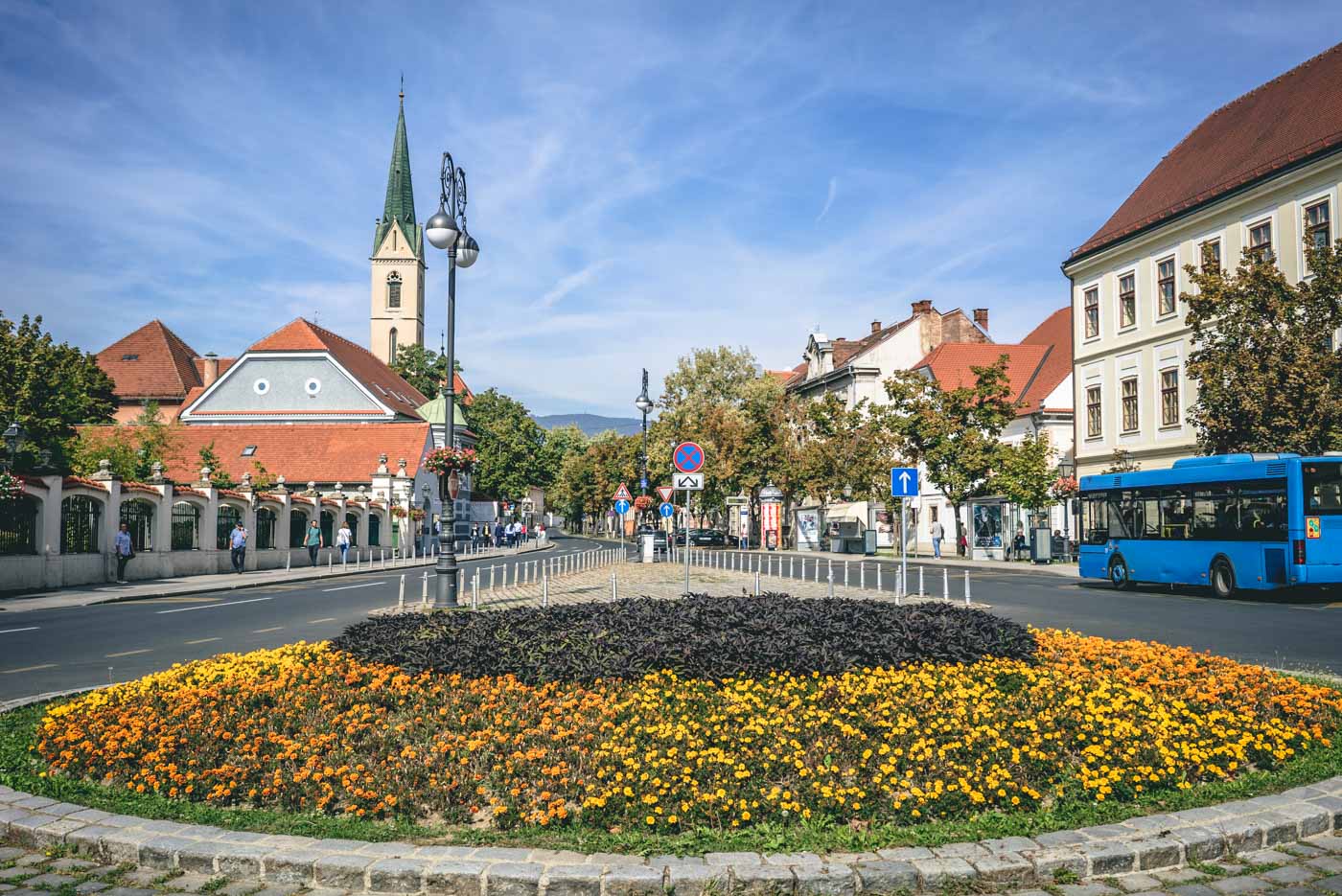 We particularly enjoyed visiting Zagreb (and the rest of Croatia) in the fall. The weather was perfect for exploring the city, enjoying outdoor patios, and taking in the sights without the summer crowds.
How to Get to Zagreb
If you are traveling within Europe, there are a few options for getting to Zagreb. About a dozen airlines fly into Zagreb from a number of hubs in Europe and offer one-way flights ranging from $120-200 one way. Unfortunately, no low-cost airlines are currently servicing Zagreb, so budget travelers may want to look at alternative ways of getting into the city.
Trains or busses offer a good alternative, especially if you are planning to arrive in Zagreb from one of the neighboring countries. For fares and schedules search your travel dates on Omio
A quick search helped us discover that the easiest way for us to get to Zagreb was to fly into Split and make our way to Zagreb by car. At $20 per day, traveling by car turned out to be a great way to explore Central Croatia.
Top Things to Do in Zagreb
There is no better way to get to know Zagreb than by exploring the city on foot. Start in the heart of Lower Town (Donji Grad) and make your way north from the Central Railway Station strolling through King Tomislava Square (Tgr Kalija Tomislava), across Josipa Jurja Strossmayera Square (Trg Josipa Jurja Strossmayera), and Zrinjevac Park, until you get to Jelačića Square (Trg bana Josipa Jelačića) in the Upper Town (Gornji Grad).
Jelačića Square, often referred to as the main square in the city, plays host to pop-up markets, concerts, festivals, expos, and functions as a common meeting place for locals and visitors to Zagreb. Around the square you'll find lots of cafes and restaurants perfectly positioned for mid-day people watching. Just up the stairs from the square is Zagreb's famous Dolac Market, full of stalls selling fresh fruits, veggies, produce, and some souvenirs. Grab some cheese and a bag of grapes for a perfect mid-day snack.
From the market, hang right towards Cathedral of Zagreb (Zagrebačka katedrala), the most monumental Gothic style building in Croatia. From here, zigzag your way through the pedestrian only streets nestled between Kaptol St in the East and Opaticka St in the West. Grab a bite to eat, enjoy a long coffee break, or samples some of Zagreb's best craft beers. (Every restaurant seems to have plenty of these on the menus)
Don't miss a chance to pass through the Stone Gate, the most significant religious site in Zagreb where for centuries locals have gathered to light candles and pray for health, happiness, and good fortune. Continue along Kamenita Street and admire the spectrum of colours on the roof of St Mark's Church (Crkva sv. Marka), located just a few hundred meters away.
Museum lovers will find plenty of options to entertain themselves in Zagreb. From the highly acclaimed Contemporary Art Museum to the unique finds of the Museum of Broken Relationships, there is no shortage of galleries and exhibitions to keep art enthusiasts occupied for days. Check out Culture Trip's list of The Best Contemporary Art Galleries in Zagreb to get you started.
For great views of the city, head to Strossmayer's walkway (Strossmayer šetalište) where you can catch a view and snap a great picture of Zagreb's Lower Town.
When you've had enough of Zagreb's main sights, escape the crowds at the Botanical Gardens, blend in with locals at one of the many parks in the city, or scope out one of these 10 alternative hangouts.
Where to Stay in Zagreb
Zagreb is easy to explore on foot, so basing yourself in Old Town will make it easy to explore the city without ever needing to jump into a taxi.
When it comes to accommodation in Zagreb, there are thousands of options. You'll find your standard high end hotel chain options, like Westin, Hilton, or the Sheraton, with prices ranging between $100-$125 per night, along with a handful of smaller boutique style hotels like the Palace Hotel, Art Hotel Like, or Hotel Jagerhorn that, in our opinion, offer a more unique hotel experience and range from $75-100 per night.
There are also a few dozen hostels in the Old Town, with private rooms starting at $20 per night and bunk beds going for as low as just $7-15 per night. Some of the best hostels in the city are Main Square Hostel, Swanky Mint Hostel, and Chillout Hostel Zagreb.
While hotels and, especially, hostels in Zagreb are incredibly cheap, we think that when it comes to finding a great place to stay during your time in Zagreb, there is no better value than self-catered apartments. There are some really great options available on both booking.com website and through Airbnb, with apartments starting at just $30 a night for a beautifully decorated spacious place with a separate bedroom, living room, fully equipped kitchen, and bathroom. Many even come with a washing machine.
Don't have an Airbnb account yet? Sign up now and receive a discount to put towards your first Airbnb stay!
We stayed in First Choice Centar, an exceptionally well-rated apartment in Zagreb's Lower Town. We loved our stay and would definitely recommend this apartment to anyone planning a visit to Zagreb. Click here to check availability for your desired dates.
Where to Eat & Drink in Zagreb
The second you step out of your accommodation, you'll realize that Zagreb is a true culinary destination. With lots of cafes, restaurants, and pubs lining many of the streets in Old Town, finding a great place to eat isn't hard.
If you are looking for a place with a patio, look no further than the numerous cafes and restaurants peppered along Skalinska Street and Ivana Tkalčića Street in Upper Town or along Masarykova Street in Lower Town.
If you are looking to grab a bite mid day, check out these suggestions for the Best restaurants in Zagreb for lunch by FrankAboutCroatia Blog or these Best Spots for Lunch in Zagreb as recommended by Taste of Croatia.
For dinner, choose from Zagreb's best cultural restaurants, head to one of Time Out Zagreb's recommended spots, or rely on the power of Tripadvisor to point you to the best-rated spots in town. But if our experience in Croatia is any indication, great food is easy to come by and finding a great spot to eat rarely requires any extensive research.
If you fancy a mid-day drink, head to any of these Five best places for beer in Zagreb, or follow Time Out's suggestions about specialty coffee places you should visit in Zagreb.
How Much Time Do You Need in Zagreb
Thanks to its compact city center, Zagreb is the kind of city you can see in just a few days, but it's a place you'll want to stay in for a while to enjoy the laid back lifestyle, coffee culture, and a vibrant food and entertainment scene.
Here are a few great articles to help you get started on your trip to Zagreb:
Have we missed any great tips? What other info and advice would you give travelers planning a trip to the capital of Croatia?
Like this post? Pin it for later!
Disclaimers: This post was brought to you in partnership with GoEuro. This post contains affiliate links which means, that we receive a small commission on your bookings at no additional cost to you. If you find the information in this post helpful, please consider booking your accommodation via these links to help us offset the cost of running this blog.

Update: "GoEuro, now known as Omio, is the search and booking platform with tickets for trains, buses, and flights. Omio offers mobile tickets for several of the 36 countries in Europe, with plans to expand globally. With over 800 transport providers, Omio makes the ticket booking experience more seamless and straightforward."