*This post may contain affiliate links, as a result, we may receive a small commission (at no extra cost to you) on any bookings/purchases you make through the links in this post. As an Amazon Associate, I earn from qualifying purchases. Read our full disclosure.
A trip to Orlando is practically synonymous with the world of Disney and Universal Studios, but there is a lot more to Orlando than that. If you take the time to explore beyond the famous amusement parks, you'll find a city rich in art, nature reserves, and full of great dining and entertainment options that don't require you to park hop.
Visit Orlando, the official website of the Orlando Tourism Board shares their 10 Reasons to Visit Orlando that range from exciting news from the theme park world, other attractions, accommodation updates, and dining news. So, you will never be wondering what to do in Orlando.
BEST TIME TO VISIT ORLANDO
The Best Time to Beat the Crowds
January through April is hands down the best time to visit Orlando. However, that is not only because the weather at this time of the year is at its absolute best (think, 20-27C/70-80F), but because, according to USA Today's article Best Time to Visit Orlando, winter and early spring mark a nice lull in Orlando tourism.
Therefore you'll be more likely to find hotels for less, flights for less and be able to enjoy Orlando's attractions without the crowds.
Summer Can Get Hectic in Orlando
Once summer rolls around, the weather gets hot and sticky and families from all over US and Canada take advantage of summer holidays and flock to the theme parks. So, prepare to fight the crowds and pay premium prices, or follow our advice and avoid this season altogether.
Take Your Chances Visiting in Fall
If you can manage to get the time off, Fall is another alternative option for visiting Orlando. Although the weather can be a bit finicky during this time of the year. The hurricane season officially runs from June 1 through November 30, and the probability of bad weather affecting your visit to Orlando raises significantly from late August through early October.
TOP THINGS TO DO IN ORLANDO
For most visitors, Orlando means a chance to entertain your inner child, or if you are traveling as a family, a chance to relish in the joys of your children's first Disney World visit. Let's be honest, the amusement parks in Orlando are touristy, but they are nothing short of amazing.
However, that's not all Orlando has to offer. There are a number of beautiful natural parklands to explore and a thriving arts scene to discover.
Walt Disney World
The king of all amusement parks in the world warrants at least a 4-5 day visit if you want to feel like you've seen it all. With 4 amazing parks, Magic Kingdom, Epcot, Hollywood Studios, and Animal Kingdom, and 2 water parks Typhoon Lagoon and Blizzard Beach, to explore you'll need a day to enjoy each one to the fullest.
So grab yourself a ticket with a park-hopper option, learn how to take advantage of the FastPass Option, read some tips for visiting Disney World and prepare yourself for a week of fun (and a subsequent scary Visa bill).
Disney World's 5th Park
Have you heard of Disney's 'secret park'? When you're over the hustle and bustle of the amusement parks, there is a massive wilderness preserve located just outside of Orlando, The Disney Wilderness Preserve. It is not technically owned by Disney, but was established with the famous founders help.
Universal Orlando Resort
The second biggest park in Orlando offers two different park experiences. The original Universal Studios park and the second theme park, called Islands of Adventure, however many will argue that the biggest Universal attraction now is The Wizarding World of Harry Potter.
It is possible to visit both parks in one day, although if you are a huge Harry Potter fan, you might need to add a day or three to your time at Universal. Check out these Top 10 Tips for First Time Universal Orlando Visitors to help you get the most out of your visit.
Legoland Florida
While not exactly in Orlando, Legoland Florida, located about an hour drive from Disney, is another popular theme park and resort to visit while in the area.
Other Attractions
Those looking for a thrilling experience outside the theme parks will enjoy a visit to Florida's largest zip-line park at Forever Florida, which offers three extreme adventure rides like the Rattlesnake Roller Coaster, the Panther Pounce and the Peregrine Plunge. Suitable for kids 8 years and older but guaranteed fun for all ages.
Those traveling to Orlando with kids might also enjoy a visit to The Orlando Science Center and Ripley's Believe It or Not! Orlando Odditorium. Although their cool and often interactive exhibits can be fun for the whole family.
Get in Touch With Nature
If you are after a more laid-back way to interact with nature, you'll be pleased to know that Orlando is home to a number of beautiful gardens and parks, including the Historic Bok Sanctuary, Mead Botanical Garden, and the renowned Harry P. Leu Gardens.
The latter is home to more than 1,000 rose bushes (in season from April to January) and the largest collection of camellias in North America (in bloom November through March).
For hiking check out the 25 underrated hiking spots in Orlando, to see the city like a local.
Probably one of the most offbeat attractions in the Orlando area is Spook Hill. Vehicles defy the laws of gravity by rolling uphill here, instead of down. There is a mysterious legend to explain the unusual phenomena.
Orlando's Thriving Arts Scene
Art lovers will love exploring Orlando's museums and art exhibits. According to the National Geographic's list of Free Things to Do in Orlando, the downtown CityArts Factory houses seven separate and diverse art galleries that showcase local and international art.
The exhibits change monthly, so there is always something new to discover. Beyond the CityArts Factory, there is, of course, the Charles Hosmer Morse Museum of American Art and the Orlando Museum of Art that are also worth a visit.
Orlando Is a Golfer's Paradise
Orlando is also a premier golfing destination, home to over 170 golf courses. If spending the day out on the greens sounds like paradise.
You'll be happy to know that you can spend days testing your skills in Orlando. We are no experts in golf courses, so for the best greens in Orlando check out Golf Magazine's Must-play Golf Courses in Orlando, Florida.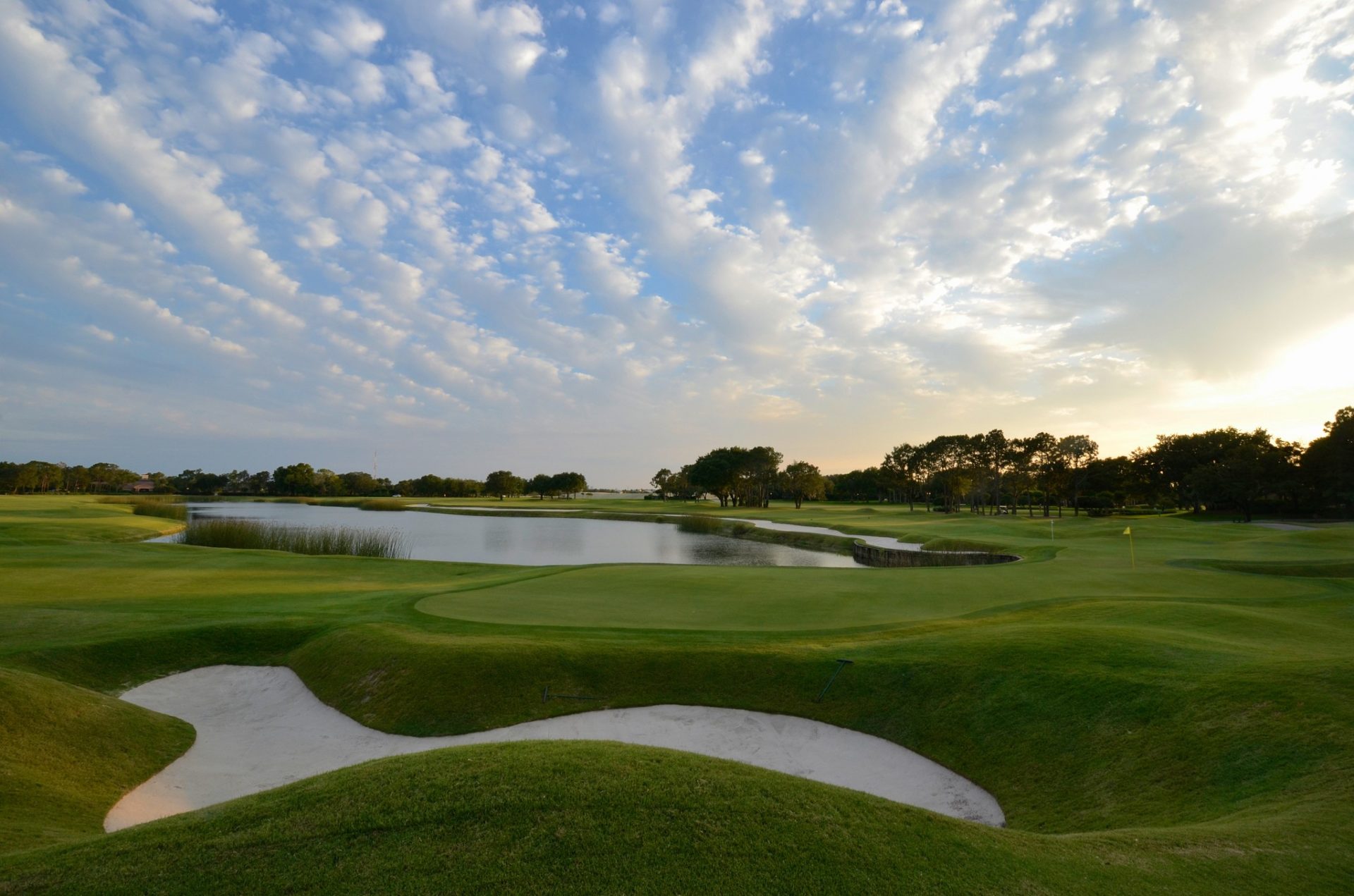 Tours
If you only have a few days in the city and want to get the most of your time in Orlando, consider joining Gray Line's Orlando City tour for a fun whirlwind tour of all of the interesting and important sites.
Otherwise, the cities sightseeing hop-on-hop-off bus is a good alternative. They have two options. The first is for visitors who just want to get a feel for the city away from the parks. The second includes theme park shuttles.
WHERE TO STAY IN ORLANDO
Stay In the City
Consider staying off-site from the theme parks for a more low impact vacation. There are eco-friendly accommodation options popping up all over Orlando.
Plus by staying closer to downtown Orlando you will get a more local perspective of the city. You will be close to Orlando's thriving arts scene, enjoy the best of Orlando's restaurants, entertainment, gardens, and trails all within close proximity to the famous theme parks.
Consider one of the following for your trip to Orlando.
Downtown Orlando
Perhaps the most eco-friendly hotel in Orlando, B Resort and Spa is a standout. They support animal and nature conservations and only use Aveda products in their hotel rooms and Spa (which are always cruelty-free and consist of eco-friendly ingredients). As well they cater to vegetarians and vegans in their restaurant.
In the center of the City, the downtown Courtyard by Marriott is close to shops, nightlife and dining options. They educate their staff on green practices and participate in green programs.
Rosen Plaza has paved the way for sustainable practices within the hospitality industry in Orlando. They have won a number of awards for their sustainable practises, and are located on International Drive just minutes from Walt Disney Park.
Consider the Hilton Orlando Lake Buena Vista Hotel near Walt Disney Park. They have made a serious commitment to reducing their carbon footprint. One of their initiatives is their super extensive recycling program which even includes recycling kitchen grease and soap.
At the Airport
Ramada Suites Orlando Airport has made some serious steps toward going green by committing to the Wyndham Green Program. Some of their eco-friendly practices include utilizing eco-friendly fixtures, and low-flow faucets.
Like the Ramada, the Wingate Hotel at the airport has taken part in the Wyndham Green Program. They offer great rooms for families.
With over 600 hotels to choose from in Orlando, there is bound to be something for every price range. Start your search on Booking.com one of our favourite hotel search engines, and use their extensive filter option to narrow down your search by price, location, and amenities.
Alternatively, consider staying in one of Orlando's 300+ Airbnb rentals. Private rooms on Airbnb start at as low as $25/night and entire houses can be rented for as low as $50-$100/night.
Don't have an Airbnb account yet? Sign up now and receive up to USD $35 to put towards your first Airbnb stay!
WHERE TO EAT & DRINK IN ORLANDO
Eating Within The Parks
Disney World alone is home to over 300 restaurants, ranging from elaborate-themed experiences to delightful international fares. If Disney World is where you'll be spending the majority of your time in Orlando, then USA Today's article, Diverse and Delicious Dining in the House of Mouse, is a great place to narrow down your choices.
Dining in The City
Away from the themed parks, Orlando is sometimes referred to as chain restaurant hell, but if you follow the advice of Orlando's Best Non-Chain Restaurants published on the Orlando Weekly blog, you'll see that there are plenty of great non-chain restaurant options to choose from.
The veggie food industry is absolutely booming in Orlando. Check out some of our favourite feel-good restaurants.
Breakfast
Raw Juicing and Detox gets the green juices flowing with their smoothie and juice bar. They also have a small selection of vegan whole foods on their menu.
New Moon Market has a delicious selection of veggie, and vegan bites, smoothies, and brunch options.
Lunch
Dixie Dharma located downtown serves up southern inspired dishes like their tasty vegan mac and cheese, and vegan chipotle sloppy joes!
Located in College Park, InfusionTea has an incredible selection of organic teas and has a long list of vegan-friendly dishes.
For a little mid-day tea stop, check out these 5 Awesome Tea Cafe's in Orlando, a list by the Orlando Hipster Blog.
The Sanctum is a trendy cafe located downtown serving vegetarian and vegan-friendly dishes. Try one of their lunch bowls!
Dinner
The Dandelion Communitea Cafe is a legendary fixture in downtown Orlando. They specialize in vegetarian and vegan cuisine and have made a commitment to only sourcing organic and local products when possible. You can even order online for take away.
Part of a chain of vegan restaurants, the Loving Hut serves food from their Asian-inspired menu. Family-sized combo meals are available for sharing.
Enjoy the totally vegan Vietnamese food, at Veggie Garden. You can sit in, or take-away.
Date Night in Orlando
If you are traveling sans the little ones and are looking for what to do in Orlando for a night out there are some nice romantic restaurant options. his list of Orlando's Date Night Delights and Special Occasion Splurges or this list of the Most Romantic Places To Dine In Orlando will be perfect for you.
In her article on Orlando Vacation Options for Adults, Tracy E. Hopkins talks about where to stay, shop, and play on an adult only vacation to Orlando.
Nightly Entertainment
Night-time entertainment in Orlando goes far beyond Disney's Boardwalk. Continue your romantic date night at one of these Top 15 Bars for Date Night in Orlando, or take it even further with this list of Orlando's Best Dance Clubs.
HOW MUCH TIME DO YOU NEED IN ORLANDO
There are lots of different types of vacations you can have in Orlando, from a classic week-long Disney adventure, one of my personal favourites (closet Disney fan over here), to a mix of theme parks, art, dining, and entertainment. But one thing is certain, Orlando is best enjoyed on an extended holiday. So convince your boss that you are in dire need of a few extra days off and plan to spend at least a week in Orlando
Depending on how much time you might be able to carve off for your visit to Orlando, here are a few sample itineraries and articles with general advice to help you plan what to do in Orlando during your stay.
Recommended Orlando itineraries: Two, four and six-day tours
Suggested Itineraries for Visiting Orlando
Have you ever been to Orlando? What advice would you share with those visiting Orlando for the first time?
Like this post? Pin it for later!

Disclaimer: This post contains affiliate links which means that we receive a small commission on your bookings at no additional cost to you. If you find the information in this post helpful, please consider booking your accommodation via these links to help us offset the cost of running this blog.