Chobe National Park, Botswana is well known as one of the best safari destinations in the world, known for one of the greatest concentrations of wildlife in all of Africa. Located near Kasane, Botswana, Chobe National Park is home to the largest elephant population in Africa. However, its diverse landscape of grasslands, marsh, and woods play host to a great number of animals.
*This post may contain affiliate links, as a result, we may receive a small commission (at no extra cost to you) on any bookings/purchases you make through the links in this post. As an Amazon Associate, we earn from qualifying purchases. Read our full disclosure
Visiting Chobe was at the top of our travel wish list, but having just been on some amazing safaris in South Africa, we were looking for a different kind of experience. We no longer felt the need to speed through the park, ticking off wildlife encounters from our wish list. Having already seen the Big Five (more than once), we now found ourselves more interested in slowing things down.
Our research led us to Pangolin Photo Safaris, a safari operator based out of Kasane in Botswana, with a unique focus on Africa photo safari tours.
Traveling Soon?

Here is a list of our favourite travel providers and accessories to help get you ready for your upcoming trip!
Excited about a chance to spend dedicated time photographic wildlife, we jumped on the opportunity and joined the Pangolin Photo Safaris team for a 4-day Chobe River Safari.
About Pangolin Photo Safaris
Pangolin Photo Safaris was born from the belief that in today's day and age "Everyone Is A Photographer". Pangolin caters to photographers of all levels of experience, starting from complete newbies with a point and shoot camera, to professional photographers with their own $10,000 camera set up.
The founders, Guts and Toby, chose Chobe National Park as the first destination for their African photo safari tours because in their words "it is the best year-round wildlife photography destination in Africa". Since then, Pangolin Photo Safaris have expanded their operations to offer Africa photography safaris in Kenya, Zimbabwe, South Africa, and other parts of Botswana.
The Pangolin Difference
As one would expect, Pangolin safari cars and riverboats are equipped with sandbags and gimbals to stabilize cameras and their Botswana safari drivers are trained to move slowly, avoiding fast or jerky movements on Chobe riverboat cruises or while driving.
But the set up goes even further, as Pangolin provides every guest with high-end camera equipment (Canon 7D with Sigma 150-600 lens).
In addition to the fancy equipment, every group is accompanied by a Pangolin Photo Host, an expert in wildlife photography who knows Chobe National Park, its wildlife and its landscapes like the back of their hand. They assess the expertise and interest level of every guest and tailor their tips and advice to their unique needs.
It didn't take us long to let down our guards, admit our shortcomings and to allow our Photo Hosts, Charl and Danielle to teach us a thing or two about wildlife photography. And boy, did we learn a lot!
Check out some of our favourite shots from our Africa photography safari with Pangolin.
Why we Loved our Safari with Pangolin
Focus on Photography
Pangolin Photo Safaris are really made for photographers by photographers. Pangolin Chobe National Park tours are not about chasing the big game, although we see many of them, they are about taking things slowly, spending time observing the animals, looking for the best light, and focusing on photographing the big picture as well as the small details of every animal.
We loved that our photography education wasn't limited to our time on safaris and neither was our interaction with the Photo Hosts. They spent lots of time with us outside of the game drives, giving us plenty of opportunities to get to know them, to ask them questions, and to learn more about their experience photographing wildlife in Africa.
Our photo host, Charl, also offered Lightroom sessions and was happy to provide image reviews and suggestions for improvement. They were with us, every step of the way!
Suitable for any Level
Despite the fact that we consider ourselves to be experienced photographers, we still learned so much from our Photo Hosts, Charl and Danielle. Since we already had a good grasp of the basic camera settings, we focused our training on shooting in difficult light conditions.
Other guests that joined us on this Africa photo safari, had their own individualized training. For some, it was more about the basics: learning how to shoot in manual mode and how to frame better shots.
No matter what your level of experience is, Pangolin Photo Hosts will adjust to deliver you the information and training you need, offering the best safari in Africa for photographers of all levels.
Family Feel
At Pangolin, they often say that their clients "come as guests and leave as family" and we can truly attest to that feeling. It didn't take us long to get to know not just our photo hosts, Charl and Danielle, but the other photo hosts, Janine and Sabine as well as the co-founders, Guts and Toby and the rest of the staff at the Pangolin Chobe Hotel in Kasane. Everyone was incredibly welcoming, friendly, and within a matter of hours, knew us by name.
Our favourite bonding time was definitely the communal dinners, "hosted" by different staff on a daily basis. Sharing a meal with fellow guests, guides and photo hosts was a great way to get to know everyone in a very unique way. Being outside of game drives, everyone was more relaxed and chatty!
Conservation
Aside from their focus on Africa photography tours, Pangolin Photo Safaris demonstrate strong commitment to conservation. On our African photo safari and throughout our stay, it became clear that the staff respected the wildlife in Chobe National Park and that they were eager to share it with guests which we really appreciated.
Pangolin Photo Safaris is the founding partner of a new non-profit organization, Pangolin Africa, committed to the conservation of the Pangolin, the most trafficked wildlife species on the continent. The NGO is aimed at increasing awareness, gathering data on the species, and implementing protection and rehabilitation projects.
Where We Stayed: Pangolin Chobe Hotel
Our Pangolin Photo Safari included an all-inclusive stay at Pangolin Chobe Hotel, located in Kasane. The hotel is modern, offering a refreshing difference from other Chobe safari lodges, and is ideally located, overlooking the Chobe River and Caprivi Floodplains.
There are only 14 rooms at Pangolin Chobe Hotel, giving guests an intimate feeling and personalized service. The rooms are well equipped with a comfortable King or Queen bed, a modern loft-style ensuite bathroom, and have lots of desk space and charging points for photography equipment and laptops.
The lobby is large, open concept and features a photography gallery and a "photography suite" to edit images from your Botswana photo safari. Outside, there is an eco pool and fireplace where guests gathered before and after dinner with a drink.
However, the bar is an equally nice place to relax after a day out and it was our favourite hang out spot in the evenings. It has incredible views of the national park where our Chobe photo safari took place every day.
Of all the Chobe National Park accommodation options, Pangolin Chobe Hotel was by far the most unique, the most modern and the most suitable accommodation for photographers on a safari in Botswana.
Where We Ate: Food on Pangolin Photo Safaris
We never went hungry while on Pangolin Photo Safari. Our days typically started at 5-6am with a continental breakfast available before game drives. Brunch was served after the morning drive, around 11am and consisted of a selection of healthy dishes, like salads, quiches, and a selection of snacks.
High tea was served around 3pm, just before the afternoon safari, followed by a communal dinner around 7pm. Dinners were prepared African style, meals featuring local ingredients with a Western twist served on the pool deck "family style".
All drinks were included in the stay and we were happy to see some great craft beer, cocktails and wines on offer at the Pangolin hotel bar.
Pangolin Photo Safaris Destinations
During our safari, Botswana's Chobe National Park and specifically the Chobe River section of the park was the base of all our game drives and Chobe river cruise adventures. We interchanged going out on the Pangolin river cruise boats with taking a few game drives in the safari vehicles.
Aside from the hotel, the company also has a Chobe River houseboat called, the Pangolin Voyager. The houseboat is best suited to groups of friends or families and is perfectly suited to the needs of photographers and non-photographers who are looking for a more exclusive experience.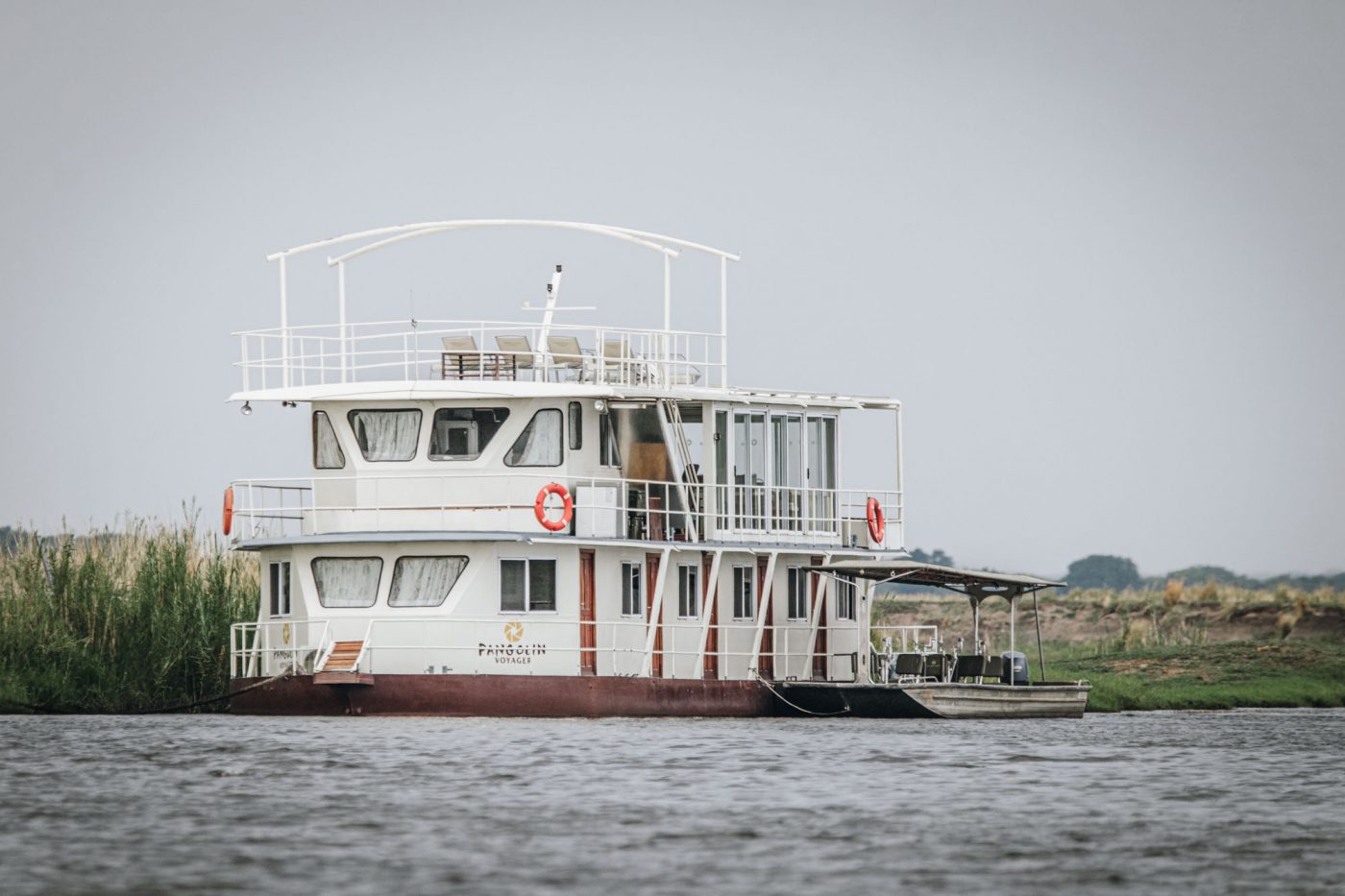 There is also an opportunity to join a Pangolin Mobile Camp photo safari that goes beyond the Chobe River and deep in the Northwesterly section of the Chobe National Park. We heard lots of stories during our time with the Pangolin crew about this amazing camp. It sounds like a proper bush experience but with a healthy dose of "glamping"!
The Bottom Line
Our time in Chobe National Park on a photo safari with Pangolin exceeded all fo our expectations. We fell in love with photographing wildlife from a whole new perspective and walked away with some great new skills and a strong desire to get back into the bush! What an experience!
Disclaimer: Our stay at Pangolin Chobe Hotel and our photo safari were provided courtesy of Pangolin Photo Safaris, but as always all opinions in this article are our own.