There are a million and one reasons to visit China. Many people are fascinated with China's fast-growing metropolises, its diverse cuisine, arts, and beautiful landscapes, while others are enthralled by ancient towns and history. No matter what your reason is for embarking on a trip to China, there are definitely a few China travel tips that we want to share with you before you go.
*This post may contain affiliate links, as a result, we may receive a small commission (at no extra cost to you) on any bookings/purchases you make through the links in this post. As an Amazon Associate, we earn from qualifying purchases. Read our full disclosure
Our recent trip to China wasn't our first. Back in 2012, I (Oksana) spent a year living in Shanghai.
I made several trips while there, exploring many of the country's famous attractions. But I always wanted to come back to China with Max to share with him the beauty and diversity of the country along with some of the challenges that came with traveling here.  
We now know first hand that a trip to China can be a real test, even for the experienced traveler. Unless you are planning to explore the country on a tour, you are bound to run into a few challenges along the way. It can be a frustrating and intimidating experience, but a few travel tips can go a long way to prepping you for this exciting destination.
Let's start with a few basics…
Get your visa ahead of time
With the exception of citizens from a few Asian countries, all travelers need to obtain a visa to enter China. These vary from a 72-hour transit visa (obtained upon arrival) to 30-day single entry visa and multiple entry 10-year visa.
It's best to apply for your Chinese visa ahead of time at the Chinese embassy in your home country. You'll be required to present proof of air travel (in/out of the country), along with some proof of accommodation (even if it's just for a few days).
Visa processing takes anywhere between 3-4 days to 1-2 weeks, depending on the country; so make sure you don't leave this until the very last minute.
We got our visa at the Chinese Embassy in Canada and managed to score a 10-year Multiple Entry Visa for just $145.
Learn Mandarin
When it comes to the English language in China, it's practically nonexistent. And unlike many other countries around the world, where visitors can get by with a little bit of pointing and charades, it sometimes feels like there is no patience for this in China. Knowing a bit of Mandarin can make or break your trip.
You can pick up a few words and basic pronunciation rules phrases through Duolingo, but we recommend investing in a portable (Kindle Edition)  English-Mandarin Phrase Book, to help you communicate while you are on the road. Instant translating apps like Google Translate are also becoming more and more popular in the tourism industry across the country.
Thanks to my experience living in China back in 2012, I was able to recall some basic Mandarin that helped us tremendously while ordering food at restaurants, navigating the cities, asking for directions, buying train tickets and so much more.
Don't Overplan
It's easy to get caught up in researching China's sights and attractions and become completely overwhelmed by how much there is to see and do here. It's easy to overlap (we are guilty of making this mistake) and to cram too much into a short period of time.
Remember that China is huge, so if you only have 2-3 weeks to spend in the country, you'll have to focus on just 2-3 regions. Plan too much and you'll end up rushing from city to city, hopping from plane to plane, without giving yourself time to relax and take it all in.
Learn About the Biggest Scams
Being aware of the common tourist traps can definitely help you avoid them. Don't fall for pretty girls, inviting you out for tea or coffee, or students looking to practice their English. The majority of these con artists are trying to get you to a tea house or restaurant where you'll order something "off the menu" and end up paying big bucks for it.
Prepare for the Chinese Ways
We won't try to sugar coat it. By Western standards, Chinese have no manners. They spit, burp, urinate on the streets (especially children), smoke in public, push, shove, and have no awareness of personal space.
It's easy to get irritated by the Chinese ways, but we strongly urge you to remember that this behaviour is ingrained in their culture and is just something you have to tolerate while you are there. Prepare for it mentally, know that it's coming, and it might bother you just a little bit less.
Be Aware of Pollution
Air pollution is a serious and worsening problem in many Chinese cities. The largest ones — Beijing, Shanghai, Chengdu — see pollution levels well above the healthy standard, and air quality can seriously impact your visit.
Those with asthma and other respiratory problems should consult their doctor; for everyone else, it's just a matter of being aware and prepared. Check the Real-time Air Quality Index and plan your days accordingly. 
Face masks can be purchased in convenience stores across the country, but if you are planning a trip to China in the summer, when air quality is at its worse, consider purchasing a premium mask before you go.
Don't Fly. Take the Train instead
Our advice to avoid flying while in China is rooted in more than just environmental consciousness. The problem with flights in China is that they are notorious for being delayed or canceled altogether.
China experiences some of the worst flight delays in the world. Between military engagements that halt flights whenever they wish and lack of up-to-date air traffic control rules and regulations, flying in China is an ordeal and one that's best avoided.
Luckily, the country's high-speed railway system acts as a great alternative to flying. Routes are well developed, trains are clean, modern and always on time, and getting around the country via train is actually enjoyable.
Read up on traveling by train in China on Seat 61, and use ChinaHighlights.com or Ctrip to research routes and schedules, and to purchase tickets online. Keep in mind that an online reservation must be exchanged for a ticket prior to boarding the train. You can do this up to 30 minutes before at any railway station across the country, but we suggest you do this well before that.
Get a VPN before you Arrive in China
You have undoubtedly heard about the challenges of staying connected while in China. It's not just Facebook and Instagram that are blocked, but the entire Google ecosystem, including maps, search, Google Drive, Gmail, and more. Prepare to be offline for the entire duration of your trip or invest in a VPN subscription to bypass China's firewall.
Some hostels now started installing computers with VPN in common rooms; but generally, getting online without VPN is tough.
We recommend Express VPN. At just $12.95/ month, it's a great VPN service that keeps us connected throughout our time in China. The only downside of a VPN is that it significantly reduces internet speed. No Netflix for you while in China.
Now a few essential reminders…
Practice your Squatting Skills
We hate to break it to you, but public toilets in China are squatters (with the exception of wheelchair accessible toilets which you may be lucky to come across in places like airports).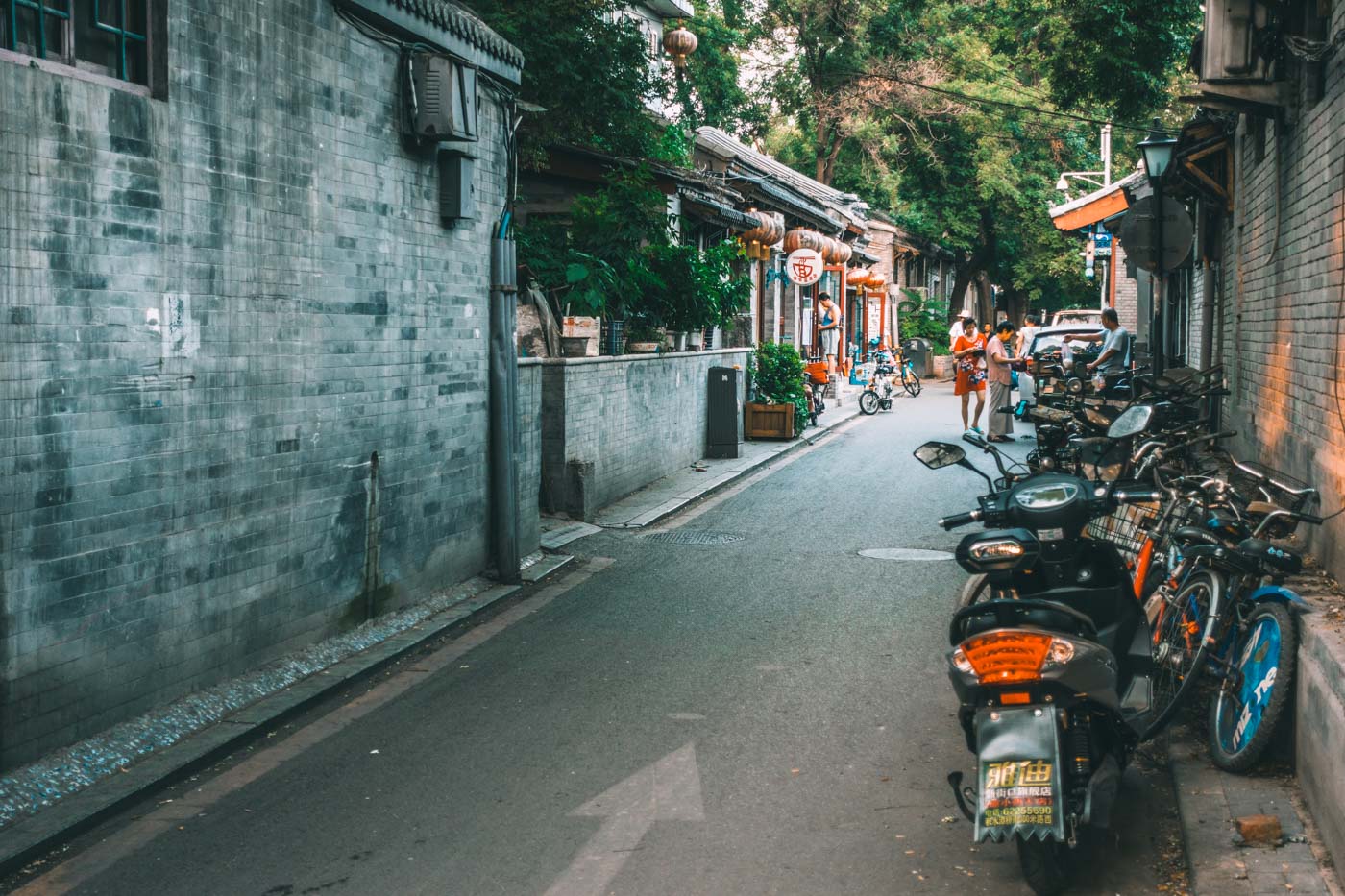 Aside from that, you won't find Western-style toilets anywhere, not even in fancy restaurants, major attractions or malls, so it's a good idea to practice your squatting skills before your trip. 
Carry your Own Toilet Paper
Individual stalls in public bathrooms are rarely stocked with toilet paper. If you are lucky, you'll find a giant roll at the entrance, but we don't recommend relying on that for your bathroom needs.
We always carry our own and we recommend you do the same.
When Taking Taxis, Have your Destination Written in Mandarin
Even in big cities, taxi drivers rarely speak English. But what's even worse is that some of them do not understand written Pinyin either. So showing the driver names of roads, hotels or intersections in English or even Pinyin won't get you anywhere.
If you booked your hotel via booking.com, use their "Show in Native Language" function to give directions to the driver. When exploring the city, ask the receptionist at your hotel to write down your destination in characters on a piece of paper.
Next, let's talk about food…
Don't be Afraid to Eat Strange and Unfamiliar Things
Food in China is plentiful and incredibly diverse. Every region has its own cuisine and its own specialties that are unlike anything you've ever tried before. And be warned, it tastes nothing like the Chinese you have back home. It's way better!
But to get the most of your food experience in China, you have to be prepared to try things that you are not used to. Strong spices, strange flavours, and unique combinations.
Vegans and vegetarians have to be extra vigilant about ingredients that go into their meals, as these diets are not popular with the locals.
Familiarize Yourself with Local Table Manners
If you have the chance to dine with the locals, familiarize yourself with the local table manners. The host (i.e. the person that invited you to the meal) will do most of the ordering and dishes will be shared.
When ready, food will be placed on a rotating tray in the middle of the table. If you want rice with your meal, order it and specify that you want it right away. It is customary for rice to be brought out later in the meal and used as a cheap way to fill up at the end of the meal.
Western Style Breakfast is Difficult to Find
Unless you are staying in a 4-5 star Western hotel, breakfast will most likely consist of congee, pickles, noodles, and other Chinese delicacies. We made our own simple and healthy breakfast 80% of the time, using yogurt (sold in every grocery and convenience store), fruit (purchased from locals on the street), and nuts.
Baozi (steamed dumpling), jiaozi (boiled dumpling), and boiled eggs are the easiest and often only type of breakfast you'll be able to find on the streets.
Get Adventurous With Tea  
As the birthplace of tea, China is a fascinating country to visit for any tea lover. Whether you are obsessed with tea or keep your cuppa rather simple, don't miss an opportunity to try some unique tea flavours and varieties. Bagged tea is practically unheard of in China, so enjoy the luxury of loose leaf tea.
Tea houses are plentiful in China and can range from small local gathering spots to elaborate gardens where tea tasting is an affair that can cost an arm and a leg.  
Last few travel tips…
Explore Beyond the Major Cities
If traveling independently, take the chance to explore China beyond the major cities. Visit small towns where you can get a better feel for everyday life, get lost in hutongs (small alleyways) and explore each destination beyond the guidebook. Get out in nature and see the beauty of China that lies outside of the big metropolises.
Don't Worry, You'll be Safe
Traveling to China can be intimidating but when it comes to safety, it's one of the safer countries in Asia. Serious crime against foreigners is uncommon, so as long as you exercise a certain degree of caution and common sense, you'll be fine.
Be Prepared for a Test in Patience
Independent travel in China is hard. Plans go awry, miscommunications happen and things sometimes just don't work out the way you envision. Over our time in China, we've missed trains, had to cancel plans, been scammed, lied to and run into a plethora of transportation and communication challenges.
We found that the longer you spend in China, the easier it gets, but nothing works better than a positive attitude and a whole lot of patience and understanding.
Learn to breathe (meditation really helps!) and to just go with the flow!
What other China travel tips can you add to the list? Let us know in the comments below!