The gentle hum of the electric engine permeates the air as we glide through the bush on our first morning safari drive at Cheetah Plains Private Game Reserve. The sound is faint, easily overpowered by the shriek of a crowned lapwing bird. The vehicle rocks like a cradle as we make our way up and down the dirt road of Sabi Sands Nature Reserve. My mom is drifting off to sleep, tucked into a cozy blanket in the back seat. The heated seats are a treat for her sore back.
*This post may contain affiliate links, as a result, we may receive a small commission (at no extra cost to you) on any bookings/purchases you make through the links in this post. As an Amazon Associate, we earn from qualifying purchases. Read our full disclosure
We've been out since 5 am, tracking a pair of leopards whose tracks we picked up at dawn, just outside of our villa at Cheetah Plains. For big wildlife enthusiasts like Max and I, the thrill of tracking an animal through the reserve is unmatched, but my parents and brother seem to be less enthused. It's their first time in South Africa and their first time on a safari, but after 3 days at a bush camp in Timbavati, the early morning rides are starting to lose their appeal.
I start to wonder whether an early morning ride on this gloomy day was a good idea. But everyone perks up when our guide, Sabelo, announces that a leopard sighting is imminent. Our tracker, Victor, leaves his tracker post at the front of the vehicle and hops inside. "Safety regulations," he explains. At Cheetah Plains, the safety and well-being of staff are of utmost importance and trackers are required to sit inside when approaching a potentially dangerous animal.
Sabelo warns us that we'll need to go off-road to reach the leopard. Max and I exchange concerned looks. Will an electric vehicle have what it takes to make it through the thick bush in front of us? But the Land Cruiser doesn't hesitate. The acceleration is almost immediate, and the power doesn't let up despite the obstacles en route. The ride is bumpy but not nearly as jarring as we expected. Sabelo is an expert in keeping guests' comfort at the top of his priority list. I'm grateful to know that my Mom and Dad won't complain of back aches.
A group gasp fills the air as we finally reach the leopard. He's big and beautiful and is mere meters away from our vehicle. The leopard seems just as surprised to see us, and for a moment we lock eyes, a silent understanding passing between us. And then, as suddenly as he had appeared, the leopard turns and dissappears into the brush, leaving us awestruck and grateful for the once-in-a-lifetime encounter. It's an incredible sighting to start our safari in Sabi Sands Nature Reserve.
Traveling Soon?

Here is a list of our favourite travel providers and accessories to help get you ready for your upcoming trip!
About Sabi Sands Nature Reserve
We thought long and hard about where to take my family for their first safari experience. While many other game reserves and parks around Africa crossed our minds, we knew that safari in Sabi Sands Nature Reserve couldn't be beaten.
Situated on the border between South Africa and Mozambique, Sabi Sands Nature Reserve is one of the most renowned private game reserves in Southern Africa. Integrating 65,000 hectares into the Greater Kruger National Park, Sabi Sands' prime location allows guests to enjoy an incredible safari experience thanks to the natural movement of the wildlife that inhabits this protected area.
Home to various antelope species, as well as the Big Five, including lion, elephant, buffalo and rhinoceros, Sabi Sand Nature Reserve is particularly famous for its spectacular leopard sightings.
Despite the suggestive name of the lodge, cheetah sightings at Cheetah Plains are rare but possible, as are opportunities to spot some other rare animals, such as honey badgers, ground hornbills and African wild dogs.
About Cheetah Plains
We first learned about Cheetah Plains back in 2018 when researching the most sustainable lodges in South Africa. The lodge located in the northern part of Sabi Sands Nature Reserve, is one of the most eco-lux accommodation options in the region.
As the home of the first electric safari vehicles, the lodge immediately sparked our interest and was swiftly added to our travel wish list. But it wasn't until our stay here that we realized the unique features of Cheetah Plains.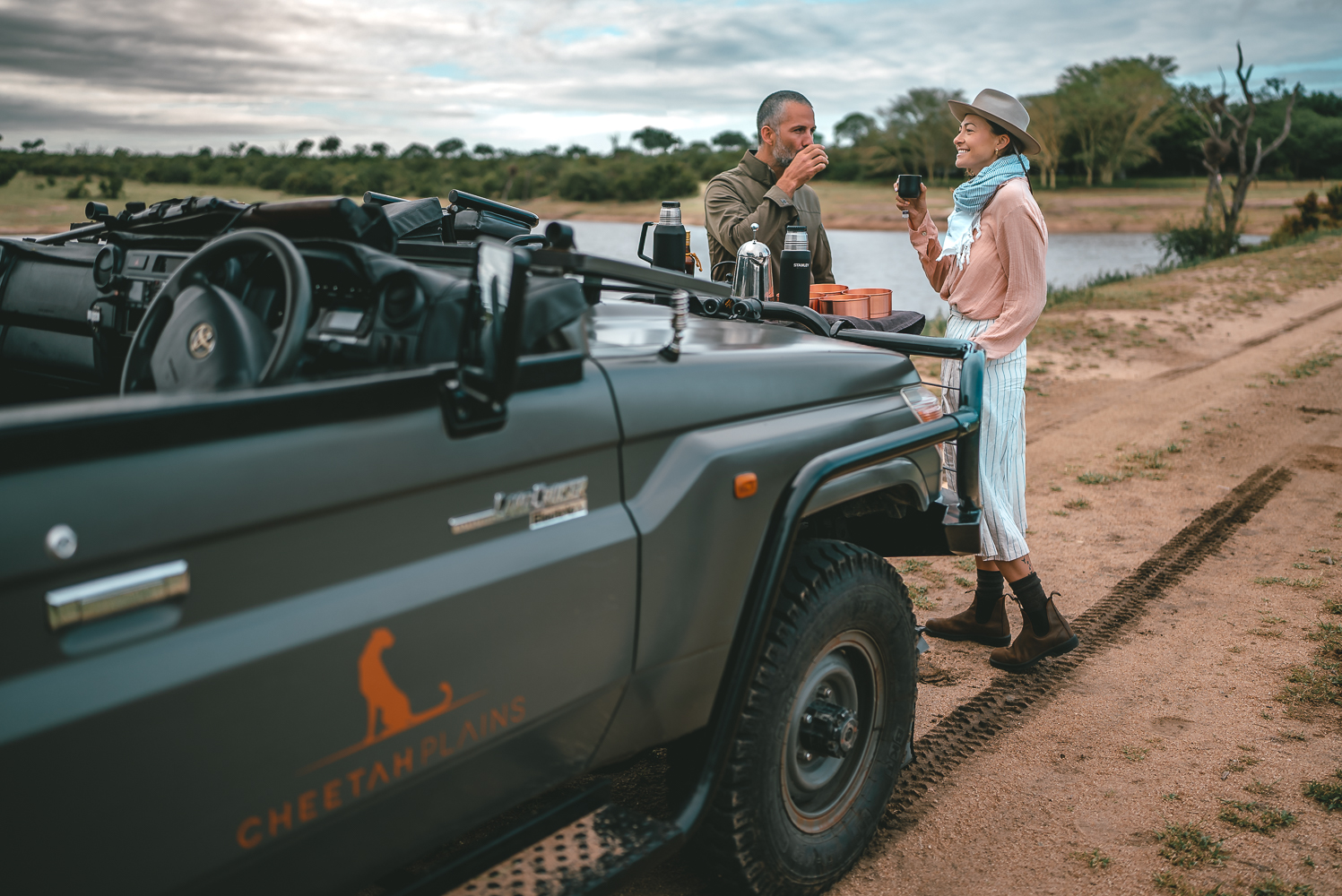 Sustainability at Cheetah Plains
Electric safari vehicles may be Cheetah Plain's claim to fame, but we were pleased to learn that sustainability initiatives at the lodge go well beyond that. The entire operation at Cheetah Plains runs with a sustainable mindset. Operational decisions are made with the environment in mind and low impact is considered by all the definitions of success.
The lodge, including all villas and suites, is entirely off-grid, using solar energy as a renewable power source. Zero-emission game viewing sets an important example for the industry and differentiates Cheetah Plains from other luxury lodges in Sabi Sands Nature Reserve.
The property is entirely plastic-free, with water served in beautiful glass carafes instead of plastic water bottles. Even the most mundane items, like bathroom amenities, are offered in recyclable or composting packaging.
Food is locally sourced, with most produce coming from the town of Hoedspruit, just outside of Kruger National Park. Local suppliers are celebrated and supported throughout, be it in the wine cellar, minibar, or in our welcome gift bags.
The Private Villas
Cheetah Plains offers a first-class, tailored luxury safari experience that is truly unparalleled. The lodge is unlike any other luxury safari accommodation and consists of 4 private villas, each housing up to 8 guests in 4 luxury suites. Each villa is also complete with a formal lounge, living and dining room areas, a large pool deck, an entertainment lounge, a wine gallery, a curated art collection, an outdoor boma for fireside dining, and a chef's kitchen. The communal gym, fully outfitted with professional-grade fitness equipment and a curio shop just outside of our villa, completed the list of facilities.
---
The setup at Cheetah Plains is ideal for a big family reunion, a multi-generational trip, or a group of friends traveling together.
---
The villas are designed in a modern style with contemporary African art and decor pieces selected from both renowned artists and up-and-coming talent to form a stunning, contemporary gallery atmosphere.
Our private villa, Karula House, was attended by an entire hospitality team, including our host, a culinary team of chefs, sou chefs and pasty chefs, a private spa therapist, and expert field guides. Each one of them made our stay ever so special!
We never once came across another guest during our stay at Cheetah Plains. It felt like the entire lodge belonged to us, a special and well-suited experience for our big occasion! It was exactly how we wanted to celebrate my parents' 60th birthdays – an intimate environment of our family unit transported to the most incredible place on earth!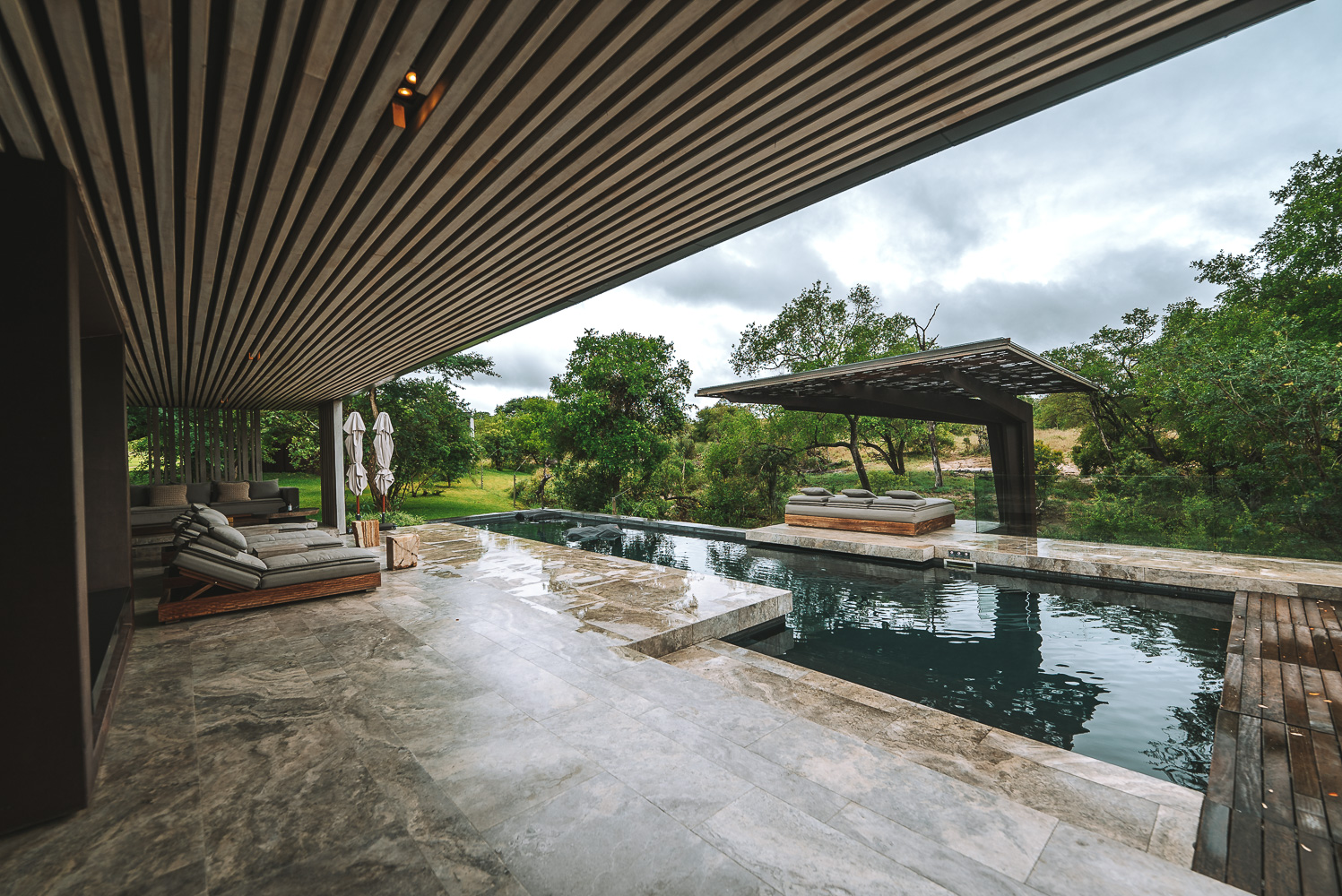 The Suites
Adjacent to the main villa, 4 double-occupancy private guest suites are just as luxurious as the main villa. Each suite has a king-sized bed, spacious walk-in dressing room and dual vanity, double rain shower and bath that overlooks the bushveld, lounge and fireplace, complimentary minibar with a coffee/tea station, a separate bathroom and a deck and daybed.
The suites are equipped with the latest technology and the most modern amenities, like iPhone that comes preloaded with safari apps and host contact details, charging ports throughout and even an espresso machine.
Welcome gifts and snacks are always a nice touch. But Cheetah Plains went over and above our expectations with a beautiful Africology gift set and a box of healthy snacks awaiting us in our rooms upon arrival.
Food & Drink
Meals time at Cheetah Plains became a highlight of our stay, not only because the food was incredible but because it brought our family together after game drives to recap our memories, laugh over our adventures and exchange our favourite moments.
At Cheetah Plains, guests dine in style either inside the dining room or in the boma area in the evenings. Each villa has its own private culinary team that works hard to prepare dishes using locally sourced produce to every guest's unique tastes and preferences. The chefs mastered our individual dietary needs and blended our quirky wishes into beautiful meals that satisfied the requirements of our family's picky eaters. My mom, an avid cook herself, walked away with many new recipes from our stay that she promised to try and recreate at family meals for years to come.
Our butler, Mbuso, and in-house sommelier, Sive, ensured that every meal was perfectly paired with beautiful South African wine sourced from some of the most exclusive wineries across the country.
Wine Tasting
One rainy afternoon, we gathered in the private wine room of our villa for a special wine-tasting experience. Sive had picked out 5 unique South African wines for us to sample blindly during the session. We huddled around the tasting table in the cozy wine room, eagerly awaiting the first pour. My brother, a wine novice, was seemingly nervous in anticipation of the experience.
But despite his concerns, the experience was anything but pretentious. Sive took his time to engage every single one of us in the experience. One by one, he unveiled each bottle, each one more delicious than the last. We laughed at our incorrect guesses of the varietals and applauded each other's wild predictions. The wine flowed freely as we laughed and chatted, lost in the pleasures of a beautiful afternoon.
Spa
Everyone's favourite part of the day was the Spa session, provided by the lovely Brenda, our private spa therapist, in the comfort of our own rooms. The extensive spa menu allowed each one of us to select the treatment that was right for us. I opted for an Africology facial, Mom – for an anti-aging facial, while Max, my brother and Dad enjoyed massages.
Game Viewing at Cheetah Plains Private Reserve
The beautiful accommodation at Cheetah Plains, the food, wine and spa treatments made it hard to leave our private enclave, but the excitement of wildlife surrounding us meant that we were always up and ready for our twice-daily game drives.
Led by our expert field guide and tracker, we spent mornings and afternoons traversing through the African bush in anticipation. The electric safari vehicles made for a unique game drive experience that allowed us to get incredibly close to some of the more skittish animals. Zebras, impalas and even some birds seemed utterly unaware of our existence as we silently approached them on our drives. It made for plenty of incredible photo ops and special moments of gratitude.
Aside from our incredible leopard sighting, lions, hippos, elephants, rhinos, hyenas, and even a pack of wild dogs were just some of the exciting animals we spotted on our 4 game drives while at Cheetah Plains. What made our experience that much more special was Sabelo's experience and passion for wildlife. His attitude was intoxicating. His stories, accompanied by beautiful sightings, leaving a permanent imprint in our memory.

Special Moments
It'd be easy to assume that wildlife sightings made for highlights from our stay at Cheetah Plains, but for me, the most treasured memories were rooted in life's simpler moments.
I cherished the mid-morning hours we spent in the family room. Dad catching up on the news, Mom enjoying her morning tea by the fire, and my brother, an aspiring artist, drawn in by the artwork, his eyes flickering from one work to the next in an attempt to absorb every detail.
I adored the afternoon tea tasting with my Mom, a time to gossip and catch up on life. With our crazy travel schedule, it's been almost 6 months since we enjoyed quality time together. The best of our catch-ups are always over a cup of tea, or in this case, over 3 cups, but who's counting, right?
My parents' special celebration was the icing on the cake (pun intended). Unexpected. Simple. Yet, momentous. An affair to remember and a stay we'll never forget.
Disclaimer: Our stay at Cheetah Plains was hosted, but, as always, all opinions expressed in this article are our own.