There is no denying it, watching the Borobudur sunrise is a magical sight. The morning glow of the rising sun covers Borobudur in a blanket of warm fog that makes this beautiful temple feel that much more special.
*This post may contain affiliate links, as a result, we may receive a small commission (at no extra cost to you) on any bookings/purchases you make through the links in this post. As an Amazon Associate, we earn from qualifying purchases. Read our full disclosure
Borobudur is a 9th-century Mahayana Buddhist temple, Java, Indonesia and the largest Buddhist monument in the world. Travelers and tourists from all over the world come to Indonesia specifically to take a tour of Borobudur and see the magic of more than 500 Buddha statues and experience the even more magical Borobudur sunrise.
The Classic Borobudur Sunrise Tour
It was a photo of Borobudur at sunrise that hung on the wall of the travel agency on Jalan Malioboro that sparked our interest in visiting Borobudur during this magical hour.
"Yes, yes good. Borobudur Sunrise Tour – 125,000 IDR ($9 USD) per person, you see from Setumbu Hills. Very nice", said the travel agent with a smile.
"Setumbu Hills? No, we want to see from inside, like that photo", I said pointing at the frame hanging at the back of the shop.
"Oh, no problem. Inside is 450,000 IDR ($32 USD) you go before park open. 4 am start. But you must go to the Manohara Hotel."
The Manohara Hotel Sunrise Tour
The Manohara Sunrise Tour offers access to the Borobudur Temple before it is open to the public. Participants can enter the temple as early as 4:30 am with the group. The group then walks from the Manohara Hotel to Borobudur Temple, which is just minutes from the entrance to the park.
Typically the tour ends around 6-6:30 am, once the sun is up. At times the tour group can get quite large as there is no limit to how many people are permitted to join the tour.
Another Way to See the Borobudur Sunrise
450,000 IDR ($32 USD) was pricey and after our less than amazing tour experience at Prambanan the night before, we didn't want to book another average group tour.
We couldn't find any information online as to where or how we could catch sunrise without a Borobudur tour, so we figured we would just go and figure out the details upon arrival. Back at our hotel, the receptionist was happy to organize a scooter rental for us.
Our DIY Borobudur Sunrise Tour
We woke up at 4:30 am the next morning and hopped on our scooter with Google Map directions in hand. Surprised by how busy the city streets were at such an early hour, we carefully navigated our way out of Yogyakarta (locally known as Jogja) and onto Jalan Magelang Yogyakarta, that would lead us to Borobudur.
It was roughly an hour later when we arrived at the gates to the complex. The gate was closed. There were no other tourists in sight.
"Hello, Borobudur sunrise", yelled out a middle-aged man on a scooter pointing in the direction away from the gate.
"No thank you. We go inside"
"I take you to Setumbu Hills"
We shook our heads sticking to our original plan. It was 5:40 am. The sun would be rising in 10 mins.
All of a sudden the boom gate opened. We drove straight in, parked our scooter and made our way to the temple park entrance where a handful of other tourists were eagerly awaiting the doors to open. As the clock struck 6:00, we were welcomed inside and made our way to the ticket collection office where complimentary tea and coffee awaited us. We downed our welcome drinks and scurried to the main temple.
The first light of dawn had already hit the temple, awakening the birds in the trees leading up to Borobudur.
The First Rays of the Borobudur Sunrise
As our eyes caught the first glimpse of the Borobudur Temple through the morning mist, we noticed a crowd of tourists eagerly awaiting their chance to snap the first sun rays.
This group of people, easily identified by the bright yellow "Sunrise Tour" stickers adorning their shirts, were the "lucky few" that were happy to pay 450,000 IDR ($32 USD) to join the Manohara Hotel Sunrise Tour (or 275,000 IDR ($20 USD) if they were staying at the hotel) They had been there since 5 am, yet were still awaiting the sun to breach the horizon through the morning fog.
Minutes later, the birds scattered as the loud noise of camera shutters engulfed the temple. Selfie sticks and tripods were abound and guards were forced to turn into photographers as everyone jostled for the perfect Borobudur sunrise shot.
It was crowded and practically impossible to take a clean shot without another group ruining your photo. So we waited…
Enjoying the Borobudur Sunrise Without the Crowds
The benefit of traveling to Borobudur on a scooter was that we had the luxury of time. And it didn't take long for the crowds to disperse.
The majority of them rushed back to their Borobudur tour minivans, leaving us to enjoy the beautiful temple of Borobudur on our own. We lingered for another hour or so, taking the time to walk around the temple, snap some great photos/videos and depart shortly before the morning crowds rolled in.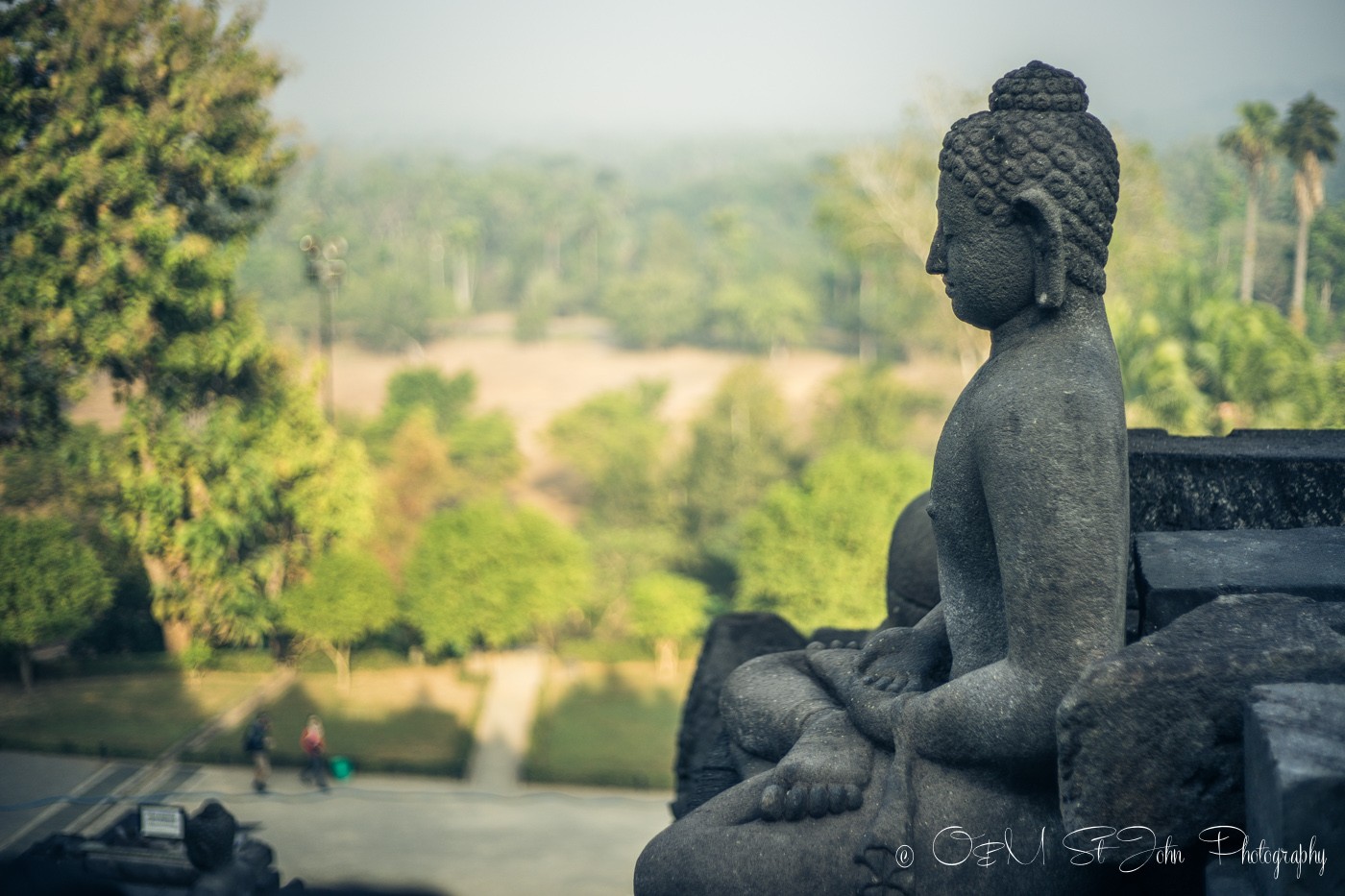 We took a scenic route on the way back to Yogyakarta, riding through the Central Java countryside exploring small villages and no-name-towns located just outside of the city.
We watched locals go about their daily lives with many waving their hands and yelling their hellos as we passed by their humble homes.
We returned to Yogyakarta shortly after 10 am overjoyed with our decisions to forgo the touristy route and explore on our own.
Essential Travel Tips and Advice for Enjoying a DIY Borobudur Sunrise Tour
Want to follow our footsteps, forego the expense of an organised tour to Borobudur and experience a Borobudur sunrise on your own terms? Here are a few helpful tips to keep in mind for doing your own independent Jogja Borobudur tour.
1. Hire your scooter the night before and make sure that you are comfortable riding it in heavy traffic before setting off on a trip to Borobudur. Getting to Borobudur was easy, as the roads weren't that busy at 4-5am, but driving into Yogyakarta in heavy morning traffic on the way back was rather hectic.
2. Make sure your scooter comes with a helmet or two. While you may see locals riding around without a helmet, we don't recommend that you follow their lead and take that risk! Safety first!
3. Download an offline version of Google Maps for the area so you can use navigation all the way from your hotel to Borobudur. It was helpful to work as a team with Max driving and me navigating the way, so if you are riding on your own make frequent stops to check your whereabouts and don't drive while looking at the map.

4. Plan your visit to Prambanan the day before and purchase a combo ticket for $30 that will allow you access to both temples. This will allow you to not waste time waiting in line at the ticket office to pay the Borobudur entrance fee and get to the temple faster.

5. Be patient once you get to the temple. The crowds will eventually disperse allowing you to take plenty of beautiful shots of the stunning Borobudur!
6. Don't forget to sit back and enjoy the views!
Best Time of Year for a Borobudur Tour
The dry season is from May to October, which is usually considered the best time for a Borobudur tour, but keep in mind that this will bring more crowds and the heat. The rainy season (November to April) will be a little quieter and tours to Borobudur are still an option. Instead of crowds of tourists to contend with, you'll have more mosquitoes!
The rain usually tends to come in the afternoon, so if you are visiting for a Borobudur sunrise, then you should be okay.
Keep in mind that the time of the sunrise will differ depending on when you visit! So be sure to check online when you are setting your alarm for your DIY Jogja-Borobudur tour.
How to Get to Borobudur
There are local buses from Yogyakarta leaving from the Jombor bus terminal (buses 2B and 2A) to northern Yogyakarta, where you will have to transfer to another bus to get to Borobudur Bus Terminal.
While the buses are aimed at local travelers, the Trans-Jogja bus staff will be happy to help you get on the right bus. It's a bit of a trek though, the journey will take anywhere from 60 to 90 minutes. If you're comfortable enough with driving, then it's much easier to rent a car or a scooter like we did.
Where to Stay
Greenhost Boutique is a unique and artsy hotel committed to sustainable development. They carry out their green philosophies through their operating practices, purchasing policies, and water and waste disposal. They are conveniently located in the heart of Yogyakarta about an hour and a half from Borobudur. Prices start at $79/night for a double, or twin room.
Java Villas Boutique Hotel and Resort comes highly rated for its tranquillity and cleanliness. It features a pool and free breakfast. Java Villas is located in downtown Yogyakarta about an hour and a half from Borobudur, where most people stay during their trip to the temple. Prices start at $66/night for a double, or twin room.
Rumah Mertua Boutique Hotel and Restaurant is set within a tropical garden just outside of Yogyakarta. Its beautiful property has clean, spacious rooms, and a communal pool. Prices start at $70/night for a double room. Breakfast is included in the price.
Is a Borobudur Sunrise Tour Worth the Early Alarm?
In a word, yes! A Borobudur sunrise is a magical experience and a must for explorers, spiritual travelers and photography enthusiasts alike! You'll get some amazing photo opportunities as the sun creeps up and illuminates the temple, the surrounding jungle and volcanoes. It is a once in a lifetime type trip and definitely worth the lack of sleep!
Have you ever visited Borobudur at sunrise? Did you explore on your own or with a tour?
Disclaimer: This post contains affiliate links which means that we receive a small commission on your bookings at no additional cost to you. If you find the information in this post helpful, please consider booking your accommodation via these links to help us offset the cost of running this blog.