*This post may contain affiliate links, as a result, we may receive a small commission (at no extra cost to you) on any bookings/purchases you make through the links in this post. As an Amazon Associate, I earn from qualifying purchases. Read our full disclosure.
The Panorama Route is a spectacular road trip through one of South Africa's most incredible natural landscapes. Located in the northeast corner of the country in Mpumalanga province, this route takes you through a visually stunning display of waterfalls, rugged mountain peaks and flourishing flora and fauna.
Planning a Trip in the time of COVID?

Keep in mind that information found in this article may have been impacted by travel restrictions and other closures. Double check opening hours, tour providers and hotel status before you go. And don't leave your home without travel insurance! If you are looking for an insurance provider that covers COVID-19, we recommend SafetyWing. Get Medical and Travel Insurance starting at just $40/month and you can sign up even if your trip has already started!
The Panorama Route's main highlight is the Blyde River Canyon, the third-largest canyon in the world and truly mesmerizing sight. There are multiple viewpoints along the way where you can stop to take in the surrounding vistas of the Drakensberg Escarpment down to the Lowveld.
Also, more waterfalls here than anywhere else in South Africa, and in summer it's popular for people to come and swim in some of the water holes at the base of the falls. Additionally, hiking trails in the canyon and around the waterfalls of the area, making it the perfect place for those who enjoy the outdoors.
From Johannesburg, it's a popular place to visit on the way to Kruger National Park as it's located very close to the park's boundary.
If you are planning to follow the Panorama drive, South Africa, here is some info that you might find helpful!
Where Does the Panorama Route Start and End?
The spectacular Panorama Route begins at Long Tom Pass, just outside the town of Lydenburg and heads through Sabie and Graskop to the border of the Mpumalanga and Limpopo. It ends near Echo Caves.
The main stretch of the road follows the R532 and is about 160km long.
Panorama Route Towns & Highlights
Lydenburg
This town sits at the foothills of the Long Tom Pass. The start of the Panorama Route is just outside of town before the pass, so it's a popular place to drive through. There's beautiful scenery from waterfalls and rivers to rolling hills in close proximity to the town, which makes it a good base for exploring the Panorama Route as well as Kruger National Park further afield.
Don't Miss
Long Tom Pass: A beautiful mountain pass at 2150m between Lydenburg and Sabie and where the Panorama Route begins.
Sabie
A forested town on the banks of the Sabie River, Sabie is nestled within the Drakensberg Escarpment. The town is known for its beautiful nature and abundant waterfalls, with 10 just within the town vicinity and more further afield.
Don't Miss
Horseshoe Falls: An easy walk from a campsite gets a superb view of the falls which cascade down the mountain in a sort of horseshoe shape.
Lone Creek Falls: Just 9km from Sabie town, these Falls have been declared a National Monument and tumble down 70 metre into the forest.
Bridal Veil Falls: An incredible 146-metre high waterfall that sprays over the edge of forested covered cliffs. There's an easy 1km path to reach the falls.
Graskop
A small town that was set up in the 1880s during the gold rush and which now serves as one of the main towns along the Panorama Route. Graskop is the perfect base for exploring some of the region's most beautiful attractions and lookout points. Its streets are also lined with pancake and biltong stores which are popular with tourists.
Don't Miss
Mac Mac Falls (and 3km Secretary Bird Trail): These 65 metre high falls have been made a National Monument. They are the perfect falls to swim and paddle around with deep pools at the base of the falling water which you can pay to enter. You can also take the Secretary Bird Trail through indigenous bush alongside the pools.
God's Window: A viewpoint from the height of around 700 metres, where the world seems to open up in front of you as you look across the escarpment to the Lowveld. You can follow a trail to the highest point and one of the best vistas in the area.
The Pinnacle: A craggy, stand-alone pillar of rock that makes for a unique sight.
Lisbon Falls: The highest falls in the area at around 94 metres. They are best visited by an hour-long hike down to the base of the falls where you can swim in the clear blue pool.
Berlin Falls: A short walk from the car-park will take you to a vantage point overlooking these falls which stand at 45 metres high.
Pilgrim's Rest
A preserved town that has been left in the same way it was during the 1800s gold rush. The entire town has been declared a National Monument and many consider it to be one of the most beautiful towns in the country. You can have a beer in the old pub and poke around in the old general store, which will transport you back in time.
Blyde River Canyon
This 25km long canyon is the third-largest in the world and has been formed over millions of years of rivers cutting deep into the escarpment of the Drakensberg.
Aside from these fun Blyde River Canyon facts, it's an incredible natural landmark and offers some of the best Panorama Route activities and opportunities to get out in nature in South Africa. From viewpoints to amazing spots like the potholes, Blyde River Canyon walking trails, there's plenty to do here.
Don't Miss
Bourke's Luck Potholes: Just 35km north of Graskop, the potholes are a natural water feature that marks the start of the Blyde River Canyon, South Africa. The naturally made potholes have formed over thousands of years and are like carved out swirling whirlpools. There's a short walk to the potholes from the visitors' centre.
Three Rondavels: Three stunning, gigantic peaks of quartzite and shale standing 700 metres above the surrounding landscape. There is an incredible Blyde River Canyon viewpoint which looks across to the Three Rondavels for a perfect photograph. It's one of the most popular Panorama Route attractions.
Kadishi Trail: This 2km hike into the ravine of the canyon is a great option for any age and fitness level. It's dotted with falls, swimming holes and picnic opportunities making it one of the best Blyde River Canyon activities.
Loerie Trail: A circular 14km hiking route that takes you through stunning pine plantations and is perfect for those with more time and energy.
Echo Caves: These natural caves have sheltered humans since the Stone Age and now protect some of the region's oldest rock engravings. The caves also boast dripstone formations that echo when struck, hence earning the place it's name.
How Long Does it Take to Drive the Panorama Route?
A Panorama Route itinerary can be from one to three days, depending on how much time you have and what you want to see along the way.
Panorama Route – Kruger National Park – 1 Day
In 1 long day it's possible to cover the main highlights.
Depart

Johannesburg

early in the morning.

Stop in

Sabie

to see the

Falls

and

Graskop

for

lunch

and to visit the nearby

Mac Mac Falls

In the afternoon, drive through the main viewpoints of the

Blyde River Canyon

before finishing your day.
Panorama Route – Kruger National Park – 2 Days
In a 2 day itinerary you could have a more laid back trip and relax at some of the main sights. This is a more common time frame for a Panorama Route tour.
Depart

Johannesburg

at your leisure.

Overnight in

Misty Mountain Lodge

in Long Tom Pass.

Next day, explore the

waterfalls in Sabie

and near Graskop. The extra time could be used to explore the towns a bit more. Check out the local market and shops in Graskop.

Spend the afternoon at the

Blyde River Canyon

.
Panorama Route – Kruger National Park – 3 Days
A 3-day itinerary would allow you to see everything at a leisurely pace. In a similar plan to the 2-day itinerary, you could overnight in Long Tom Pass, before spending the day at Sabie Falls and swimming in Mac Mac Falls near Graskop. You could overnight in Graskop before visiting the Blyde River Canyon and all the main viewpoints along the way like God's Window and Three Rondavels.
Where to Stay on the Panorama Route
Misty Mountain Lodge, Long Tom Pass
Misty Mountain Lodge offers beautiful chalets with stunning views over the rolling hills. It also offers plenty of nearby activities and any Blyde River Canyon tour.
Rustique, Graskop
Rustique is a homely guesthouse with charming country touches. It's within walking distance from restaurants and has a large garden for guests to enjoy.
Thandamanzi Self Catering, Sabie
Thandamanzi Self-Catering rooms are located in a farm-like setting with a large garden. It's also just a few hundred metres from the shops but is still a tranquil place to stay. It's one of the most popular Blyde River Canyon accommodation options.
Entry Fees and Other Costs
Many of the viewpoints and attractions have entry fees.
Three Rondavels and Blyde River Canyon

: 35 Rand

Echo Caves

: 60 Rand

Bourke's Luck Potholes

: 65 Rand

Mac Mac Pools:

30 Rand

God's Window:

20 Rand per adult

The Pinnacle Rock

: 20 Rand per adult

Berlin Falls:

15 Rand

Lisbon Falls

: 15 Rand

Forest Falls:

20 Rand

Lone Creek Falls:

30 Rand
In terms of budgeting for a self-drive, you can expect car rental to cost from around US$15-20 per day. However, it really depends on the type of car you're after. Fuel costs around 15.50 Rand per litre and you can get Panorama Route accommodation for between US$40-60 per night.
WANT TO EXPLORE SOUTH AFRICA BY CAR?

Get the best car rental rates by booking on our favourite car rental website, DriveNow. It compares prices across all major car rental companies, so you are guaranteed to get the best deal.
Self Drive vs Organized Tour
The Panorama Route and Blyde River Canyon is best done on a self-driving adventure as it gives you the flexibility to stop wherever you want and take your time as you travel along the road. The main road is tarred and well sign-posted making it easy for self-driving. Just make sure you remember to drive on the left!
There are plenty of tour options though if you don't have the time or prefer not to drive yourself. There are Panorama Route day tours that you can organize depending on your budget and available time.
Full Panorama Route Day Tour from Hazyview: This tour covers most of the spectacular sights and attractions from Hazyview, a town between Kruger National Park and the Blyde River Canyon.
Half-Day Highlights Tour: With less time, you could do a half-day highlights tour of the Panorama Route, taking in a couple of viewpoints and waterfalls.
Blyde River Canyon Cruise & Panorama Route: Tours can also include a Blyde River Canyon boat cruise along the river, which provides a totally different perspective of the natural landscape of this region.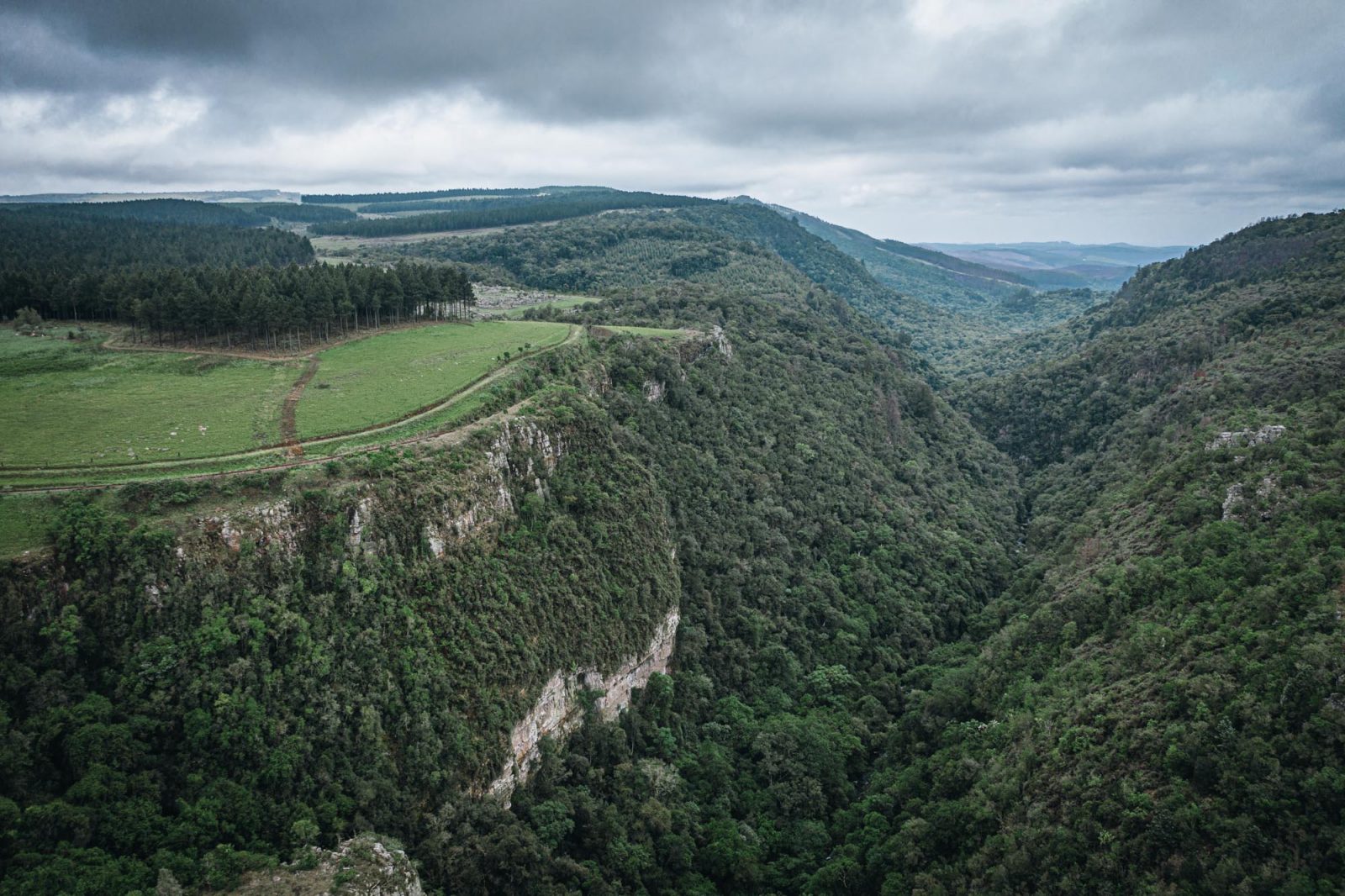 No matter how you choose to explore this beautiful part of South Africa, we highly recommend that you add the Panorama Route to your itinerary. It's the perfect detour en route from Johannesburg to Kruger National Park!
Have you driven the Panorama Route in South Africa? What were your favourite stops along the way?