*This post may contain affiliate links, as a result, we may receive a small commission (at no extra cost to you) on any bookings/purchases you make through the links in this post. As an Amazon Associate, I earn from qualifying purchases. Read our full disclosure.
If you're looking for a great day trip from Sydney, consider visiting the stunning Blue Mountains. Located less than a 2-hour drive to the west of the city, the Blue Mountains offer great experiences for nature lovers of all kinds.
You can do some hiking, ride in a glass cablecar, enjoy striking vistas, and discover a number of different waterfalls within the national park. Although a day trip to the Blue Mountains from Sydney is a rather popular idea, the Blue Mountains are well worth a visit during your time in Sydney.
Things To Do on Your Blue Mountains Day Trip
Three Sisters
One of the most famous lookouts in the Blue Mountains is the Three Sisters, an iconic monolith made up of three large rocks. The formation overlooks Jamison Valley and is best seen from Echo Point.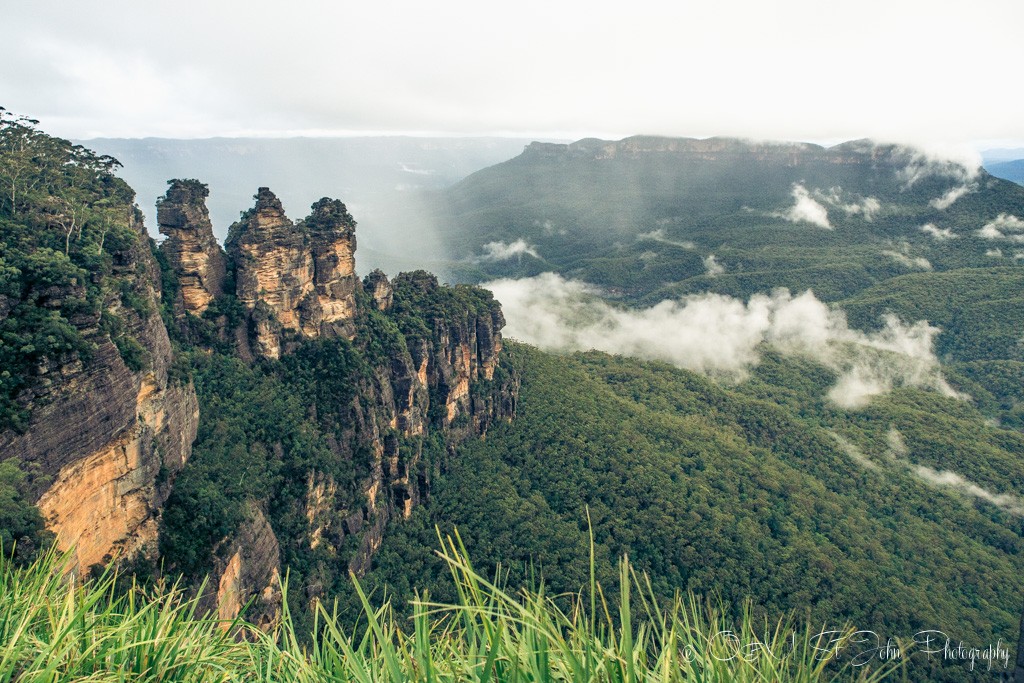 Did you know? The Three Sisters is a result of land erosion. The sandstone from the blue mountains was eroded over time by rain, wind and rivers causing the cliffs to broken up.
Waterfalls
There are two notable waterfalls that are worth a visit on your Blue Mountains day trip: the Leura Cascades and Wentworth Falls. The former has a picnic area and a number of trails nearby. Wentworth Falls is reachable from the Wentworth Falls hiking track.
Both waterfalls are quite close to each other and can be visited one after the other. In Leura Cascades, you can find plenty of rainforest plants like the Black Olive Berry and Southern Sassafras.
Scenic World
Scenic World is an iconic attraction that should not be missed on your Blue Mountains day tour. The site has a number of different activities you can do, such as the Scenic Skyway, a glass cablecar with incredible views, or and the Scenic Railway, the world's steepest passenger train ride.
Established in 1945, Harry Hammon's vision came into reality by turning a former coal mine into an iconic, award-winning attraction. Today, Scenic World is being managed by the Hammon family that brings an unforgettable experience to over a million visitors annually.
Mount Solitary
One of the best mountains to see on your Blue Mountains day trip is Mount Solitary. If you love hiking, camping and getting away from the crowds and into nature, this is the place to go.
Did you know? Korowal is the name given to Mount Solitary by the local indigenous people which means "The strong one".
Self-Drive or Group Tour?
There is certainly some debate about whether a group tour or a self-driving tour is better for a Blue Mountains day trip. While self-driving will give you more freedom and flexibility to design your own itinerary, you'll likely see less than you would on a group tour.
With self-driving, you'll need to rent a car in the morning in Sydney, which will take up a bit of time and you'll then have to navigate and plan the rest of the route yourself. What's more, you'll lack an expert guide to give you advice on where to go and what to see.
Taking an organized Blue Mountains day trip is, in our opinion, a much better option. You'll cut back on your carbon footprint by going with a group and you'll have a much more relaxed time with someone else leading the charge. In addition, you'll probably save money in the end since many tours include lunch, transportation, skip-the-line tickets to Scenic World and more.
Best Blue Mountains Day Tours
The Classic Tour
For a classic tour of the Blue Mountains, this is your best choice. You'll visit the Scenic World, where you'll ride the Skyway, Cableway, and Railway with skip-the-line tickets. You'll take a guided nature walk through the rainforest with your expert guide. You'll also visit the Featherdale Wildlife Park and take a cruise on the Parramatta River back to Sydney.
Don't forget to bring along your travel essentials (water, sunblock, hat etc.) and wear comfortable shoes! Be sure to wear warm clothing during Australia's winter time (June-August) as it gets very cold up in the mountains.
The Adventure Tour
If you like to get off the beaten path and see places that few tourists see then this adventure Blue Mountains day trip is for you. Hop in a 4-wheel drive and explore the backroads of Blue Mountains National Park. See viewpoints just as stunning but less popular than the Three Sisters, and eat lunch in a charming pub in the Capertee Valley.
Along the way, you might get a chance to catch a glimpse of these amazing birds in their natural habitat within the Capertee Valley. Peaceful Dove, Crested Pigeon, Honeyeater and Wedge-tailed Eagle are just some of the birds you may find. Make sure to bring your camera otherwise you'll miss this great opportunity to take their images!
Jenolan Caves and River Cruise Tour
The Jenolan Caves are one of the most unique things to see in the Blue Mountains, and on this tour, you'll get to explore them with the help of a local guide. You'll start your day in the stunning mountains taking in amazing views.
Next, you'll drive to the Jenolan Caves, the largest set of limestones caves in Australia, where you'll get a hardhat and torch before you set off to see the eerie stalactites and stalagmites. Later, you'll cruise down the Parramatta River to get back to Sydney.
Hiking and Sunset Tour
This tour is different than the others because it starts in the mid-morning and goes until after dark. You'll take part in several different bushwalks to Wentworth Falls, the Paradise Pools, and more. Your guide will take you to some of the best places to spot local wildlife, and with some luck, you'll see kangaroos, wallabies, and echidnas.
When sunset comes, you'll be situated in one of the best viewpoints in the Blue Mountains to watch the sky light up in all kinds of spectacular colours.
Regardless of whether you choose to tour the Blue Mountains on your own or join a tour, we hope that you'll enjoy your visit.
If you are looking for other day trip locations from Sydney, you might want to check our article here.
Have you ever visited the Blue Mountains? Did you drive yourself or join a guided tour?