This post was originally written in 2016, but has been updated in 2019 to provide the latest info about things to do in Chefhcaouen, Morocco
*This post may contain affiliate links, as a result, we may receive a small commission (at no extra cost to you) on any bookings/purchases you make through the links in this post. As an Amazon Associate, I earn from qualifying purchases. Read our full disclosure.
If there was one city we weren't going to skip during our time in Morocco, it was Chefchaouen. We weren't strangers to this little town nestled in the Rif Mountains. It was a destination we've seen grace the pages of many travel magazines and online publications, labelled as "mesmerizing," "electric beauty," and "Morocco's best-kept secret."
Was it all marketing fluff, words that look good on magazine covers, or was the town really as beautiful as they made it sound? We were about to find out.
We rocked up to Chefchaouen in the early afternoon, after an easy 2-hour drive from Tangier. We didn't book a hotel or have any solid plans for things to do in Chefchaouen.
We parked our car, and with backpacks, on our backs, we walked right into the medina and were immediately transported into a fairytale setting. We expected to see some blue in Chefchaouen, maybe a few cute blue alleyways, a couple of blue buildings, but no. EVERYTHING inside the Chefchaouen medina was blue, from the public square and government buildings to flower pots and benches.
'What's with all the blue?' you ask. Well as the story goes, this funky decor dates back to 1471, when the city of Chefchaouen was founded as a small fortress to fight the Portuguese invasions of northern Morocco. It was around that time that the city also became a large settlement for the Jewish people who fled here after the Spanish Reconquista. It is said that it was the Jewish teachings that connected the colour blue with the sky and with God's power that inspired the locals to decorate the medina in bright blue.
Today, despite the absence of Jewish refugees, the bright blue colour remains a symbol of the village. And even more so, it is what turned this small town of some 40,000 residents into one of the biggest tourist attractions in Morocco. We heard that to keep up the appeal, the local government even provides the necessary supplies (paint, brushes, etc) to the villages.
But it wasn't just the picture perfect blue backdrops that we loved about Chefchaouen, Morocco. Having visited lots of other cities in Morocco, we can confidently say that Chefchaouen was by far the most laid back, the most friendly, and the most pleasant town we came across during our time in Morocco.
We ended up staying in a beautiful little riad in the heart of the medina and spent 2 days roaming around the beautiful blue alleyways, indulging in delicious food, or people watching in the main square.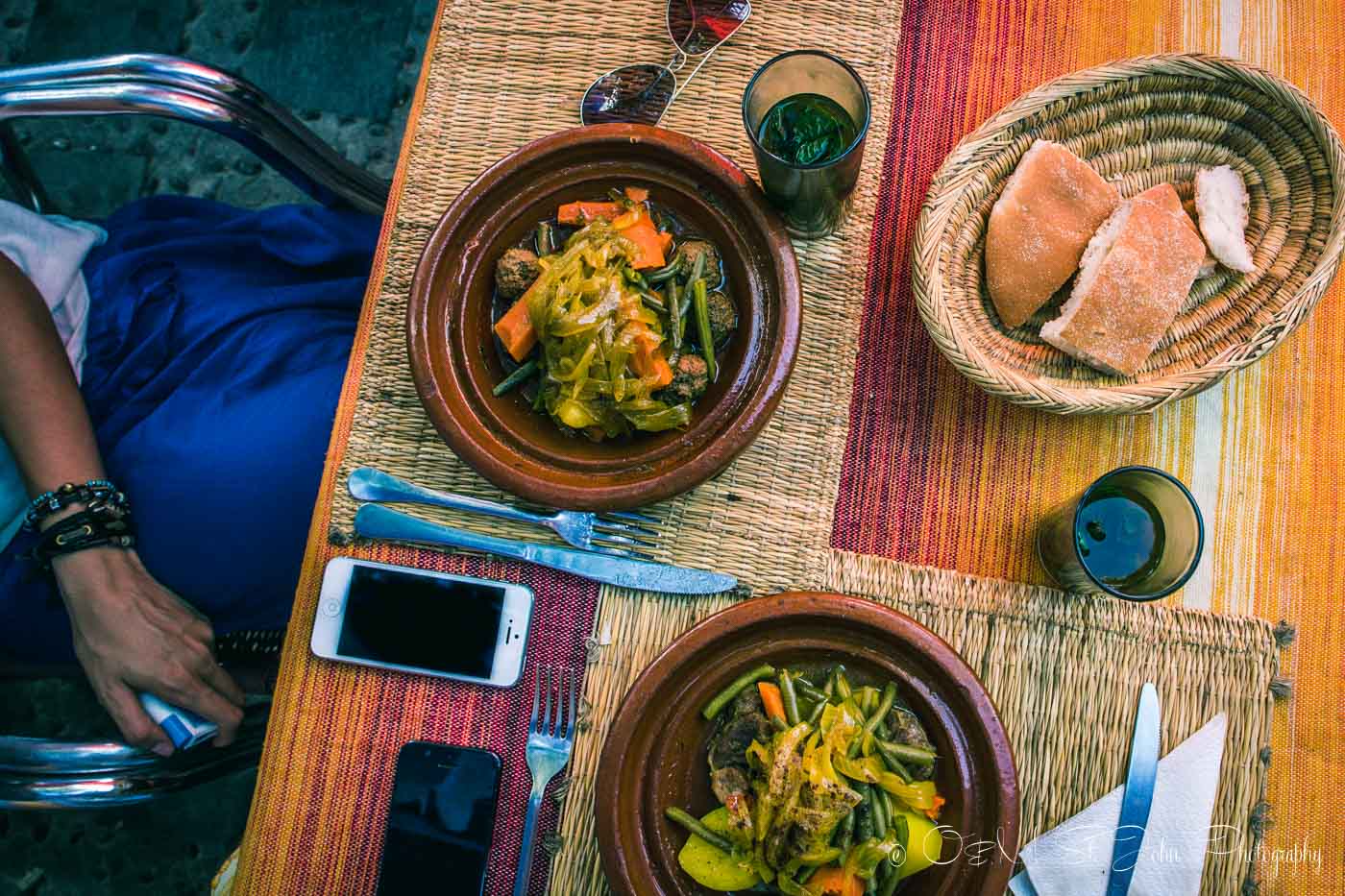 Things to do in Chefchaouen
Chefchaouen is one of those towns that doesn't require a well thought out itinerary. There isn't a long list of things to do in Chefchaouen or a slew of activities and attractions you just can't miss.
The beauty of Chefchaouen is the town itself.
That said, there are a few things to do in Chefchaouen that are still worth making time for.
Laid Back Shopping
If you love a good trinket hunt, then you'll love loads of little souvenir shops to wander through, and the bargaining here is more laid back than in Marrakech or Fes. The shop owners aren't as pushy, so the experience is much more pleasant. You can get reasonably priced textiles, rugs, slippers, dresses, artwork, and handmade crafts, as well as all the touristy items.
Take a Guided Tour
If you want a more in-depth look at the city, you can always take an organized Guided Tour of Chefchaouen. The tour takes just 3 hours and is a great way to learn about the city from a local and get some good tips on the best places to go.
Enjoy the Views from the Kasbah
Head to the middle of the medina to find the Kasbah. It was previously a prison but has been converted to an art gallery and museum. While the museum itself isn't much to write home about, they have a beautiful oasis-like garden perfect for relaxing after wandering the medina. But the best thing to do here is to climb the Kasbah watchtower and outlook over the blue city.
Watch the Sunset from the Spanish Mosque
Another great viewpoint in the city is just a 15-minute walk from the medina. The Spanish Mosque is on the top of a hill, so be prepared for a bit of a climb. If you're looking for the best photo opportunity without a bunch of sunset-tourists ruining your shots, just slip off to the side and you'll get unspoilt photos of Chefchaouen, Morocco glowing as the sunsets.
Simply Soak Up the Atmosphere
But really, one of the best things to do in Chefchaouen is to just chill, get lost in the blue, wander aimlessly, and just let the sights, sounds and smells of Chefchaouen, Morocco soak in!
Essential Travel Info for Visiting Chefchaouen, Morocco
How to Get to Chefchaouen
Getting to Chefchaouen is pretty easy, as there are daily buses from most of the major cities, including Casablanca, Fes, and Tangiers. It takes about 4 hours by bus from Fes and 6 hours from Casablanca.
Where to Stay in Chefchaouen
For hotels, Chefchaouen has countless options; you'll be spoilt for choice, really. Dar Dadicilef is right in the thick of it, located in the medina and with amazing views of the city from the rooftop chill out area.
If you fancy a little bit of pampering, then Lina Ryad and Spa will be just the ticket. You have views of the medina and the mountains, and you can rest your weary feet after a day of sightseeing in the on-site spa with an indoor pool, a hammam, and a hot tub!
If you're looking for hostels, Chefchaouen has a few decent options in the centre. Casa Blue Star is located in the Old Town district and has spacious rooms with a private bathroom, which is pretty rare in hostel accommodation!
For the eco-conscious traveller, you may need to go a little further afield to find sustainable accommodation. Gite Talassemtane is a guest house located 12km from Chefchaouen, in Zaouia Habteene village. It's a great spot to enjoy the blue city as well as explore the surrounding nature of the Rif Mountains and learn about the local culture and customs of the Berber community.
Where to Eat in Chefchaouen, Morocco
Bab Ssour: Serving meat, vegetarian, and vegan options, Bab Ssour is a great spot for a quick and tasty bite to eat, with lots of Moroccan salads to choose from. It's a little hard to find, located in the medina on the way to the main square and down some steps, but certainly worth the effort!
Sofia: Even harder to find (ask the locals!), is Sofia. It's up a level from the main street and has no sign outside, making it the perfect hidden gem. They serve meat and vegetarian food with excellent flavour. Try the Babaganush!
Cafe Clock: For wonderful food with a view to match, then this is the place. With their rooftop terrace and excellent food, it's easy to see why Cafe Clock is Tripadvisor's number one restaurant in Chefchaouen. They also have an excellent range of vegan and vegetarian options on their menu.
Have you ever heard of the magical blue town of Chefchaouen?