If you are a yoga enthusiast, then you'll agree that there is nothing more beautiful and relaxing than checking into a yoga retreat in a unique destination. And if you ask us, when it comes to yoga holidays, Costa Rica is just the place to do it. There is nothing quite like practicing yoga in Costa Rica, in the heart of the rainforest or on the beach.
*This post may contain affiliate links, as a result, we may receive a small commission (at no extra cost to you) on any bookings/purchases you make through the links in this post. As an Amazon Associate, we earn from qualifying purchases. Read our full disclosure
Some retreats combine yoga with other activities, like surfing, detox, meditation, and even new skills like permaculture farming. No matter what you want for your yoga trip, Costa Rica has options for you.
No matter your budget, other interests, the time you have available, or the time of year you are visiting Costa Rica, you'll have no trouble finding affordable yoga in Costa Rica that suits your personal needs.
Whether you're looking for a yoga retreat for singles, couples, just for women, combining surfing, adventure or just relaxation, Costa Rica has it all. In fact, there are so many amazing options that the most difficult part is choosing which Costa Rica yoga retreat to go for!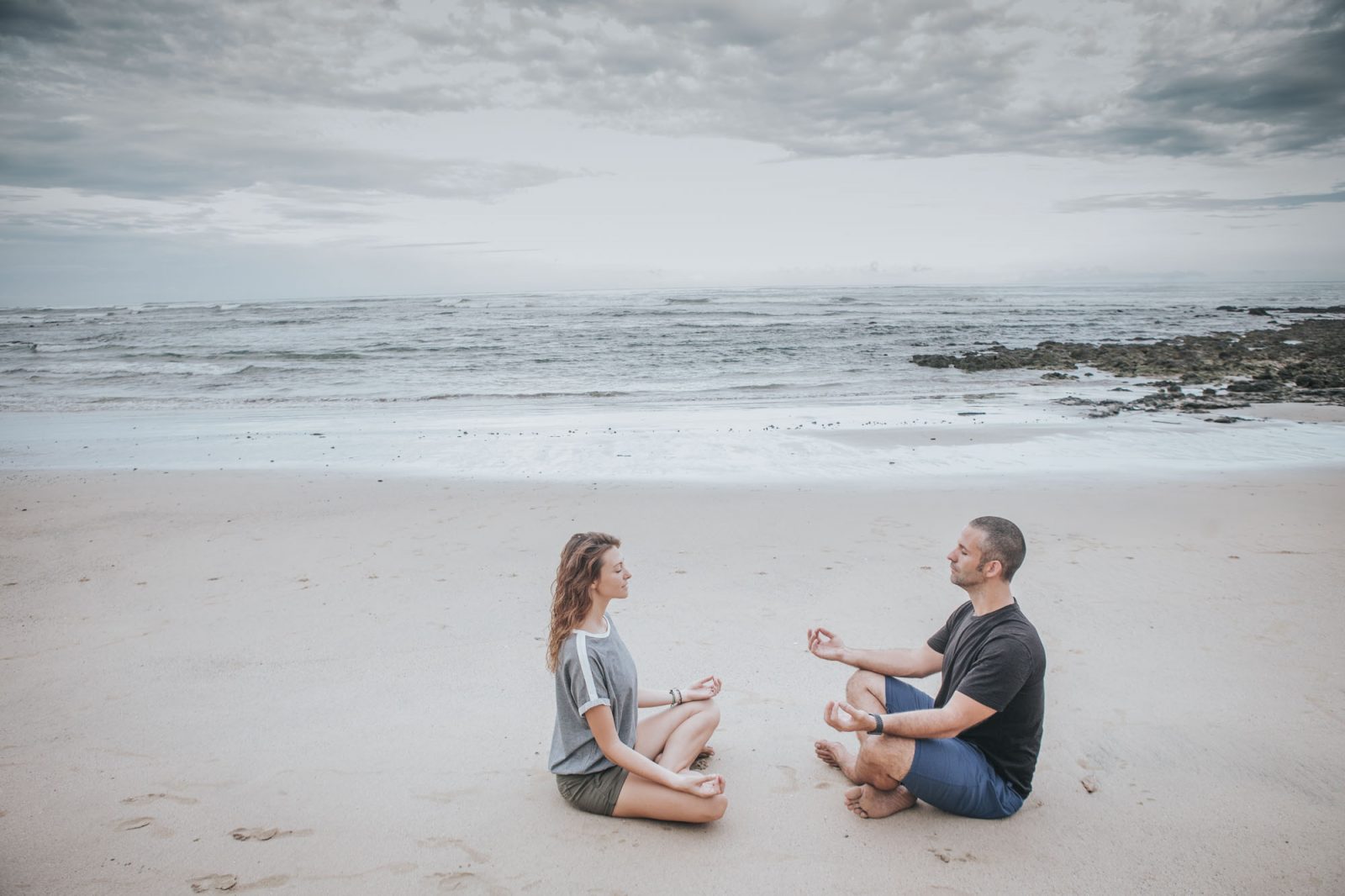 Traveling Soon?

Here is a list of our favourite travel providers and accessories to help get you ready for your upcoming trip!
Best Costa Rica Yoga Retreats
We spent many months travelling around the country, visiting some of the best retreat centres known for amazing group and private classes. Here are our top picks for your next Costa Rica yoga retreat!
Waterfall Villas
Location: Playa Dominical, Osa Peninsula
Length: 6-8 days
Dates: Year-round
Ideal for: Individuals, Couples & Small Groups
Cost: $1,499+/person
Waterfall Villas is a boutique hotel and wellness retreat center with a focus on sustainability, vegan cuisine, and detoxing from everyday life. They offer a variety of good options for yoga in Costa Rica all year round.
Their retreats focus on detoxing your body, meditation, yoga practice, healthy eating, and the mind-body connection.
Beyond their scheduled retreats, Waterfall Villas offers a private yoga retreat package for individuals, couples, and small groups – so grab your loved ones and get ready for a yoga retreat Costa Rica 2022!
The 7-day Detox Yoga Retreat ranges from $1,499 to $1,999 USD. Depending on the time of year (Green Season, Summer Season, or Christmas/New Year) and the type of room, rates at the Waterfall Villas range from $150 – 500 USD per night.
Samasati Yoga & Wellness Retreat
Location: Puerto Viejo, Limon
Length: 6-7 days
Dates: Year-round
Ideal for: Individuals, Couples & Small Groups
Cost: $2,000 – $3,000/person
Smack in the middle of the Costa Rican rainforest, Samasati Yoga & Wellness Retreat brings a whole new meaning to Costa Rica retreat. This eco-hotel is located on protected land on the Caribbean Coast, bringing you closer to nature without impeding on the local flora and fauna.
Samasati Yoga & Wellness Retreat was also one of the first establishments to offer a Costa Rica yoga retreat, so you can be assured that you're in experienced hands.
They've got a number of different packages available – two highlights being their Journey to Self Retreat and Escape to the Rainforest Retreat. Both packages include personalized yoga experiences for participants, so everyone gets the best possible yoga retreat in Costa Rica.
Room rates are reasonably priced, ranging from $90 – $260 USD per night. It's a good option for any yoga newbies looking for a yoga retreat Costa Rica in 2022, though for full prices of retreats, you'll need to contact the resort directly.
Anamaya Yoga Retreat
Location: Santa Teresa, Puntarenas
Length: 7 days
Dates: Year-round
Ideal for: Anyone who likes to practice yoga
Cost: $x/person
If you are looking for luxury yoga retreats in Costa Rica, then Anamaya is a great option. Located on a hilltop overlooking some of the most beautiful landscapes in the country, Anamaya is a renowned retreat for yoga in Costa Rica.
Their retreats range from Relaxation and Rejuvenation to Yoga & Adventure. Or, if you want to catch some waves, Anamaya offers one of the top surf and yoga retreats in Costa Rica. Being amongst world-class surfing, the week pairs surf lessons on the beautiful Pacific Coast with yoga sessions to improve strength and flexibility. They even have a special retreat for couples!
To book here plus explore more in Costa Rica visit the Yovada retreat website. From affordable stays to luxury venues Yovada offers a large selection of retreats, with all types of yoga programs and experiences on offer.
Their most flexible and inexpensive packages get you a luxurious room on the property and let you pick and choose the yoga classes you'd like to participate in during your beach yoga retreat (including other activities like surfing and circus training).
Their most popular package is the Yoga & Adventure package, which gives you access to daily yoga classes, guided jungle adventures, and ample time to relax on Costa Rica's stunning beaches. Anamaya's yoga teacher training courses are also excellent options for those looking to teach different yoga styles.
Luxury yoga retreats in Costa Rica don't have to cost the earth. Yoga packages range from $90 – $395 USD per day, so saving up for yoga retreat in Costa Rica can be easy. There are many types of lodging available to suit your needs, averaging about $350 USD/night.
Blue Spirit
Location: Nosara, Nicoya Province
Length: 7 days
Dates: Year-round
Ideal for: Groups
Cost: $695+/person
Blue Spirit is the perfect Costa Rica yoga retreat destination for anyone with a love for yoga and sustainability. You can focus on relaxation, rejuvenation, and recentering without worrying that your yoga experience is harming the surrounding environment.
They often have a Costa Rica yoga retreat running on a weekly basis, so regardless of when you schedule your yoga vacation in Costa Rica, you'll be able to participate in a world-class experience. They also host a lot of Yoga Teacher Trainings. If you are considering yoga teaching training in Costa Rica, just be sure that your chosen retreat meets all of the criteria you need to be certified.
Packages at Blue Spirit include accommodation, vegetarian meals, and access to an on-site saltwater pool, spa, and plenty of excursions. Their Longevity Week focuses on repairing and revitalizing your mind and body with an included Detox Cleanse program.
It doesn't hurt that they have a full-service spa and a breathtaking infinity pool on the property, too! The yoga studio is perched above a tropical paradise with views of the Pacific Ocean and a protected white sand beach. For full prices of retreats and accommodation, you'll have to contact the resort directly.
Bodhi Tree Yoga Resort
Location: Nosara, Nicoya Peninsula
Length: Varies
Dates: Year-round
Ideal for: Individuals, Couples & Small Groups
Cost: $1,700+/person
Another incredible Costa Rica yoga retreat option in Nosara, Bodhi Tree is a luxurious eco-lodge whose mission is to make you the best calm, collected, and centred version of yourself.
They offer a wide variety of yoga retreats, some of which are on their calendar and others which are offered as private retreats. Many pair fitness, writing, or a surf lesson with daily yoga to improve focus, alignment, and meditation practice.
Their Signature Yoga & Fitness Retreat is aimed at diving deeper into the power of your body while developing skills and confidence. Enjoy fresh vegetarian meals to the tune of the jungle with daily workshops in the lush gardens and pristine beaches.
Bodhi Tree also offers yoga teacher training with multi-week programs a few times a year. Their programs invite yogis from around the globe to learn and share their unique yoga styles with other students. With Shalas overlooking stunning Playa Guiones, the setting is idyllic for a Costa Rica yoga retreat.
There are plenty of yoga packages to choose from, ranging from $1,700 – $4,615 USD per person – depending on the number of people in the group and type of room.
Envision Festival
Location: Uvita, Costa Rica
Length: 7 days
Dates: February 27 – March 6, 2023
Ideal for: Individuals & Groups
Cost: $300+/person
If you're looking for a Costa Rica yoga retreat that offers higher energy, larger scale, and enlightening experience, the Envision Festival is perfect for you!
There are 7 pillars that this festival is founded on: Sustainability, Music, Spirituality, Movement, Art, Health, and Education.
Over the course of the 7-day festival (which happens annually within the first few months of each year), you'll be completely enveloped in all 7 of these pillars. You'll come out the other end enlightened, excited, and centred.
Envision is one of the best yoga retreats in Costa Rica for solo travellers looking to connect with other like-minded people. It's one of the biggest events of its kind in Central America and a destination for so much more than just yoga.
Tickets for the 7-day pass at the Envision Festival are yet to be released. The festival used to only be a 4-day event with prices ranging from $315 – $745 USD. Plus, VIP tickets include roundtrip transportation from San Jose Airport.
The Retreat Costa Rica
Location: Jesús de Atenas, Alajuela Province
Length: Varies
Dates: Year-round
Ideal for: Couples
Cost: $350+/person
Surrounded by the natural beauty of the Central Valley, The Retreat is a 5-star holistic healing oasis. The property is perched above the rainforest on a spectacular crystal quartz mountain. Their yoga retreats focus on overall wellness and relaxation.
Owned by health and wellness coach & chef, Diana Stobo, The Retreat is all about experiencing the harmony of nature, nutrition, and wellness. All packages at the retreat centre include daily meals at the on-site restaurant, Boca Dulce.
The fully stocked Yoga House opens up to sweeping views over the valley with room for 15-20 people. With several Wellness Packages on offer, these experiences encourage you to move deeper into yoga and connect with nature.
Soak in the saltwater pool or unwind at the Vida Mia Spa with a Thai yoga massage to feel the balance of relaxation and energy. The spa focuses on Ayurveda balancing and was one of the highlights of our visit to The Retreat.
Packages and stays at The Retreat Costa Rica start at USD $350 per person per night. Your stay will be the ultimate in relaxation with all of your meals included at Boca Dulce Restaurant.
Peace Retreat Costa Rica
Location: Playa Negra, Guanacaste
Length: 5-7 days
Dates: Year-round
Ideal for: Individuals
Cost: $700+/person
The intimate setting at Peace Retreat Costa Rica is ideal for a dive into self-care. Their yoga retreats are aimed to be a sanctuary for yogis, wellness enthusiasts, and travellers looking to reset and restore.
Peace Retreat is a boutique-style wellness centre offering yoga classes and yoga teacher training. It's conveniently located close to Tamarindo on the Pacific Coast of Guanacaste. Their approach focuses on Swastha Yoga, which is an international teaching meaning "health, contentment, soundness of body and mind."
The experiences for yoga retreats in Costa Rica are available in 5 or 7-day packages. Both packages include transportation from Liberia Airport, accommodation, meals, massages, and daily yoga classes.
Peace Retreat proves that yoga retreats in Costa Rica don't have to break the bank. The investment for 5-day packages starts at USD $679 per person and 7-day packages start at USD $889. Self-care doesn't have to be a luxury and Peace Retreat encourages guests to gift yourself a well-rounded yoga experience.
Bonus: Harmony Healing Centre at the Harmony Hotel
Though the Harmony Hotel on beautiful Playa Guiones is not currently offering any retreats, it is an excellent destination for restorative yoga. Like other popular retreat centers, the pandemic stirred many changes at Harmony. They're currently offering daily group and private classes and will hopefully resume yoga retreats soon!
So as you can see, yoga retreats in Costa Rica are in abundance and there's something for every type of yogi!
Have you participated in any of these best yoga retreats in Costa Rica? What was your experience like?