If there is one thing Canadian's love, it's weekend getaways. Whether you are looking for weekend getaways in Ontario for couples, a solo adventure or some time away with your family or friends, there are a ton of exciting weekend escapes from Toronto, all within close proximity to the city.
*This post may contain affiliate links, as a result, we may receive a small commission (at no extra cost to you) on any bookings/purchases you make through the links in this post. As an Amazon Associate, we earn from qualifying purchases. Read our full disclosure
Having spent the majority of our early years living in Toronto, we have taken many these weekend trips around Ontario. Our recommendations below are largely focused around nature and known for their friendly locals.
So without further ado, here are the best weekend getaways Toronto!
Traveling Soon?

Here is a list of our favourite travel providers and accessories to help get you ready for your upcoming trip!
Best Getaways from Toronto
If you are looking for something different to a typical weekend getaway to Toronto, these places to visit in Ontario for the weekend will truly hit the mark.
Algonquin Provincial Park
Distance from Toronto: 303 kilometres // 3 hours and 3 minutes
Best for: Camping
Things to Do in Algonquin Provincial Park
Explore the Park:

Algonquin is one of the best getaways from Toronto known for its extensive network of hiking trails, pristine lakes, rocky ridges, and leafy forests. If you love the outdoors and hiking, Algonquin Provincial Park may be the Ontario getaway you've been looking for.

Go Camping:

Many Ontarians have fond memories of spending cheap weekend getaways from Toronto camping in Algonquin Provincial Park. This massive park has 8 campgrounds to choose from, with drive in and walk in options. As well as backwood cabins for anyone on a multi-day trip or hiking trips looking for cheap getaways from Toronto.

Visit the Algonquin Logging Museum

: Before it became a National Historic Site of Canada, logging was active within Algonquin Park. To learn more about the park's history on your 3 day trips from Toronto visit the logging camp museum. While you are there be sure to check out interactive exhibits and the steam-powered train on your Ontario getaways.
Where to Eat & Drink
Lake of Two Rivers Store and Cafe:

Located along the park's main highway, this cafe and grocery is a great place to pick up a quick bite to eat or some camping supplies on your Toronto getaways.
Don't Miss: The lookout trail. It's beautiful any time of year but it is extra special during fall weekend getaways from Toronto when the leaves begin to change.
Niagara Falls
Distance from Toronto: 162 kilometres // 1 hour and 36 minutes
Best for: Family getaways
Niagara Falls is a favourite weekend destination for many Torontorians, but it's also really popular with Americans looking for a weekend trip to Canada.
Things to Do in Niagara Falls
Admire the falls:

Walk along the scenic boardwalk for incredible views of Horseshoe Falls. It is one of Canada's most famous attractions and suitable for a Toronto day trip for anyone with limited time.

Explore Clifton Hill:

Niagara Falls' Clifton Hill "street of fun" is full of family fun attractions like the SkyWheel, glow-in-the-dark golf, interactive Zombie Attack and more. To save money while visiting them consider purchasing a

Clifton Hill Attractions Fun Pass

for your Toronto weekend getaways.

Journey Behind the Falls:

This incredible experience takes visitors to the foot of the falls. It is a really unique way to experience Niagara but one that drenches most visitors. Everyone onboard the boat is given a single-use poncho to wear but to save on plastic, we suggest you bring your own rain gear on this weekend family getaways Ontario activity.
Where to Eat & Drink
The Four Brothers Cucina

: This locally owned family restaurant has been serving up delicious Italian food since 1964. Vegetarian options are available.
Don't Miss: The Skylon Tower for panoramic views of Horseshoe Falls and the city below.
Niagara-on-the-Lake
Distance from Toronto: 137 kilometres // 1 hours and 40 minutes
Best for: Wine tasting and history buffs
Things to Do in Niagara-on-the-Lake
Stroll Historic Queen Street:

Queen Street is the town's premier shopping and dining strip, known for its well preserved Victorian architecture. Stroll the street and admire prominent historical structures like the Queen Street Clock Tower and the Prince of Wales Hotel on your cheap weekend getaways for couples in Ontario.

Go Wine Tasting

: The Niagara region is known for its plethora of wineries, many of which are family owned and pint sized. Sip region specialties like the area's ice wine, pinot noir and chardonnay. This

wine country tour

visits 4 wineries and is topped off with a 3 course lunch. If you are on a 2 day getaway from Toronto it will be an excellent addition to your trip.

Fort George National Historic Site of Canada

: This military structure was the site of several battles during the War of 1812. It houses the oldest military building in Ontario and is the site of the The 41st Regiment of Foot Band of Music – a testament to the popular music of the 18th and 19th century.
Where to Eat & Drink
Zees Grill:

Located in downtown Niagara-on-the-Lake, Zees crafts dishes with locally-sourced and sustainable ingredients. Vegan-friendly options are available.
Don't Miss: The Shaw Festival – theatre festival centered around plays by Bernard Shaw. It takes place from April to December each year.
Prince Edward County
Distance from Toronto: 204 kilometres // 2 hours and 6 minutes
Best for: Wine and dining
Anyone looking for weekend getaways from Toronto for couples will love Prince Edward County. It's a perfect getaway for great food, great wine and romance!
Things to Do in Prince Edward County
Visit Sandbanks Provincial Park

: This park is known for its soft, golden sand beaches which are popular in the summer months for a family getaway. Dunes Beach and Outlet Beach are two of the most beautiful in this region.

Go on a Winery, Cidery, or Brewery Tour

: The area is full of boutique wineries, cideries, and breweries. Go on a DIY tour or book one with a

local tour operator

for exclusive access to cellar rooms and other perks.

Sample Local Produce

: The area is known for its fresh seasonal produce and artisanal goods. Interested in learning how to cook a farm to table meal on your getaway from Toronto? Book a cooking class

here

. Otherwise you can find a full list of local producers to visit on your summer or winter weekend getaways from Toronto

here

.
Where to Eat & Drink
Bloomfield Public House:

This local hub aims to bring you delicious seasonal dishes from local farmers. It is so good that even if you are on 4 day getaways from Toronto, you'll want to eat here everyday.
Don't Miss: Visiting the Prince Edward County Lavender Farm between June to July when the lavender is in full bloom. Tour the farm and stop into their onsite shop. Some say a trip to the Lavender Farm alone makes PEC one of the best weekend getaways Ontario has to offer.
Kawartha Lakes
Distance from Toronto: 140 kilometres // 1 hours and 36 minutes
Best for: Outdoor activities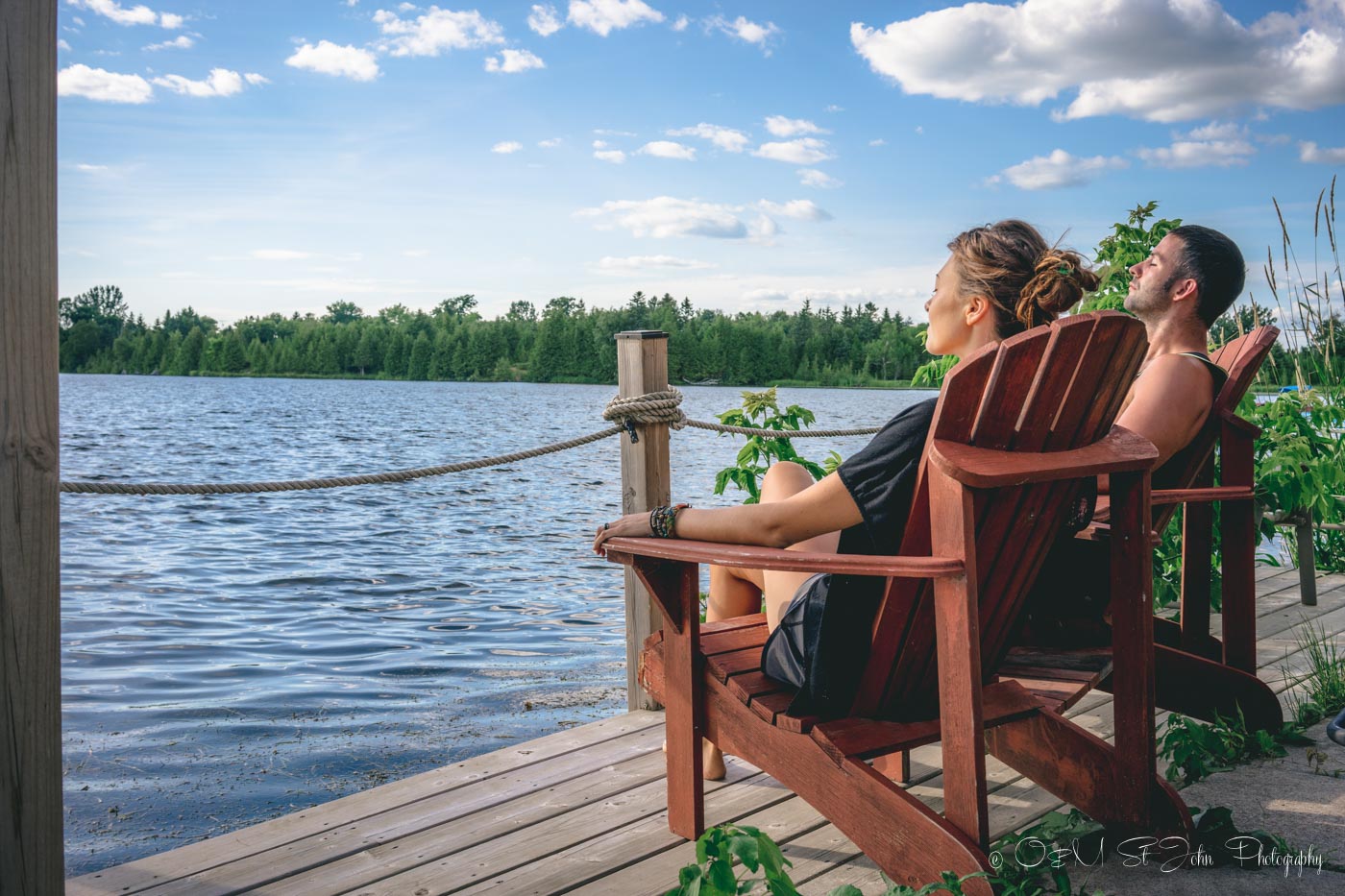 Things to Do in Kawartha Lakes
Explore the Kawartha Trans Canada Trail

: The Kawartha region is very proud of their stretch of the Trans Canada Trail – and for good reason. The lush greenery surrounding the trail is enough to make any day trips from Toronto worthwhile.

Visit Balsam Lake Provincial Park

: This provincial park is a mecca for hiking and fishing. Located along the historical Trent Severn Waterway you can also rent kayaks or canoes on your summer getaways from Toronto.

Visit the PrimRose Donkey Sanctuary

: In their own words the PrimRose Donkey Sanctuary is, "dedicated to the rescue, protection, and rehabilitation of abused, neglected, and unwanted donkeys, mules and hinnies." On family weekend getaways from Toronto, visitors are welcome to tour the sanctuary and learn about the rescued donkeys who live there.
Where to Eat & Drink
Mount Julian

: This prestigious 9 table restaurant at Viamede Resort uses products from their on site farm to craft 5 to 9 course meals. We recommend it to anyone visiting the area on romantic getaways near Toronto although with its hefty price tag you may not be able to afford to eat here every evening on your 3 day getaways from Toronto.
Don't Miss: Trying Kawartha Dairy ice cream on your weekend escape from Toronto. It is a local specialty!
Muskoka
Distance from Toronto: 182 kilometres // 1 hours and 52 minutes
Best for: Hanging out on the dock
If you choose Muskoka for your long weekend getaways from Toronto you'll be in the heart of cottage country. Activities on the lakes are the centre of this weekend getaway and are the main attraction of this region.
Things to Do in Muskoka
Enjoy the Lakes

: Muskoka region is known for its plethora of lakes. The most popular way to enjoy summer long weekend trips from Toronto is to rent a lakeside cottage and hang out on the dock. Go swimming, SUP, take the boat out or canoe and kayak.

Go on a Boat Cruise

: If you don't have your own boat, there are plenty of tour operators willing to take you out on the water during your quick getaways from Toronto. During the summer, the Muskoka Steamships & Discovery Centre runs daily cruises on Lake Muskoka.

Visit Muskoka Lakes Farm and Winery:

This

sustainable farm

is perhaps most well known for its cranberry "plunge". An activity where visitors don a pair of waders and climb into the cranberry marsh. However, there are getaway Toronto activities here year-round. Hiking, wine tasting, and farm tours are just a few of the

things to do

here on your short vacations from Toronto.
Where to Eat & Drink
Creative Plate Eatery

: This delightful eatery prepares delicious vegetarian and vegan dishes with non-gmo, organic ingredients in downtown Gravenhurst.
Don't Miss: Check the concert schedule at the Kee to Bala before embarking on your weekend getaway from Toronto. Big acts grace their stage year-round.
Blue Mountain
Distance from Toronto: 159 kilometres // 1 hours and 57 minutes
Best for: Hitting the slopes on winter getaways from Toronto
This excellent ski hill near Collingwood is the best in the area for overnight trips from Toronto. While it's most popular as a winter destination, the area also offers lots of activities in the summer.
Things to Do in Blue Mountain
Hit the Mountain

: With 43 trails, an all terrain park, tubing, and a well developed village it's not hard to see why. In the summer the ski hill doubles as a mountain bike park for thrill seekers.

Go to the Spa:

Some of the best spas in Ontario are located close to Blue Mountain. So if you want to decompress on your weekend trips in Canada this is the place to do. The

Scandinave Spa

is a stand out for its treatment, hot springs, and pools.

Visit Wasaga Beach

: Located just 35 minutes from Blue Mountain, this sandy beach is a popular weekend escape from Toronto. Depending on the time of year you visit, you can sunbathe, swim or just stroll along the water's edge.
Where to Eat & Drink
Firehall Pizza Co

: With its bright red facade it's hard to miss this pizza joint on your weekend escapes from Toronto or day trips from Toronto. Winter or summer, they do pizza really really well and have vegan cheese to boot!
Don't Miss: The Blumination Dream Trail which lights up the village during your winter weekend getaways. Ontario families, couples and friends alike will enjoy strolling this 1-kilometre trail.
Grand Bend
Distance from Toronto: 224 kilometres // 2 hours and 42 minutes
Best for: Enjoying the beach on family weekend getaways, Ontario
Things to Do in Grand Bend
Enjoy the Beach

: Jump in the car and start your road trips from Toronto to this stunning beach. Grand Bend is a quintessential beach destination perfect for laying out, swimming or playing beach games. The main beach has a Blue Flag status for its commitment to strict water quality.

Get Your Blood Pumping

: Few other weekend getaways near Toronto offer such adrenaline-inducing activities. In Grand Bend, you can go parasailing, skydive, try flyboarding or zip across Lake Huron in a jetski.

Visit Pinery Provincial Park

: This park was created to protect the area's precious Oak Savanna and sand dunes. You can layout on the beach here, camp or explore the trails which criss-cross the park on this weekend getaway Ontario has to offer.
Where to Eat & Drink
The Grand Bend Farmers Market:

Open throughout the summer on Wednesday mornings and various other times throughout the year, this market is great for grabbing local produce and artisan goods on your cheap weekend trips from Toronto.
Don't Miss: The sunset! Watching the sun dip below the horizon of Lake Huron is a highlight of any short trips from Toronto to Grand Bend.
Montreal
Distance from Toronto: 541 kilometres // 5 hours and 38 minutes
Best for: All seasons city living
Things to Do in Montreal
Explore the City's Museums and Galleries

: There are over 40 museums in the city so pick the best one from your long weekend getaway from Toronto based on your interest. Art lovers will particularly like the extensive collection at

Montreal Museum of Fine Arts

. History buffs should make time for

Pointe-à-Callière

.

Wander through Old Montreal

: Known its cobblestone streets, architecture dating back to the 17th century and notable buildings like the Basilique Notre-Dame and Vieux Port. It's easy to feel like you've been transported to Europe on this short trip from Toronto

Visit Mont Royal

: This famous lookout and city park offers panoramic views of the Montreal skyline and city below.
Where to Eat & Drink
Récolte Espace Local:

This restaurant crafts tasty dishes from exclusively organic, local products. It is also committed to cutting down on waste and operating sustainability. It is a must-try restaurant for anyone on a weekend getaway, Toronto residents will be impressed.
Don't Miss: A Cirque du Soleil show. After all, Montreal is the birthplace of this famous theatrical production.
Sauble Beach
Distance from Toronto: 218 kilometres // 2 hours and 51 minutes
Best for: Enjoying the beach and local nature
Things to Do in Sauble Beach
Paddle Sauble River

: Flowing out towards Lake Huron and flanked by forests and sand dunes, Sauble River is an excellent place to paddle along atop a SUP, canoe or kayak on your weekend breaks from Toronto.

Enjoy Sauble Beach:

With its iconic sign, it's hard to miss Sauble Beach as you drive into town on your short getaways from Toronto. You can swim, lounge or enjoy recreational activities on this lively beach. The beach itself is one of the main reasons, this small town is often called one of the best weekend trips from Toronto.

Visit Sauble Falls Provincial Park

: Located on the outskirts of town, you can view the park's namesake waterfall or enjoy the park's BBQ facilities and its beautiful natural setting on your weekend trips. Ontario residents come back here year after year.
Where to Eat & Drink
The Wellness Refinery Cafe

: This locally owned cafe has a menu which was designed by nutritionists to feature whole grain, delicious meals. Don't miss it on your weekend breaks. Ontario residents young and old rave about this cafe.
Don't Miss: Driving onto Sauble Beach. A portion of the beach is sectioned off for vehicles. It's an activity that is a great addition to your cheap weekend getaways, Ontario. Although it is only recommended for 4×4 vehicles.
When you are looking for something different to day trips in Toronto, these weekend getaways offer the perfect solution. Whether a family vacation, Ontario girls trip or romantic getaway Toronto couples are looking for – there is a nearby escape. You just have to know where to look.
What are some of your favourite weekend getaways from Toronto?