Iceland is a destination unlike any other. The beautiful country is home to epic waterfalls, heated lagoons and natural springs, active volcanoes, icebergs and glaciers, and rugged coastal cliffs. It's no wonder that the country is often called the Land of Fire and Ice.
*This post may contain affiliate links, as a result, we may receive a small commission (at no extra cost to you) on any bookings/purchases you make through the links in this post. As an Amazon Associate, we earn from qualifying purchases. Read our full disclosure
Tourism in Iceland has boomed in recent years. Visitor numbers have been increasing by nearly 40% year on year. But with such otherworldly landscapes, it's no surprise that Iceland is drawing more and more people, from nature lovers to photographers.
Despite being a small island nation in the far North Atlantic Ocean, Iceland packs a punch. There are so many things to do in Iceland that it can be a little overwhelming. In this guide, we're going to break down all the highlights and hidden gems in each of the country's regions, so you can plan your own trip to Iceland.
Traveling Soon?

Here is a list of our favourite travel providers and accessories to help get you ready for your upcoming trip!
About Iceland
The Nordic island nation is located between the Faroe Islands and Greenland in the North Atlantic Ocean. It's the most sparsely populated country in Europe, with the island's capital city, Reykjavik, being home to just over 130,000 people – more than half of the entire population.
Iceland was founded over 1000 years ago during the Viking era and settled by a mixed Norse and Celtic population. Despite being physically isolated, the island nation has remained a part of European civilization for most of its history.
Sitting on the active Eurasian and North American tectonic plates, Iceland may be small, but it's one of the most geologically unique destinations in the world. The dramatic landscapes are defined by massive glaciers, volcanoes, geysers, natural springs and lava fields.
Iceland's geology makes it a popular destination for tourists who see the island's unique landscape.
Regions of Iceland
Iceland can be divided into seven different geographical regions, including the Reykjavík capital area, South Iceland, East Iceland, North Iceland, West Iceland, Westfjords, and Reykjanes. Each region differs slightly in terms of culture and even more so in the landscapes; all are worth visiting.
Reykjavik and East Iceland are the most visited regions in the country, seeing the most number of visitors on an annual basis.
Best Time To Visit
The best time to visit Iceland will heavily depend on your travel style and what you're keen to see the most on your trip.
Winter
Winter may seem to be a brutal time to visit Iceland, but it does have its merits. The downside is that the bitterly cold conditions can limit travel due to road closures and heavy snowfall.
However, with darker night skies, winter is the best time to see the Northern Lights. Christmas can also be a magical time, with much fewer crowds. Spending the winter holidays in Iceland can be a lovely and more genuine local experience.
Spring
By mid-spring, the weather warms up and offers good conditions for exploring the outdoors. While rain and wind are common, the days become longer, and the landscape is brighter with green slopes and blooming wildflowers.
Summer
The summer months from June to August are often considered the best time to visit in terms of weather. The days are at their warmest and daylight hours are longer with the famous midnight sun. Roads, especially 4×4-only roads, are open and operating, allowing off-the-beaten-path visitors to get to the most remote parts of the country. However, summer is the busiest tourist season and the most expensive time to visit.
Fall
Fall is generally considered to be the shoulder season in Iceland, but in our opinion, it is the best time to visit this beautiful destination. The crowds subside in the Fall, but warm temperatures and pleasant weather can continue well into late September. 4×4-only roads are usually still open until November, allowing travelers to go off the beaten path.
Fall also marks the beginning of the Northern Lights season, as the nights get darker and the skies are clear. We were lucky to have the best weather for our Iceland trip, with sunny skies and daytime temperatures hovering around 10-15°C. And yes, we did get lucky with clear skies and a beautiful Northern Lights display!
Best Time to See Northern Lights in Iceland
If you've always wanted to see the colourful lights dancing across the night sky in Iceland, then fall and winter are the best seasons to visit. The Northern Lights, or Aurora Borealis, occur from late September to late March each year. The longer, darker nights are the best times to see the lights, which are most vibrant away from any light pollution.
Seeing the Northern Lights is undoubtedly one of the most incredible things to do in Iceland.
How to Get to Iceland
There are two ways to travel to Iceland: by air and ferry.
By Air
Leifur Eiríksson International Airport (KEF) in Keflavík is the main entry and exit point into Iceland by air. The airport is located 48 km from Reykjavík, the capital city. Flybus operates between Reykjavík and Keflavík International Airport in connection with all departing and arriving flights.
Around 20 airlines offer regular flights from Europe and North America destinations to Keflavik airport all year round, including Wizz Air, Lufthansa, IcelandAir, British Airways, EasyJet, Air Canada, and Delta.
By Ferry
If you prefer to bring your own car to travel around Iceland, you can take the Norröna ferry from Denmark. The M/S Norröna sails weekly from Denmark to Iceland via the Faroe Islands.
You can bring a range of transport onboard, including cars, motorcycles, caravans, campers, or bicycles. In summer, the ferry takes 2 days to reach Iceland, while from September to May, it takes up to 3 days.
How To Get Around Iceland
Once you arrive in Iceland, the best way to get around is by car. It's ideal if you have your own vehicle as this allows you to travel at your own pace and visit all the most beautiful places. However, if driving in Iceland is not an option for you, it is also possible to get to some places by public transport if needed.
By Car
Iceland's main sights and attractions mainly lie along Highway no. 1, commonly known as the Ring Road. It is the most traveled route around the country, spanning some 1322 kilometers. The Ring Road is paved and open all year round, although bad weather conditions during winter can cause temporary closures and travel delays.
Electric Vehicles in Iceland

In recent years, Iceland has become a leader in electric vehicles, with over half of all newly registered cars on the island now being powered by Iceland's renewable power grid. This has had a positive impact on both the environment and the economy, and it has made traveling in Iceland with an electric vehicle much more convenient for visitors.

There is no better way to make an impact on your carbon footprint while in Iceland than by traveling with an electric vehicle. It's exactly what we did during our time in Iceland and what made our trip so much more eco-friendly!

Not only were we able to do our part in reducing our carbon footprint, but we were also able to take advantage of Iceland's extensive network of charging stations. We found free EV chargers in many of the attractions we visited, including natural baths, restaurants, and hotels. And for those times when free charging wasn't available, we used ON Charging, a chain of charging stations dotted around the country.
4×4 Travel in Iceland
While it is absolutely possible to see Iceland with a 2WD vehicle (all of the attractions along the Ring Road are accessible with a regular compact vehicle), travelers wanting to get off the beaten path will want to rent a 4X4.
There are a number of scenic F-Roads or mountain roads (the F standing for "Fjall," which translates to "mountain") that cut through the heart of Iceland, taking you to some of Iceland's most hard-to-access destinations. Many of the F-roads are only open in summer, and all of them are four-wheel drive only, with laws strictly forbidding non-4x4s to traverse these roads despite the weather.
By Public Transport
It's not common to get around Iceland by public transport, but it's certainly possible. A range of public transport options includes buses and ferries.
Strætó operates buses in Reykjavík and around the country. The network is extensive, and some planning makes it possible to travel the whole Ring Road circle.
A number of ferry lines operate services to various islands and fjords around Iceland, with sightseeing tours also available by ferries during the summer.
While not the most eco-friendly transportation option, regional flights do operate between Reykjavík and domestic airports in ….. If you don't feel comfortable driving in Iceland and don't want to hop around on public buses and ferries, you can rely on domestic flights to get you to other parts of the country.
Sustainable Travel While Visiting Iceland
Iceland is one of the leading examples of a sustainable travel destination, not just in Europe but around the world. The country has long been aware of its fragile environment and over-tourism challenges. Over the last few years, sustainability in Iceland has become a focus, and the government has implemented a number of tools, initiatives, and suggestions to help visitors travel more sustainably while in Iceland.
If you are looking for ways to reduce your impact on Iceland's fragile environment and want to do your part in positively impacting this destination, here are a few easy steps you can take.
Plan your trip in the off-season, reducing the impact of overtourism on popular destinations in the summer. Consider visiting in the Spring or Fall, or even in the Winter.

Slow down and take your time exploring the country. Stay longer and go beyond Reykjavik and the Golden Circle.

Choose to stay at eco-friendly hotels and support smaller locally owned accommodation providers.

Rent an electric vehicle to get around Iceland or explore via public transport.

Choose locally-made products and services offered by local operators

Reduce plastic bottle use by bringing your own reusable water bottle and drinking tap water – it's very clean and delicious

Stay on designated trails and roads to reduce the likelihood of harming fragile ecosystems when hiking.

Calculate the carbon footprint

of your trip and learn how to offset and eliminate your CO2 from the trip!
Best Things to Do in Iceland
There are an enormous number of activities and things to do in Iceland. With so much beautiful scenery and different landscapes, you can travel for weeks in Iceland without seeing it all. The list of activities and must-visit destinations in Iceland can be long, so we decided to break it down by regions, to help you make sense of it all.
Here is our curated list of the best things to do in Iceland, from the capital Reykjavik to the Arctic north and remote east.
Reykjavik and Around
The capital city of Reykjavik is a great starting point for most people's trips to Iceland. It's known for its unique culture, history, and natural beauty and deserves a few days of your time. There are plenty of things to do in and around the city, with some amazing day trips available to those with a bit more time to spare.
Things to do in Reykjavik
Explore Downtown Reykjavik
A cosmopolitan city center, Downtown Reykjavik offers a lively cafe scene, plenty of museums and cultural centers, and excellent restaurants serving locally sourced food.
Visit the National Museum of Iceland
Learn more about the history of the country, and explore displays from the Settlement Age to the present.
Admire Hallgrimskirkja
This modern cathedral is one of the landmark buildings in the city. It features a 73-m high tower that stands out above the cityscape.
Stroll along Laugavegur Street
The liveliest and coolest street Downtown is where you'll find some of the best bars, cafes, shops, and restaurants in the city.
Located just 10 minutes south of the city center, Sky Lagoon is one of the newest natural baths in Iceland and is worth a visit. The lagoon looks like it's been carved out of rock and set amidst lush green hills. The steam rising from the hot baths makes for a dreamy setting and a very enjoyable visit. The lagoon can get busy, so we recommend visiting early in the day if you want a quieter stay. Don't miss a chance to experience The Ritual, while there.
Day trips from Reykjavik
Located about an hour north of Reykjavik is another new natural hot springs complex, set amidst a very exclusive and serene landscape. 8 hot springs of varying temperatures are situated along the ocean shore at Hvammsvik. There is also a restaurant on-site and accommodation, for those wanting to extend their stay.
Visit the Blue Lagoon
Just 50 km southwest of Reykjavik center is this iconic attraction in Iceland. The famous geothermal spa features an outdoor lagoon with mineral-rich waters in a lava field. Blue Lagoon hot spring is definitely the most popular day trip from the city and is by far the busiest and most touristy spot in Iceland. If you are looking for a quieter alternative, skip a visit to the Blue Lagoon and opt for a visit to Myavn Lagoon instead (see the North Iceland section below)
Drive the Golden Circle Route
The Golden Circle is the most famous road trip in Iceland. The route starts in Reykjavik and hits some of Iceland's biggest attractions, including Thingvellir National Park, Gullfoss Waterfall, and Geysir Geothermal Area. While it is possible to drive the Golden Circle in a day, we highly recommend taking a couple of days to complete the route and take in the sights along the way.
Thingvellir National Park
Thingvellir (Þingvellir) is Iceland's oldest national park and UNESCO World Heritage Site. It's one of the best places to visit in the country, with Iceland's biggest lake, unique history, and a variety of outdoor activities and hiking trails.
Go Snorkeling at Silfra
Located inside Thingvellir National Park, Silfra is a world-famous diving and snorkeling destination that can be experienced at any time of the year. This is the only place in the world, where you can swim in the crystal clear glacier water between two tectonic plates of Euroasia and North America.
There are a couple of dive operators offering the experience, but we recommend Dive Iceland – a professional, well-equipped, and knowledgeable dive operator with a fun crew of dive masters who will make your experience at Silfra unforgettable!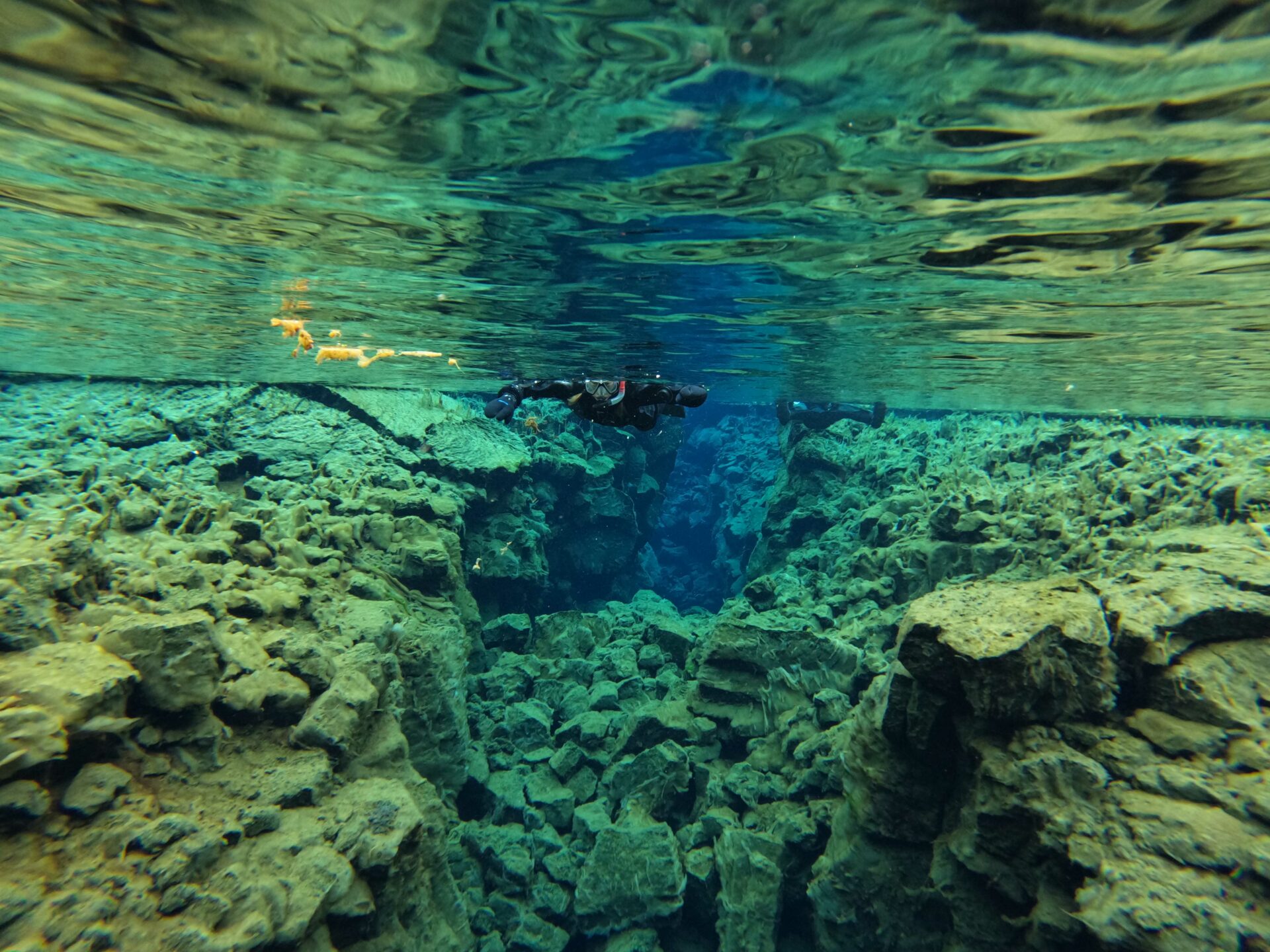 Things to Do in South Iceland
South Iceland is known for its stunning geological formations and unique landscapes. The southwest area is dominated by the Golden Circle drive from Reykjavik, whereas the southeast is home to Europe's largest glacier Vatnajökull, spectacular waterfalls, and black sand beaches.
Here are our favourite things to do in Iceland's South Coast.
Visit the Geothermal Energy Exhibition
A fascinating and interactive exhibition at Hellisheidi Power Station is a must-stop for anyone traveling along the Golden Circle or visiting South Iceland. It's a great spot to visit at the beginning of your Iceland adventure, as it will help you understand the unique geology of Iceland and the role it plays in life in the country.
You'll learn about Iceland's geothermal energy production and the role it plays in sustainability initiatives across the country. The exhibit is open every day of the year.
Take an Adventure Buggy Tour
Located in Hveradalir, the Adventure Buddy Tour is a 1-2 hour tour through the unique lava landscape around Reykjadalur Valley. Explore areas not accessible with a regular vehicle, splash your way through rivers and bumpy roads and opt to end the adventure with a hike to the Reykjadalur Hot Springs.
See Kerid Crater
Located north of Selfoss, this major tourist attraction is a natural lake inside a 3000-year-old volcanic crater. It's easily accessible just off the side of the road, but it's worth taking the time to walk around or down into the crater, especially on a sunny day when the colours are at their brightest. The striking blue colour of the lagoon is a unique sight.
Visit Urriðafoss Waterfall
Located east of Selfoss, Urriðafoss Waterfall is a wide thundering cascade of water just a short walk from the parking lot. It's not as popular as other waterfalls in the country, so it's usually much quieter and a nice spot to feel the power of the fall without the crowds.
Dine at Ingólfsskáli Viking Restaurant
Just a short drive from the town of Hveragerdi, Ingolfsskali restaurant offers a special Viking-themed dining experience. It's the perfect place to take a journey into the Viking era with traditional Viking music, decor, and seasonal Icelandic cuisine. Mains are around USD $40, with a range of small plates around USD $30
Learn from the Sólheimar Ecovillage
Renowned for its ecological, artistic, and community ethics, Sólheimar is Iceland's first eco-village. Its current population size is about 100 people. It's a great place for a unique stay and a place to learn about their sustainable livelihood.
Go Arctic Rafting
For an adrenaline-filled experience, don't miss a chance to go rafting with Arctic Rafting. Raft down a glacial river set among towering canyons. The crew at Arctic Rafting offers a range of trips, from family-friendly rafting to more extreme kayaking.
Feel the spray at Gullfoss Waterfall
An iconic waterfall on the Golden Circle drive, Gullfoss is a large multi-step cascade along a sharp bend in the Hvita River. It's also often referred to as Golden Falls and is one of the most popular things to do in Iceland.
See Geysir
The famous geothermal area of Geysir is another popular stop on the Golden Circle. Geysir is home to a field of springs, active geysers, and bubbling mud pools. Some of the geysers are dormant, others erupt only a few times a year, but the main attraction – Geysir erupts every 4-8 minutes, reaching 70m into the air.
Try Tomato Soup at Fridheimar Restaurant
Fridheimar is one of the most unique restaurants in Iceland. Set inside a working tomato greenhouse that produces 70% of Iceland's tomatoes, Fridheimar is a family business where all-you-can-eat tomato soup is the main attraction. Dine amidst the tomato vines, eat your fill of soup, try tomato beer and other unique dishes – all featuring incredible tomatoes grown right in that greenhouse.
Check out Seljalandsfoss Waterfall
On the south coast, this spectacular area is home to one of Iceland's most picturesque waterfalls. Spend some time admiring the Seljalandsfoss waterfall from the front and follow a trail leading to the back of the falls to feel the power of its drop from within. Wear a good raincoat as you are bound to get soaking wet on your way to behind the falls. If you have extra time, check out a few of the other waterfalls along the trail that runs at the foot of the mountain.
Admire the Skógafoss Waterfall
Skogafoss waterfall offers the stark contrast of black sand and a powerful drop of water. Made popular by the scene from the show "Vikings," this waterfall is another popular photographic stop on the way to Vik. You can walk up close to the powerful waterfall or climb the stairs to the top for a different view.
If you want majestic photos without the crowd, plan to come early in the morning.
Stroll Along Reynisfjara Beach
Located outside of Vik, Reynisfjara Beach is perhaps the most famous black sand beach in South Iceland. The beach lies at the foot of rugged basalt cliffs and rock formations stranded out to sea, making for some pretty epic scenery.
It's undoubtedly one of the most popular things to do in Iceland, especially in the summer. Be careful when walking on the beach. The waves at Reynisfjara Beach are vicious, with a strong undercurrent that can pose serious danger and catch visitors off guard.
Visit Vik Town
Vik town is a popular stop in South Iceland. This remote coastal village is a picturesque spot set amongst a rugged coastline. Its standout landmark is Reyniskirkja, a wooden church dating to 1929.
Walk the Fjaðrárgljúfur River Canyon
Continue traveling further east on the Ring Road, to reach Fjaðrárgljúfur – a deep river canyon with incredible views. Estimated to be about 2 million years old, the canyon offers a number of short trails with multiple viewpoints, allowing you to appreciate the beauty of this natural wonder from many angles.
See Fossálar Waterfall
If you haven't seen enough waterfalls, Fossalar waterfall is a beautiful spot located right off the Ring Road. Park up and experience the thundering cascade with minimal effort – a nice stop to stretch your legs while road-tripping on the Ring Road.
Visit Vatnajökull National Park
Vatnajökull National Park occupies 14,141 km2 or approximately 14% of all of Iceland. The National Park that encompasses the famous Jokulsarlon Glacier Lagoon and many glaciers is mostly inaccessible, with only a few opportunities to glimpse the beauty within.
Check out Diamond Beach
Located at the base of Vatnajökull National Park, Diamond Beach is one of the most amazing things to see in a Ring Road itinerary. Although the beach is not technically located inside the National Park, it's an incredible spot to see many of the floating icebergs that break away from the glaciers in the park.
The icebergs get stuck in the narrow sea passage en route to the ocean and land on the beach, melting away with the warm rays of sunshine. Frozen blocks of ice are strewn across black volcanic sand, making this one of the most photogenic spots on the south coast.
Admire the Jökulsárlón Glacier Lagoon
Jökulsárlón Glacier Lagoon offers another peek into Vatnajökull National Park. The blue waters of the lagoon are dotted with icebergs from the surrounding glacier, creating incredible scenery that can be admired from shore.
If you have time to spare, you can also join a Zodiac Tour to admire the icebergs up close. It's definitely one of the most memorable things to do in Iceland.
Visit an Ice Cave on a Glacier Tour
Hands down, one of the best things to do in Iceland is a glacier tour with Glacier Adventure in Breiðarmerkurjökull, an outlet glacier from Vatnajökull Glacier. It's one of a number of operators in the area that offers trips to the glacier and ice caves. Our half-day tour consisted of a hike to the glacier (crampons included) and a visit inside an ice cave. A very cool and unique experience and one of our top-rated activities in Iceland.
Things to do in East Iceland
The lush green East Coast of Iceland offers a contrast to other parts of the country. This area is lesser visited than the South and offers a number of unique attractions in the region. East Iceland is home to beautiful fjords, the largest forest in the country, natural harbours and picturesque villages, and stunning mountains.
Snap amazing photos at Stokksnes
The peninsula in southeast Iceland, located near the town of Höfn, is a popular place for photographers. Access the Stokksnes beach requires a USD $10 fee, but the views you get in this spot are definitely worth the price.
The rugged mountainous headland is a beautiful spot – it serves as a popular spot for local wedding photographers. In fact, it's often considered to be the most photographed mountain in East Iceland.
Vattarnes
Part of the spectacular coastline of the Eastfjords, Vattarnes sits on a slim peninsula jutting out into the ocean. The rugged sea cliffs and rock formations are worth a detour off the main Ring Road.
Drive the Fjord Road from Djúpivogur to Egilsstaðir
There's not much to see and do on this stretch of the Ring Road, but the drive itself is beautiful. Green Rock, a unique natural phenomenon on the coast, is a worthy stop, as is Meleyri Beach and the villages of Seydisfjordur and Mjóifjörður further North.
Search for Monsters at Lagarfljót Lake
The 25 km long glacial lake has long been a set of many Icelandic legends. The lake is said to be the home of a serpent monster, but legend aside, the scenery around the lake and the slow pace of life here is the region's main attraction. Forest bathing, hikes, and relaxation are the main activities at Lagarfljót Lake.
Hike in Hallormsstadur Forest
Iceland's largest forest, the huge 740 hectares of mostly native birch, has 11 marked trails to explore. The forest is peaceful across the eastern banks of Lake Lagarfljot and offers an ideal setting for forest bathing experiences. The trails within the forest are short and relatively easy, with most being family-friendly.
Hike to Hengifoss Waterfall
If you are looking for a more adventurous activity near Lagarfljót Lake, don't miss a hike to the striking Hengifoss waterfall. The spectacular waterfall drops into the gorge Hengifossárgljúfur in Fljótsdalur Valley.
Hengifoss is Iceland's third-largest waterfall but one that requires you to break a sweat to appreciate it fully. It takes about an hour to hike to Hengifoss, and the lower falls, Litlanesfoss, on a relatively steep trail. The incredible views make it all worthwhile.
Stop at Rjukandi Waterfall
Located right off the Ring Road, Rjukandi waterfall is an easy stop en route from East to North Iceland. The water descends over some cliffs into a valley, but the waterfall viewpoint is only a short walk from a small car park.
Stuðlagil Canyon
Stuðlagil Canyon in Jökuldalur is known for its columnar basalt rock formations and the turquoise river that lies within. Over the last few years, it's become one of the most unexpected tourist sensations in Iceland. There is a gravel road leading up to the parking lot, but it's graded and is suitable for 2WD vehicles. A 5km hike leads to the Stuðlafoss waterfall and the canyon itself for those who want to admire its basal rocks from up close.
If you are short on time, head straight for the Stuðlafoss observation platform on the opposite side of the canyon. The elevated platform, some 200 steps below the parking lot level, gives a great view of the canyon. It's not as immersive as being in the canyon itself, but a great way to experience the sight nevertheless.
Things to do in North Iceland
As you exit East Iceland and say goodbye to the coast, you'll find yourself in the North, the last of long valleys, and peninsulas, carved out by lava fields, rivers, and mountains. Its landscapes change from lush hills to barren coastlines.
Marine life is a real highlight in the north, particularly as you get off the beaten track heading towards the Arctic Circle. Those who have the time to reach the far north will be rewarded with quieter attractions and a greater feel of remote wilderness.
Visit Lake Mývatn Area
Iceland's fourth-largest lake is dotted with around 50 small islands. It's one of the most ecologically diverse places in the country, with unique freshwater seaweed and birdlife in its naturally heated waters. There is lots to see and do in the area, including natural baths, waterfalls, lava caves, and beyond in the Icelandic Highlands.
Our favourite sights in the Lake Mývatn area:
Námafjall: This geothermal area in the Myvatn region offers one of the most otherworldly landscapes in Iceland. Volcanic mountains, ocre-coloured earth, steaming springs, and craters make for a visually stunning place, albeit smelly. You can walk around the different viewing areas to admire the bubbling mud pools and fumaroles.
Myvatn Nature Baths: Amidst all the volcanic landscape lies Iceland's hidden gem – the Mývatn Nature Baths. A lesser-known alternative to the popular Blue Lagoon in the South, the Myvatn lagoon is just as blue and as impressive as the original Blue Lagoon but sees significantly fewer crowds. The nature baths are shaped like a large lagoon and include a swim-up bar and steam room. The Myvatn Baths are the ultimate relaxation place to visit in Iceland. Tickets are around $41USD per adult.
Grjótagjá: Located on the eastern side of the lake, this ancient lava cave houses a natural geothermal spring that was once used for bathing. Today, it's a unique spot to stop and see in the area.
Drive the Diamond Circuit
A must-do when exploring north Iceland is the 250 km long Diamond Circuit. The incredible drive takes you to the most beautiful sights in the north and some more hidden gems.
The drive is short and easy to complete in half a day, but we recommend taking at least a couple to enjoy the sights. Don't miss:
Goðafoss Waterfall:

Just 45 minute's drive west of Myvatn, this spectacular waterfall plunges over a curved cliff. There's a short walk with multiple viewpoints to see the falls from different angles.

Dettifoss Waterfall:

It is known as Europe's most powerful waterfall and is technically located in Vatnajökull National Park. It plunges through a deep ravine, with multiple viewpoints from above to admire the power of the water.

Asbyrgi Canyon:

Known as the Shelter of the Gods, this horseshoe-shaped canyon is 100 meters high and more than 1 km wide. To appreciate the canyon, you should head out on one of the hiking trails from the visitor center and stay in the seasonal campground nearby.

Husavik:

Set on the shores of Skjálfandi bay on the north coast, this small village is known as the

whale capital of Iceland.

Over the warmer months, this town acts as a hub for whale-watching excursions in the North of Iceland. For an eco-friendly whale-watching tour in town, check out

North Sailing

. They operate a silent electric boat giving for whale watching and puffins tours off the coast of Husavik.
Visit Forest Lagoon in Akureyri
We found the town of Akureyri, the "capital" of north Iceland, to be rather uninspiring. But the new Forest Lagoon that recently opened its doors just outside of town is definitely worth the visit. Forest Lagoon is the ultimate serene hot spring bathing experience. The pools are heated by natural geothermal water sourced from the nearby mountain.
The lagoon is set inside a forest, overlooking the city and features two infinity pools, a cold tub, a sauna, swim-up bars, and a bistro. It's a perfect place to relax in the afternoon. Tickets are around $41USD.
Things to do in West Iceland and Westfjords
One of the most geologically diverse regions in the country, West Iceland is the least explored region in the country. The landscape is characterized by fjords, valleys, craters, glaciers, and volcanoes.
In the far northwest corner of the country, the Westfjords region is undoubtedly one of the best things to do in Iceland for a true off-the-beaten-track adventure.
Visit Akranes
Around 50 km north of Reykjavik, this port town is a stunning place right on the edge of Hvalfjörður, a 62-km long fjord. The town is a great base for exploring the beautiful waterway and also hiking up the nearby mountain, Akrafjall.
Explore Snæfellsjökull National Park
This is the only place in Iceland where a national park reaches the sea. Located on the Snæfellsnes peninsula, it was given an Earth Check in 2008 for its sustainability projects. The peninsula is most famous for the mystical ice-capped volcano Snæfellsjökull, which has inspired artists and poets through the centuries. It's definitely one of the best things to do in Iceland for landscape photographers.
Hornstrandir Nature Reserve
The remote reserve is located in the far northwest corner of the country. The uninhabited peninsula is a haven for birds, plants, and Iceland's only native mammal, the Arctic fox. Hornstrandir is a hiker's paradise, with the most popular route being the Royal Horn (or Hornsleið), a four- to five-day hike which crisscrosses the peninsula. Otherwise, there are also guided tours.
Where to Stay in Iceland
In an attempt to reduce our carbon footprint while traveling in Iceland, we focused on staying in a variety of eco-friendly hotels in the country. Each hotel differed in its amenities and offerings, but we found all to offer a comfortable stay. Here is a quick round-up of our favourite Iceland accommodation options.
The Greenhouse Hotel
Located in the town of Hveragerði, The Greenhouse is the most sustainable property we stayed at during our time in Iceland. The complex offers a food hall with several restaurants and bars, a shopping corner with Icelandic designer stores, and a local food market on site. They have a range of rooms from standard to suites and larger family options.
Their sustainable operations focus on recycled and upcycled furniture, modern eco-friendly amenities, and a strong partnership with local activity suppliers that positively impact the overall community. Rooms at the Greenhouse Hotel start at US$160 per night.
Fosshotels
This chain of hotels has over 10 properties across the country, offering a range of properties for every budget. They are all pretty good standard offering clean budget rooms and onsite restaurants. Each hotel is strategically located close to some of the top attractions in Iceland.
We stayed at Fosshotel Nupar, which was a budget-style 3-star hotel, and were surprised by its modern design and decor. The hotel was set in a great location ideal for exploring south Iceland, near Mount Lómagnúpur, Skaftafell National Park, the craters at Lakagígar, and the amazing Jökulsárlón Glacier Lagoon.
Hotel Höfn
Situated in southeastern Iceland, this Hotel Hofn is a modern hotel with amazing views of the Vatnajökull glacier. The rooms are spacious, and polished, with comfortable high-quality beds, private bathrooms, and a great on-site restaurant, Ósinn. Rooms are from US$150 per night.
Hotel Hallormsstadur
Located on a secluded forest hilltop overlooking the Lagarfljót River, this Hotel Hallormsstadur is tucked away in the forest and is close to some great hiking trails. There are over 90 rooms with a range of budget as well as more superior options. The hotel has a number of facilities, including two onsite restaurants, a private spa, and a hotel gym. Rooms are around US$220 per night.
Hotel Kea
Hotel Kea is set right in the heart of Akureyri and offers the perfect base for exploring more of North Iceland. The simple rooms range from standard doubles up to larger family rooms and features big floor-to-ceiling windows. The in-house restaurant specializes in hearty local dishes made from fresh seasonal produce. Prices from US$160 per night.
Grand Hotel Reykjavík
Grand Hotel is a large luxury hotel near the center of Reykjavik. There are over 300 rooms with large beds and plenty of space to relax. It's one of the largest hotels in the country. The onsite restaurant, Brasserie Grand, offers a range of international and Icelandic specialties. Prices start from US$180 per night.
Konvin Hotel by Reykjavik Keflavik Airport
Located close to Reykjavik Keflavik Airport, Konvin Hotel is the perfect stop for your last night in Iceland. The hotel offers a free airport shuttle service. The rooms are spacious and have dark timber features with splashes of bright colours. They also offer a large lobby bar with a buffet breakfast available. Prices are from US$120 per night.
How Long to Spend in Iceland?
With so much to see in Iceland, it's a destination that requires more than a single visit. Our 10-day trip was jam-packed with activities, but focused primarily on the South and East of Iceland. We only scratched the surface when it comes to activities in the North and West.
If you only have 1 week in Iceland, then we recommend sticking to Reykjavik and the southern region. This will easily keep you busy with the Golden Circle scenic route and range of destinations on the south coast.
If you have 2-3 weeks in Iceland, you'll have enough time to do the full Ring Road around Iceland, allowing you to see more of the East, North and West regions.
Is 3 Days Enough to Visit Iceland?
Not really, but you could have a nice layover or weekend visit. Stay in Reykjavik or at the Greenhouse in Hvegarti, and spend a couple of days exploring the sights and attractions along the Golden Circle.
Have you ever been to Iceland? What other top things to do in Iceland would you add to this list?
Disclaimer: Our visit to Iceland was organized in partnership with Islandsstofa and Visit Iceland, but as always, all opinions expressed in this article are our own.