*This post may contain affiliate links, as a result, we may receive a small commission (at no extra cost to you) on any bookings/purchases you make through the links in this post. As an Amazon Associate, I earn from qualifying purchases. Read our full disclosure.
When you imagine a Costa Rica surfing vacation, what do you picture? Beautiful jungles, amazing wildlife, delicious food, crazy adventure activities, perfect weather, pristine beaches… and incredible waves!
If you're looking for the perfect place to relax, unwind, and ride the waves, look no further than Costa Rica. For other activities, there may be a 'best time' to visit Costa Rica but for surfing, Costa Rica is considered one of the best year-round surf destinations.
There are definitely peak seasons that provide more consistent swells (waves that are generated from weather systems as opposed to local wind) and great surfing conditions for all skill levels.
Of course, just saying 'Costa Rica' doesn't really narrow things down, so you're probably still wondering where to surf in Costa Rica. We have some suggestions to help you narrow the field.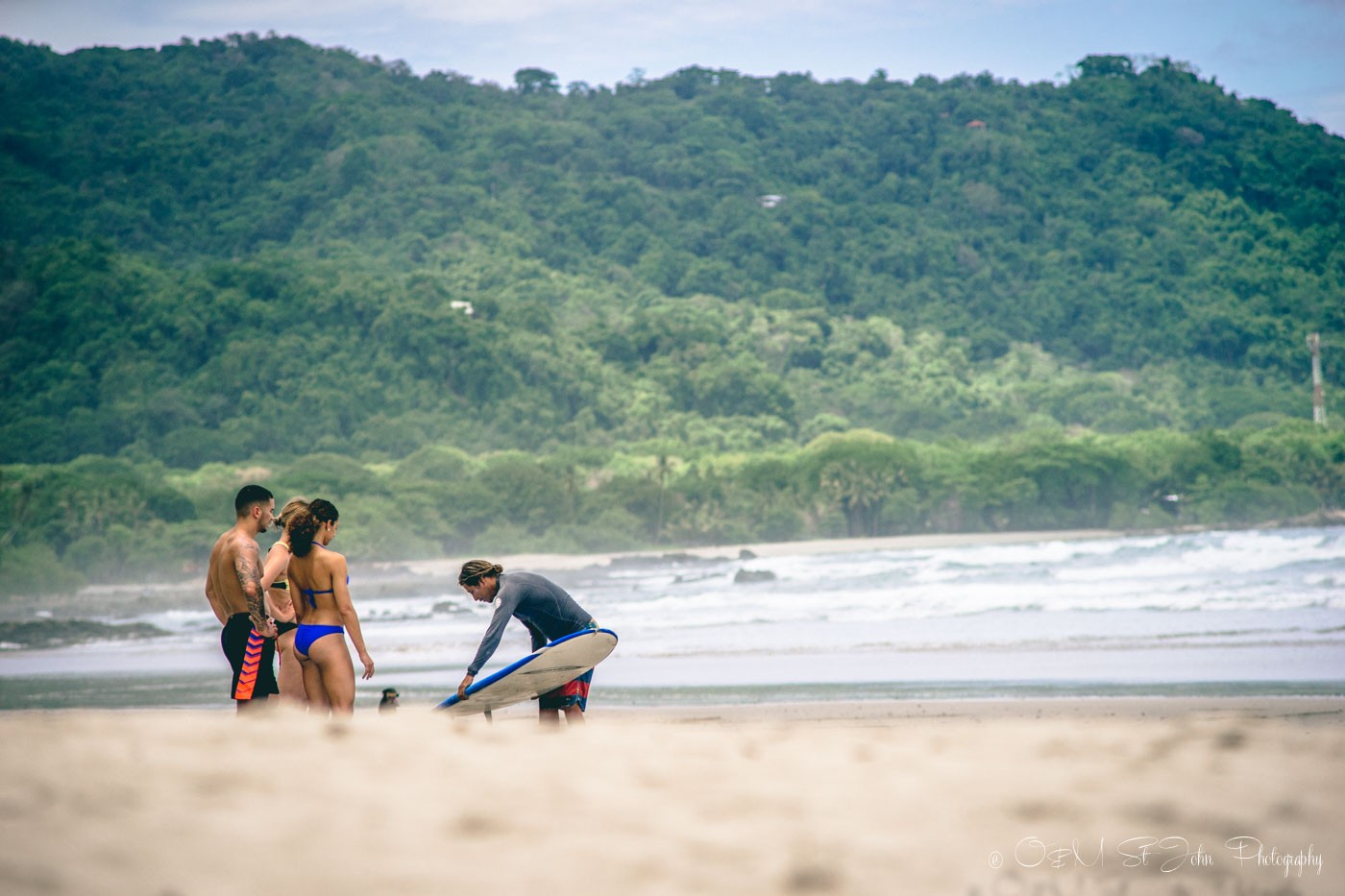 The Best Places to Surf in Costa Rica Depend on the Season
The South Pacific swell season is from June to September and provides the west coast with great surf.
The North Pacific swell season is from November to April, and provides even better waves than the South Pacific season!
Hurricane season will also bring larger waves, but this is dependent on tropical storms forming around Mexico and pushing weather systems down towards Costa Rica.
Whether you're a seasoned professional or a curious newbie, you'll have no problem finding a place to dive into the warm ocean water and catch waves! It all depends on the beach you choose to head out from – some are best for more experienced surfers, while others are learner-friendly.
We've broken down the beaches that provide the best surfing in Costa Rica by region:
Guanacaste
Playa Tamarindo
Tamarindo is one of the most popular Costa Rica surf spots – and with good reason. The waves are consistent, and there are swells for every skill level depending on which part of the beach you set out from.
Sunset surf in TamarindoTamarindo is also the getaway to Witch's Rock and Ollie's Point, two well-known surf spots – renowned for having some of the best waves in the entire country.
Tamarindo is tourist-friendly and generally has its fair amount of visitors, so keep that in mind if you're looking for a quieter, more isolated destination. But don't be too cautious about crowds. When it comes to Costa Rica surf spots, Playa Tamarindo has something to please everyone, so even if you're a wallflower, you'll find yourself having a good time.

Playa Negra
Easily accessible and just south of Tamarindo, Playa Negra is another favourite among surfers – both local and visiting.
The waves are consistent and clean, and there are many rental shops along the beach for anyone in need of aboard. This beach is best for intermediate and experienced surfers, though beginners won't feel excluded on a smaller day.
The waters are pristine, and the area is comparatively remote, so you won't need to worry about crashing into someone else's surfboard while you're on the water. And when you're not on the waves, you can look forward to a friendly, laidback attitude and plenty of opportunities to find food right on the beach or just a kilometre inland.
Playa Avellanas
This beach is known for having both incredible offshore waves and huge swells. It's hardly ever crowded, and though it's best for intermediate surfers, beginners will also enjoy the waves here.
With as many as eight different breaks, Playa Avellanas really is one of the best places to surf in Costa Rica, though that also means that swimming tends not to be the best idea if you don't want to get swept out to sea. Though the locals sometimes call it 'Little Hawaii', surfing isn't all it has going for it. Compared to Tamarindo, Avellanas is downright tranquil enough to take a nap on the beach.
Playa Grande
This beach, again, has pretty consistent swells, but it's best during the South Pacific swell season. It can be enjoyed by surfers of all skill levels.
Along with having some of the best surfing in Costa Rica, it's also been an important part of Marino Las Baulas National Park since 1990. Even more important than being one of the best places to surf in Costa Rica, Playa Grande is also instrumental in the conservation and nesting of leatherback turtles. You'll have to be cautious – the area is very well protected! – but if you get a chance to see the turtles, it's an opportunity worth taking advantage of.
Playa Guiones
This 7-km (4 miles) long beach is great for all skill levels and has beach breaks all up and down the beach.
Surfing aside, the beach is beautiful, looking more like it's made of sugar than sand. A few hundred metres of the beach also got awarded a Blue Flag for being eco-friendly, pristine, and well-maintained. Playa Guiones is a beach you can visit guiltlessly. Even once you're all surfed out for the day, its reasonably low level of traffic means it's great for just relaxing and winding down.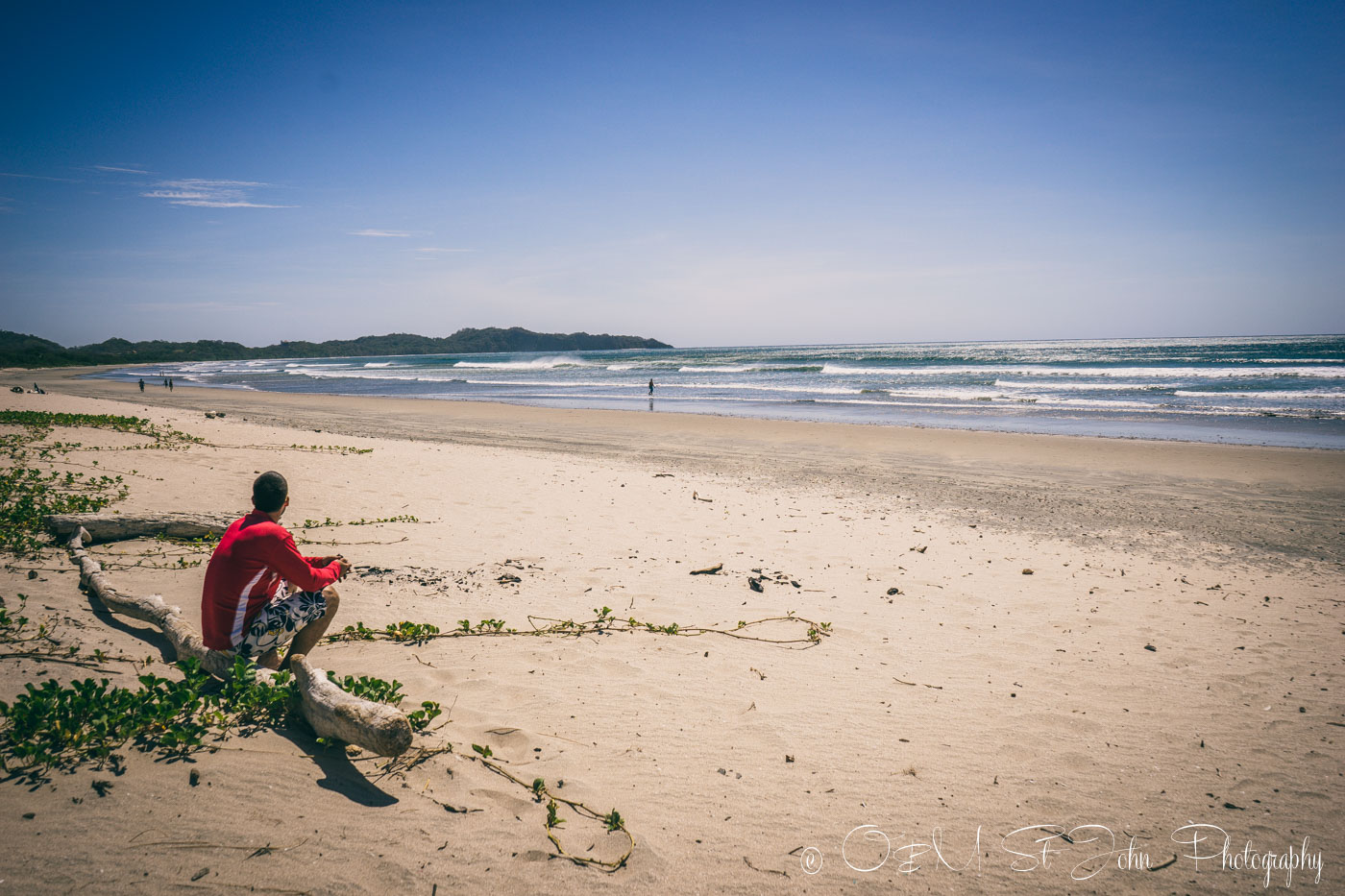 Playa Santa Teresa
Depending on where you head out from the beach, all skill levels can enjoy this area for a Costa Rica surfing vacation. Suck Rock is the most famous surfing point in Santa Teresa.
Playa Santa Teresa has come into its own, blossoming into its own community courtesy of surfers and beach bums that flock to it, despite it being fairly small. Even when you're not surfing, you can relax, explore the canopy, or see what the Cabo Blanco Nature Reserve has to offer; you'll find something to keep you happy.
Puntarenas
Playa Dominical
One of the less developed of the beaches mentioned, you can visit here for a more authentic, quiet experience. This beach is best for intermediate to advanced surfers, as the waves on average are close to 10 feet tall!
If you happen to find anyone camping out on the beach while you're there, don't worry about them. Playa Dominical is renowned enough for its waves that surfers pretty frequently decide to camp out on the beach, rather than miss out on a minute of surfing. As exciting as that sounds, it would still be best to give Playa Dominical a pass if you're just a beginner, as the surf can be dangerous if you don't know what you're doing.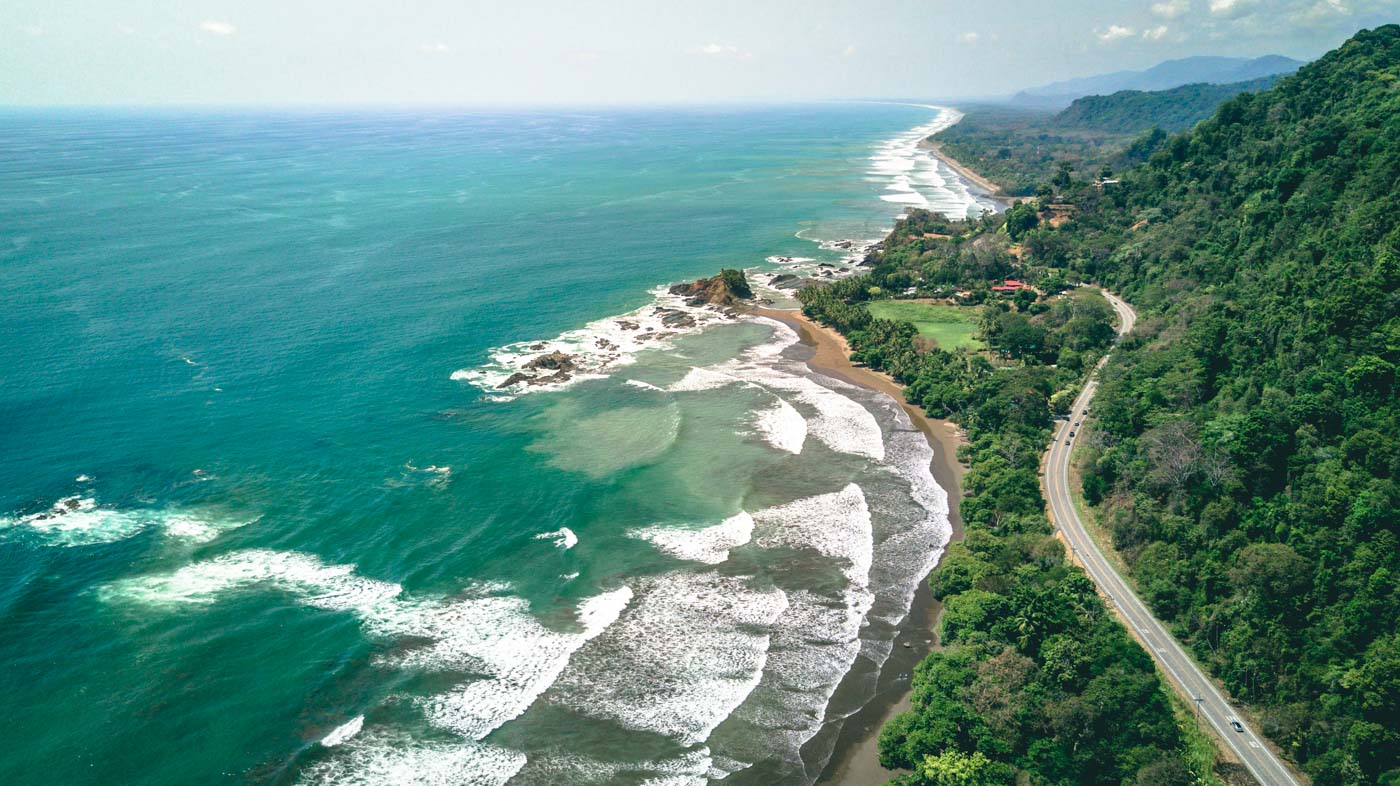 Playa Hermosa
Another great choice for intermediate and advanced surfers. The waves are fast, hollow, and last for up to 150 meters.
Playa Hermosa is relaxed and beautiful, surrounded by forests and volcanic rock. It's even won the Blue Flag for environmental standards and safety. It's generally pretty quiet and laid-back, and the weather stays ideal all year long. If you're looking for some of the best surfing in Costa Rica but aren't a fan of crowds, Playa Hermosa will probably scratch that itch for you.
Playa Jaco
Playa Jaco has the largest number of surf shops and surf camps in Costa Rica. It's the perfect place for beginners – you'll have lots of help available to you, at a range of prices – as well as more seasoned surfers.
And when you've finished surfing for the day, you can take advantage of Playa Jaco's nightlife. It's a community that likes a good party, and it has an atmosphere to match. Whether you're alone or in a group, looking for adventure or in the mood for something more down-to-earth, Jaco will keep you busy long after you've put your board away for the night.

Playa Jaco, Puntarenas
Caribbean Coast
Punta Uva
This is a great place for surfers ready for a challenge. The waves are fast and demanding and sometimes last for up to 300 meters. It's advised that you watch out for exposed rock, coral reefs, and jellyfish!
It's one of the few beaches you're going to find with a coral reef within swimming distance. Combined with the community's laid-back attitude, Punta Uva has much more to offer than just being a great destination for a Costa Rica surfing vacation. It's well-known for its scenery and wildlife, both in the forest and under the sea.
Salsa Brava
Known to be one of the most challenging (and sometimes dangerous) surf spots in the entire world, you definitely should NOT attempt to surf here as a novice!
But if you've got a bunch of experience under your belt, this spot's a must-visit. The name of the beach roughly translates to "angry sauce" – because it's one of the most powerful breaks in the world.
It attracts expert surfers in the thousands every year, eager to experience the Hawaiian-style barrels, with March and December typically offering the biggest waves. Given the number of reefs in the area, it's typically recommended that even expert surfers wear helmets. If you're new to the sport, maybe just admire the waves and the surfers from the shore and enjoy the nearby town of Puerto Viejo.
Best Surf Schools & Camps in Costa Rica
Now that you know all of the best spots in Costa Rica to catch waves – it's time to get out there! When it comes to finding the best surf camp, Costa Rica is the best place to look.
If you're inexperienced and in need of some guidance, pretty much every beach that you come across has shops that offer lessons.
Costa Rica's also known for its abundance of surf camps – an immersive experience that teaches you how to surf in a "retreat" style environment.Here are a few that we recommend that didn't make that list:
Surfing Amigas:

This one is a ladies only option – sorry guys! It's an awesome, supportive Costa Rica surf camp for women looking to learn how to surf. Located in Golfito (with other locations available internationally!).

Salty Sols Surf School:

The owner of this surf camp PROMISES that you'll stand up on your board before the end of your first lesson – how exciting!

Surf Simply:

This camp focuses on more than just standing up – it isolates all of the skills and mechanics needed for surfing, and deep dives on how to perfect them. In their words, "We don't teach you how to surf. We teach you how to teach yourself how to surf."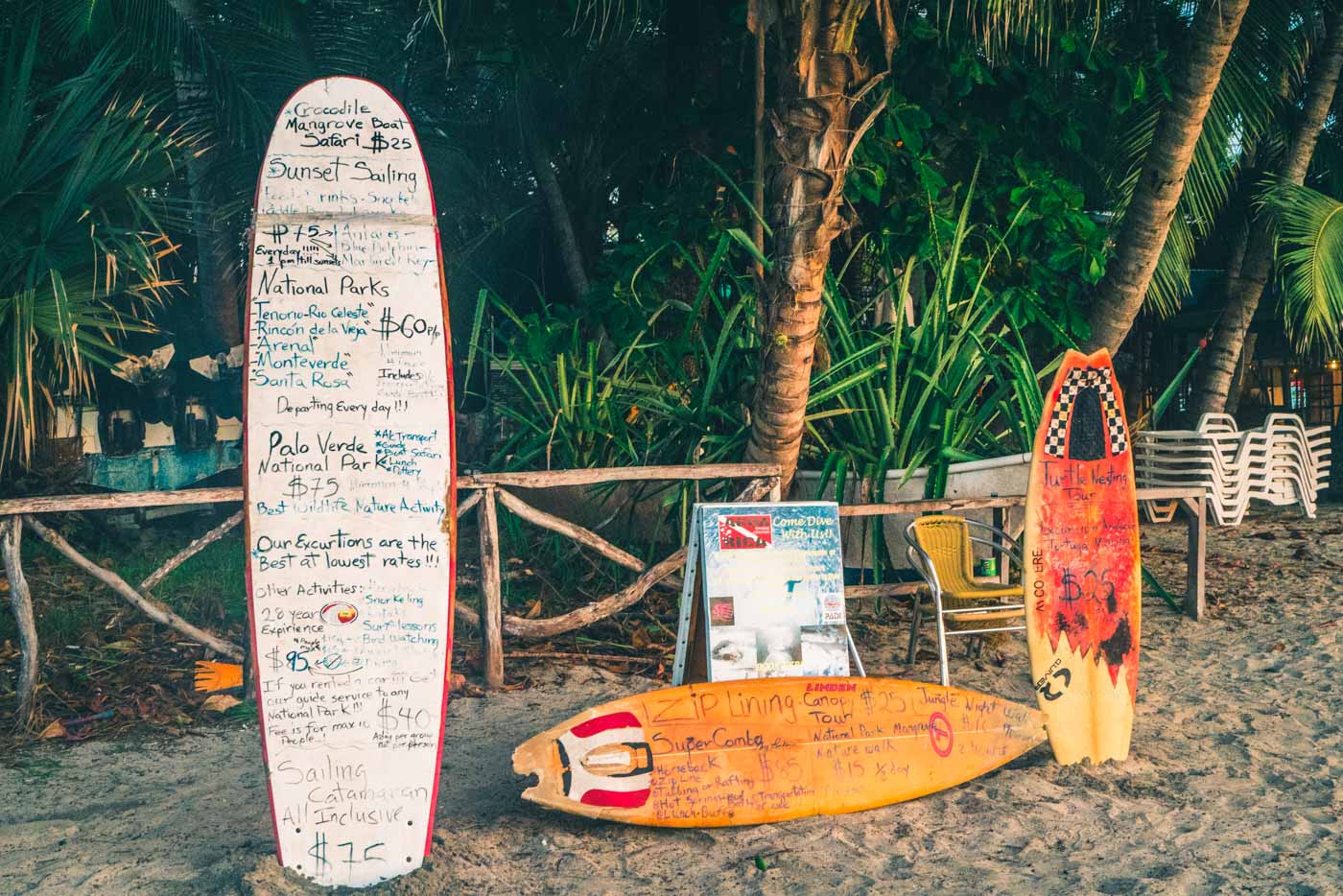 It's pretty much impossible to avoid beautiful beaches in Costa Rica. No matter where you are on either coast, there are going to be amazing options at your disposal. During your next visit to Costa Rica, take advantage of the pristine waters!
Have you been surfing in Costa Rica before? Let us know in the comment section below!