In the van life world, there's an age-old debate over whether having a portable campervan toilet is worth it. They don't work like normal home toilets where you flush and forget. Campervan toilets require a lot more work and effort to empty and clean. But despite the struggles, we still consider portable toilets to be a van life essential.
*This post may contain affiliate links, as a result, we may receive a small commission (at no extra cost to you) on any bookings/purchases you make through the links in this post. As an Amazon Associate, we earn from qualifying purchases. Read our full disclosure
The good news is that there are a ton of campervan toilet options for every budget and van layout. While many consider having a portable toilet to be a luxury, it really makes van life easier and more comfortable. And we'll take that any day!
After living in multiple different vans over the years, we've done plenty of first-hand research on toilet options. So here's everything you need to know about buying a portable toilet and a round-up of the best campervan toilets on the market.
Traveling Soon?

Here is a list of our favourite travel providers and accessories to help get you ready for your upcoming trip!
First…let's address some burning questions …
Do you really need a toilet in a campervan?
Ultimately, incorporating a camping toilet into your camper van conversion is a personal choice. Depending on the type of places you stay (i.e. campgrounds/city streets/the woods), you might be fine without one. That said, camper van toilets definitely make life easier and make your van feel like more of a home. This is especially true when you need to go to the bathroom in the middle of the night!
Can you poop in a portable camping toilet?
You certainly can poop in any portable camper toilet, it's more a question of if you want to. Some campervan toilets, like a composting toilet, are well suited for number 2, while others, should be only used in an emergency.
Van Toilet Options
Porta Potty/Cassette Toilet
Cassette toilets are the most popular type of portable camping toilets. They have a compact all-in-one design with a toilet bowl, flush tank, and small waste tank. You just open the valve, do your business, and use the hand pump to flush. The waste tank can be dumped into a sani dump station, or the vault toilets you find at campgrounds. Clean, rinse and repeat.
The main downside to these camper toilets is that they are not well suited to handle poop and break down toilet paper. If you plan on going number 2 and keeping it in your porta potty for a few days before dumping, be prepared to use harsh chemicals to break down waste and stop the smell from wafting into your living space. This is the reason why these types of toilets are also known as chemical toilets.
Plan to use the toilet for #1 only and dump frequently? Then a porta potty or cassette toilet may be a suitable affordable option for a campervan portable toilet.
Fixed Toilet With Black Waste Tank
These are most commonly used for RV toilets with built-in bathrooms. They work like a normal toilet and connect to a black tank that holds liquid and solid waste. When the tanks are nearing full, head to a dump station to empty them out. The toilet experience is the most "normal" but harsh chemicals are needed to process the waste, sani dumping is essential and usually has a fee.
Portable Composting Toilets
A composting toilet is, in our opinion, the best campervan toilet for van life. They're tall and comfortable like a traditional toilet and the most eco-friendly option. The toilet separates liquid waste from solid waste so your #1 can be easily and frequently dumped. Meanwhile, your #2 gets turned into compost with the help of peat moss or coconut coir and 12V power.
The compost tank can hold a surprising amount of waste while not smelling and not requiring any chemicals. The drawback? They can be quite expensive and require designated space since they're bigger than other camping toilet options.
Bucket Toilet
As one of the craftier camper van toilet ideas, bucket toilets can be great in a pinch. It's pretty much exactly what it sounds like: a snap-on lid toilet seat on a bucket. You can line the bucket with a plastic bag and dispose of the whole thing when you're done. Bucket toilets are the cheapest option for a van life toilet but it's really not a permanent solution.
Shovel Style
For the most no-frills—and most portable—camping toilet, you can't go wrong with a trusty shovel. Keep in mind this is an outdoors-only solution so it only works when you're (way) outside of a city. Simply grab your shovel, find a spot away from a water source or trail, and dig a cat hole. Leave No Trace principles recommend a 6-8" deep hole that's inconspicuous and dry. Many seasoned vanlifers swear by poops in the wild, but it certainly isn't for everyone.
Things to Consider When Choosing Portable Toilets
Price
The price range for portable toilets is all over the map. Composting toilets are the most expensive ($500-$1,200) with chemical toilets or cassette toilets being more affordable ($100-$300). Alternatively, you can pick up a bucket toilet for 50 bucks or use a garden shovel for free!
Size/Weight/Capacity
The size of your portable toilet is important for 1) space in your camper van and 2) capacity. Like most van life essentials, taking up as little space as possible is usually the goal. How much space you can dedicate to your camping toilet really depends on your build.
And in terms of capacity, just think about how frequently you'll be able to dump it. It seems odd, but a smaller capacity waste tank may actually be better to keep things as fresh as possible. A larger full waste tank can get pretty heavy and make dumping a challenge, so keep that in mind.
Cleaning
Keeping your vanlife toilet clean is key. This is the area where a chemical toilet shines since the chemicals clean and limit the smell. Some people also use kitty litter or peat moss in place of chemicals, but that can get messy.
A composting or chemical portable toilet should be wiped and rinsed often. We recommend using natural cleaners like vinegar or lemon juice to freshen up the holding tank. Just remember to never use bleach since the ammonia in urine can cause a harmful chemical reaction.
Ease of Installation
Most portable van toilets are pretty easy to install other than a composting or fixed RV toilet. They're standalone units that can be moved around and stored. A proper flush toilet like fixed RV toilets require some plumbing to connect the black tank. Similarly, a composting toilet needs to stay in one spot since it requires venting and power.
Best Portable Camping Toilets
Best Composting Toilets
Nature's Head Composting Toilet
One of the most popular composting toilets for van life. Nature's Head toilet is completely self-contained and uses a dry composting method that doesn't require any water. It does, however, require venting (AKA drilling a hole in your van) and 12V power. You can freely flush toilet paper and do your #2's to your heart's content.
The liquid waste tank can hold 2.2 gallons (~8L) of urine which they recommend dumping every 3-4 days. Meanwhile, the solids tank can last 60-80 uses, which is very impressive. Nature's Head suggests dumping it every 3 weeks and keeping it filled with moistened sphagnum peat moss or coconut fibre. While comfortable and eco-friendly, Nature's Head composting toilet is big, expensive, and not portable. Prices start at USD $995.
Air Head Dry Composting Toilet
Air Head Composting Toilet is another options for a self-contained camping toilet that uses dry composting without water. It's designed to mimic a home toilet with a comfortable seat and flushing system. The solids tank can last 60-80 uses and they recommend emptying the liquid tank every four days.
It separates solids with the help of an agitator and uses a 12V fan to eliminate moisture in the holding tank. Fill it with peat moss and you're good to go! The Air Heads work well in camper vans, boats, and can easily replace a fixed RV toilet. Air Head Composting Toilet costs $1,059 USD and requires installation.
Separett Toilet
Separett makes the most compact waterless toilets for camping. It's a urine-diverting toilet that has separate tanks for liquids and solids. Separett recommends dumping the solids once a week and liquids 2-3 times a week.
A cool feature of this toilet is that the Separett logo will turn red to indicate the tanks are full. This helps to take the guesswork out of dumping. For solids, the tank is lined with a compostable bag so you can easily drop it into a compost bin. The 12V fan exhausts moisture and keeps things odourless and clean. It's expensive at USD $1,050 but it's the best campervan toilet if you want a great odour-free toilet but have limited space.
We've been using Separett Toilet in our van and are absolutely in love with it! Best toilet on the market by far!
If you are based in Canada, you can buy Separett Tiny Toilet from a local distributor, Canada Eco Products.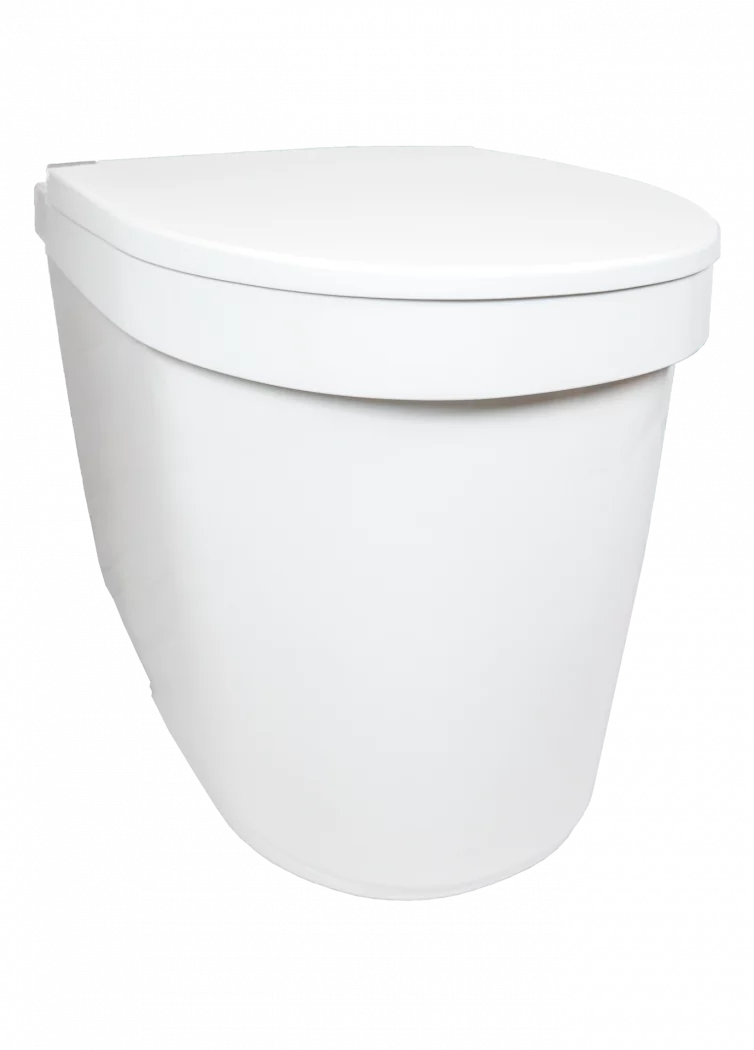 C-Head Portable Composting Toilet
If you have the space in your camper van bathroom, the C-Head Composting Toilet is another great travelling toilet. It's more geared toward RVs or tiny homes because it's quite large but still has handy features. It separates urine from solids and diverts them to an easy-to-empty jug. The solids land in peat or hemp-lined tank where they compost without odours.
C-Head recommends that you empty the tanks weekly to keep on top of it, especially if you're flushing toilet paper. This composting toilet is slightly cheaper at USD $825 but still a bit of an investment.
Sun-Mar GTG Self-Contained Composting Toilet
The Sun-Mar GTG Toilet is another compact urine-diverting campervan toilet. It uses waterless dry composting to break down solids for easy and odourless disposal. The solids tank can be lined with a compostable bag and disposed of every 3-4 weeks. Liquids should be dumped more frequently, and note that the liquids tank doesn't have a lid.
While the GTG Toilet is cheaper at USD $500, it's not as well-designed as more expensive composting campervan toilets. Nevertheless, it's a small portable toilet that still gets the job done!
Best Porta Potty Toilets
Porta Potty or cassette toilets are the most common choice for small campervan toilet. They are affordable, easy to tuck away and offer a decent solution for those wanted to have a campervan with toilet.
However, it's important to note that the dumping process for porta potties is cumbersome and can get quite messy. But it's the same for all porta-potties on the market and is by far the biggest downside of this type of portable toilet for van. To empty this type of camper porta potty, you have to detach the holding tank from the fresh water bowl and unscrew the cap on the tube. Then angle the tube into a pit toilet or sani dump to pour out the contents.
If the process of frequent dumping and cleaning of the toilet doesn't bother you, here are the best porta potty for camper to consider.
Thetford Porta Potti
The Thetford Porta Potti 365 is high on the list for the best portable toilet for all-around use. We used one while in Australia and found it to be compact, comfortable, and great for occasional use. The cassette toilet is designed to be used as a chemical toilet for camping but chemicals aren't 100% necessary. You can find natural solutions to deodorize while keeping on top of dumping.
You just open the valve, use the toilet like normal, and flush with fresh water from the internal tank. It doesn't separate solids, so prepare for that if you're using your portable van toilet for #2. It's an affordable option at USD $150 with a 5.5 gallon (20.8L) waste tank for 50+ flushes.
Dometic
The Dometic 970 is a portable chemical toilet very similar to the Thetford Porta Potti. It's up there as the best toilet for van life with its 5 gallon (19L) waste tank and easy push-button flush. You just pump the handle to pressurize and flush away with the press of a button. Another great feature is the prismatic tank level indicator that helps you determine when it's ready to dump.
Like the Thetford camper potty, it's designed to be used with chemicals but they're not imperative. Plus, it's actually a portable toilet that requires no installation and can be moved around so it's easier to clean. Dometic camping toilets are about USD $150 and make great camping porta-potties.
Camco Portable Toilet
Another cassette toilet option is the Camco 41544 Premium Travel Toilet. It's one of the best portable toilets for price and size with its 5.3 gallon (20L) tank for USD $130. This is the portable cassette toilet that we have in our van in Canada and while it does the job, we don't recommend it for full time van life. We find it can get quite heavy when full (up to 56 lbs!) and thus requires frequent dumping.
Other Campervan Toilet Options
Luggable Loo
The aptly named Luggable Loo is a portable bucket toilet that's cheap and low-maintenance. With those perks comes the trade-off of less convenience and potentially more smell. Unlike many of the best campervan toilets that use compost or waste tanks, the Luggable Loo is all one unit. This means you'll need to dump it daily to avoid odours from creeping their way into your van.
It's still a good solution for emergencies, especially when you're stealth camping in urban areas. You can line the bucket with a bag for easy disposal or just dump and rinse your liquids. Basically, it can be the best toilet for camping when it can stay outside and vent but isn't great for long-term or indoor use. For USD $50, it's a handy camp toilet in a pinch.
Cleanwaste Go Anywhere Folding Toilet
Ever hear of a folding toilet? The Cleanwaste Go Anywhere Toilet is the most portable of all the camping toilets on our list. It's the best portable toilet for camping when you want to have a temporary toilet without taking up space. The toilet unfolds from flat into a standing seat that you then line with camping toilet bags. Then poof, drop the bag in the trash and fold the toilet back down.
While it's a good portable toilet to have on hand, it's better as a backup solution for emergencies. The bags are expensive and not compostable so you'll be forced to use chemicals to decrease odours. It's a worthy travel toilet to have for USD $70 but not the best camping toilet for daily use.
For extra privacy, you can even get a toilet tent in the total system. Everything folds into a backpack, including waste bags and a pop-up tent. It's more than a portable toilet, it's a portable bathroom for camping!
Do you have a portable toilet in your van? What were your deciding factors when searching for campervan toilet ideas?