Whether you're a wildlife enthusiast or simply a curious traveler, an African safari in Kenya is sure to be one of the most unforgettable experiences of your life!
*This post may contain affiliate links, as a result, we may receive a small commission (at no extra cost to you) on any bookings/purchases you make through the links in this post. As an Amazon Associate, we earn from qualifying purchases. Read our full disclosure
From witnessing elephants, lions and rhinos roaming in the wild to seeing some of nature's most beautiful sunsets amidst lush green plains and gently rolling hills—there are so many reasons why visiting Kenya's safari parks should be on everyone's travel bucket list.
To help guide you through the best Game Reserves, National Parks and other destinations for enjoying wildlife in Kenya, we compiled our list of the 10 best National Parks, Reserves, and Safari Parks for a Kenyan safari adventure.
Our curated selection features popular safari parks like Maasai Mara and Amboseli National Park but also lesser-known ones such as the Mugie Conservancy that offer diverse landscapes and abundant animal species outside of the typical tourist circuit.
Without further ado, let's dive in!
Safari Parks in Kenya
Kenya is the perfect destination for an exotic wildlife experience like no other. Home to over 50 wildlife reserves, safari parks, and national parks, Kenya impresses visitors with the sheer amount of breathtaking nature that exists across the country.
From Maasai Mara, Amboseli, and Tsavo, to Samburu and Lake Nakuru, these safari parks are filled with a variety of wild animals like elephants, rhinos, giraffes, lions and many more. The natural landscape of each park is unique and special, and many of them offer unique experiences, like seeing the wildebeest migration and sleeping in a treehouse in the bush!
Traveling Soon?

Here is a list of our favourite travel providers and accessories to help get you ready for your upcoming trip!
1. Masai Mara National Reserve
Located southwest of Nairobi, Masai Mara National Reserve (also spelled as Maasai Mara) is one of Kenya's jewels and one of the best safari destinations in the country. It's a must-visit for anyone looking to experience one of the continent's most spectacular wildlife.
Wildlife in Masai Mara
Masai Mara Reserve is home to the Big Five (African elephant, lion, leopard, Cape buffalo, and rhinoceros). It is particularly famous for its large concentration of big cats, including large prides of lions, a significant number of cheetahs, and leopards.
A visit to Masai Mara National Reserve will allow you to come face-to-face with large herds of elephants and giraffes roaming through the grassy plains that stretch all the way down to Tanzania's border. Masai Mara boasts a plethora of other wildlife, including a variety of mammals and birdlife. You'll likely also to see hippos, buffalo, hyenas, jackals, gazelles, zebras, impalas, and hartebeest, among many more species. With over 500 bird species, this reserve is a birdwatcher's paradise.
How Long Should You Stay
Since this park is located more than 4 hour drive from Nairobi, make the most of your time by spending at least 3-4 days on a safari in Masai Mara.
Although it is one of the best safari parks in Kenya, Masai Mara National Reserve offers much more than just animals. Skies blanketed by millions of stars, savannas stretching for miles, and striking sunsets make this a particularly popular destination for photographers.
Don't Miss
The great wildebeest migration happens every year between July and October. Every year, over two million wildebeest cross the Mara River in search of water and better grazing during the dry season. The migration is a unique natural event like no other. It's thrilling and memorable and one of our personal safari experiences!
2. Amboseli National Park
Amboseli National Park is one of the most popular Kenyan wildlife reserves due to its stunning location, diverse wildlife, and rich culture. Located at the southern base of Mt Kilimanjaro, Amboseli offers incredible photo opportunities with Africa's highest mountain in the background.
Wildlife in Amboseli National Park
Amboseli National Park is home to large herds of African elephants, so you can get up close and really appreciate these incredible creatures in their natural habitat. You'll find plenty of other species here, including the rest of the Big Five, as well as cheetahs, giraffes and hundreds of bird species.
In the marshes and lakes, you'll see wallowing hippos, and if you go on a guided walk or drive you'll spot blue wildebeest in the plains.
How Long Should You Stay
Amboseli National Park is located close to the Tanzanian border, around a 4-hour drive from Nairobi. Most people spend a few nights on a safari in Amboseli, although day tours from Nairobi are also available.
Don't miss
Take an easy hike up Observation Hill: the best vantage point in Amboseli National Park. On top of the hill, there is informative signage about the geological history and wildlife of the park. Make sure to bring your camera or binoculars to see and capture the awesome views from this spot.
3. Tsavo National Parks
Located in the southeast part of the country, Tsavo National Parks are another excellent safari destination in Kenya. As one of Kenya's top national park complexes, it encompasses nearly 22,000 sq km (8494 sq miles) and is home to impressive animals like lions, leopards, rhinos, cheetahs, buffalos and hyenas – they all make their home in this spectacular natural wonder.
This huge park is divided into Tsavo East National Park and Tsavo West National Park, each with its special features.
Tsavo East National Park is relatively flat and is known for its plains and the Galana River.

Tsavo West National Park has mountains, springs, and other attractions like the Ngulia Rhino sanctuary.
Wildlife in Tsavo National Parks
Aside from the Big Five, Tsavo National Park is home to the famous red elephant. Fun fact about the red elephant: they are actually the same gray colour as other African elephants. Their red appearance comes from their mud baths in the park's iron-rich, red soil.
How Long Should You Stay
Located a 5-½ hour drive from Nairobi, Tsavo National Parks are very close to the coastal city of Mombasa. Visitors usually spend a few nights on a safari in Tsavo Parks and combine the trip with a beach stay on the Kenyan Coast.
Don't Miss
Make sure to visit the Shetani lava flow, a folded black lava landscape that covers 50 sq km in Tsavo West National Park. You can also explore the nearby Shetani caves, which were also formed by volcanic activity.
4. Samburu National Reserve
Wildlife in Samburu Game Reserve National Reserve is a lesser-known safari destination in Kenya, famous for its stunning landscapes and rare species like Grevy's Zebra and the Somali Ostrich.
Wildlife in Samburu Game Reserve
Samburu is home to a wide variety of wildlife and birds, including reticulated giraffes, gerenuks – a kind of antelope – plus elephant and buffalo herds.
One of Samburu National Reserve's "special five" includes the beisa oryx, native to this specific region in northern Kenya.
How Long Should You Stay
Samburu Game Reserve is located about a 6-hour drive north of Nairobi and is pretty remote. If you are going to make it to Samburu on your safari, we recommended spending at least 2-3 nights experiencing the region.
Don't miss:
A cultural tour to learn about the Samburu people. The Samburu culture has been relatively unaffected by modernity, and they have carefully protected their pastoral traditions.
5. Lake Nakuru National Park
Designated as a conservation area in 1957, Lake Nakuru National Park is a refuge for over a million pink flamingos and over 400 bird species.
Wildlife in Lake Nakuru National Park
Lake Nakuru National Park is famous for its flamingo colonies, but there is plenty of other wildlife and attractions to see in this safari park. There are over 50 mammal species, including waterbucks, impalas, rhinos, as well as lions and even leopards.
There are several viewpoints in Lake Nakuru and even a waterfall at the southern end of the park. Lake Nakuru is also a phenomenal place to birdwatch and is particularly recommended for birdwatchers.
How Long Should You Stay
Lake Nakuru National Park is located 3 hour's drive from Nairobi. We visited the park on a day trip from Lake Naivasha, but most visitors opt to spend a night or two at one of the safari camps in the park.
Don't miss
Take a drive to Baboon cliff, a viewpoint on the western shore of Lake Nakuru. You'll get a great view of the lake and might even get to see baboons up close.
If you plan to have lunch in the park, keep an eye out on the bush near the picnic spot for your chance to spot the white colobus monkeys that hang out in that area.
6. Mugie Conservancy
Nestled in the heart of Laikipia, about a 5-hour drive north of Nairobi, Mugie Conservancy is one of the lesser-known safari parks in Kenya.
The Mugie Conservancy was established with a focus on sustainable development and tourism, and there are many ongoing initiatives to conserve biodiversity and endangered species. It is one of Kenya's younger conservancies, but its scenic beauty, along with its rich biodiversity, make it well worth a visit.
Inside the conservancy is a 156-acre lake, the perfect spot for a nature walk or boat safari.
Wildlife in Mugie Conservancy
Over 70 mammal species live in the park, with more than 280 bird species. The region features verdant grasslands and diverse wildlife, with common sightings ranging from elephants, hyenas, and wildebeest to the rare oryx, lions, and cheetahs.
Jackson's hartebeest is endemic to the area, and Mugie Conservancy is dedicated to protecting the endangered Grevy's zebra.
Don't Miss
For an interactive experience, ask your guide about the big cat tracking program, visit the orphaned giraffe Tala or learn all about the in-park anti-poaching program and participate in a fascinating demonstration of a "poacher search."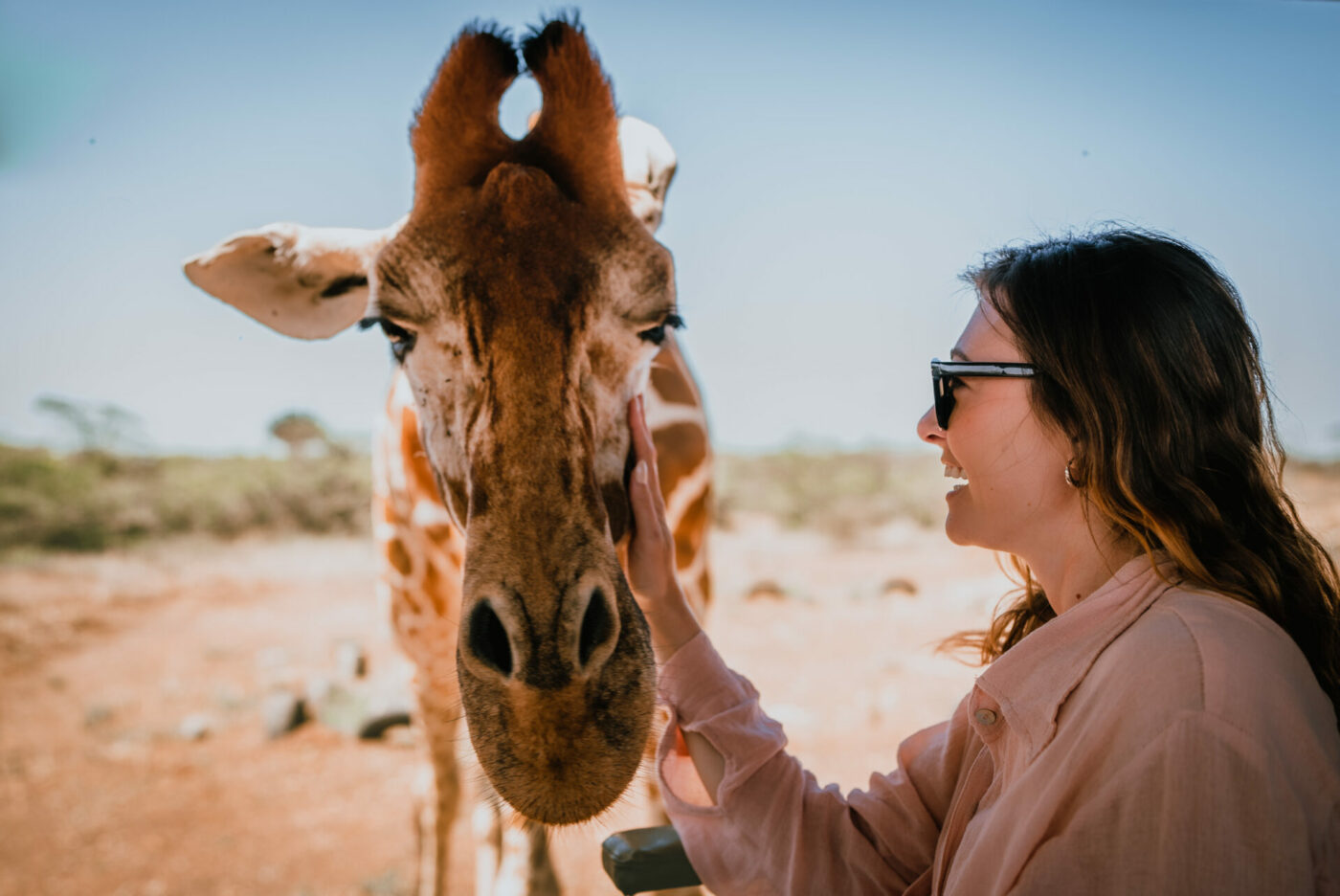 7. Nairobi National Park
Located just 7 km from the bustling Kenyan capital of Nairobi, Nairobi National Park stands out from many other wildlife reserves and national parks throughout Kenya. It is unique because it is the only officially declared wildlife sanctuary in an urban area.
It's the only safari park in Kenya that provides visitors with rewarding wildlife viewing opportunities with a city backdrop.
Wildlife in Nairobi National Park
This popular safari destination is home to four of the Big 5 African species—African elephant, African rhino, Cape buffalo and lion—as well as a myriad of other species such as zebras, cheetahs, hyenas, giraffes and gazelles,
Nairobi National Park is also a sanctuary for the black rhino, a critically endangered species.
Don't miss
Ivory-burning Site, where Kenyan president Daniel Arap Moi made a dramatic protest against poachers by burning 11 tons of seized ivory. Several years later, President Uhuru Kenyatta ordered the burning of another 100 tons of confiscated ivory at the same site.
8. Meru National Park
Meru National Park is one of the country's lesser-visited safari reserves. But, its stunning landscape, lush rainforest, and diverse wildlife make it an exceptional destination.
Wildlife in Meru National Park
The dynamic landscape and abundance of rain in Meru National Park has created a haven for a wide variety of wildlife. The park's rivers are home to a large population of hippos, and the park is abundant in birdlife, elephants, rhinos, antelopes, buffalos, zebras, and reticulated giraffes.
While harder to spot, the Meru National Park is also home to predator species like the African wild cat, leopard, and cheetah. Other elusive species that you might see in Meru National Park include snakes like pythons and cobras.
How Long Should You Stay
Meru National Park is a long 6-hour drive from Nairobi. So, it's best to make this a 2 or 3-day excursion, looping in nearby destinations like Mount Kenya National Park and Mwingi National Reserve.
Don't Miss
The rhino sanctuary in Meru National Park is one of the best places to view black and white rhinos. Adamson's Falls is also a great spot to relax and enjoy the scenery.
9. Hell's Gate National Park
Hell's Gate National Park is known for its rugged, dramatic geology, breathtaking views, and diverse wildlife. There are extinct volcanoes, cliffs, and rock towers that you can climb with a guide. The park is named for its geothermal features, and there are active hot springs on site.
Wildlife in Hells Gate National Park
Wildlife in this safari park is less diverse than some of the other safari destinations on this list. Expect to see zebras, gazelles, hartebeests and other grazing animals.
How Long Should You Stay
Located just 2-½ hours away from Nairobi, Hells Gate National Park is one of the best safari parks in Kenya to visit on a short safari trip. You can spend the night one of the safari lodges in the area or visit the park on a day trip from Nairobi. You can also combine a visit to Hells Gate with a guided tour and boat ride that will take you to Hells Gate National Park and Lake Naivasha.
Don't Miss
An opportunity to explore Hell's Gate National Park by bike. You can rent one inside the park and explore the trails on your own or with a guide.
READ NEXT: Top 10 Animals in Kenya Photo Guide
10. Loisaba Conservancy
Loisaba is a 57,000 acre wildlife conservancy and a working ranch and wildlife refuge managed by the Loisaba Community Trust. The conservancy focuses on wildlife research and sustainable tourism.
Wildlife in Loisaba Conservancy
Loisaba Conservancy is located on the western edge of an elephant movement corridor. So, you can expect to see large herds of elephants during your visit. You might also see Grevy's zebra, Oryx, reticulated giraffes and even endangered wild dogs.
You can participate in game drives, guided bush walks, and a cultural visit to the neighbouring community.
How Long Should You Stay
A 6-hour drive north of Nairobi, Loisaba conservancy is a hidden gem nestled away in northern Kenya. It's far enough that you would want to spend a few nights here. We recommend combining a stay with a few nights in the nearby Mugie Conservancy.
Don't Miss
A chance to see wild dogs! Loisaba is one of the few safari parks in Kenya with an active African wild dogs initiative. At the time of our visit in 2023, the wild dogs count in the region was close to 30. And while seeing the playful dogs is of course, not guaranteed (we didn't get lucky), the chance to spot them makes a visit here worthwhile!
Have you ever been to a safari park in Kenya?
What other National Parks or Private Reserves would you recommend for visiting