This post is a continuation of the 3-Part Series on Money Matters.

Missed Part 1? Read it here: How to Manage and Minimize Your Debt
Part 2: Best Money Saving Tips to Help You Save for Travel
*This post may contain affiliate links, as a result, we may receive a small commission (at no extra cost to you) on any bookings/purchases you make through the links in this post. As an Amazon Associate, I earn from qualifying purchases. Read our full disclosure.
In Part 1, How to Manage and Minimize Debt, we shared 3 steps to helping you take better control of your debt, minimize your interest, and come up with a reasonable repayment plan.
Planning a Trip in the time of COVID?

Keep in mind that information found in this article may have been impacted by travel restrictions and other closures. Double check opening hours, tour providers and hotel status before you go. And don't leave your home without travel insurance! If you are looking for an insurance provider that covers COVID-19, we recommend SafetyWing. Get Medical and Travel Insurance starting at just $40/month and you can sign up even if your trip has already started!
Today, the focus is on expenses.
When I announced my decision to leave Shanghai and move to Australia many warned me that the cost of living in Australia is so high that the benefits of a higher salary may not outweigh the higher living expenses. Fortunately for me, that's one of the biggest misconceptions people have about moving to a country with high cost of living, like Australia.
Read Next: Moving to Australia: Debunking Myths and Misconceptions
Yes, it's true, there are no $3 meals in Australia, $5 taxi rides, or $2 beers. A bottle of water costs $5 instead of $0.50 and rent is on average 30% higher. But with salaries being
roughly 50% higher in Australia compared to Shanghai, and 20% higher compared to Canada, I knew it would be possible to save quite a bit.
In fact, I lived on a budget of just $1,300 month! Here is how I did it and how you can too!
Save on Rent
Rent often makes up the largest percentage of all monthly expenses, so it's not surprising that it's the first place I would recommend to look for savings.
Choose a Good Value City/Neighbourhood
Rent in Australia is expensive, especially if you want to live in a good neighbourhood close to the city centre. Brisbane's rent is a bit cheaper than Melbourne and Sydney, so by choosing to settle down in Australia's 3rd biggest city I was already ahead. Add to that our willingness to live slightly further away from the heart of Brisbane and we were looking at good savings. But wait, there is more!
Get a Housemate
Get 2 if you can, or even 3. I can't stress enough how much I saved on rent by choosing to live in a house share. I'll admit it was tempting for Max and I to get a 1 bedroom pay $1000/month each and not even blink an eye (that's really good price by Brisbane standards). But instead, we rented a slightly older but much bigger apartment with 3 rooms for about the same price as a 1 bedroom would've cost us. We then found a housemate on Gumtree who rented one of our spare rooms for almost 2 years. When he left a month before our lease was over, we put his room up on Gumtree and got someone else to move in with us for a few weeks to help cover the rent costs. By getting a housemate we more than halved our rent expenses putting those savings straight into our pockets. Maybe it's nonconventional for an engaged couple to share a house with someone else. It's certainly wasn't our preferred option either, but the money we saved was 100% worth the slight inconvenience.
Move Back Home
This is the ultimate rent saving tip, but one that will make a few people cringe. I know how hard it can be to leave home at 18 and live an independent grown up life for 5-10 years, only to come back home at 28 to save on rent. Yet, it's still an option worth considering. I moved back home for 6 months right before I left Canada on my adventure abroad and in those 6 months I saved over $7,000 on rent. It wasn't fun and yes my mom nagged me every day, but the savings helped me get that much closer to my dream of traveling the world.
Use Public Transport:
People often turn their noses up at the idea of using public transportation.
"Oh no, I can't stand the train, it's so crowded, it's gross and it's never on time" everyone told me. "Just get a car, everyone in Brisbane has a car"
But I did the math and the car just wasn't worth it. Yes taking public transport meant that my daily commute to the dreaded office was 1 hour each way instead of just 20 minutes by car, but it only cost me roughly $80/month vs a $5,000 investment in the car, weekly gas expenses, insurance, and monthly repair costs.
If you have car payments that are adding pressure to your debt situation, consider whether selling your car and switching to public transport is an option for you.
A long commute may not sound appealing, but it's one of the many sacrifices you can make to get yourself just a little bit closer to your dreams of travel. Plus those precious hours spent on the train don't have to be a waste of time. I've been reading, learning Spanish, answering emails, and often even writing on my way to and from work.
Minimise Bills
Some bills are impossible to avoid, but there are probably still quite a few monthly charges that you can get rid of to save more.
Utilities: Use Less Save More
No magic trick here. Unless you can find a house/apartment with bills included in the total rent price, you'll have to watch your electricity and water usage. Don't crank the AC or the heater when you don't have to.
Reduce Your Gym Membership Costs
If you do use the gym on a regular basis consider looking around for the cheapest deal. Your current one might be really nice and in a good location but if you could save $30-50/month by switching to a cheaper chain, it might be worth doing. If you want to push your savings even further, consider cancelling the membership altogether. You can always run or do exercises at home. There are all sorts of workout videos that you can follow online that will be just as effective as your Pump Class.
If you have been to the gym twice in the last 2 months, please do yourself a favour and cancel that membership. Admit it, that gym is just not your priority and save yourself the $50-100 a month.
Gym membership has always stayed as an expense in my budget, but I opted to switc from high end gym with a variety of classes to a basic 24/7 self service gym. I had to change my workout routine, but the $50/month saving was worth it.
Cancel Your Home Phone Line
In this day and age, there is absolutely no need to have a cell phone and a home phone, so cancel your home phone line and you'll save at least $30/month or more.
Downgrade Your Cell Phone Plan
All you need from a cell phone plan these days is data. You can make calls through Skype or even Whatsapp and can send instant messages instead of texts. So call up your cell phone plan provider and see if there is a cheaper phone plan you can downgrade to.
Cancel Your Netflix/Cable Subscription
Trust me, the Internet has everything you need to stay updated on current affairs and Game of Thrones episodes, so save yourself the additional $50-100/month and up your internet limit instead.
Save on Food
Shop on Price not by Brand
Inflation isn't helping anyone when it comes to saving on food, but we found that shopping at a small butcher, a local farmer's market, and the cheapest grocery store chain can make a huge difference.
We are loyal Aldi (discount supermarket) customers, but for those that live in North America WalMart's prices can't be beat. We shop on price and find that most of the time, the no name brands are just as good quality as the branded stuff, but often 20-30% cheaper. Except for tea, we never buy no name tea. (and you shouldn't either)
Limit Your Weekly Groceries Budget
Put yourself on a weekly or monthly grocery budget, maybe it's $100/week or $150 and try to stick to it as much as possible. We found that having a limited budget has helped us eliminate junk food and other unnecessary purchases from our cart.
Watch Those Morning Coffees
Do you know that your daily Starbucks coffee is costing you anywhere between $1,000 – $1,500 a year? You can't tell me that you don't have enough money to travel and proceed to buy $5 Starbucks coffee on a daily basis. I know, I know, you have a coffee addiction, I get it (I have a tea addiction) but for that much money you could buy yourself a return flight to Costa Rica, pick up a year's supply of AMAZING coffee from the supermarket there and spend the next 365 days caffeinating yourself with great tasting coffee for free. Think about it!
Bring Your Lunch to Work
Here is another scary figure, if you buy $10 lunch 5 times a week, you are throwing away over $2,500 a year. For that much money, you can take a trip to Thailand, take a Thai cooking class and learn how to make yourself amazing Thai dishes for a fraction of the price.
You don't have to cut out all lunches, but if you aiming to bring your own lunch 3-4 times a week, will help you put $1,500-$2,000 towards your savings or debt repayment. I allowed myself to spend $10 on lunch every week, which was enough to still join coworkers for lunches out once in a while.
BONUS TIP: Making my own lunches made it a lot easier to stay healthy and watch my weight leading up to our big trip. Try it!
Find Alternative Ways of Entertainment
When people hear that Max and I live on $1,300/each, they immediately assume that we have no social life. But living on a tight budget doesn't mean you have to be a hermit. There are a ton of activities to do in your own city that are absolutely FREE and going out with friends doesn't have to cost $200!
Go Out Less
Drinks at the bars are the biggest expense, so if you can find a way to minimize your going out costs you can potentially save $100 x 52 week = $5,200 (!!!!). For us being on a budget meant that some nights, we simply planned to pre-drink before a big night out (at home or at one of the many BYO restaurants in the city). On other nights we limited ourselves to 1-2 drinks at most, and sometimes we opted to stay at home altogether.
Swap Dinners Out for Dinner In
As with everything else being on a budget meant that we limited our dinners out. We cooked a lot more, often learning to experiment with new dishes and recipes to keep our dinners new and exciting.
If you think you will struggle to keep up your social life without constantly going out for dinners and drinks with friends, consider hosting dinner parties at home instead. We love having people over for dinners throughout the week and on weekends! It's just as social, and often way more fun than sitting around a crowded restaurant.
Explore FREE Activities in Your Own Back Yard
To keep our weekends exciting yet cheap, we spent our free time enjoying the great outdoors. Luckily for us, Australia is home to hundreds of beautiful national parks, beaches, and other FREE attractions. We would pack lunch and head out hiking, check out free festivals/events around the city, or spend the days on the beach. We focused on improving our photography skills and often spent our weekends exploring our own backyard with cameras in hand.
Stop Shopping
I will be the first one to admit my secret shopping addiction. Before I started to live on a budget, I would often go out the mall on the weekend and drop $500 on clothes in 2 hours. It was retail therapy, entertainment, and a social outing all at once. But by spending $500 on clothes every month I was wasting $6,000 a year on stuff.
The thing is, stuff doesn't make us happy, and we'll go as far as to say that stuff won't make YOU happy either. If all that stuff did make you happy then you probably wouldn't be reading an article about how to save money to travel the world. Have you ever heard the saying "Travel is the only thing you buy that makes you richer"? Well, we are firm believers that saying is true.
Over the years, we've thrown out, packed away and ditched 80% of our wardrobes, and as we get ready for for our lives as full time travelers, we are about to chuck another 10%. I stopped shopping in Canada/US/Australia years ago, because buying "stuff" while you are traveling is way more fun and roughly 10 times cheaper!
Take It One Step at a Time
Making all these changes at once can seem rather daunting, so if you are not ready to jump into the savings game feet first, take baby steps. Go from buying lunch 5 x a week to 2-3 x week, try to go out just a bit less, or order a few less drinks at the bar. Limit your shopping budget to only a few hundred a month and so on.
Remember that every change you make can have a huge impact on your ability to save more for travel or to pay off more debt to finally free yourself from the burden of that pesky student/car/home loan. Work your monthly savings into a budget spreadsheet to see the impact each small change can have on your monthly, and most importantly, yearly savings.
These tips and saving techniques helped me take my payment plan from 4 years to 3 years, and extreme budgeting in the last 6-9 months has allowed me to reach my goals even faster!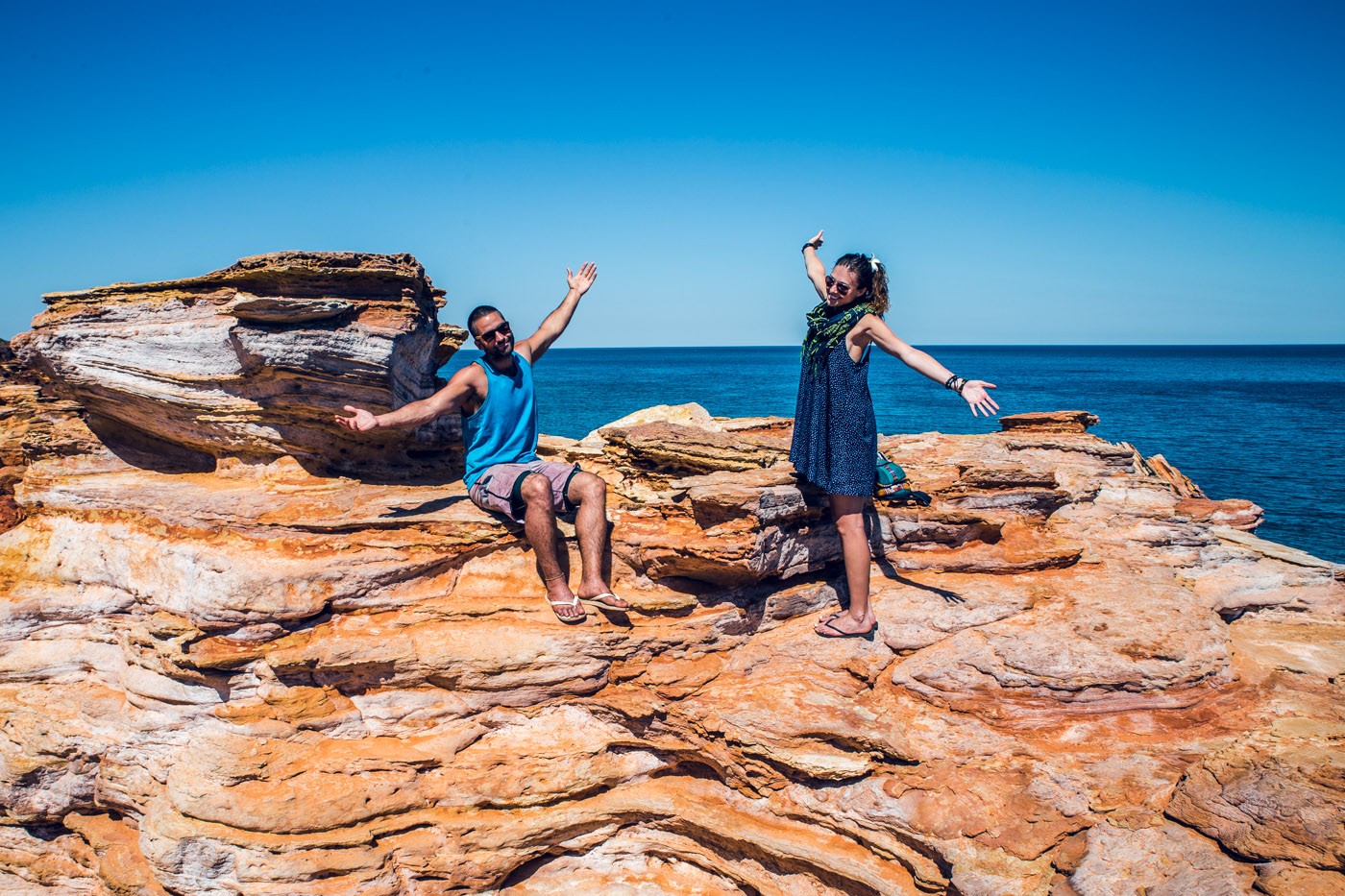 The final post of the Money Matters Series, focuses on helping you make your money stretch further and debunking the common misconception that travel is for the rich. Read it here: PART 3 – HOW TO TRAVEL THE WORLD FOR LESS
Like this post? Pin it for later!
What other money saving tips can you add to the list?