The Serengeti is the quintessential safari destination of East Africa. The park is best known for unrivalled sightings of the "big five" and is home to a massive wildebeest migration taking place each year. It's one of Africa's most popular destinations, and it's not hard to see why.
*This post may contain affiliate links, as a result, we may receive a small commission (at no extra cost to you) on any bookings/purchases you make through the links in this post. As an Amazon Associate, we earn from qualifying purchases. Read our full disclosure
Traveling Soon?

Here is a list of our favourite travel providers and accessories to help get you ready for your upcoming trip!
If you're planning to spend some time in the national park, your accommodation will be one of many safari lodges in the Serengeti.
There are lots of options to choose, ranging from budget-friendly glamping lodges to full-blown luxury at its finest.
Best of all,

most of the lodges in the area have a deep-rooted commitment to the protection and sustainability

of the place they call home.
What more could you want in a hotel? When looking for lodges in the Serengeti, look no further than these stunning options.
Best Lodges in the Serengeti – Central Region
Four Seasons Lodge
The Four Seasons hotels are known internationally as the epitome of luxury, and the Four Seasons Serengeti Lodge is no exception. Like most lodges in the Serengeti, the Four Seasons property is isolated, surrounded by wide-open savannah.
The rooms are all decorated with traditional African elements infused with modern style. The biggest highlight of the property is a massive infinity pool that overlooks a waterhole frequented by elephants.
Four Seasons Serengeti offers a number of ways to relax after a long day on a safari, including a chance to soak up the sun by the pool, enjoy a massage at their world-class spa or end the day with a meal at one of their three on-site restaurants.
Sustainability and community are of the utmost importance at the Four Seasons Serengeti. The hotel hosts nature walks and safaris led by conservation experts and traditional Maasai guides, and they even have an onsite science discovery center. They work closely with multiple wildlife conservation funds in the area as well as with a local orphanage for girls.
Located right in the center of the national park, this is your choice if you want to spare no expenses and truly have the Serengeti experience of a lifetime. Rates begin at $1,960 per night for the most basic room and include beverages and three meals a day. Packages that include game drives and other activities can be booked at an additional price.
Lemala Camps & Lodges
Lemala Kuria Hills
Located close to the Kenyan border in the north of the Serengeti, the Lemala Kuria Hills Lodge takes "glamping" to a whole new level. Comprised of 15 luxury glass-sided tents, each suite has its own balcony and small plunge pool. The property also features a larger shared pool, a welcoming firepit, and sun-drenched "kopjes," an African term for small, rocky hills. A separate tent offers an extensive menu of massage and spa treatments.
The lodge has a unique location, as it is located directly within the main wildebeest migration route. Incredible animal sightings here are all but guaranteed.
The Lemala Kuria Hills Lodge does its part to reduce its carbon footprint by sourcing the electricity for the entire facility from solar power. They also have a backup generator to store power for when it's needed most.
The rooms contain everything from twin to super-king beds. This lodge is great for couples and is the perfect choice if you're looking to splurge on serious luxury. Rates average around $1,700 including a full breakfast. Safari packages are an additional cost.
Lemala Ewanjan Tented Camp and Lemala Ndutu & Mara Tented Camps
There are two other notable camps in the Serengeti that are owned by Lemala. The Ewanjan Tented Camp is a permanent lodge in the central region that features 12 beautiful suites. It is particularly secluded due to its location at the end of a blind valley.
The Ndutu & Mara Camps are actually the same camp in two different locations. The Ndutu Camp is set up in the southern Serengeti between December and March, and the Mara Camp is in the northern Serengeti between July and October.
Best Lodges in the Serengeti – Southern Region:
Serena Lodge
At the Serengeti Serena Safari Lodge in the Central Serengeti, you can expect a truly unique hotel experience. Nestled into a tree-lined ridge, the unique local architecture features individual stone huts with thatched roofs called "rondavels." Each one is individual, meaning you have no neighbours aside from a few roaming wildebeests that may pass by in the grasslands.
At this stunning hotel, there's no shortage of activities. Challenge yourself with a Swahili lesson or simply relax by the infinity pool taking in the views. You can even eat all three meals on the Serengeti plains if you so desire, or opt for a meal in their two-story wood-carved dining room.
The Serena Lodge Serengeti has a deep dedication to sustainable tourism practices. At the core of their values lie environmentalism, community, and ethical business practices. They work with organizations such as Soap for Hope, the Serengeti National Parks Authority, sea turtle rehabilitation projects, and the local Cultural Tourism Programme, to name a few. In addition, they source all of their supplies locally and sustainably. They openly communicate their progress by sharing detailed sustainability reports on their website.
You can book either a standard room or a luxury suite at the Serena Lodge Serengeti. Rates begin at $269 per night including breakfast, but safaris must be booked separately.
Best Lodges in the Serengeti – Various Locations:
Asilia Camps & Lodges
Asilia has five lodges in the Serengeti and even more across Tanzania, Kenya, and Uganda as well. Their accommodations fall into one of three categories – comfort, classic, or reserve. Comfort camps are the most casual and basic option, and the classic camps pay homage to the origins of the safari experience with African heritage inspired design. The reserve camps are the most luxurious choices, with a stronger focus on modern design and world-class amenities. The most affordable comfort option in the Serengeti starts at $830 per night in the green season and includes full board and game drives.
Within the borders of the Serengeti, you can find four classic options and one exquisite hotel in the reserve category. This camp, the Sayari camp, was even featured by National Geographic as one of the "Unique Lodges of the World."
If you're going for one of the four classic options, you really can't make a poor choice. The Dunia Camp has made history as the first women-run camp in the Serengeti, Namiri Camp is situated right in the heart of big cat territory, and the Kimondo and Olakira Migration Camps are the ultimate choices if wildebeest viewing is at the top of your list.
The Asilia has a clear commitment to sustainability woven throughout their brand. They participate in multiple charity initiatives in the area such as local gardening programs, the funding of schools and scholarships, and the Serengeti Cheetah Project.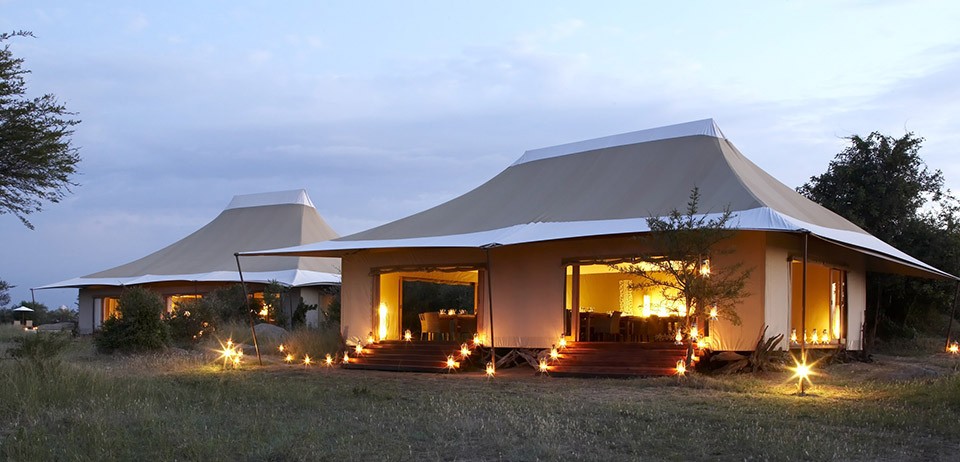 In addition, the Sayari camp is a certified property from the Responsible Tourism Board of Tanzania and is eco-certified at the bronze level by Sustainable Travel International.
Sanctuary Kichakani Serengeti Camp
The Sanctuary Kichakani Serengeti Camp is the best choice if you're looking for modern elegance in a camp. Despite opening in December 2017, this 5-star camp has made quite a name for itself.
The camp consists of ten glamorous tents constructed from wood with contemporary touches. Each has a private balcony and bucket showers that come with a personal attendant. There's also a beautiful common space that serves as a bar and lounge as well.
Conservation and philanthropy are integral parts of the Sanctuary brand, and they participate in countless programs to give back across Africa and beyond. These include everything from clean water programs to wildlife projects to the building of hospitals and schools.
This camp is a mobile one, making it one of the most unique lodges in the Serengeti. It changes locations around the Serengeti several times a year. You can find it in the Southern region from January to March and from November to December, and in the Northern region from June to November. Rates start at $536 per night and include all meals and two game drives per day.
Nomad Tanzania
If you're on a budget but still want a taste of the safari lodge experience, Nomad Tanzania is the perfect option for you. Featuring four lodges in the Serengeti (and nine more across the rest of Tanzania,) this is a perfect option if you want to be immersed in the park without the hefty price tag.
At the Nomad Tanzania lodges, you can do multiple organized game drives a day, or hire private vehicles and explore independently with a local guide. These extra activities are charged separately, and room rates can be found for as low as $400 per night.
Nomad Tanzania has clearly noted cornerstone values of conservation, education, and health. Their giving-back organization called Nomad Trust supports such values through 100% donations from all gift shop items and massages at the spa, as well as many initiatives in volunteering and raising awareness. They've partnered on projects such as Serengeti de-snaring and have worked on multiple schools and clinics.
In truth, you can't really go wrong when selecting one of these lodges in the Serengeti. All of them are world-class establishments with smiling staff, incredible amenities, and activities that will create memories to last a lifetime.
What do you look for in a safari lodge? What are your favorites in the Serengeti? Let us know below!
Disclaimer: This post contains affiliate links which means that we receive a small commission on your purchases/bookings at no additional cost to you.