When the weather turns cold in Toronto, there's no better place to head than to some hot springs and outdoor baths in Ontario. The province is home to some of the best hot springs in Canada. So, you'll find a wide variety of natural pools and spas in Ontario with hot springs which offer an incredibly luxurious escape to the daily grind.
*This post may contain affiliate links, as a result, we may receive a small commission (at no extra cost to you) on any bookings/purchases you make through the links in this post. As an Amazon Associate, we earn from qualifying purchases. Read our full disclosure
Best Hot Springs in Ontario
If you're looking to escape the city or the cold weather in Ontario, there are a number of great hot springs within easy reach of the city. Whether you're going for a day trip or a whole weekend away, these spas include luxury resorts and Ontario natural hot springs to kick back and enjoy a bit of self-indulgence.
Scandinave Spa, Blue Mountain
Location: Blue Mountain
Distance from Toronto: 2 hours
Opening Hours: Daily 9:00 am to 9:00 p.m., rain or shine
Reservations: Recommended but not required
Scandinave Spa is one of the most romantic hot spring and spa estates in Ontario. It's located a two-hour drive from Toronto, on a 25-acre property near the UNESCO World Biosphere Reserve Niagara Escarpment.
Inspired by traditional Scandinavian spas, Scandinave Spa is the place to go if you want to relax and rejuvenate. Their outdoor hot and cold baths make for incredibly picturesque winter wonderland destinations. The spa has quickly become an Insta-worthy spot thanks to its picturesque setting with a series of pools surrounded by nature.
You can relax in their outdoor hot springs and use the holistic Hydrotherapy Circuit. The circuit includes a mixture of hot and cold spa treatments, known to improve immunity and reduce stress. It's the perfect place to head after a busy or stressful time in your life!
What to Expect at Scandinave Hot Springs
The incredible series of outdoor hot spring pools at Scandinave Spa Blue Mountain have stunning views over the surrounding escarpment and natural forest. It allows you to relax completely in nature all year round. The steaming baths look very enticing even in the middle of winter.
The highlight, however, is taking part in their Hydrotherapy Circuit, which features a traditional Finnish cedar sauna, polar plunge pool, Nordic waterfall and steam baths. In the winter, you can enjoy the views of the snow-covered greenery surrounding you. The hot springs are best enjoyed when combined with private spa treatments such as massages and beauty treatments at this hot spring resort in Ontario.
Other Facilities at Scandinave
The Blue Mountain Hot Spring Estate also has an on-site bistro, outdoor fireplaces with hammocks and chairs and a forest bathing trail for hiking and cycling to complete your romantic weekend away.
Caledon Natural Hot Springs Ontario – Millcroft Inn
Location: Alton
Distance from Toronto: 1.5 Hours
Opening Hours: Daily: 8:00 a.m. – 9:00 p.m. for Hotel Guests, Monday – Friday: 9:00 a.m. – 6:00 p.m. for Day Guests
Reservations: Recommended but not required
An incredible country retreat just an hour's drive from Toronto, Millcroft Inn Caledon is set on 100 acres of woodland near some beautiful waterfalls. The luxury spa and inn focuses on a holistic approach with 17 different treatment areas, as well as a range of amenities and facilities so that you can easily stay and turn it into a complete weekend away.
It's the perfect place to bathe in hot springs near Toronto, either for a self-indulgent escape or a romantic couples retreat. You can make your stay at Caledon hot water springs completely unique by selecting specific treatments or opting for a value-added package, which combines some of their incredible options together.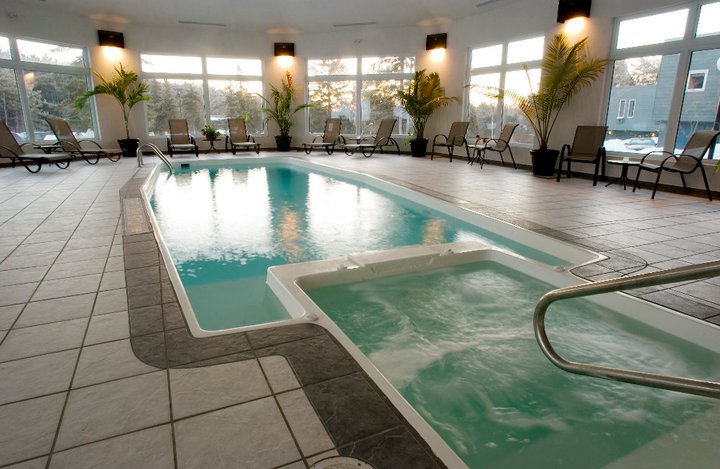 What to Expect at Millcroft Spa
You'll find 17 different treatment areas, including four Hydrotherapy rooms, a fitness centre and a wood-burning fireplace in the lounge. The perfect combination to balance health and relaxation in one place.
The Caledon Hot Springs also features an indoor pool, outdoor hot spring pools, Finnish sauna, jacuzzi, polar plunge pool and steam room. You'll also find a range of treatments such as massages, facial treatments, body wraps and manicures and pedicures.
Other Facilities at Millcroft Inn
You'll also find a fully licensed restaurant and fitness facility spa café onsite for meals. If you prefer to extend your stay for an entire weekend, then their luxury accommodation is perfect for a special occasion.
Body Blitz Spa
Location: Toronto
Opening Hours:
Mon: Closed
Tue-Thu: 10am-8pm
Fri: 10am-9pm
Sat: 9am-8pm
Sun: 9am-6pm
Reservations: Recommended but not required
Body Blitz is an award-winning spa for women. Inspired by centuries-old European water-based treatments, they offer therapeutic water and spa treatments. It's one of the only hot springs in Toronto, with two locations in the heart of the city.
Staying true to their health by water tagline, Body Blitz Spa is most well-known for its therapeutic waters circuit and extensive spa menu. It's the perfect place to enjoy a girls' day out at some indoor hot springs in Toronto. There are spa packages and good value deals featuring wellness combinations to suit you and your friends right in the city.
What to Expect at Body Blitz Spa
The therapeutic waters circuit is the real highlight of this spa. The 90-minute circuit includes a warm dead sea salt pool, hot Epsom salt pool, cold plunge pool, infrared sauna and eucalyptus steam room. It's the ultimate way to completely unwind and relax, but also improve your body's immune system through the hot and cold water benefits.
If you want to follow this up with a massage or beauty treatment, then you can select from body wraps, muds and scrubs, massages and facials.
100 Fountain Spa at The Pillar and Post
Location: Niagara-on-the-Lake
Distance from Toronto: 2 hours
Opening Hours: Sunday – Thursday: 9:00 a.m. – 7:00 p.m, Friday & Saturday: 9:00 a.m. – 8:00 p.m.
Reservations: Recommended but not required
This Niagara on the Lake Spa offers one of the best natural hot springs in Ontario, Canada. The Spa offers the perfect balance between hot and cold treatments for the ultimate health benefits right in the middle of the historic old town.
The Pillar and Post Hot Springs Niagara on the Lake covers 13, 000 square feet and boasts an extensive spa menu with plenty of facilities. It's known as one of the best Ontario hot springs resort in the Niagara area. It's an incredibly luxurious place to visit for a romantic getaway for two, just 130km from downtown Toronto. And thanks to both indoor and outdoor features, you'll be able to visit the Hot Springs at 100 Fountain Spa all year round.
What to Expect at 100 Fountain Spa
The spa features a fireplace heated lounge, warm indoor saltwater pool, hot tub, outdoor pool, hot spring pool and fitness centre. The indoor pool is decorated with palm trees and tropical prints so you can imagine that you're somewhere more exotic. The secluded outdoor hot spring is a more relaxing and romantic spot to spend an afternoon.
For a more indulgent spa experience, you can also select from their extensive treatment menu. Their services include body wraps, manicures and pedicures, facials and massages. It's undoubtedly one of the best Niagara Falls hot springs to enjoy for a special occasion.
Other Facilities at 100 Fountain Spa
If you want to extend your stay into a full day experience or weekend at The Pillar and Post, the spa is part of a restaurant and hotel complex known for its chic style and luxury.
If you're looking for accommodation, their 5-star hotel is set in a historic 19th-century building. It is easily one of the best places to stay in the Niagara area.
Grail Springs
Location: Bancroft
Distance from Toronto: 2.5 hours
Opening Hours: Daily 8:30am-6pm
Reservations: Recommended but not required
Located in Bancroft in Ontario, Grail Springs is a holistic wellness and retreat centre located just a 2.5-hour drive from either Toronto or Ottawa. The luxury property has plenty of activities and experiences to help you completely relax on site.
It's designed as a complete wellness experience with a spa, yoga, meditation, hiking and equine meditation. The spa treatments include massages, immune boosting therapies and life coaching, which are perfectly paired with water-based features.
What to Expect at Grail Springs
Grail Springs has an incredible reputation for helping people rejuvenate themselves with a range of wellness experiences. The indoor hot springs offer a much-needed break, featuring two hot tubs, a traditional Finnish cedar sauna, a cold plunge pool and a volcanic ash bed to allow you to jump from hot to cold baths.
There are morning and evening classes for a variety of activities. Plus, half-day and full-day spa packages allow you to utilize much of the property's spa facilities with more time.
Other Facilities at Grail Springs
The Grail Springs Hot Springs & Estate also offers hiking trails, canoeing, cycling and other outdoor activities to get you amongst nature. The healing continues indoors, with a plant-based restaurant and nutrition classes available for those interested in learning more about healthy eating.
Otherwise, if you want to spend the night, you can stay on-site at the beautiful accommodation. Choose from Lakeview rooms and spacious apartments. It's one of the best places to enjoy thermal baths in Ontario and a complete escape to recalibrate and reset.