With 28 national parks and dozens of nature reserves, Costa Rica is an ideal destination for anyone who loves the outdoors! There are so many hiking opportunities in Costa Rica that you could spend a lifetime trying to discover all the routes and trails.
*This post may contain affiliate links, as a result, we may receive a small commission (at no extra cost to you) on any bookings/purchases you make through the links in this post. As an Amazon Associate, we earn from qualifying purchases. Read our full disclosure
Over the years, we've visited many popular national parks across the country and have followed many trails while exploring the lush jungles and national parks of Costa Rica. But there are so many more on our list!
Traveling Soon?

Here is a list of our favourite travel providers and accessories to help get you ready for your upcoming trip!
For those that are hoping to see and experience the best hikes on their short trip, we have narrowed down the eight best hikes in Costa Rica. Whether you prefer roughing it on a challenging trek or taking an easy nature walk, there's something for everyone in this green, diversity-rich country.
The Best Hikes in Costa Rica
Mount Chirripó
Inside Chirripó National Park you'll find Mount Chirripó, Costa Rica's tallest mountain. Rising 3,821 metres (4178 yards) above sea level, this gorgeous peak is a favourite among hikers. You'll start your hike in the Chirripó cloud forest and emerge above the tree line for a steep and rocky climb to the top.
Chirripó translates to "land of eternal waters," which gives you an idea of how many lakes, streams, and rivers flow through this beautiful national park. Once you reach the top, the mountain peak allows sweeping views of both the Caribbean Sea and the Pacific Ocean.
In order to hike Mount Chirripó, you'll need 2 full days. The trail is about 20km (12.5 miles) one way and there is a basecamp lodge about halfway up the mountain that you can stay at. Permits are required to complete this hike and must be secured beforehand on the park's website.
Corcovado National Park
Corcovado is one of the best national parks in Costa Rica. It's wild, it's rugged, and it has an amazing mix of terrains ranging from rainforests to beaches to rocky passes and rushing rivers. There are no roads in or out of Corcovado, so you'll have to hike (or take a boat).
You can complete day hikes or do overnight hikes, where you can camp at ranger stations. No matter what you choose, you will need to hire a professional guide to trek in this park.
Hiking in Corcovado is a great opportunity for spotting wildlife. If you're lucky, you'll see creatures such as crocodiles, tapirs, boa constrictors, spider monkeys, and even bull sharks. Just be aware that some of the animals can be quite aggressive and dangerous, so it's important to be vigilant.
A certified guide is required to hike in Corcovado National Park, we recommend hiring one with the Corcovado Info Centre.
Monteverde Cloud Forest
The Monteverde Cloud Forest Reserve is an excellent place for hiking in Costa Rica. This beautiful nature park is lush, full of waterfalls, great hiking trails, and sky bridges. The hiking here is easy, with well-kept trails and comparatively short flat routes, so it is possible to hike through most of the reserve over the course of a day.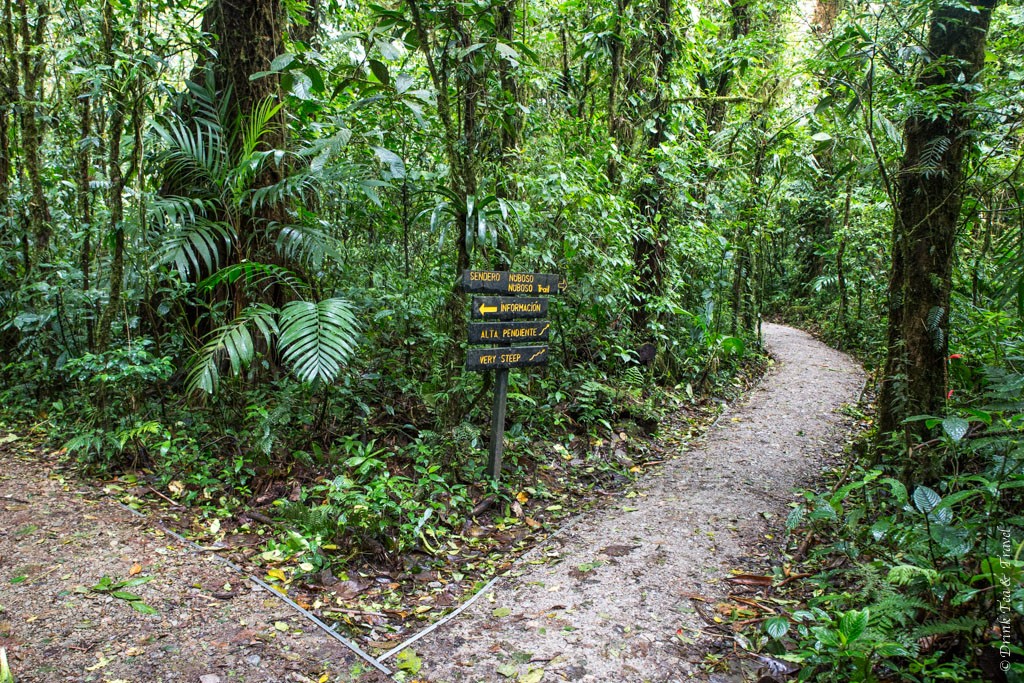 It's fairly simple to find your way around at Monteverde since there are clear maps that point out the different routes you can take.
You can also book a guided hiking tour in Monteverde. Either way, you'll need to pay the $20 USD entrance fee.
Rincon de la Vieja National Park
One of the best parks for hiking in Costa Rica is Rincon de la Vieja National Park in Northern Guanacaste. Rincon is easy to get to and offers some great hiking trails. The park has some beautiful waterfalls, volcanic craters, massive trees, and lookout points. There are also many opportunities to see geyser vents, mud pits, and dry grasslands. Swimming is popular in this park, so bring a swimsuit!
Most of the hikes in Rincon de la Vieja National Park are only a few miles long, the longest being 10.5 km (6.5 miles.) You'll need about three full days if you want to explore every route, but many visitors feel satisfied with a one day visit.
You can hike in Rincon de la Vieja without a guide or opt to join this organized tour. The entrance fee to the park is just $15 USD per person. If you want to visit the hot springs, which we absolutely recommend, there is an extra entrance fee.
La Fortuna Waterfall
One of the most well known Costa Rica hiking spots, La Fortuna Waterfall is one place you shouldn't miss. The waterfall is over 70 metres (230 feet) high and tucked into the lush jungle, so the only way to reach it is by taking the La Fortuna Waterfall hiking trail.
La Fortuna Waterfall. Photo courtesy of
iloverodney041
via Flickr CC
The trail is extremely well kept and even has lots of recently built concrete stairs. You'll follow nearly 400 stairs heading downward on your way there and take them back up on the way back. Since the waterfall is so popular, it's a good idea to get there right at 7:30 AM when the park opens.
You don't need a guide to visit and the entrance fee will cost you $18 USD. Don't forget to pack a swimsuit to swim in the waterfall pool down below.
Miro Mountain
Near the small town of Jaco in the Puntarenas Province is where you'll find Miro Mountain. The coolest thing about Miro Mountain is all the abandoned structures along the path, including a graffiti-covered pavilion as well as an abandoned zipline course. Despite that, this Costa Rica hiking spot flies under the radar and is not super popular among tourists.
The hike to Miro Mountain is only a couple of miles but it is a bit steep. However, the hike is free and doesn't require a guide, and you'll be rewarded with amazing views over the town of Jaco and the ocean when you reach the top.
Manuel Antonio National Park
Manuel Antonio National Park is the smallest Costa Rica national park, but it's a great place for beginner hikers who want to discover the best of the country's nature from well-kept paths. Costa Rica hiking in this park is very easy (no hiking shoes or gear required) and you can explore the entire park in one day. Admission to the park costs $16 USD.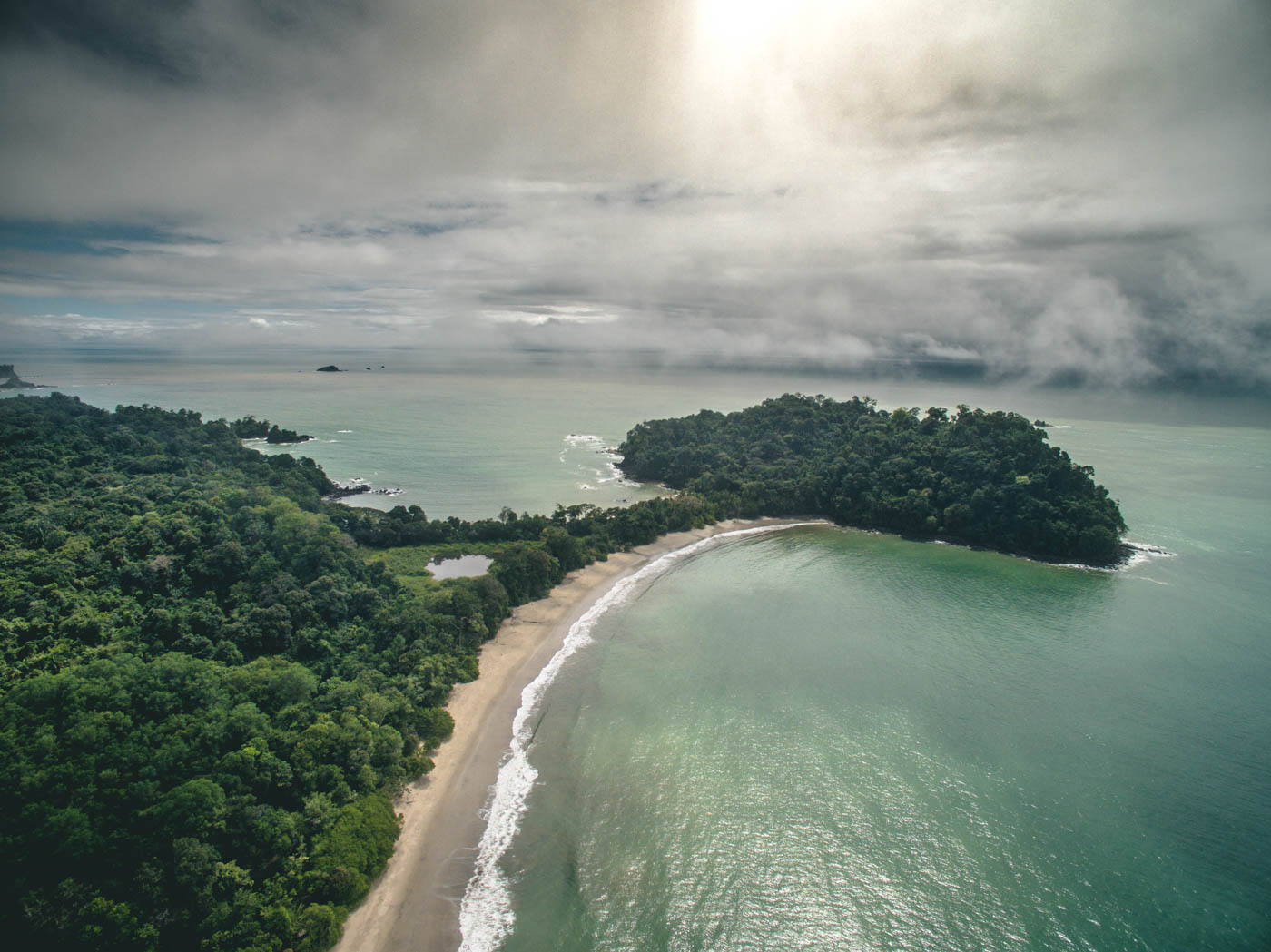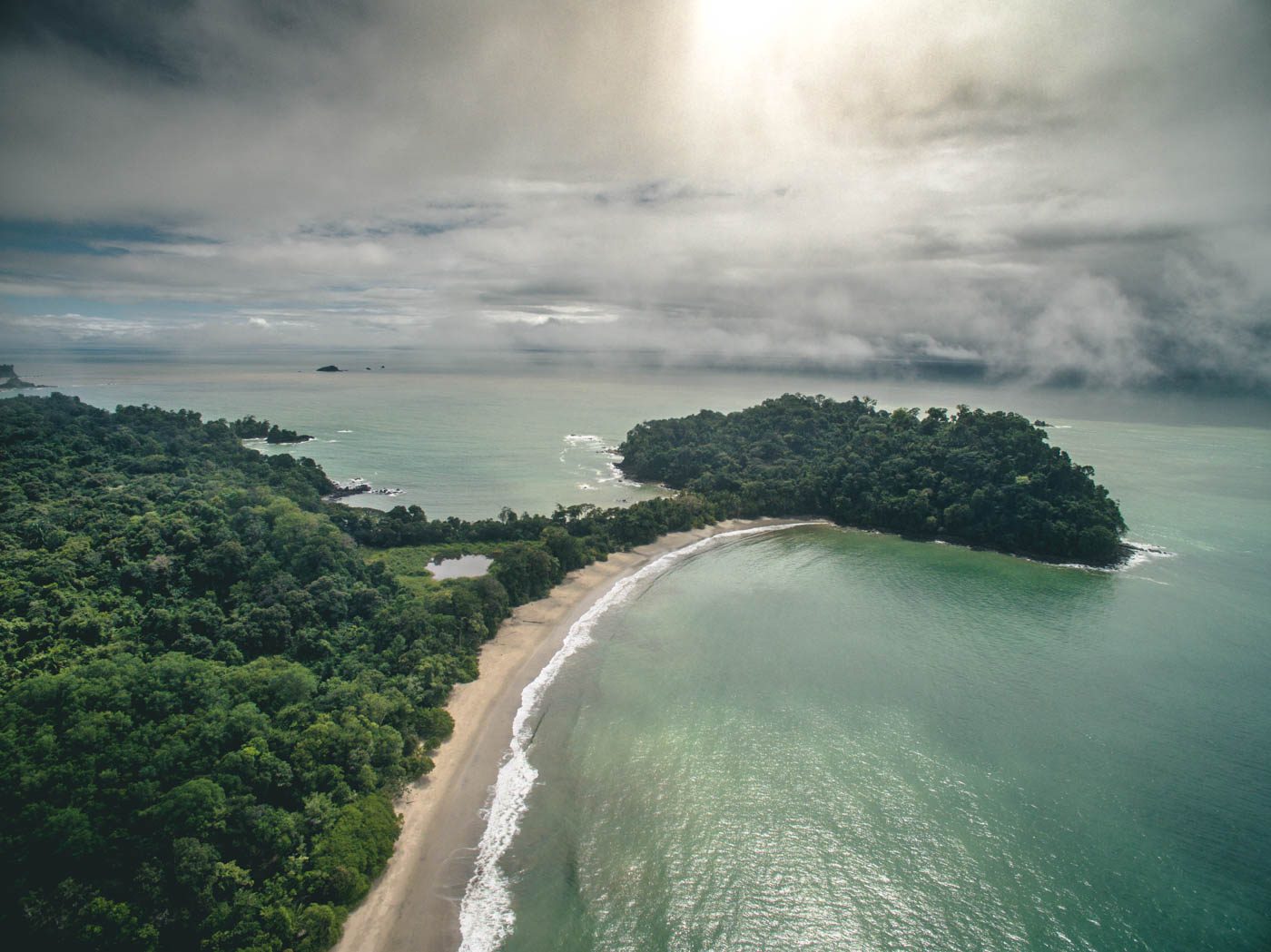 El Manglar Trail is one of the best trails in Manuel Antonio, leading you through beautiful mangrove forests by way of a wooden boardwalk. Taking the Catarata Estacional Trail will lead you to a billowing waterfall during the rainy season. To find the best lookout spot in the park, hike the Miradores Trail.
You don't need a guide to hike in Manuel Antonio National Park, but we recommend hiring one anyway. The park offers lots of opportunities to spot wildlife along the trails, but they are often hard to spot with a naked eye. A guide will know exactly where to look for wildlife and will be sure to point out the most elusive animals on your walk!
Cabo Blanco Nature Reserve
Cabo Blanco is one of the best Costa Rica hiking spots if you want to get away from tourists. Originally, this park was only opened to scientists and conservationists, but today visitors can trek through the reserve on two different trails: the Sueco Trail (4 km /2.5 miles) and the Danes Trail (1.6 km/1 mile).
The Danes Trail is a flat and easy walk that loops around the ranger station. The Sueco Trail is a bit more difficult due to a few steep sections, but your reward is the beautiful beach at the end of the trail. Make sure to start early in the morning so you can enjoy a full day at the beach. You probably won't have to share it with many others.
Cabo Blanco Nature Reserve charges a $12 USD admission fee and is closed on Mondays and Tuesdays.
While these eight hikes in Costa Rica are some of the best in the country, the reality is that this list only scratches the surface. The hiking opportunities in Costa Rica are virtually endless and it's no secret that hiking is one of the best things about the country. If you're visiting Costa Rica to hit the trail and find adventure, you will not be disappointed.
What's the best hike in Costa Rica you've ever been on?