*This post may contain affiliate links, as a result, we may receive a small commission (at no extra cost to you) on any bookings/purchases you make through the links in this post. As an Amazon Associate, I earn from qualifying purchases. Read our full disclosure.
Santa Teresa is nothing short of lovely with its long stretches of sand, unbeatable surf, and lush jungle trails.
More than that though, it is one of those rare towns where the community and business owners have come together around a common goal. In Santa Teresa sustainable living is simply woven into the fiber of everyday life.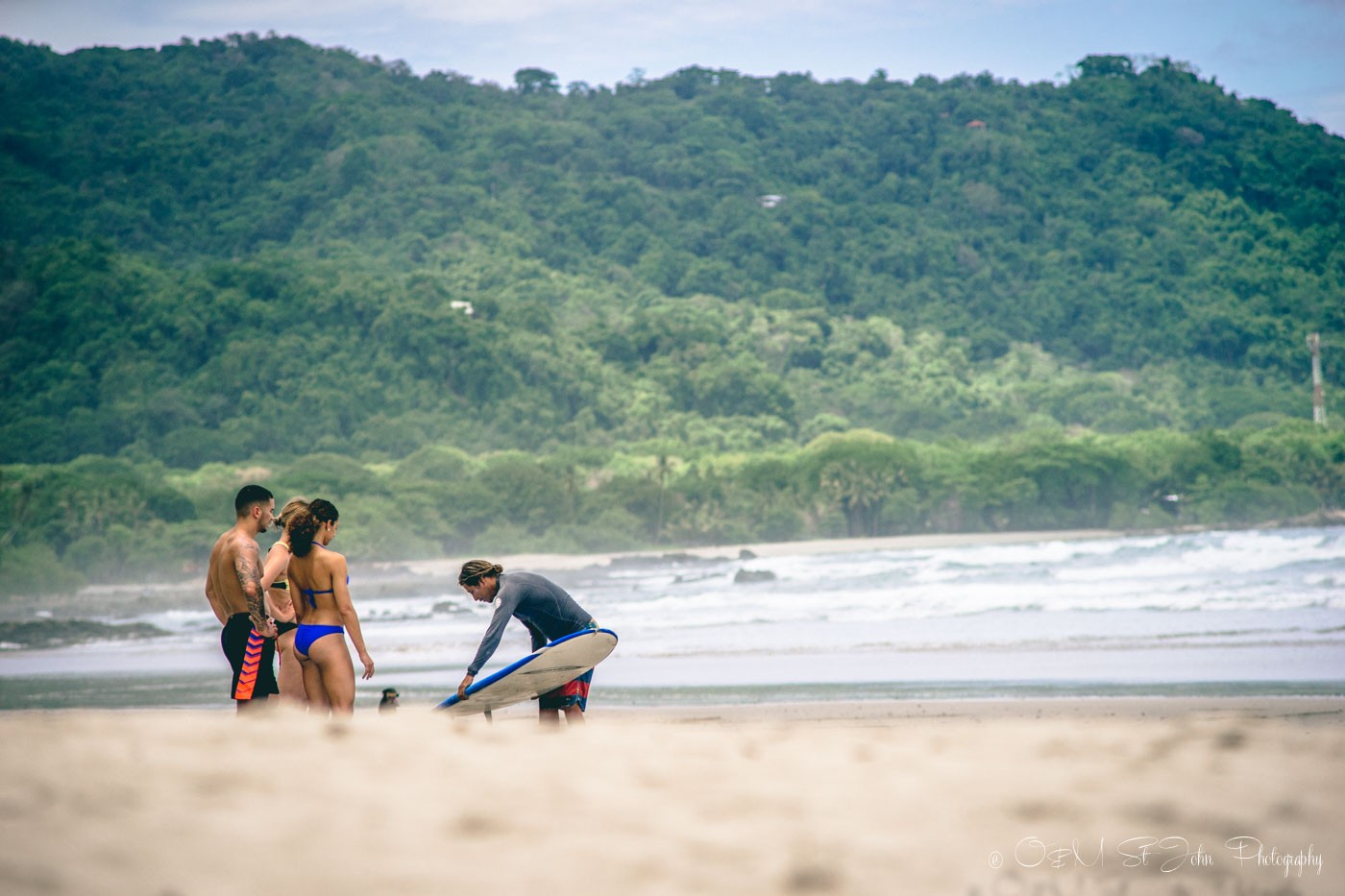 You can't go without noticing it when it comes to searching for Santa Teresa Costa Rica accommodation options!
Eco Hotels in Santa Teresa Costa Rica
You will be spoiled for choice of eco hotels in Santa Teresa Costa Rica. But don't fear! We have compiled a list of the best eco-hotels the town has to offer.
Latitude 10 Resort
We loved our stay at Latitude 10 Resort. It is luxurious without being pretentious and boasts a long list of eco credentials- making it one of our favourite hotels in Santa Teresa Costa Rica.
Latitude 10 offers six private casitas, each with a unique open-air design, porch hammocks and local artwork. Check out the best time to go to Costa Rica to really make the most of the outdoor feel of Latitude 10's unique design. You can hang in their common areas, by the pool, or dine at their restaurant which serves locally inspired dishes and cocktails. They also offer free beach yoga and a superb wellness center.
Their sustainability practices are front and center in the design and amenities of the resort. Everything from their casitas, to their restaurant operations and supplier choices, are made with the utmost eco-consciousness.
Room rates range from $220 to $720 USD/night depending on the season and room type.
Nautilus Boutique Hotel
Nautilus Boutique Hotel Santa Teresa, Costa Rica is a top-notch family-run hotel with a long list of sustainability practices. In fact, they were the first accommodation in Santa Teresa to install a water filtration system.
Their luxurious one and two bedroom villas feel like a home away from home. Each villa comes outfitted with a fully equipped kitchen and common areas which include a private jungle-facing terrace. Nautilus has an on-site pool, and yoga studio to boot.
Olam Pure Foods, their on-site restaurant, is a particularly impressive extension of the hotel. They have been raved about by the New York Times, and only serve plant-based, organic dishes made from locally sourced ingredients.
Their one bedroom villas range from $110-$230/night, and their two bedroom villas range from $200 to $400/night depending on the season.
Hotel Tropico Latino
Hotel Tropico Latino is one of the main forces behind Santa Teresa's most productive environmental committee, the Environmental Commission. Due in part to their efforts, Santa Teresa beach received Costa Rica's Blue Flag ecological award in 2016.
Their modern beachfront property is sprinkled with unique rooms, bungalows, and suites. Each with their own special charms and amenities. For example, their standard rooms have glorious jungle views, while their beachfront suite is steps from the beach, has a kitchen and private pool. Rates start at $115 for a standard room and go up from there.
Hotel Tropico Latino offers yoga, wellness, and fitness retreats. They have a yoga studio, spa, and restaurant on site. The later of which turns all food waste into biodegradable fertilizer.
Dreamcatcher Boutique Hotel
Dreamcatcher Boutique Hotel Santa Teresa, Costa Rica is committed to coexisting peacefully with nature. They offer 7 affordable rooms and one apartment. All of which are simple but come equipped with air conditioning, and private terraces (most with hammocks!).
Like Hotel Tropico Latino, Dreamcatcher Boutique Hotel in Santa Teresa, Costa Rica is a deeply involved sponsor of the Environmental Commission which led to Santa Teresa beach receiving the Blue Flag ecological award in 2016.
Dreamcatcher Boutique Hotel is located near the heart of Santa Teresa town, close to many outstanding restaurants, and shops. They have an on-site pool and jacuzzi. Plus a shared kitchen and outdoor BBQ for guest use.
Rates start at $71 for basic rooms in green season and go up from there.
Casa Zen Guesthouse
Casa Zen Guesthouse is one part eco-guesthouse, and one part yoga studio. Yoga takes place on their stunning open-air terrace.
Basic private rooms and dorm rooms are available. There are a number of indoor and outdoor common areas where you can meet other travelers, and complimentary breakfast is included with every booking. It includes seasonal fruits, and delicious Costa Rican coffee.
Aside from operating the guesthouse and yoga studio with an eco-conscious mindset, Casa Zen management superstars when it comes to community outreach. In 2007, Casa Zen Guesthouse founded the APMSM Community Organization to address some of the communities most pressing issues. Since then some of their projects have included beach cleanups, art days for kids which included environmental education, and payment for the electricity of the local health clinic.
Guests are always encouraged to partake in these projects when they come up! Rates at Casa Zen Guesthouse start at $27 for a bunk bed in a dormitory, a la hostel Santa Teresa Costa Rica style, and $38 for a private room.
Which are your favourite eco hotels in Costa Rica? Do you always book sustainable accommodation when you're abroad?