With so many great campervan fridges options out there, choosing the best van conversion refrigerator can be a challenge. From finding the best 12V refrigerator to the best portable fridge, there's a lot of information to navigate before deciding.
*This post may contain affiliate links, as a result, we may receive a small commission (at no extra cost to you) on any bookings/purchases you make through the links in this post. As an Amazon Associate, we earn from qualifying purchases. Read our full disclosure
It's important to consider size, power draw, and your budget before you start shopping. Once you've figured out your needs and size restrictions, you can use these tips to find the best camper fridge.
In our van life kitchen, our 12-volt refrigerator is a staple that we couldn't live without. We are able to run it completely on solar power, which is great for off-grid living. So if you're on the hunt for a new mobile refrigerator, don't miss these 10 best campervan fridges.
Traveling Soon?

Here is a list of our favourite travel providers and accessories to help get you ready for your upcoming trip!
FAQs About Campervan Refrigerators
Can I use a normal fridge in a campervan?
Technically yes, but we wouldn't recommend it. A generic dorm fridge needs to run on 120V power to function. So you'll need to be running it off of your inverter, which uses way more power than 12V DC. So, while you can use a normal fridge, other fridges are far more durable and energy-efficient.
What size refrigerator will fit in a camper?
This really depends on your build but most camper vans only have space for something comparable to a mini-fridge. You'll have just enough space for your essentials and a small freezer compartment.
How much power do fridges use?
Determining the power draw of a campervan fridge depends on many factors that we'll get into below. Generally, a 12V compressor fridge will be the most efficient, drawing between 30-55 Ah (amp hours) per day.
What size camper van fridge should you get?
You'll need to base your fridge size on your needs and your layout. The perfect vanlife fridge is different for everyone based on how much you cook and how often you go to the grocery store. Our campervan mini-fridge is only 2.2 cubic feet but it suits our needs perfectly.
Types of Campervan Fridges
There are A LOT of camper fridges out there so here are some things to consider to pick the best campervan fridge for you.
12V Fridges vs 120V Fridges vs 3-Way Fridges
12V Refrigerator
A 12V refrigerator is the most efficient fridge for camper vans because it runs off of DC power. This means that you can run your camper fridge entirely off batteries fueled by solar panels.
Also, most 12V fridges are compressor fridges so they only draw power when they need to instead of running constantly. They don't need to be kept level and require the lowest power consumption to keep food cool. The only drawback is that they can be quite expensive.
120V Refrigerator
A 120V fridge is the regular dorm fridge that you can pick up anywhere. It requires AC power, which comes from shore power or an inverter. So while it may be cheap and accessible, you'll need to run it from your inverter which ends up being a major power draw.
3-Way Refrigerator
Gas fridges used to be the only fridges for campervans before solar technology really developed. Being 3-way means they can run off of gas (propane), DC, or AC power.
Unfortunately, while they work well on propane, they falter in energy efficiency when run on DC compared to 12V fridges. Another drawback is that they need to be kept level, which isn't always possible when you're camping.
Absorption Refrigerators vs Compressor Fridges
Compressor Fridge
Compressor refrigerators function like residential fridges, using refrigerant gas to create and circulate cold air. They only need to complete the process when the fridge reaches a certain ambient temperature so it's not running constantly. They make excellent mobile fridges because of the low power draw and efficient cooling.
Absorption Fridges
Absorption fridges use propane to heat an ammonia solution that turns into gas and rises as hot air. The gas then travels through a condenser to remove hot air and circulate cold air. Gas fridges use a much older technology that needs to be kept level in order to work properly. The need for gas and to be kept level means they're not the best fridges for campervans.
Upright Fridge vs Chest Style Fridge
Upright Refrigerator
An upright camping fridge looks just like a dorm-style fridge. You open the door and have access to shelves and door storage that's perfect for cold drinks. This style of van refrigerator only works in a built-in cupboard where it will live permanently. Personally, we knew we wanted an upright fridge so we planned our kitchen layout to accommodate one but they're not as versatile as portable fridges.
Chest-Style Refrigerator
Chest fridges look more like a cooler where you load things in from the top. Many can be used as either a fridge or a freezer while some have dual zone compartments. A chest fridge is great when you want more portability options since it doesn't need to be built-in. Chest-style refrigerators keep your food cold easily since less cold air escapes when you open them.
Deciding between the two is a personal choice based on how you like to organize your van life fridge. It really boils down to loading/unloading groceries and which one works better with your layout.
Questions to Ask Yourself When Shopping for a Camper Fridge
Do you want an upright refrigerator or chest fridge?

Do you want a separate freezer compartment or have it all in one fridge space?

Will you have access to shore power or will you be running only on solar power?
Best Campervan Fridges on the Market
Vitrifrigo
This is our camper van refrigerator and in our opinion, the best fridge for van life! The VF62 is a 12V upright fridge that works perfectly with our electrical system because it only draws 40 watts. The 2.2 cubic feet camper refrigerator has shelves, separate compartments for fruits and veggies, and a built-in freezer.
The company that makes the fridge is from Italy but they sell 12-volt fridges worldwide via Amazon and in some RV shops. The only downside of this Vitrifrigo fridge is that like many other upright fridges, it can be expensive—these range from USD $700-1200.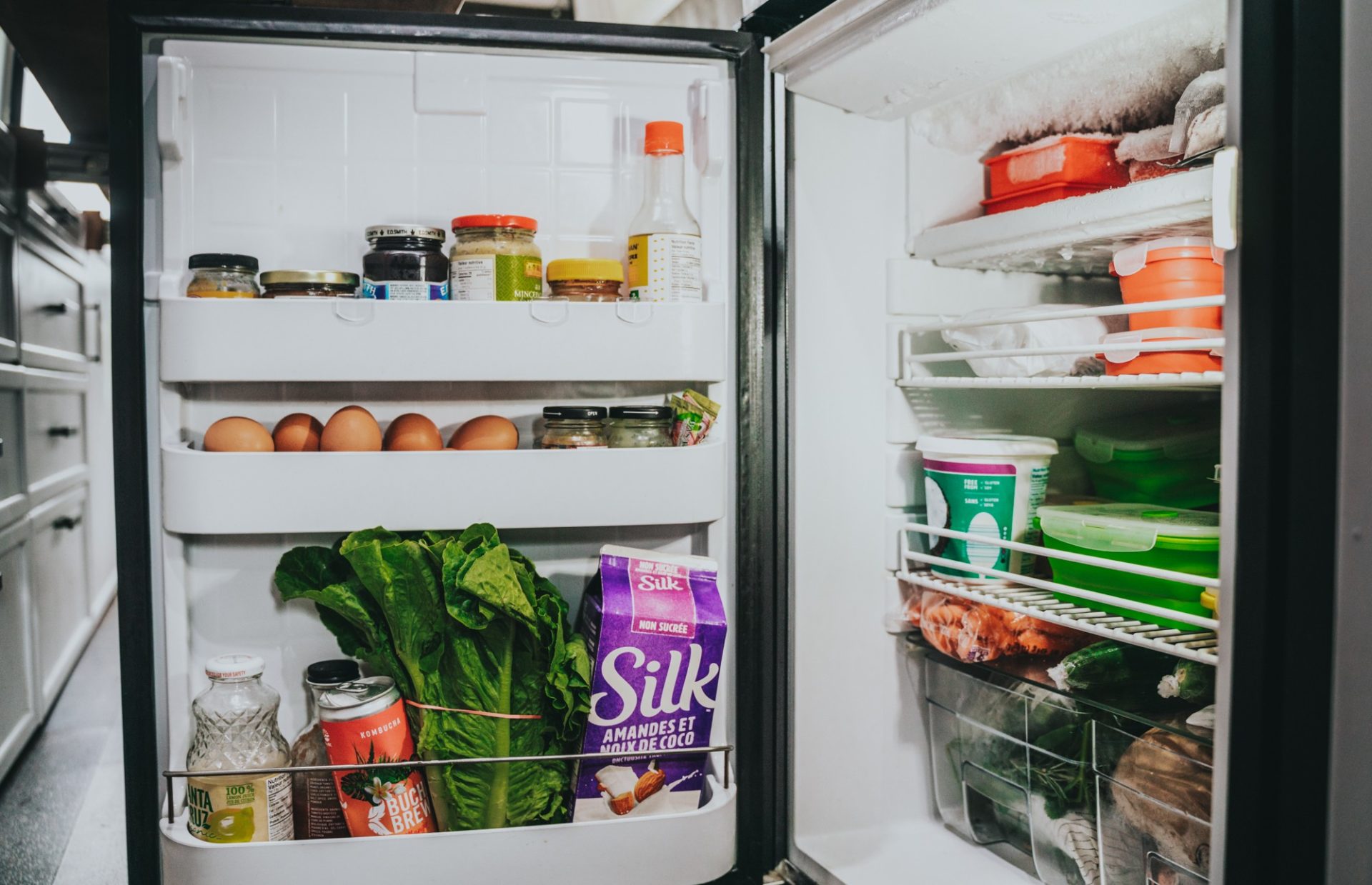 Bushman
Bushman makes excellent upright campervan fridges that run off of 12V DC. The Bushman DC-130-X is a fridge-freezer with a large capacity of 130L, which is about 4.5 cubic feet. It has plenty of shelving, a built-in light, and very low power draw.
If you're in Australia, this is the best 12V campervan fridge around but unfortunately, they don't ship anywhere else. The only hitch is the price tag at AUD $1645 (USD $1200) but smaller models start at AUD $1195 (USD $870).
ARB
ARB makes a great fridge for any van lifer or overlander. The Classic Series II Fridge offers chest-style camping fridges from 37 qt – 82 qt (1.2 – 2.75 cu ft). They're extremely durable and work well as a portable fridge that you can rely on for weekend trips or full-time van life. Just keep in mind that you must pick a cooling or freezing temperature as it's not a dual-zone fridge.
ARB products are made in Australia but sold worldwide in stores and online. The Classic Series II campervan fridges range from USD $1080-1630.
Dometic
Dometic produces many motorhome fridge models but the most popular of the chest-style fridges is the Dometic CFX line. These range from 27 qt – 93 qt (1 – 3.1 cu ft) so there's a perfect size for every camper van. They boast impressive features like a dimmable LED screen, removable wire baskets, dual zone cooling, and Bluetooth capabilities.
Though Dometic is an American company, they are globally synonymous with the idea of an energy-efficient campervan refrigerator. The CFX line ranges from USD $1000-1900 and ships worldwide.
Evakool
Offering a variety of heavy-duty fridge freezers, Evakool crafts upright and chest-style fridges for campervans. They work off of 12V DC power and have a portable refrigerator for everyone. Ranging from 1.5 – 3.9 cu ft, they're spacious, rugged, and have dual-zone compartments with separate doors.
Evakool is Australia-based and only offers local shipping. Their compressor fridges cost AUD $1000-2500 (USD $725-1800).
Thetford
Thetford makes absorption and 12-volt refrigerators for European and Australian van lifers. All of their refrigerators are upright and have a much skinnier design than other campervan fridges. They're tall and slim with loads of shelving and a separate freezer compartment.
You'll have to plan your van build around a Thetford fridge as their unique shape isn't as versatile. Thetford is USA-based but ships across Europe and Australia. Fridges are pricey at USD $1200-2250.
Isotherm
Isotherm makes some of the best campervan fridges that are also popular in the marine world. They're quiet, draw very little power, and have a range of sizes. The Cruise line has a 12V compressor fridge from 1 – 4 cu ft, which includes a freezer compartment.
The main drawback is that they're quite expensive at USD $900-1600. Isotherm is made by Indel Webasto, an Italian-German company that sells worldwide.
Nova Kool
Nova Kool makes some of the best fridges for camping because they're durable and can withstand a 30° angle. They offer 1.3 – 4.3 cu ft models with a separate freezer and multiple wire shelves for organization. Nova Kool is a leader in fridge efficiency with whisper-quiet compressors that are perfect for off-grid living.
We love that Nova Kool is a Canadian company based in British Columbia. They sell to the USA and Canada with an offering ranging from USD $800-1500.
Norcold
Norcold is a maker of many upright-style fridges commonly used as RV fridges. While typically absorption fridges, they now make a 12V camper van fridge similar to our Vitrifrigo refrigerator. The DE105 is the perfect size at 3.3 cu ft with an approximate power draw of 5.2 amps. It has a built-in freezer, wire shelving, and an interior light.
Like other upright fridges, Norcold refrigerators come with a hefty price tag. Expect to pay USD $900-2000 from dealers in the US and Canada.
Engel
If you're looking for a 12V refrigerator that's durable and portable, Engel makes some of the best campervan fridges. The Engel MR040 chest fridge is super low voltage, using 40% less amps than a regular compressor fridge. It's built to be rugged and withstand all the bumps of the road with its ABS body.
The main downside to the Engel portable refrigerator is that it's quite bulky and doesn't have an exact temperature setting. Even still, the MR040 is the best compressor fridge for campervan use thanks to its energy efficiency. They will run you USD $800-1100 and while Engel is an American company, they offer international shipping.
No Name Ebay/Amazon Portable Refrigerators
If you're looking for a more affordable fridge, you'll come across many thermoelectric coolers on Amazon. While a thermoelectric cooler works well on short trips, it's not designed to be used for full-time van life. They keep the fridge cool by removing hot air but not cooling the same way a compressor fridge does. They'll struggle with the ambient air temperature in hot climates and draw more power than other campervan fridges.
Do you have a great campervan fridge in your build? What do you think is the best fridge for vanlife?