You may be surprised to learn that the province of Ontario in Canada is home to some great beaches. The plethora of lakes in Ontario means a freshwater beach is never very far away. In fact, there are over 250,000 lakes in Ontario, which contain about one-fifth of the world's total freshwater, so Ontarians are spoilt for choice!
*This post may contain affiliate links, as a result, we may receive a small commission (at no extra cost to you) on any bookings/purchases you make through the links in this post. As an Amazon Associate, we earn from qualifying purchases. Read our full disclosure
If you are looking for a way to beat the heat in the summer, don't miss these Ontario beaches. Their yellow and white-sand shores are a lovely way to spend the weekend or day.
Traveling Soon?

Here is a list of our favourite travel providers and accessories to help get you ready for your upcoming trip!
Ontario Best Beaches
Whether you are looking for sandy beaches in Hamilton or the nearest beach to Toronto, we have compiled the best beaches in the province for you to enjoy.
Sauble Beach
For generations, Sauble Beach has been a long-standing favourite of Ontarians. It has over 10 kilometres of beach and a section where you can drive your car onto the sand. In the summer, you will find the shores lined with friends and families playing beach games and enjoying the shallow waters of Lake Huron. Sauble Beach is lifeguard-protected in the warmer months.
Everything is within walking distance of the beach. You can find restaurants along the waterfront, holiday beach shops and water activities like jet ski and paddleboard rentals on offer. However, if the family would like to try something more adventurous at Sauble Beach, don't miss the Ascent Aerial Park.
Grand Bend Beach
Grand Bend is one of the most beloved beaches in Ontario. It is located in Lambton Shores on the southern end of Lake Huron and is known for its sandy beach and lively atmosphere. It is a Blue Flag Beach, which means that it passes a strict water quality test. The beach is patrolled by lifeguards in the summer, and there are splash pads and playgrounds near the beach for little ones.
You can find all sorts of adrenaline-inducing water sports in Grand Bend. Think parasailing, wakeboarding or flyboarding. All are available at this Lake Huron beach. If you find the Main Beach to be a bit crowded, check out South Beach, which tends to be quieter but with fewer amenities.
However, for something more low key, one of the top things to do is watch the sunset at Grand Bend. Lake Huron is known for having notoriously good sunsets. Nearby Pinery Provincial Park has even been dubbed one of the best places to watch the sunset in the country by many.
Wasaga Beach
Wasaga Beach is a sandy beach found on the shores of Georgian Bay. It is the longest freshwater beach in the world and a popular destination known for its near-white sands and holiday atmosphere.
Due to being the longest freshwater beach in the world, Wasaga Beach is divided into 6 smaller "beaches." Sections 1 and 2 are located closest to the town center and therefore are the busiest. To avoid the crowds, meander to sections 3-6 along Georgian Bay.
In the town center, you can find all sorts of restaurants. Everything from rooftop bars to fast food joints. As well as beach shops and recreational activities, like batting cages and mini golf.
Cobourg Beach
Cobourg is a historical town located along Lake Ontario, which boasts a great beach known as Victoria Park Beach. People come from near and far in the summer months to walk along the pier and spend the day swimming or lounging on the sandy shore.
The beach is backed by a splash pad, BBQ area, and playground which makes it a hit with families. It has great water quality and the beach's city management team uses a flag system to demonstrate if it is safe to swim. Green indicates it is safe to go for a dip in the water but red indicates there is no lifeguard on duty.
There is also a beach located adjacent to Victoria Beach known as West Beach but it is far less popular. This is because it is not groomed like the Victoria beach, and it doesn't have the same facilities or lifeguards on duty.
Sandbanks, Prince Edward County
Sandbanks Provincial Park is located on Lake Ontario and has a few great beaches. Dunes Beach, Sandbanks Beach, and Outlet Beach are the most popular Great Lakes beaches in the park. They all feature a soft sandy beach, clear waters, and park facilities. However, Outlet Beach and Sandbanks Beach are much flatter than Dunes Beach and have gradual drop-offs in the water.
You can visit these Lake Ontario beaches on a day pass or camp overnight in the Sandbanks Provincial Park. While visiting one of these beaches, don't miss out on embarking on one of the hiking trails in the area. The Cedar Sands Nature Trail is an easy 2 kilometres loop with interpretive signage leading the way.
North Beach
Located about a half-hour drive west of Sandbanks, North Beach Provincial Park is a quiet alternative to its popular neighbour. Here, you'll have your choice of 1 km of sandy beach facing Lake Ontario or another 800 metres of shoreline facing North Bay.
The beach gradually drops off into the crystal blue water, making this an ideal swimming spot. If you're more interested in water sports, visitors are permitted to launch canoes from the North Bay boat ramp. Washrooms and picnic tables are available, plus there's a beach canteen offering snacks and drinks.
Sugar Beach, Toronto
Sugar Beach is without a doubt, one of the best beaches in Toronto. Located in the downtown core, it is known for its iconic pink umbrellas and Muskoka chairs. You can't swim here, but it is a great place to catch some rays, chat with a friend, or attend one of the events held regularly at Sugar Beach.
Sugar Beach got its name and the inspiration for its sweet decor from the adjacent Redpath Sugar Refinery. This Ontario beach is a product of a city revitalization program and was previously a parking lot.
A number of events are held at Sugar Beach. Some of these include the Toronto Wine and Spirit Festival, outdoor cinemas in the summer months, the Redpath Waterfront Festival and more.
Woodbine Beach
Woodbine's wide stretch of soft sand, great facilities, and Toronto location make it one of the best beaches in Ontario. Located in the "beaches" area of the city, along Queen Street East, Woodbine Beach is the largest of the area's beaches.
It gets very popular with inner-city folks in the summer months. There is a boardwalk that runs along the beach, a children's playground, a water bottle filling station, and lifeguards on duty in the summer.
The Queen Street East area is a trendy neighbourhood in Toronto with some great restaurants, shops, and cafes. When the hunger strikes, we urge you to explore the eclectic collection of nearby places to eat and drink.
Port Stanley Beach
Port Stanley is located on the shores of Lake Erie in Ontario. It is known for its marina, century-old houses and quiet village feel. The area is popular for windsurfers and sailors, and there is a boat ramp just steps from the southern end of Main Beach.
Main Beach in Port Stanley is one of the finest beaches on Lake Erie. It is protected from the open water by the breakwater, so it is popular with families who enjoy the calm, shallow waters. It has also received Blue Flag Level Status. There are change rooms, washroom facilities, and outdoor showers for public use, as well as lifeguards on duty.
For a secret gem in Port Stanley, head to Little Beach on Lake Erie. This tiny Ontario beach doesn't have the same level of facilities, but it has the sandy, shallow waters that Main Beach in Port Stanley has become known for.
Port Dover Beach
Although Port Dover Beach is located along Fort Erie, it will make you feel like you've stepped into the tropics. Real palm trees line the Ontario beach every summer. They were planted by the restaurant The Beach House in late May and taken down in October.
The beach itself is sandy, and the water is shallow. There are washroom facilities on-site and a host of food vendors and restaurants nearby. Take some time to walk along the scenic pier, which is located next to the beach. It ends at the Port Dover Lighthouse and is popular with fishermen and couples at sunset.
Old Women Bay Beach, Lake Superior Provincial Park
Old Women Bay Beach is definitely one of the most secluded beaches in Ontario, but it is also one of the most beautiful. Located along the shores of Lake Superior, Old Women Bay Beach can be found in Algoma Country near Wawa.
This Lake Superior beach name originates from the nearby cliff, which resembles a woman. The water's never really warm up here the same way they do by the beaches in Southern Ontario, but they are refreshing in the summer months.
There are washroom facilities on the beach but no lifeguards, so swimming is at your own risk. Even if you don't decide to swim, it is a beautiful place to enjoy the scenery of Lake Superior, have a picnic, and sunbathe.
Pancake Bay Provincial Park
Located about an hour's drive north of Sault Ste Marie, Pancake Bay Provincial Park is a gorgeous natural area on the north coast of Lake Superior. The park's sandy beaches are in protected coves, so you're sheltered from a lot of the wind, and the water is quite a bit warmer than in other parts of Lake Superior.
There are no lifeguards posted, but there are restrooms available to visitors. If you have time, there is an easy nature trail that starts at the campground and takes you along the dramatic Lake Superior Shoreline. Day-use fees vary by season, and you can call the park directly to find out exactly how much it will cost.
Honourable Mentions
Crystal Beach
Located in Fort Erie, Crystal Beach is a lakeside community that has attracted tourists for over a century. A family-friendly destination, there is plenty to do here, and rules have been put in place to ensure a safe experience for everyone. There are lots of cafes, restaurants, and shops to explore in town, within walking distance of the beach.
Having undergone renovations recently, Crystal Beach has new washroom facilities, changing rooms, and a long viewing deck over the beach. Day passes to the beach can be purchased at the main entrance and cost $5 during the weekdays, going up to $10 on weekends.
The Grotto, Bruce Peninsula National Park
With its dramatic rock formations and crystal clear water, it's easy to see why this beautiful stretch of coastline is a very popular tourist attraction. The Grotto is actually a large natural cave inside a cliff on Georgian Bay, sheltering a pool of sparkling water. The hike to reach The Grotto is a bit challenging, but the views are worth it.
This attraction is busiest during the summer months, weekends, and holidays. If you visit during the busy season, it's a good idea to reserve a parking spot. There are washroom facilities at the trailheads and The Grotto. Make sure to pack out everything you bring because there are no garbage receptacles on the trail or at the Grotto.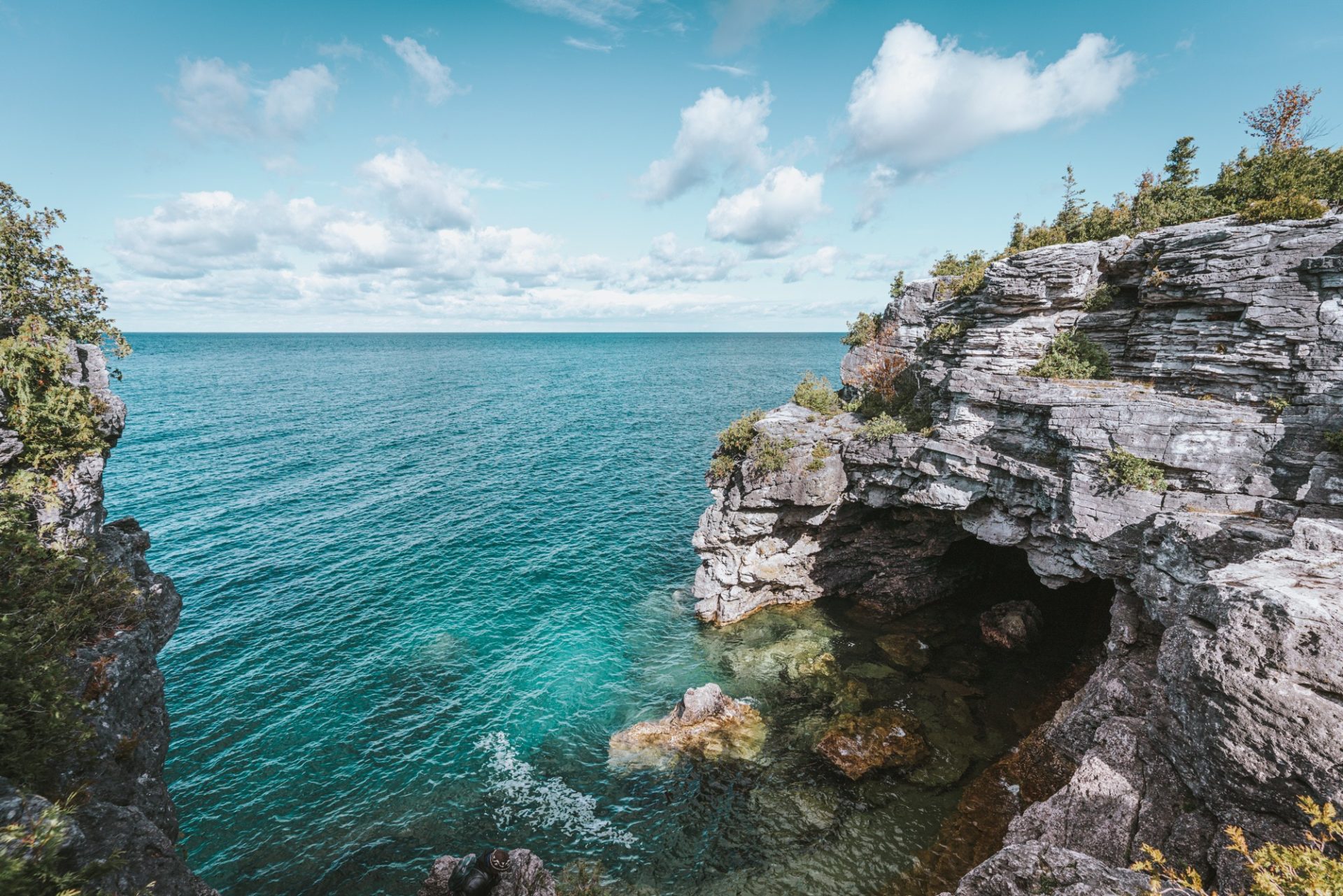 Centre Island Beach
One of the four Blue Flag beaches on the Toronto Islands, Centre Island Beach is closest to the city and there is a great variety of activities and attractions. The water tends to be warmer and calmer, perfect for a leisurely day of swimming. You'll have to take a ferry to reach the Toronto Islands, and it's a good idea to book tickets online during the busy summer season.
There are concessionaires that rent kayaks, canoes, and bikes if you get the itch to explore. If you're looking for something the whole family can enjoy, check out the Centreville Amusement Park, which has lots of kid-friendly rides and games. For lunch, check out one of the island's cafes or grab a snack at the Centre Island ferry dock. Lockers, changing rooms, and washrooms are located near the beach.
Don't miss exploring these stunning Ontario beaches. They have a lot to offer Canadian beach bums!
What are some of your favourite beaches in Ontario?