Costa Rica is known not only for its lush jungle rainforest but also for its stunning coastline. The country is flanked by both the Caribbean and the Pacific Ocean, which opens it up to a diverse range of beautiful beaches.
*This post may contain affiliate links, as a result, we may receive a small commission (at no extra cost to you) on any bookings/purchases you make through the links in this post. As an Amazon Associate, we earn from qualifying purchases. Read our full disclosure
From tropical white sand beaches to black sand beauties, there are Costa Rica's Pacific coast has beaches to suit every taste.
Traveling Soon?

Here is a list of our favourite travel providers and accessories to help get you ready for your upcoming trip!
Best Beaches in Costa Rica
Besides breathtaking beauty, some of the best beaches in Costa Rica are ideal for outdoor adventures. Whether you are into swimming, surfing, snorkelling, or spending the day with your little ones by the coast – there are beautiful beaches that will suit your fancy.
These are the best beaches in Costa Rica based on your liking. So, grab your maps of Costa Rica's best beaches and head out to explore!
Best Swimming Beaches in Costa Rica
Playa Manuel Antonio, Puntarenas
This beautiful white sand beach is located inside Manuel Antonio National Park. You'll have to hike 30 minutes into the park to reach Playa Manuel Antonio, but you will be glad you did. The path to the beach is flat and easy to navigate, and there is a good chance that you'll spot some monkeys, sloths, or toucans along the way.
Manuel Antonio Beach is known as one of the nicest beaches on Costa Rica's Pacific coast.. It is backed by the lush green jungle and is known for its white sand and turquoise Costa Rica ocean. The beach forms a bay and the waters are calm, making it a great place to spend the day swimming as well as snorkelling.
There are no food facilities at this beach (which is part of the charm of some of the prettiest beaches in Costa Rica), so you will have to pack a picnic. To protect the animals who live there, the park is tough on what food visitors can bring in, so make sure you read their list of prohibited food and drink before attempting to enter.
Playa Carrillo, Guanacaste
Playa Carrillo is located in a bay just south of Samara, one of the best beach towns in Costa Rica. It is renowned for being one of the cleanest beaches in Costa Rica and is known for its palm-fringed shore, mountain ranges in the distance as well as clear waters. It's also one of the calmest beaches in Costa Rica.
It is an idyllic place to spend the afternoon sunbathing and swimming. We consider it one of the best beaches in Guanacaste, Costa Rica. However, part of its charm comes from its total lack of infrastructure on the beach. So if you're going to be spending the day, ensure you bring drinks, snacks, and a beach towel or hammock with you to one of the top beaches in Costa Rica – Playa Carillo.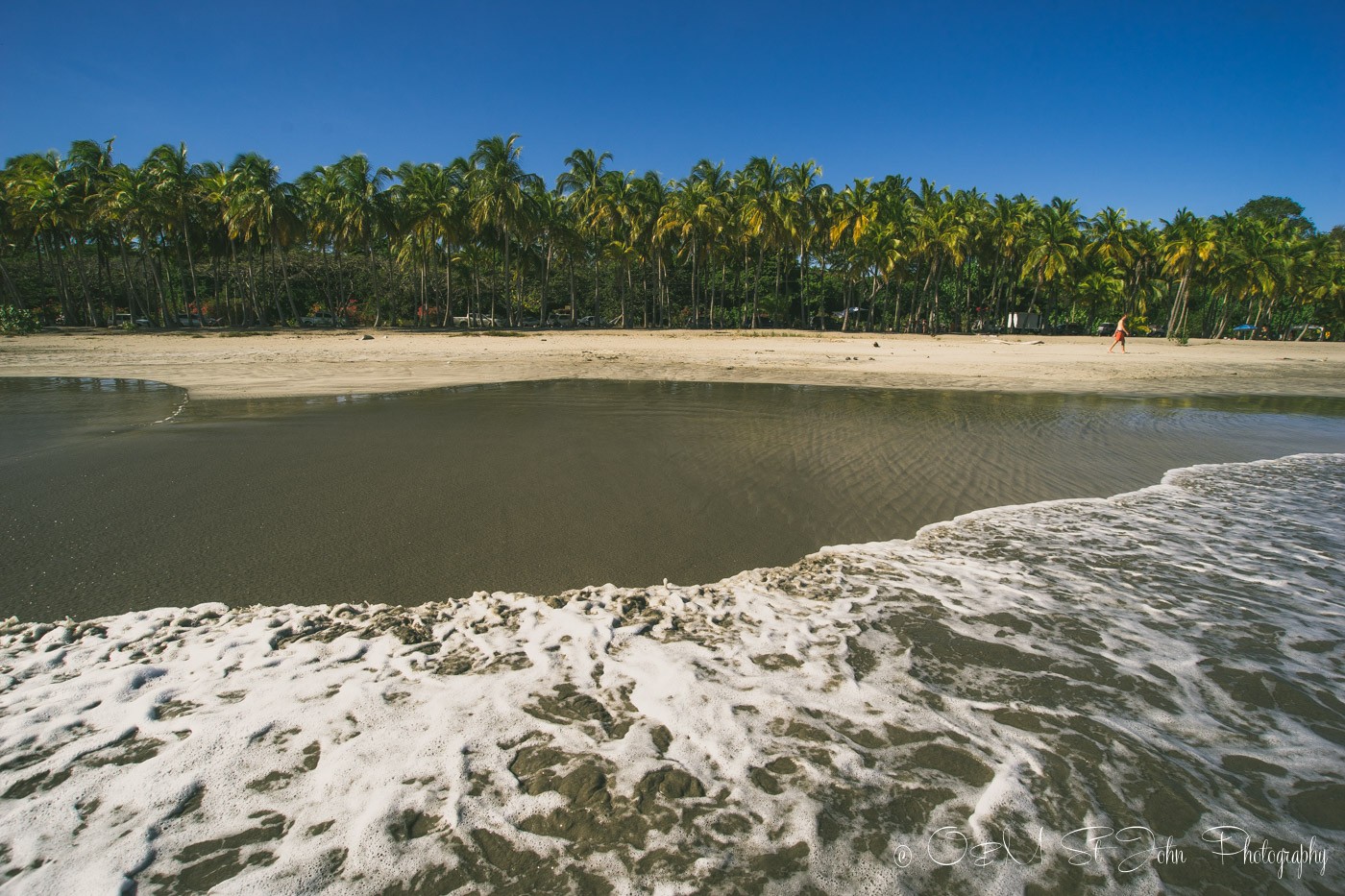 Playa Flamingo, Guanacaste
Flamingo beach is one of the most beautiful beaches in Costa Rica. It is one of the most popular beaches in Costa Rica with expats, thanks to several apartment rentals and condo developments in close proximity. It is located just 25 km from Tamarindo, heading north and is known for its lively atmosphere, white sand, and clear waters.
Flamingo Beach forms a sheltered bay, so the waves are generally calm here, making it a great place to go for a dip. There are also plenty of restaurants, bars, and tour operators right on the beach where you can grab a drink, bite to eat, or sign up for an activity.
If you are looking for places to stay in Costa Rica on the beach, Playa Flamingo may offer some good options. The area is home to a number of hotels located within a short walking distance from the beach.
Playa Uvita, Puntarenas
Lined with dense forest and palm trees, Playa Uvita is one of the wilder Costa Rica Pacific beaches. It is located inside Marino Ballena National Park and can only be reached on foot. It takes about 20 minutes to get to Playa Uvita from the park entrance. However, the seclusion is not the only thing that makes this beautiful black sand beach in Costa Rica special.
Uvita Beach is known as the home of the "whale's tail", a sand break that looks like a whale's tail from the air. It is only visible at low tide, so if you want to see it up close, visit then. The whale tail is a very fitting park icon since Marino Ballena National Park is one of the top Costa Rica destinations known for whale watching. They migrate past the shores of this best beach in Costa Rica every July to November and December to April.
Playa Uvita is also a great place to swim and go for a snorkel. The beach is wide and spacious, and when the water is low, the tide pools around the whale's tail are perfect for the whole family. So pack a picnic, a towel, and spend the day in the waters of one of the best Costa Rica beaches. Be sure to plan your visit to coincide with the tides so that you don't get stuck out in the ocean when the tide comes in!
Playa Punta Uva, Limon
On the Caribbean coast between Punta Cocles and Manzanillo, Punta Uva is tranquil and happy to live life at a slow pace. Playa Punta Uva is off the beaten path, but it's becoming well-known thanks to its beauty. It has blue water, golden sand, and green jungles. It's a truly picturesque area with warm water and a coral reef that makes swimming and snorkelling a true adventure.
Punta Uva is also close to the Gandoca-Manzanillo Wildlife Refuge, a nesting site for various types of sea turtles and works to preserve the coral reef, among other things.
Playa Manzanillo, Puntarenas
Playa Manzanillo is a quiet, secluded beach tucked out of the way on the Nicoya Peninsula. The beach hasn't seen much in the way of major development, so it's quiet and great for relaxing. It's a great beach for families wanting to go swimming or snorkelling, as the large rock jetty protruding from the shore means that waves can't get too big.
Swimming is best at high tide, though, as the water is a bit rocky, which makes the waters around Playa Manzanillo perfect for coral and marine life. The rocks are most easily avoided during high tide.
Playa Hermosa, Guanacaste
Sitting about half an hour from Liberia, the capital of the Guanacaste province, Playa Hermosa is one of Costa Rica's best beaches. It's even won the Blue Flag, a prize for high environmental and safety standards. With clear blue water, tropical forests, and volcanic rock, Playa Hermosa's name fits it well, meaning 'beautiful beach' in Spanish.
Its waters are warm throughout the year, making it perfect for swimming, scuba diving, and fishing, and it's great for just sitting back and relaxing by yourself or with family. However, Hermosa Beach is a trendy, mainstream beach, so don't expect much privacy.
Best Beaches in Costa Rica for Snorkeling
Playa Conchal, Guanacaste
This pristine stretch of Costa Rica coast is known for being the only shell beach in the country, making it a unique beach to visit during your trip. Playa Conchal is a great destination for swimming and is known as one of the best places to snorkel in Costa Rica. However, there can sometimes be some moderate waves, so ensure you are a decent swimmer before jumping in the waters.
Expect to find an array of colourful fish and marine life just offshore at Playa Conchal. The waters are famously clear in the Costa Rica oceans here, but you will have the best luck spotting tropical fish at the rock formations on the far side of the beach.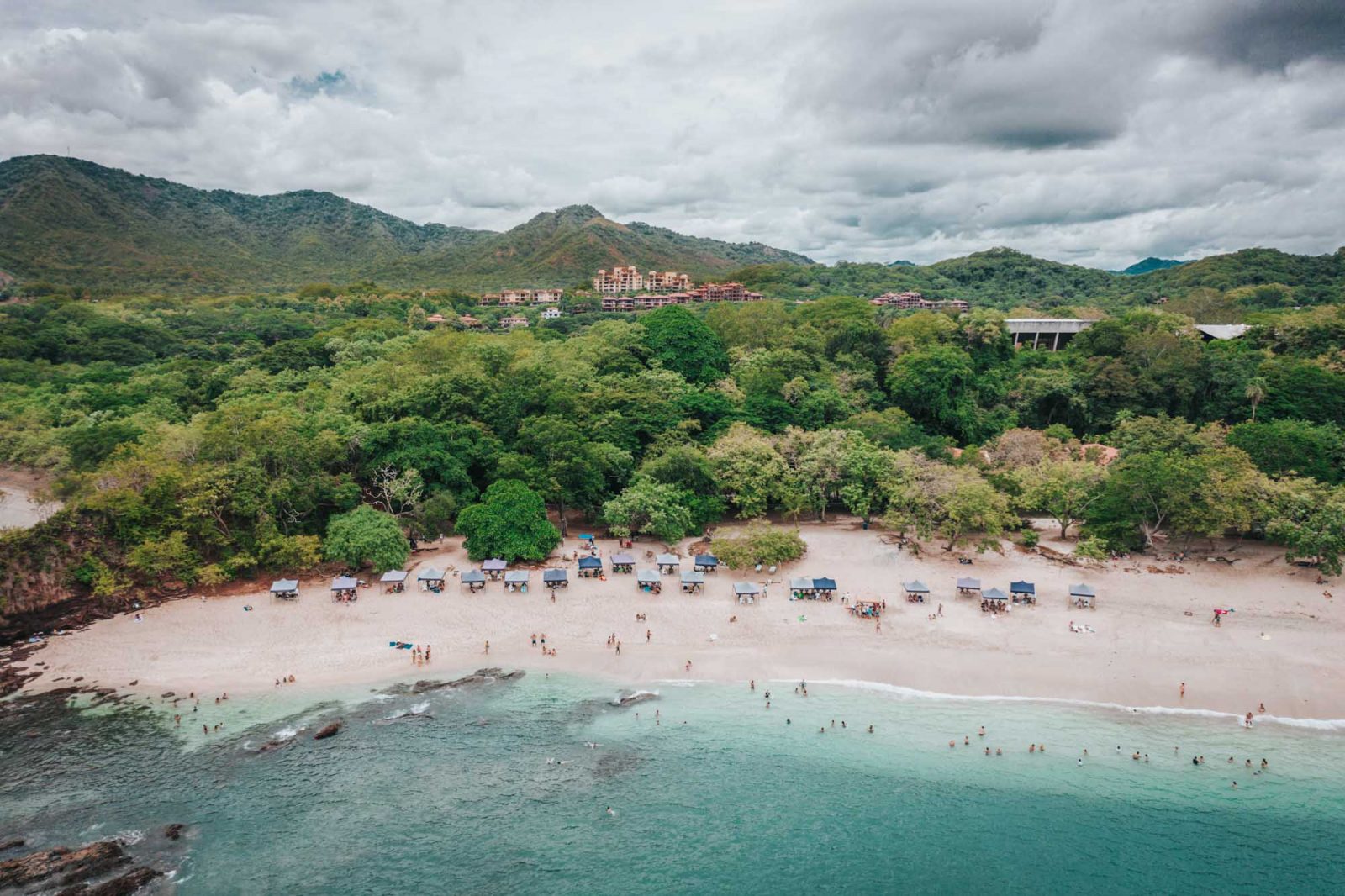 There is only one downside to Conchal Beach – it's not easy to get to. To preserve the beach and reduce the number of visitors, the government has recently prohibited parking at Playa Conchal. So visitors now have to park at the nearby Playa Brasilito and walk some 500m to Conchal Beach. The alternative is to stay at the Westin Reserva Playa Conchal, an upscale all-inclusive resort located just steps away from the beach.
Playa Conchal is one of the best beaches near Liberia, Costa Rica, for those looking to reach the beach soon after arriving in the country.
Playa Cahuita, Limon
This exotic stretch of beautiful beach is one of the top Costa Rica beach destinations on the Caribbean Coast of the country. It is a great spot for swimming and snorkelling and can be accessed from in town or via Cahuita National Park.
The national park's protection extends into the water. So you can expect to see coral reefs alive with fish and other marine life. Over 35 types of coral and over 120 different types of fish have been spotted in the waters here, making it one of the best Costa Rica Caribbean beaches for marine life spotting.
The area around Cahuita and Cahuita itself has remained fairly underdeveloped, so expect an empty, wide-open beach.
Best Beaches in Costa Rica for Families
Playa San Juanillo, Guanacaste
Playa San Juanillo, located on the Nicoya Peninsula, is one of our personal favourites and is definitely one of the best beaches to visit in Costa Rica. But to truly appreciate this spot, you must visit at high tide when it is at its best. At high tide, the beach forms a headland with rocky outcrops on each side.
Playa San Juanillo is backed by jungle, and at the south end of the beach, you will find a cove where fishermen like to store their boats away from the open water. The little ones will love to see iguanas scuttering along the shore, and the beach is suitable for swimming.
There is not much in the way of facilities, but there are a few nearby restaurants. It's one of the lesser-known beaches that definitely deserve a spot on your best beaches in Costa Rica map. You will also find one of Costa Rica's best beaches to see sea turtles a few minutes drive away in Playa Ostional.
Playa Montezuma, Puntarenas
Located on the Nicoya Peninsula near the bohemian town of Montezuma is its namesake beach, Playa Montezuma. It is one of the larger Costa Rica Pacific Coast beaches with lots of things to do.
It's easy to spend a day on Montezuma Beach sunbathing and swimming (although be careful the beach drops off quickly) but it's more fun to venture a little further up the beach to discover the rock formation, Piedra Colorado and its adjoining natural reserve. There are some nearby restaurants, so you can grab a bite and some refreshments whenever the mood strikes.
Playa Cocles, Limon
This 4 km beach is known for its laid-back vibe, a vast array of things to do, and as one of the best family beaches of Costa Rica. Located on the Caribbean Coast, it is the most well-developed beach in the area and the closest beach to Puerto Viejo.
Playa Cocles is a popular spot for surfing. However, it is also a haven for sunseekers and beach lovers. You can expect to see families and friends playing beach games and lounging on the shore.
It is not the best beach for swimming since currents can be strong. However, families will like it because it is the only beach in the area with lifeguards patrolling and because there are nearby restaurants, tour operators, and facilities.
Best Surfing Beaches in Costa Rica
Playa Tamarindo, Guanacaste
Playa Tamarindo Costa Rica, is perhaps the most popular beach in Costa Rica and one of the best Costa Rica surf towns. Tamarindo Beach, Costa Rica has come a long way from its roots as a sleepy fishing village on Costa Rica's Pacific coast. Today, the town offers a lively stay, known for its great surfing and nightlife.
Here you'll find travelers of all walks of life making their way down to the beach to sunbathe, surf, or simply watch the sunset at the best beach area in Costa Rica. You can swim, but be wary of the advisories.
Tamarindo Beach is a long and golden sand beach famous as a surf mecca. But don't be discouraged if you are just starting out. There are some great surf schools in town that will introduce you to more mellow areas of the beach break. To sum up, the surf here is particularly good for beginners.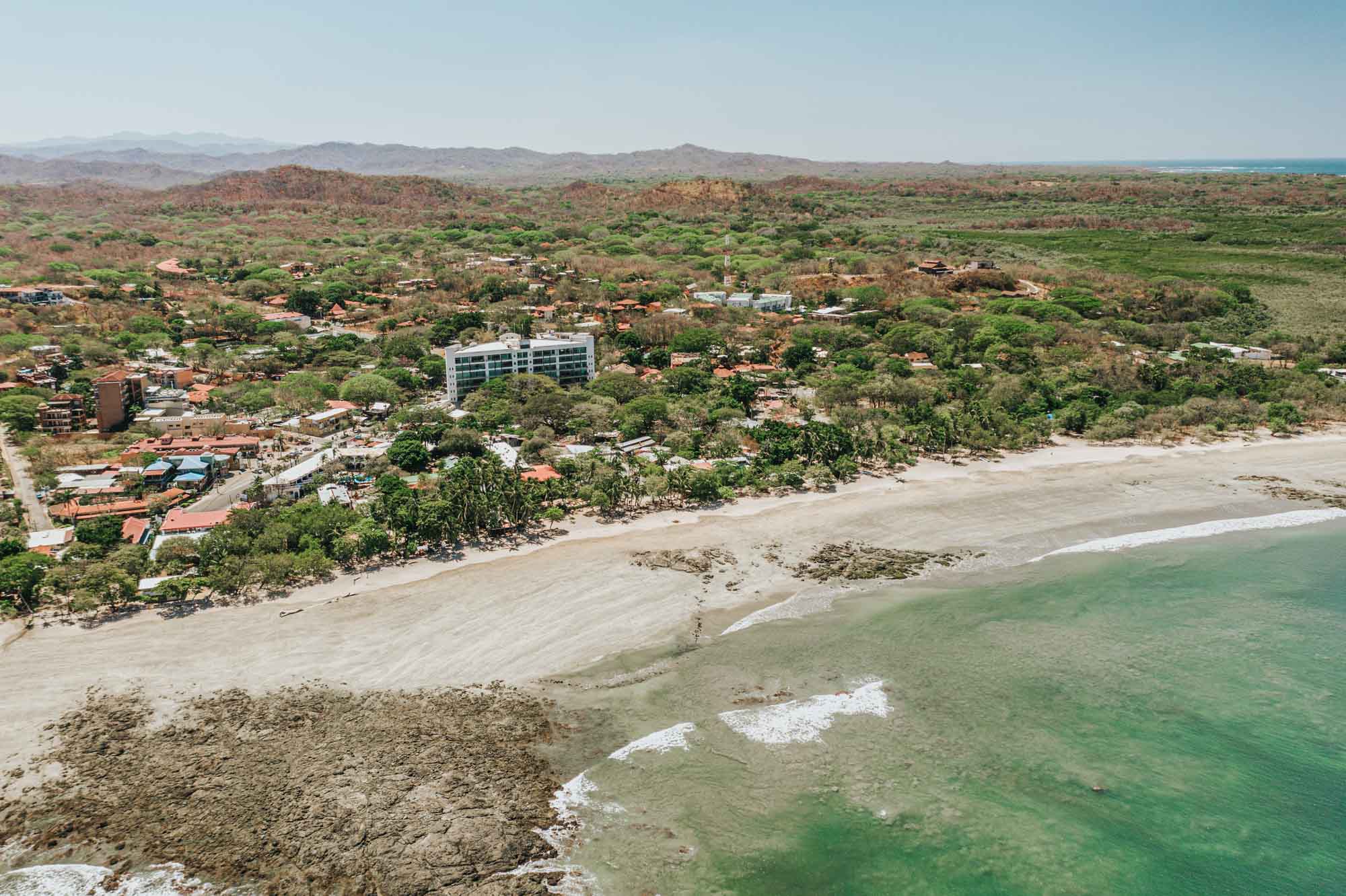 Playa Avellanas, Guanacaste
Located in Guanacaste, just 30min south of Tamarindo, Playa Avellanas is another great surf spot. However, it is a much more relaxing beach in contrast to Tamarindo. La Purruja, El Palo, and El Estero and Little Hawaii are some of the breaks that make Avellanas one of the best beaches in Costa Rica for surfers of all levels. There are good waves for beginners and some more challenging ones for experienced surfers too.
When you are finished in the water and have worked up an appetite, we recommend you head to Lola's. This awesome restaurant on the beach is famous for its pet pigs – the late Lola herself and the current set of piglets, Ave and Anna.
Lined with palm trees, The beach is popular with families and couples. If you ask any locals, they'll tell you that Playa Avellanas is one of the most famous beaches in Costa Rica. Come here during Christmas or Easter Week, and you'll see tons of locals from near and far enjoying this beautiful stretch of soft sand.
Playa Guiones, Guanacaste
Located in Nosara, one of the best Costa Rica beach towns, Playa Guiones is one of the top Costa Rica surf spots and one of the best beaches in Costa Rica. This 7 km golden sand beach has waves for every skill level, from beginner to advanced. But more than that it is just a great place to sunbathe, relax, and watch the sunset.
A few hundred metres of the beach has been awarded a Blue Flag Ecology Award for its water quality and the maintenance of the beach. Plus, it is located close to Nosara town centre so you can be within walking distance to great restaurants and other amenities you might need on your Costa Rica beach vacation.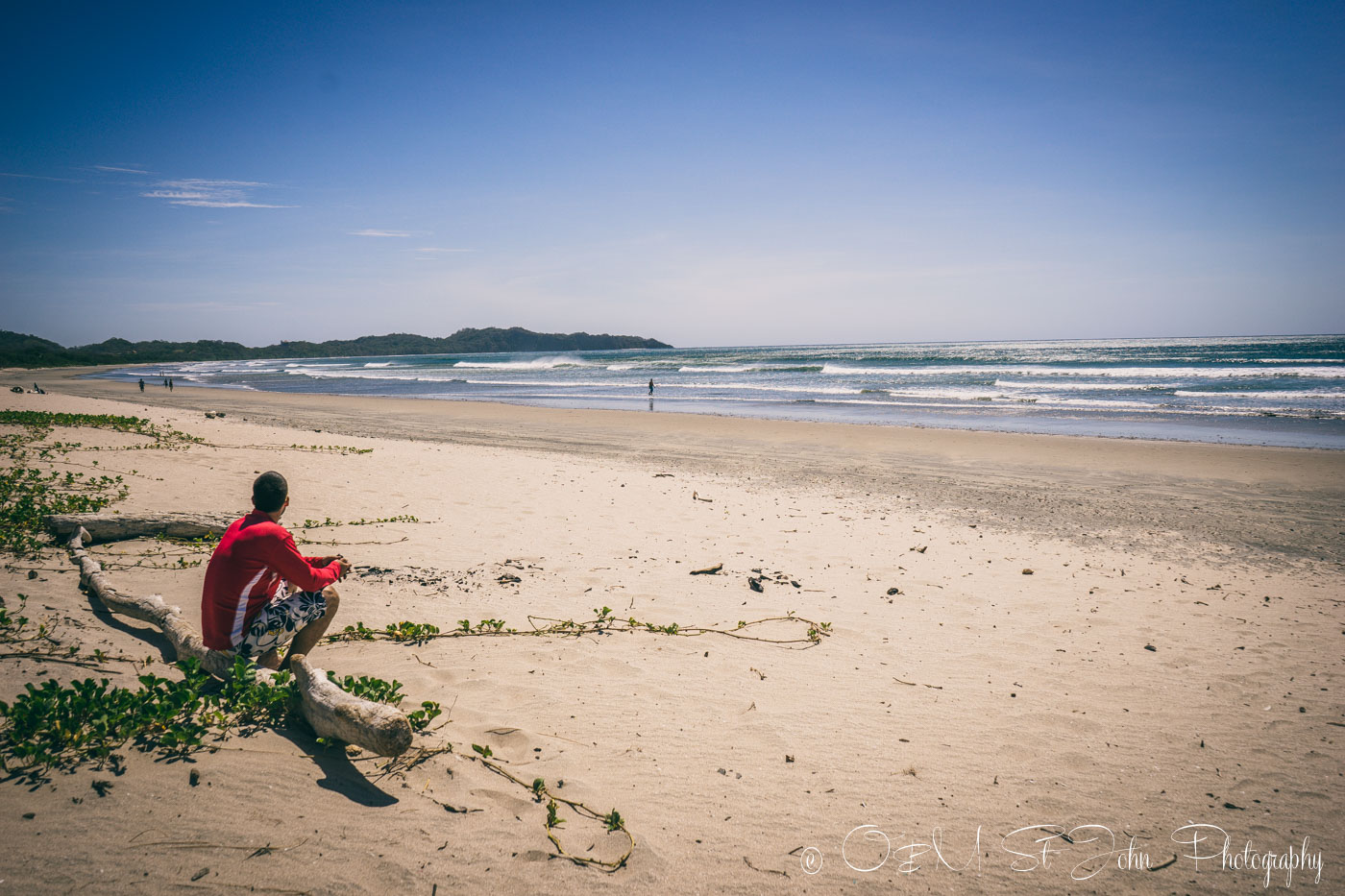 Playa Santa Teresa, Puntarenas
Santa Teresa beach and the nearby Malpais offers another great surfing spot on the Southern tip of the Nicoya Peninsula. Playa Santa Teresa offers a long stretch of sand with plenty of good sand breaks, while further along the coast, Malpais is more known for its point breaks.
The town of Santa Teresa has a great laid-back feeling with lots of shops, restaurants and bars lining the bumpy main town road. There are accommodation options to suit every budget and a few really nice Costa Rica beach resorts.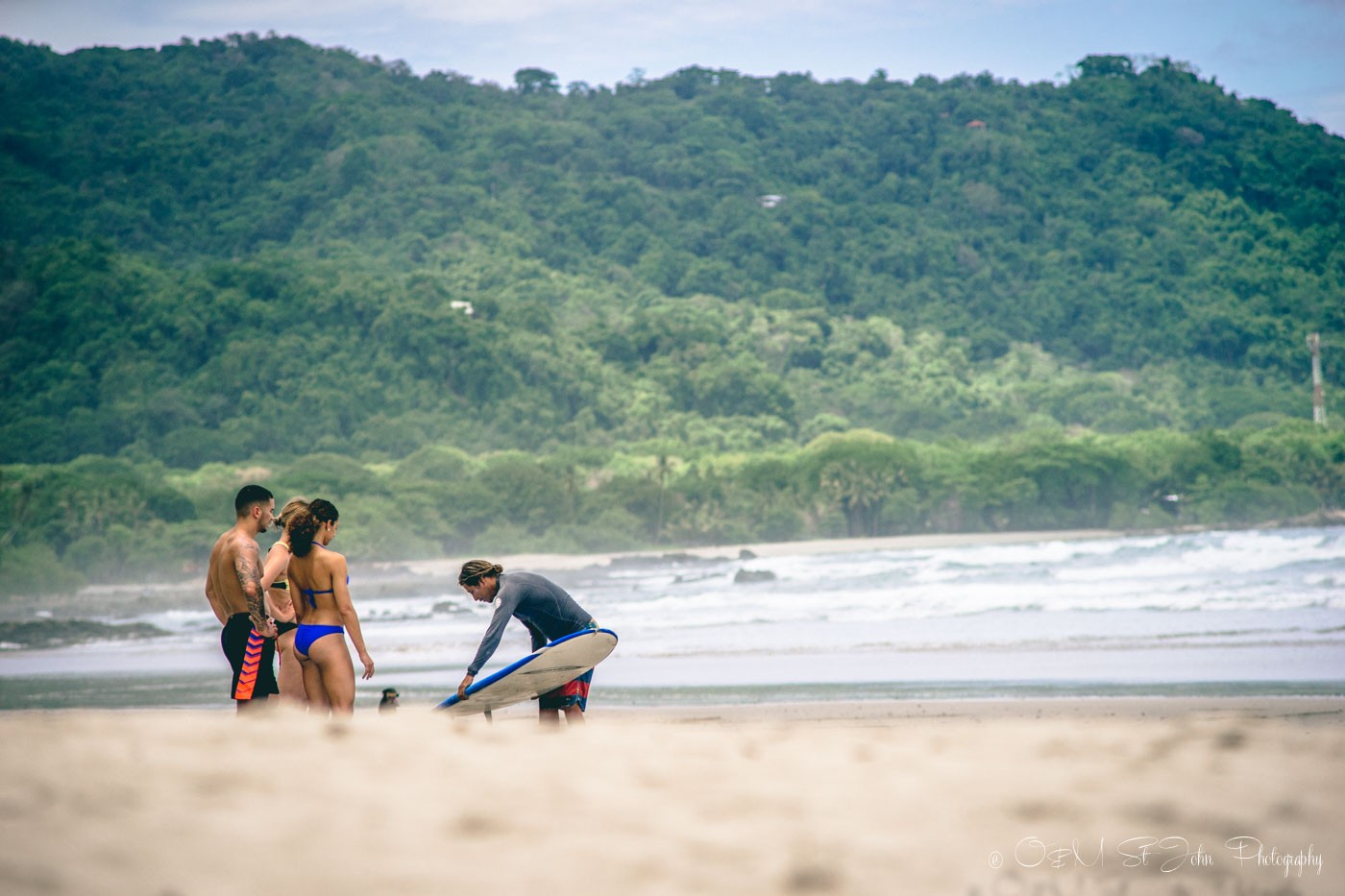 Playa Samara, Guanacaste
If a fun but small beach village lined in palm trees sounds appealing, then Playa Samara on the Nicoya Peninsula will be perfect for you. It's best for beginner and intermediate surfers, and at high tide, the waves are typically between waist and chest high. If you've never tried surfing before, then Samara Beach can present the perfect opportunity to give it a try. It's considered one of the safest beaches in the country.
Samara is laid back and welcoming, while board rentals are available at multiple shops.
Playa Negra, Guanacaste
Playa Negra is known for two things: world-class waves and its distinctive black sand. It's a surfer's dream and a sight to behold. However, it's not just a pretty beach with some great waves. Playa Negra has a bit of something for everyone, with its resorts, lodges, cafes, and boutiques. It even has tide pools along its borders, though it's not a great beach for swimming.
Playa Negra is an amazing beach for experienced surfers. The waves hit fast and are consistent year-round, so it attracts a lot of pros. However, beginners can also try to test their skills at Playa Negra on a slower day. However, this beach is best avoided during low tide. It has a shallow, rocky bottom that isn't much good for surfing until high tide rolls in.
Frequently Asked Questions about Costa Rica Beaches
What are the best beaches near Liberia, Costa Rica?
As the capital of the Guanacaste province and the home of the international airport, most people often wonder which are the best Liberia, Costa Rica beaches. However, what they don't realize is that Liberia is a landlocked city. The closest beaches to the state capital are the beaches in Guanacaste, Costa Rica, particularly those near the Papagayo Peninsula.
Those include Playa Hermosa, as previously mentioned, and Playa del Coco.
Playa del Coco, or Coco Beach, Costa Rica is another beach close to Liberia airport. It's located only 30 minutes from Liberia Airport which makes it a popular beach destination in Guanacaste. The town has lots of restaurants and bars, and while the beach itself is not the prettiest, the town offers plenty of accommodation options and amenities thanks to a large expat population.
What are the best San Jose, Costa Rica beaches?
You definitely wouldn't call San Jose one of the best beach towns in Costa Rica. Like Liberia, this bustling city is landlocked so short answer is – there aren't any beaches in San Jose, Costa Rica to visit (despite what they made you believe in Jurassic Park).
You'll have to travel to the coast to experience the beaches Costa Rica is famous for.
Playa Jaco, or Jaco Beach, Costa Rica is located about an hour and a half by car from San Jose and is known as one of the best beaches near San Jose, Costa Rica. It's one of the most popular tourist destinations in the country for its nightlife and array of activities.
Where to Stay in Costa Rica on the Beach?
You'll find lots of hotels all around the country located on the beach, or as close as a few hundred meters away. As a rule of thumb, many all-inclusive hotels and Costa Rica resorts offer private beach access. If you want to avoid big resorts, there are a few smaller boutique hotels that can provide similar beachfront access.
Where are Costa Rica Pink Sand Beaches?
While there are no vivid pink beaches in Costa Rica, there are a few beaches across the country that boast a light pinkish hue. These include:
Playa Penca near Potrero in Guanacaste is a small beach that runs along a secluded cove just north of Playa Potrero.
Playa Rosada, just north of Pelada Beach in Nosara, is another "pink" beach in Guanacaste where tiny pink rocks give the sand a pinkish hue.
Have you been to Costa Rica before? In your opinion, what are some of the best beaches in Costa Rica?