Australia's beaches are world-famous. The country is home to some of the most beautiful clear waters, the softest white sand, and the longest stretches of untouched beaches. With over 11,000 beaches along nearly 37,000 kms of Australian coastline, the bigger question remains: Where are the best beaches in Australia?
*This post may contain affiliate links, as a result, we may receive a small commission (at no extra cost to you) on any bookings/purchases you make through the links in this post. As an Amazon Associate, we earn from qualifying purchases. Read our full disclosure
We would love to say that we've been to them all and have all the answers for you. As to how many beaches in Australia we've been to, well, the truth is, we have barely even scratched the surface. So many of the best beaches in Australia are tucked away in small towns miles away from the hustle and bustle of the big cities.
And for many in Australia, beaches carry a certain emotional connection as well. Opinions on the matter will stay divided, but we think many would agree with the following list of the best beaches in Australia.
The Best Beaches in Australia
Whitehaven Beach, Whitsunday Island, QLD
Whitehaven Beach needs no introduction. This world-renowned beach in the Whitsundays has topped the charts of not only the best of Australia beaches but also the best beaches in the entire world. Known for incredibly cool white silica sand, stunning views, and crystal clear waters, Whitehaven Beach is definitely worth visiting on your trip to Australia.
Picture yourself with the wind in your hair, the ocean spray on your face, and the sun warming your skin as you sail around some of the world's most stunning islands. It might sound like a dream, but a Whitsunday Island tour offers exactly that and more. You can go swimming, bushwalking to Hill Inlet Lookout, and snorkelling in Whitsunday islands.
The Whitsundays are a group of islands set in the heart of the World Heritage Listed Great Barrier Reef. Here, you'll find a bunch of activities and accommodations to fit every budget, making it the perfect destination to not only discover the wonders of the Great Barrier Reef but also relish the beauty of Australia's most exquisite beach.
Traveling Soon?

Here is a list of our favourite travel providers and accessories to help get you ready for your upcoming trip!
Airlie Beach, Great Barrier Reef, QLD
The Great Barrier Reef is one of the seven natural wonders of the world, and it's actually the only living thing visible from space. You can explore the reef from almost any coastal town north of Fraser Island. Cairns, Port Douglas, and Airlie Beach are the top destinations for unforgettable Great Barrier Reef adventures.
Beyond its remarkable size, the Great Barrier Reef includes more than 900 diverse islands. For a responsible and eco-friendly experience, choose a trusted tour operator. We suggest joining a guided Great Barrier Reef tour or Cruise Whitsundays for an unforgettable experience. Remember not to touch or feed any marine life while exploring the reef.
Main Beach, Noosa, QLD
You can't question the appeal of Noosa's Main Beach. It's got everything you would expect from Queensland's Sunshine Coast. This famous beach has a long stretch of nice, clean sand for all your sunbathing needs, pristine turquoise waters that are safe for swimmers of all skill levels, and the beautiful surroundings of the Noosa National Park. Noosa is the perfect coastal destination, with plenty of accommodation, restaurants, and shopping options nearby.
It's no wonder that Noosa Main Beach is one of the most popular Australia beaches for locals and travellers.
Burleigh Heads, Gold Coast, QLD
Burleigh Heads Beach makes the list of the best beaches in Australia thanks to its amazing surf breaks. But even for the casual beach bums, Burleigh has great appeal.
Unlike many other beaches on the Gold Coast, Burleigh has remained rather free of tourists and crowds, making it one of the favourite weekend beach spots for the locals. It's well-patrolled and great for swimming with fantastic stretches of sand that you wouldn't expect to find in the middle of the city.
Coolangatta, Gold Coast, QLD
It's not surprising that not just one but two beaches on the Gold Coast made our list of the best beaches in Australia. After all, this was our backyard, and it was where we frequently spent our weekends when we were living in Australia.
The entire Gold Coast shoreline is filled with beautiful beaches, but none of them compares to the picturesque scenery and perfect surf conditions of Coolangatta. The Surfers Paradise skyline in the distance makes the views at Coolangatta really special. And those sunsets, oh wow!
And you know the beach is stellar when world-famous surfers come to Coolangatta every year for the annual Quiksilver Pro ASP World Surfing Tour event. You know guys like Kelly Slater, Mick Fanning, and Taj Burrow? Yeah, this is their playground. If this Australia beach is good for them, it surely is for the rest of us!
Four Mile Beach, QLD
Renowned as Port Douglas' most exquisite shoreline, the white and soft sand, gentle waves, and crystal clear waters of Four Mile Beach offer a tranquil experience. Here, you can bask in the Australian sun, unwind, and revel in the natural beauty.
Unfortunately, despite its inviting appearance, swimming at Four Mile Beach is not recommended due to the presence of stingers in the waters. It's advisable to avoid swimming without a stinger suit to protect yourself.
Catch the sunrise over the Coral Sea from the walking path's viewpoint, located above and behind the beach. Many people enjoy morning jogs along this beachfront path.
Byron Bay, NSW
Not only is Byron Bay one of the best Australia beaches, but it is also one of the best beaches in New South Wales. Now, we definitely have a soft spot for Byron Bay.
Not only does it have great food, unique shopping, laid laid-back atmosphere, and a great crowd, Byron Bay Main Beach is where Max and I got engaged back in 2015!
But even without this incredibly personal connection, Byron Bay Main Beach never disappoints.
With the views of mountains in the distance, this long stretch of sandy beach is a great place for a day in the sun, an afternoon stroll, or a romantic evening. When the sun goes down, the backpackers, out-of-town families, and locals can often be found mingling together, gathered around a few buskers with guitars, right there on the beach.
There is a certain sense of community here, and it's that feeling that draws many to come back to Byron Bay over and over again.
Bondi Beach, Sydney, NSW
It's not the natural beauty of Bondi Beach that landed it a spot on our list of the best beaches in Australia. It's not the great waves, beautiful surroundings, or the crystal clear turquoise water. It's the fact that Bondi Beach is truly the most famous of all of Australia's beaches and is an icon of Australian beach culture.
Bondi Beach is most definitely one of the best beaches in Sydney. In 2008, it was added to the Australian National Heritage List, and rightfully so. It was here that the world's first Surf Life Saving club opened its doors over 100 years ago, it was also here, in the early 1900's, that a series of bathing suit protests paved the way to the "bikini".
In more recent years, Bondi Beach has hosted a beach volleyball competition at the 2006 Summer Olympics, and has been the location for film festivals, environmental celebrations, and art exhibits. Bondi has also been a popular setting for many Australian TV Shows, including the Block, the Bondi Vet, and Bondi Rescue.
With a rating of 7 (10 being the most hazardous), the South end of the beach is reserved for surfers, while the North End's gentle rating of 4 attracts many visitors throughout the year. Surrounding the beach are plenty of cafes, making it a great spot for people watching all day long.
Manly Beach, Sydney
Manly Beach is where the Sydney beach locals escape to. It's not as crowded and touristy as Bondi, making it an attractive option to get away for a day.
Manly is one of the more laid-back Sydney beaches. It's clean and safe and is a particularly good option for those looking for a good place to go out on their first surf. There are plenty of activities on and around the beach, ranging from scenic coastal walks to kayaking and snorkelling.
Hyams Beach, Jervis Bay, NSW
Tucked away on the shores of Jervis Bay, Hyams Beach is another one in the running for best beaches in NSW. Hyams Beach is a popular holiday spot on the South Coast.
The beach is surrounded by beautiful natural attractions and is popular for diving, windsurfing, snorkelling, and kayaking. But it's the pristine white sands that landed Hyams Beach a mention in the Guinness World of Records, along with the crystal clear aquamarine waters, that draw many to this unspoilt piece of paradise.
Cable Beach, Broome, WA
Located in Western Australia, Cable Beach is an iconic, perfectly flat 22.5 km long stretch of beach. Cable Beach stretches down the coast of the Indian Ocean and is located near Broome in Western Australia. This is an ideal spot for walking, running, playing, swimming, sunray catching, and of course, camel riding. If riding a camel isn't your thing, you can explore the beach on foot or hire a 4WD to push further.
We don't know if it's the magnificent sunsets that are common to Cable Beach, the camel beach rides, or the fact that it's so remote and hard to get to, but something about this beach's dark blue waters of the Indian Ocean makes us want to hop on the plane and head there NOW!
Lucky Bay, WA
You might be familiar with a spot in Esperance, southern Western Australia, where kangaroos inhabit the beach. It's almost too incredible to believe, but it's true!
Lucky Bay isn't just the epitome of Australian charm; it's also located within Cape Le Grand National Park. Lucky Bay is famous not only for its kangaroos but also for being the Whitest Beach in Australia. The pure quartz soft white sand of this beach is so fine it kind of squeaks as you walk across it.
Offering views of this stunning coastline, the complete Cape Le Grand National Park Coastal Trail stretches for 15 km one way. However, you can easily break down the trail into shorter sections for day hikes. You can tackle two coastal hikes in a single day, from Lucky Bay to Thistle Cove, and from Thistle Cove to Hellfire Bay (round trip).
There's a campsite available at the bay, but it tends to fill up quickly, so make sure to check online and secure your reservation in advance. It's a highly sought-after spot for very good reasons.
Turquoise Bay, Exmouth, WA
Voted as the runner up on TripAdvisor's 2014 Readers Choice Award for the Best Beaches in the South Pacific, Turquoise Bay is one of the best examples of Australia's pristine clear waters and beautiful white sands.
The beach is known for fantastic coral and great snorkelling, particularly its famous drift snorkel. It's another hidden gem amongst the Western Australia beaches that's worth the trek across the country.
Elwood Beach, Melbourne
Elwood is arguably one of the best beaches in Melbourne, Victoria. Elwood is a popular spot for families as it offers clean, clear water. It's also one of the best beaches in Victoria for activities.
Try windsurfing or explore the area by cycling or walking. Elwood earns its title as one of the best beaches in Australia thanks to the community Beach Patrol, who look after the beach with regular clean-ups.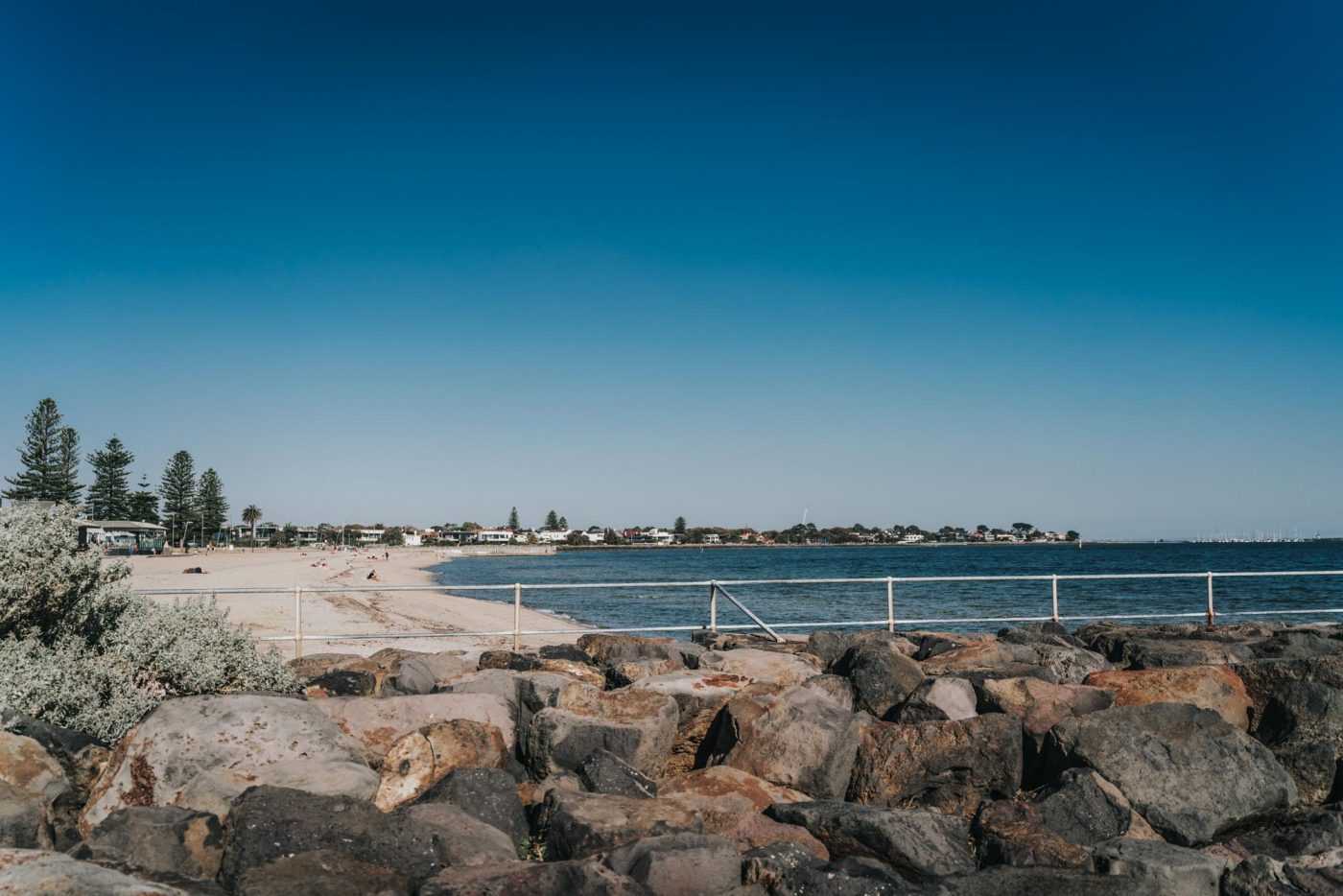 Squeaky Beach, Wilsons Promontory National Park, Victoria
Possibly the oddest named beach on our list of best beaches in Australia, Squeaky Beach is located in Wilsons Promontory National Park. It is not only one of the best beaches in Victoria but also one of the most beautiful Australian beaches.
It's named 'Squeaky Beach' because of the rounded grains of quartz sand that 'squeak' when you walk on them. Once you've got over the novelty of the squeaking, take a look around you and marvel at the amazing, clear blue waters and the granite boulders, creating a maze to be explored.
Bells Beach, Victoria
This list would be incomplete without Bells Beach, an iconic symbol of Australian surfing culture and the surf capital of Australia! Located just 100 km southwest of Melbourne or a 10-minute drive from Torquay on the Southern Ocean, Bells Beach is famous for its viewpoint and exceptional waves, drawing in both locals and tourists annually.
Swimming is safer in the gentle waves near the shore. However, waves break close to the beach, and the water deepens rapidly, so caution is advised, especially for weaker swimmers.
The cliff-top car park offers stunning views and is perfect for watching locals and pros ride the waves. Bells Beach features two significant point breaks: Rincon and The Bowl. It's best for experienced surfers who know how to deal with challenging conditions.
Cottesloe Beach, Perth
Cottesloe Beach will top many people's list for the best beaches in Perth and in the country. It's a popular holiday destination for locals and travelers from all over Australia and beyond.
With its pure white sand stretching for more than a kilometer, Cottesloe Beach is a popular spot for swimming, snorkelling and surfing. It's just a 30min drive from the centre of Perth, making it the perfect day trip to escape the bustling heat of the city.
Suttons Beach, Brisbane
When you first think of Brisbane, you'll likely see skyscrapers and urban life, but there is more to Brisbane than first meets the eye. Suttons Beach, located just 35km from the centre of the city, was named one of the best beaches in Brisbane in 2015 and its popularity continues.
It's one of the best beaches in Australia if you are visiting with kids in tow. There are a few, small waves which make it perfect and safe for swimming. They also have great picnic areas with barbeques for enjoying the day with family and friends.
Ned's Beach, Lord Howe Island
Last, but certainly not least on our list of Australian beaches is Ned's Beach on Lord Howe Island. Most travellers have never even heard of Lord Howe Island and we'll admit, it was only a few months ago that we discovered it for ourselves. Located about 600 km east of Port Macquarie, Lord Howe Island is a true Australian paradise.
It's listed as a World Heritage Site and is so secluded and exclusive that only 400 people are allowed on the island at once. Ned's Beach is the highlight of the island with its pristine clear waters and a deserted strand of perfectly golden sand. If that's not enough, Ned's Beach is also home to an amazing diversity of coral, fish, and marine life, making it a great destination for divers!
Wineglass Bay, TAS
Imagine stunning turquoise waters and pristine white sand embraced by rugged mountains – that's the jewel of Tasmania's East Coast! It's around 2 to 2.5 hours from major Tasmanian cities. You'll be driving through beautiful rural landscapes, past wineries, and picturesque towns to get to this beautiful beach.
Hiking to the lookout points offers the best Wineglass Bay experience. You can go to the Freycinet Peninsula, which is a hub for outdoor activities like bushwalking, swimming, and kayaking.
In the evening, explore nearby Honeymoon Bay, ideal for picnics and sunsets. Rock climbing, diving, and biking are also popular activities here. For those of you who don't fancy the outdoors, you can sample the local wines and whiskey or harvest your own oysters for dinner.
The steep trail from Wineglass Bay lookout leads to the pristine beach. If hiking isn't your style, you can go for a Wineglass Bay Cruise. Simply enjoy the stunning coastal scenery of Freycinet National Park, turquoise waters, and granite cliffs from the boat.
Now it's your turn! What's your favourite beach in Australia?