Australia is home to thousands of beaches, and each one is more beautiful than the next. Over the last 2 years we've been to…well, a LOT of them! But if there is one thing we've learned about beach getaways in Australia, it's that it's not really about the beaches at all (unless you are an avid surfer searching for a particular surf break, in which case, feel free to disagree).
*This post may contain affiliate links, as a result, we may receive a small commission (at no extra cost to you) on any bookings/purchases you make through the links in this post. As an Amazon Associate, we earn from qualifying purchases. Read our full disclosure
The truth is, a perfect beach getaway is all about the beach town itself, its atmosphere, and most importantly, its vibe. So forget the list of Australia's best beaches, this is a list that really matters!
Our Favourite Beach Towns in Australia
1. Byron Bay, New South Wales
It's no surprise that Byron Bay tops our list of the Best Beach Towns in Australia. After all, it is probably the biggest and most well known beach town of them all. Byron is renowned for its surfing beaches, a great selection of activities, restaurants, and boutique shops, and its laidback lifestyle.
If you've been a Drink Tea and Travel reader for a while, you'll know that Byron Bay holds a special place in our hearts. It is the town that we love and cherish, a place where Max and I fell in love many years ago, and a place where we got engaged in 2014.
Traveling Soon?

Here is a list of our favourite travel providers and accessories to help get you ready for your upcoming trip!
If you're looking for an action-packed adventure in Byron Bay, look no further than Byron Bay Adventure Tours. They're an Ecotourism certified company that offers a wide range of tours in the area!
Despite the fact that Byron Bay remains one of the biggest tourist destinations in Australia, it doesn't seem to lose its charm, its small-town feel, and it's hippy surfer lifestyle. Sometimes, it's very busy and you will notice a massive unicorn raft made of many swimmers having a blast on the waves. Sometimes, you will get there and it will seem like no one is there, envying a semi-private session. This is the charm of this place. We recommend popping into the farmer's market for some locally grown, organic food options you can throw together for a picnic on the beach!
Recommended Tours in Byron Bay
Byron Bay Hinterland: National Park and Waterfalls Tour:

Enjoy a 2-hour guided rainforest walk to Minyon Falls, where you can take a swim and enjoy a locally sourced BBQ lunch before heading to the charming town of Bangalow.

Sea Kayak Tour with Dolphins & Turtles

: Kayak in Byron Bay marine reserve and make friends with bottlenose dolphins, spot sea turtles, and if you time it just right, maybe even see the migrating humpback whales.

Mount Warning Sunrise Walk:

Start with an overnight camping trip at the foot of Mount Warning National Park before an early start for a climb to see the sunrise. You'll have plenty of time to enjoy Mount Warning National Park and end the day around the campfire before falling asleep under the stars.
Accommodation in Byron Bay
Eco Beach Resort:

Just 5-minute walk from Belongil and Main Beaches, the Eco Beach Resort offers a solar-heated outdoor pool and self-contained suites.

EcOasis Resort:

Close to Byron Bay, and just 10 minutes from Mt. Warning is the EcOasis Resort, offering the most amazing views across the hinterland.

Byron Bay Rainforest Retreat:

This secluded resort is close to everything, but secluded for a relaxing retreat feel. It's just a 15-minute walk from the beach and close to the Byron Bay Markets.
2. Broome, Western Australia
Oh Broome, it's no secret that our recent trip to Western Australia has made us fall in love with this small coastal town in the middle of the Australian outback. Red dirt, white sand, crystal clear waters, beautiful sunsets, laidback lifestyle, tropical heat, and the air infused with the scents of frangipanis. What more could you ask for?
Recommended Tours in Broome
Broome Magical Morning Camel Tour:

No trip to Broome would be complete without a camel ride! This 40-minute tour along Cable Beach lets you take in the fresh morning air, the red sands, and the turquoise waters atop a friendly camel.

Half-Day Town Tour with Cable Beach Sunset:

Take in the best bits of Broome, including the dinosaur footprints and a dip in the sea at Riddell Beach, before enjoying the sunset.
Accommodation in Broome
Ramada Resort by Wyndham Eco Beach Broome: This

eco-friendly retreat offers beautiful villas and safari-style tents on a pristine beach. Guests can also enjoy an infinity pool and yoga classes, and if the season is right, there's even whale-watching.

Seashells Broome:

Settle into an apartment or bungalow nestled in tropical gardens, just 300 metre' from Cable Beach. They also have a number of social and environmental initiatives to support the local community.

The Courthouse:

This boutique Bed & Breakfast is located right in the heart of Broome's Chinatown and 4km from Cable Beach.
3. Cape Tribulation, Queensland
Cape Tribulation is a true hidden gem of Tropical North Queensland. Tucked away inside the Daintree National Park, it is the only place in Australia that offers a unique rainforest backdrop to the beautiful Cape Trib beach, providing travelers with a perfect combination of adventure and relaxation.
Here, you can spend the morning exploring the Daintree National Park, zipline through the lush green rainforest, or search for crocodiles on a boat cruise along the Daintree River. If you're looking for a sustainable tour option near the beach, Jungle Tours and Trekking offers trips both into the jungle and into the sea – this is a great option for solo travelers and families alike!
In the afternoon you can switch gears, relax, and kick back on the golden beach, soaking up the sun or snorkeling on the Great Barrier Reef that's easily accessible right off the beach. At night, the Jungle Bar buzzes with travelers and locals alike, setting the scene for a great end to a perfect day.
Recommended Tours in Cape Tribulation
Cape Tribulation, Daintree and Mossman Gorge Day Tour:

Take a day trip that includes the Mossman Gorge, a cruise along the Daintree River, a walk along Cape Tribulation beach, and a stop at Alexandra Lookout. Lunch and a stop at Daintree Ice Cream Company are included, too.

Daintree Rainforest Canopy Ziplining Tour:

Over the course of 2 hours, a professional guide will take you through five different canopies, from 7 metres to 16 metres. Courtesy of your guide, you don't need any previous ziplining experience, and all equipment will be provided.

Daintree Rainforest: Crocodile & Wildlife River Cruises:

Take a day tour to see the savannah, the wetlands, the grasslands, and the rainforest, and get a guided rainforest tour through the UNESCO World Heritage Site. You'll have a spectacular view of the Daintree River and the Coral Sea from Alexandra Lookout, and a cruise on the river will let you see the mangroves and crocodiles.
Accommodation in Cape Tribulation
Safari Lodge:

This Advanced Ecotourism Certified lodge is located in the rainforest region of Cape Tribulation, and it's just a 10-minute walk away from Myall Beach.

Daintree Rainforest Retreat Motel:

An eco-friendly and secluded retreat that's just a 25-minute drive from Cape Tribulation's centre and 45 minutes away from Port Douglas.

Epiphyte B & B:

Enjoy amazing views from your private balcony or patio. The B&B-style accommodation is just a 5-minute drive from the Cow Bay beaches.
4. Port Douglas, Queensland
If you can't make your way all the way to Cape Tribulation, then Port Douglas is another great beach town option. It is home to the beautiful 4 Mile Beach, a strip of palm-fringed white sand that hugs the coast around Port Douglas. Port Douglas also serves as an easy getaway to the Great Barrier Reef, which is located just an hour away by boat and offers easy access to activities in the Daintree National Park.
It's a great place to both sail and snorkel – and if you're looking to do either of those in an environmentally responsible fashion, check out Sailaway Port Douglas. On weekends the town buzzes with activities, from the Port Douglas Sunday Markets to live bands and Sunday sessions across town.
Recommended Tours in Port Douglas
Low Isles Glass Bottom Boat & Snorkeling Tour: Divers and snorkelers will get to see the Great Barrier Reef up close and personal. All of the equipment is supplied for the trip, and the guides and crew make sure it's the best and safest experience it can be.
Kuranda Scenic Railway and Palm Cove Tour: As a passenger, you'll ride the historic Kuranda scenic railway through the rainforest to the village of Kuranda, where you'll get the chance to appreciate Aboriginal art and artifacts up close. Afterwards, at Palm Cove, there will be plenty of opportunities for gorgeous photos of the scenery.
Kuranda Rainforest Full-Day Tour: From railway to skyrail to amphibious Duck vehicle, on this day trip you'll get to see every aspect of the Kuranda Rainforest. You'll learn about Aboriginal culture and rituals, and at the Koala & Wildlife Park, you'll get to see native wildlife up close.
Accommodation in Port Douglas
Ramada Resort by Wyndham Port Douglas:

Another eco-friendly spot by Ramada. The Port Douglas resort is just a 10-minute walk from Four Mile Beach.

Port Douglas Cottage & Lodge

: Centrally located, these luxury home-away-from-home accommodations are right in the heart of Port Douglas; you can reach Four Mile Beach in just 3 minutes!

Lazy Lizard Motor Inn: The Lazy Lizard is just a short stroll from many Port Douglas attractions, restaurants, sidewalk cafes, and shops. It's an easy stroll into the centre, or you can make use of their free bikes to explore the area.
5. Burleigh Heads, Queensland
It feels like Burleigh Heads has grown up and gotten a whole lot cooler right in front of our eyes. Burleigh Beach used to be nothing more than yet another beautiful beach on the Gold Coast, but over the last 3 years, it has sprouted into a new Byron Bay. It's been recognized as Queensland's cleanest beach for a few years in a row now, too!
Today it is buzzing with great coffee shops, organic restaurants, boutiques, and tons of local pop-ups at the weekly Sunday Markets. On the weekend the grassy area by the beach fills up with a young, hip crowd sprawled out on their picnic blankets, sipping on cider and listening to pop-up live bands. It's chilled out and it is absolutely charming!
Recommended Tours in Burleigh Heads
Currumbin Wildlife Sanctuary Ticket & Koala Photo:

You can get your photo taken cuddling a koala, feed a kangaroo, or simply explore the sanctuary's 27 hectares. There are Aboriginal performances and 13 daily keeper shows, to teach you all you could want to know about the sanctuary and the wildlife living there.
Accommodation in Burleigh Heads
Boardwalk Burleigh Beach:

Located right on the beach, you'll only be a short walk from the restaurants and cafes and just a short drive from the other main Burleigh Heads attractions. You'll have access to a pool and a hot tub, and the views are a sight to behold.

Timbertop for Life:

This comfortable homestay is just 6 km from Currumbin Wildlife Sanctuary. You can take the free bikes for a spin, or simply enjoy the garden and mountain views.

Burleigh Mediterranean Resort: Located along one of the best surf beaches at North Burleigh, the luxury self-appointed accommodation is conveniently close to trendy shops, cafés, and restaurants. You can take advantage of the pools, the spa, the sauna, or the gym, or enjoy a barbecue on the roof.
6. Yamba, New South Wales
Yamba, a coastal town in the Northern Region of New South Wales, is a town that took us by surprise. What used to be a small fishing town is now one of the locals' favourite (and ours too!) It's become famous for great surf breaks, beautiful beaches, and a place to spot whales between May and October. It is still tiny (population of just 6,000) and chilled out, but offers everything you need for a perfect beach getaway.
Accommodation in Yamba
Deck House:

With enough space for eight people and just a short drive from Yamba Marina, Yamba Lighthouse, or the beach, this vacation home has everything necessary to be the ideal home-away-from-home.

Adrift Apartments:

This motel is within easy walking distance of the beach and several Yamba attractions and with all the amenities needed for a comfortable stay.

Aston Motel Yamba:

This motel is located right across from Lions Park, and it's within easy walking distance of plenty of shops and restaurants. It even has balconies and patios with garden views that are well worth a look.
7. Port Macquarie, New South Wales
Port Macquarie seems to really have it all. How does one small town pack so much punch? It is home to 17 different beaches, a Wildlife Park, a Nature Park, a Rainforest Centre, one of the oldest churches in Australia, and lots of activities on Hastings River.
Port Macquarie is a great place to give surfing a go, explore rock pools, spend an afternoon kayaking, or explore the beautiful coastline on a 9km Coastal Walk. It may not be a haven for nightlife, but it's the kind of place where you can still find backpackers gathering on the beach and sharing travel stories over a few beers. What's not to love?
Recommended Tours in Port Macquarie
Speedboat Ocean Cruise: On one of NSW's fastest ships, experience Hastings River and the shore. Head south for the amazing view, Nobby's Caves, and the lighthouse. If the season's right, you may even see whales, dolphins, and turtles.
Billabong Koala and Wildlife Park: Spend the day at the award-winning Billabong Zoo, where you can learn about the lives the animals, the zoo's conservation efforts, and what you can do to help the endangered species there. There are 16 keeper talks throughout the day, as well as opportunities to interact with several animals.
Eco River Cruise with Dolphin Spotting: In 2 hours on this flat-bottom boat, you will oyster farms and the wildlife in the sky, on the shore, and in the water. You can stay cozy inside, or take advantage of the view from the deck. If you're lucky, you might even spot some dolphins.
Accommodation in Port Macquarie
Ana Mandara Luxury B&B: Whether it's because of the short drive to the marina or the view of the Hastings River off the balcony, this comfortable, charming B&B is sure to steal your heart.
Flynns On Surf Beach Villas: From these villas, you're just a 5-minute walk from Macquarie Nature Reserve and the Port Macquarie Koala Hospital, just a 2-minute walk from the beach, and less than 2 miles from Port Macquarie's town center. There are a pool and barbecue facilities, and a tour desk on-site to make the most out of your stay.
Ocean Breeze Motel: From this motel, it's easy to take advantage of the ocean view, either from the motel or from up close, as it's just a short walk to Oxley Beach.
8. Bicheno, Tasmania
Bicheno isn't buzzing with surfer dudes and hippies, it doesn't have great nightlife (there is only 1 pub in town), boutique shops, or great restaurants, and its mild climate (average maximum of 21°C in the summer) means you can't really take advantage of the beautiful beach, either.
But Bicheno is a great little town and a haven for adventurous travelers, offering everything from deep sea fishing and penguin tours (check out this tour option – they put the welfare of the penguins first!) to scenic walks and motorcycle adventures. Its ideal location makes Bicheno a perfect destination for those looking to experience the Freycinet National Park without paying the inflated prices in Swansea or Coles Bay.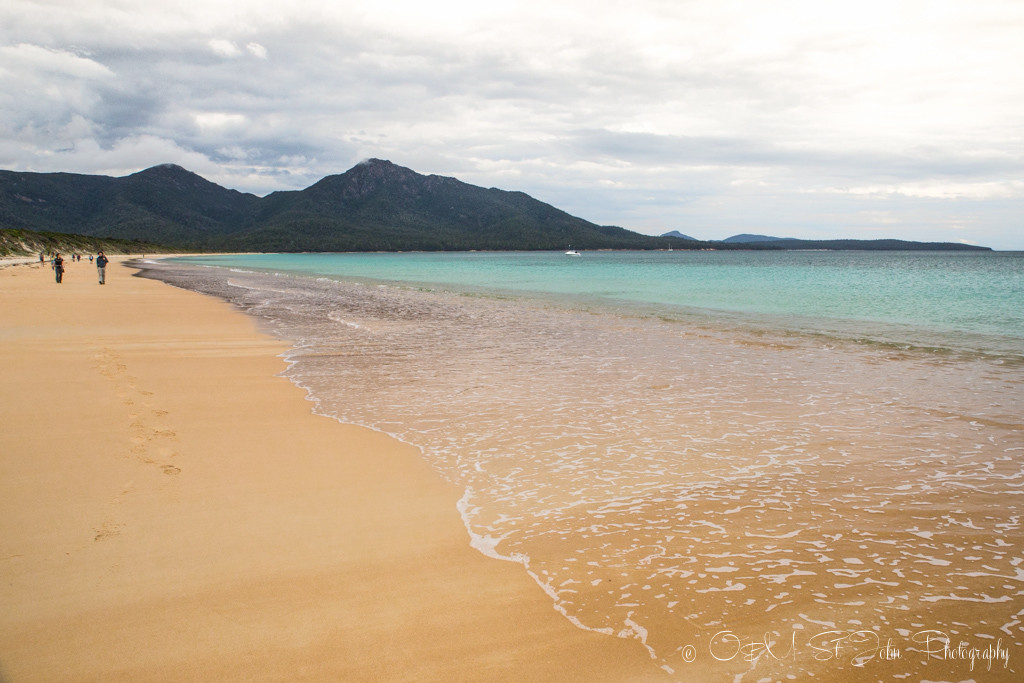 Recommended Tours in Bicheno
Coastal Mountain Half-Day Tour: With a professional guide, you'll see the best features of Bicheno, from the Blow Hole to the Whalers lookout to the Douglas-Apsley National Park. Wind your way along the roads and the shore, take in the scenery of Four Mile Creek, and finish the afternoon with a good drink.
Freycinet National Park:

You can't go wrong with a tour that starts on Friendly Beaches. Take in the shores and the cliffs, and the boulders made of pink and blue granite as you go from Bluestone Bay to Whitewater Wall and the Tasman Sea. If you keep an eye open, you might even spot a whale or a white-bellied sea eagle.
Accommodation in Bicheno
Bicheno Cabin Park: You'll be comfortable for your stay, and well-placed for whatever you want to do, as the resort has a tour desk on-site, and easy access to golfing, snorkeling, and windsurfing. It's even within walking distance of several restaurants and cafes, Tasman Sea, and Bicheno Beach, and just a short drive from Apsley River.
Harvey Farm Lodge: If the gardens and ocean views don't do it for you, then the location will, as these apartments are within a mile of the beach and several restaurants.
Apartments on Fraser Bicheno: Each unit comes with a balcony and full amenities, and you'll be well-placed to make the most out of your day. Whalers Lookout, Bicheno Beach, and several restaurants are all just a short walk away.
Like this post? Pin it for later!
Is your favourite beach town on the list?