*This post may contain affiliate links, as a result, we may receive a small commission (at no extra cost to you) on any bookings/purchases you make through the links in this post. As an Amazon Associate, I earn from qualifying purchases. Read our full disclosure.
Australia is home to thousands of beaches, and each one is more beautiful than the next. Over the last 2 years we've been to…well, a LOT of them! But if there is one thing we've learned about beach getaways in Australia, it's that it's not really about the beaches at all (unless you are an avid surfer searching for a particular surf break, in which case, feel free to disagree).
The truth is, a perfect beach getaway is all about the beach town itself, its atmosphere, and most importantly, its vibe. So forget the list of Australia's best beaches, this is a list that really matters!
Our Favourite Beach Towns in Australia
1. Byron Bay, New South Wales
It's no surprise that Byron Bay tops our list of the Best Beach Towns in Australia. After all, it is probably the biggest and most well known beach town of them all. Byron is renowned for its surfing beaches, a great selection of activities, restaurants, and boutique shops, and its laidback lifestyle.
If you've been a Drink Tea and Travel reader for a while, you'll know that Byron Bay holds a special place in our hearts. It is the town that we love and cherish, a place where Max and I fell in love many years ago, and a place where we got engaged in 2014.
If you're looking for an action-packed adventure in Byron Bay, look no further than Byron Bay Adventure Tours. They're an Ecotourism certified company that offers a wide range of tours in the area!
Despite the fact that Byron Bay remains one of the biggest tourist destinations in Australia, it doesn't seem to lose its charm, its small-town feel, and it's hippy surfer lifestyle. Sometimes, it's very busy and you will notice a massive unicorn raft made of many swimmers having a blast on the waves. Sometimes, you will get there and it will seem like no one is there, envying a semi-private session. This is the charm of this place. We recommend popping into the farmer's market for some locally grown, organic food options you can throw together for a picnic on the beach!
Recommended Tours in Byron Bay
Accommodation in Byron Bay
2. Broome, Western Australia
Oh Broome, it's no secret that our recent trip to Western Australia has made us fall in love with this small coastal town in the middle of the Australian outback. Red dirt, white sand, crystal clear waters, beautiful sunsets, laidback lifestyle, tropical heat, and the air infused with the scents of frangipanis. What more could you ask for?
Recommended Tours in Broome
Accommodation in Broome
3. Cape Tribulation, Queensland
Cape Tribulation is a true hidden gem of Tropical North Queensland. Tucked away inside the Daintree National Park, it is the only place in Australia that offers a unique rainforest backdrop to the beautiful Cape Trib beach, providing travelers with a perfect combination of adventure and relaxation.
Here, you can spend the morning exploring the Daintree National Park, zipline through the lush green rainforest, or search for crocodiles on a boat cruise along the Daintree River. If you're looking for a sustainable tour option near the beach, Jungle Tours and Trekking offers trips both into the jungle and into the sea – this is a great option for solo travelers and families alike!
In the afternoon you can switch gears, relax, and kick back on the golden beach, soaking up the sun or snorkeling on the Great Barrier Reef that's easily accessible right off the beach. At night, the Jungle Bar buzzes with travelers and locals alike, setting the scene for a great end to a perfect day.
Recommended Tours in Cape Tribulation
Accommodation in Cape Tribulation
4. Port Douglas, Queensland
If you can't make your way all the way to Cape Tribulation, then Port Douglas is another great beach town option. It is home to the beautiful 4 Mile Beach, a strip of palm-fringed white sand that hugs the coast around Port Douglas. Port Douglas also serves as an easy getaway to the Great Barrier Reef, which is located just an hour away by boat and offers easy access to activities in the Daintree National Park.
It's a great place to both sail and snorkel – and if you're looking to do either of those in an environmentally responsible fashion, check out Sailaway Port Douglas. On weekends the town buzzes with activities, from the Port Douglas Sunday Markets to live bands and Sunday sessions across town.
Recommended Tours in Port Douglas
Accommodation in Port Douglas
5. Burleigh Heads, Queensland
It feels like Burleigh Heads has grown up and gotten a whole lot cooler right in front of our eyes. Burleigh Beach used to be nothing more than yet another beautiful beach on the Gold Coast, but over the last 3 years, it has sprouted into a new Byron Bay. It's been recognized as Queensland's cleanest beach for a few years in a row now, too!
Today it is buzzing with great coffee shops, organic restaurants, boutiques, and tons of local pop-ups at the weekly Sunday Markets. On the weekend the grassy area by the beach fills up with a young, hip crowd sprawled out on their picnic blankets, sipping on cider and listening to pop-up live bands. It's chilled out and it is absolutely charming!
Recommended Tours in Burleigh Heads
Accommodation in Burleigh Heads
6. Yamba, New South Wales
Yamba, a coastal town in the Northern Region of New South Wales, is a town that took us by surprise. What used to be a small fishing town is now one of the locals' favourite (and ours too!) It's become famous for great surf breaks, beautiful beaches, and a place to spot whales between May and October. It is still tiny (population of just 6,000) and chilled out, but offers everything you need for a perfect beach getaway.
Accommodation in Yamba
7. Port Macquarie, New South Wales
Port Macquarie seems to really have it all. How does one small town pack so much punch? It is home to 17 different beaches, a Wildlife Park, a Nature Park, a Rainforest Centre, one of the oldest churches in Australia, and lots of activities on Hastings River.
Port Macquarie is a great place to give surfing a go, explore rock pools, spend an afternoon kayaking, or explore the beautiful coastline on a 9km Coastal Walk. It may not be a haven for nightlife, but it's the kind of place where you can still find backpackers gathering on the beach and sharing travel stories over a few beers. What's not to love?
Recommended Tours in Port Macquarie
Accommodation in Port Macquarie
8. Bicheno, Tasmania
Bicheno isn't buzzing with surfer dudes and hippies, it doesn't have great nightlife (there is only 1 pub in town), boutique shops, or great restaurants, and its mild climate (average maximum of 21°C in the summer) means you can't really take advantage of the beautiful beach, either.
But Bicheno is a great little town and a haven for adventurous travelers, offering everything from deep sea fishing and penguin tours (check out this tour option – they put the welfare of the penguins first!) to scenic walks and motorcycle adventures. Its ideal location makes Bicheno a perfect destination for those looking to experience the Freycinet National Park without paying the inflated prices in Swansea or Coles Bay.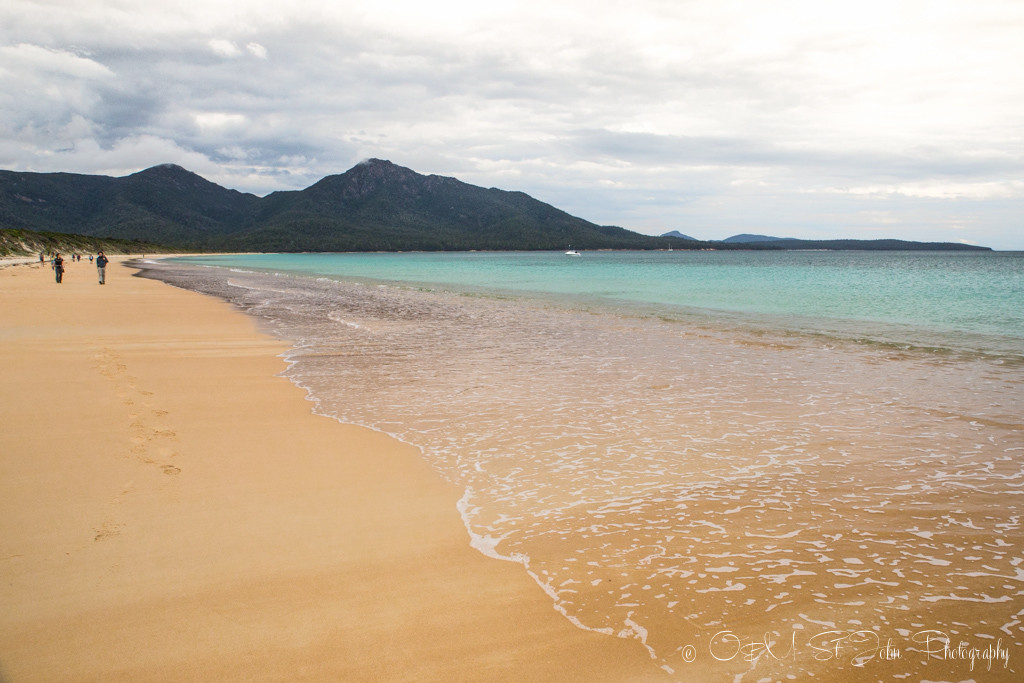 Recommended Tours in Bicheno
Accommodation in Bicheno
Like this post? Pin it for later!
Is your favourite beach town on the list?