Van life is synonymous with freedom and having a view of the great outdoors as your ever-changing backyard. But let's face it, camper vans aren't exactly bursting with room.
*This post may contain affiliate links, as a result, we may receive a small commission (at no extra cost to you) on any bookings/purchases you make through the links in this post. As an Amazon Associate, we earn from qualifying purchases. Read our full disclosure
Expanding your living area with a protected outdoor space is a great way to double your living space. The best way to do this? Adding a camper awning to your van conversion!
Awnings for campervans are ideal for outdoor kitchens or a place to relax in the shade on a hot day. They protect you from the rain, sun, and wind while creating extra space to enjoy the outdoors.
There are lots of different campervan awnings for sale, from canopy awnings to drive-away awnings, all with their own pros and cons. To spare you the research, here is a complete guide to buying an awning with our picks for the best campervan awnings around.
Traveling Soon?

Here is a list of our favourite travel providers and accessories to help get you ready for your upcoming trip!
Tips on Selecting a Camper Van Awning
What is the Best Type of Awning – 360 vs. 270 vs. 180 degree?
These numbers describe the amount of coverage the awning will have. A 180 degree awning is your typical rectangular shape that's usually top or side-mounted onto a van. Meanwhile, a 270 degree awning is more like a ¾ circle shape, providing outdoor space that wraps around your van. And lastly, a 360 degree awning is like a giant umbrella for your camping vehicle that provides full 360° coverage.
Self Retracting vs. Manual vs. Air Campervan Awnings
A self-retracting awning is usually permanently mounted and will simply slide back in with the push of a button. These are especially popular on motorhomes and RVs. A manual awning functions the same way but needs to be controlled by a hand crank—a more budget-friendly option. And alternatively, inflatable awnings are popular with drive-away awnings and work similarly to an inflatable tent.
Is it Self Standing or Does it Need Additional Support?
Self-standing awnings for campervans don't need poles on the ground because they use guy ropes or spring-loaded tension arms for support. They're easy to set up but are often more expensive. Generally, most awnings for vans use telescopic legs and anchoring systems to create a sturdy structure.
How Do You Plan on Mounting the Awning?
Permanently mounted awnings can attach to roof racks, stock roof bars, or above your side doors. You'll need heavy-duty mounting brackets and the right mounting hardware to keep it in place. Meanwhile, portable awnings can easily attach to most roof racks. Some, like the Moonshade awning, can even be mounted with suction cups.
What Type of Weather Protection Do Camper Van Awnings Offer?
Depending on the type of van awning you go for, weather protection can be an added perk. Some are UV protected, while others can hold up to high winds and heavy rain.
How Much Do You Want to Spend?
Camper awnings often come with a hefty price tag, ranging between USD $300-$2,000. Figuring out your needs is important so you can establish a budget. Some fancy awning features are cool, but not always necessary.
FAQs: Awnings for Campervans
Can you sleep in a campervan awning?
No, camper van awnings are meant to be mounted to your van like an extra roof. Consider a van awning tent if you're looking for a sleeping solution.
How do awnings fit to campervans?
First, you'll need to choose the right size awning based on the length and height of your van. Then it can be mounted to the side of your campervan or roof rack, or set up temporarily.
Are drive away awnings any good?
A drive-away awning is a great way to add extra floor space that's sturdy and protected from the elements. They're great for detaching and leaving for the day to go explore without having to re-assemble.
Best Camper Van Awnings to Consider
Thule Awning
The Thule Hideaway Awning is a manual crank awning that can be side or roof-mounted. It's easy to install and set up, even for one person. There are versions for larger vans and smaller vans and the mounting poles are built right into the unit. It's one of the best van awnings because it's lightweight, easy to use, and versatile. But of course, those features come with an expensive price tag starting at USD $1000, available worldwide.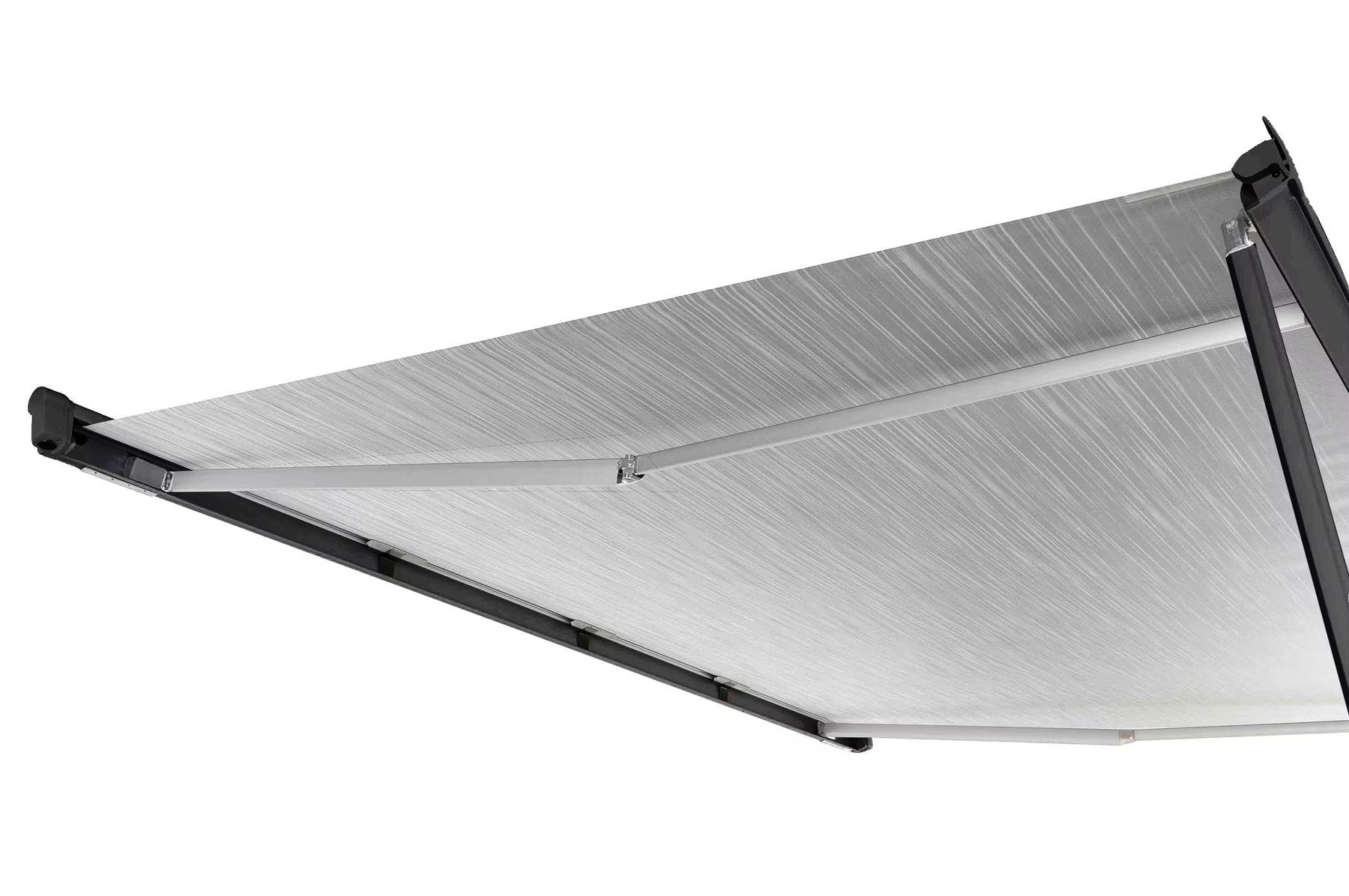 Dometic
Dometic RV awnings are popular options for drive-away awnings with inner tents. The Rally Air Pro 330 provides a ton of extra room that can double your interior space. The campervan awning tent is inflatable for easy setup and made from weather-resistant fabric. It's not the cheapest model at USD $1,960, but a Dometic awning is something you can get worldwide.
Fiamma
Fiamma makes compact lightweight awnings for camper vans that are super durable and convenient. In particular, the Fiamma F45s has shock-absorbing brackets to withstand the wind and built-in LED lights. It has a UV stabilized cover that's waterproof and easy to roll in with a manual winch. Like other awnings, it's not exactly cheap but has great features that are worth the USD $800-$1,300 price.
Hasika Versatility Teardrop Awning
If you're looking for an affordable awning for van conversions, the Hasika Versatility Teardrop Awning is a great option. It fits any size van and easily attaches with guy lines and adjustable poles. The teardrop-shaped van canopy creates enough space for a table and chairs that's protected from rain and sun. While it's much cheaper at USD $140, it's less durable than others but still an excellent portable option readily available on Amazon.
Kings
If you're in Australia, Kings makes a range of motorhome awnings and awning tents for campervans. They're just as easy to set up as they are to pack away and work with any sturdy roof rack. The fabric is UV-protected, waterproof, and super lightweight for all Aussie conditions. Prices range from AUD $130-$550 (USD $90-$400) for a 270° wrap awning.
Ridge Ryder
Another Australian pick, Ridge Ryder makes affordable awnings for van conversions, SUVs, and truck campers. They're easy to set up on your roof rack or bars and are super lightweight. The fabric is waterproof but doesn't have a UV coating for hotter days. It's also not as heavy-duty as others but you can pick one up for AUD $200-$300 (USD $140-$215).
Darche Eclipse 270 Awning
Looking for more coverage than a regular campervan awning? The Darche Eclipse 270 Awning is perfect for providing shade on multiple sides of your van. It's designed to be easily set up by one person with three telescopic legs and guy lines. You'll have shade in no time and can add additional walls to shield your living space like a tent. The only drawback is the price at AUD $1400 (USD $1000). Darche awnings are available in Australia and New Zealand.
OzTent
These awning tents are designed to be set up by one person in less than 30 seconds. The OzTent comes in different sizes based on your campervan and how much extra room you need.
Their Foxwing 270° Awning wraps your vehicle for weatherproofing and sun protection. It's easy to set up and available in the USA and Australia for AUD $979 (USD $700). This is the awning we used on our campervan in Australia during our half-lap adventure in 2021. The setup was easy, the sun and wind protection was good, and we were overall very happy with our choice of Foxwing 270° awning.
XTM
XTM makes awnings for campervans very similar to Kings and Ridge Ryder models. They're made from UV weather-resistant fabric that mounts onto your roof rack with L brackets. They easily pack into the PVC storage bag so you can leave it mounted when you're not using it. Just like the other two, they're not the most durable, but offer a great compact option, especially for small vans. XTM awnings are available in Australia for around AUD $200 (USD $140).
23ZERO
Easy enough for one person set up, the Peregrine 270 Awning from 23ZERO provides excellent 270° coverage. The fabric has Light Suppression Technology which helps to reduce the temperature by 20% and prevent sunburns. The camper van awning can attach to your roof rack and is completely freestanding. These great features do come at a price of USD $1000 and are available in Canada, USA, and Australia.
ARB
Likely the best campervan awning for smaller vans, the ARB awning is affordable and durable. It's a great retractable van awning with waterproof UV protection and adjustable height settings. It can be attached to most roof racks or bars and packs into a durable PVC bag. Just keep in mind that it's better for lower roof vans since there's no hand crank. The ARB Touring Awning is just USD $230 or $400 with built-in LED awning lights, available worldwide.
Front Runner Outfitters
Front Runner Outfitters' Easy-Out Awning comes in three different sizes for any medium-height vehicle. This isn't your pick for a raised roof Sprinter, but it's great for a lower roof. It mounts to your roof rack and is water repellent, UV-resistant, and ultra-lightweight. It's not super heavy duty and isn't waterproof but will only cost USD $350. Front Runner ships internationally.
Rhino-Rack
Rhino-Rack's side and 270° Batwing awnings are ready to provide shade wherever you need it. The Batwing makes for easy setup and takedown with 11 sqm (118 sq ft) of shade covering. The legs are adjustable and the lightweight fabric is water-resistant with a UV50+ rating. Rhino-Racks are a little pricey at USD $840 for a Batwing, but you can snag a side-mounted Sunseeker for USD $350. Rhino-Racks are available worldwide.
Yescom Car Side Vehicle Awning
An affordable option for your van life budget is the Yescom Awning. It's easy to install on any vehicle or campervan and is made from water-resistant UV-protected fabric. The poles easily twist to extend and lock in place with guy ropes. For the low price of USD $170, it's expectedly not the most durable but still great for extra shade.
Carefree
A Carefree RV awning is a luxurious choice for a campervan canopy. Carefree makes a line of electric awnings that mount to the side or roof of your motorhome or campervan. They're the absolute easiest to operate since a 12V electric motor does all the work but they're more geared for RVs. They're made from vinyl fabric, which is much heavier than lightweight nylon conversion van awnings. Prices are USD $600-$1500 depending on size and features in the US.
What's your take on awnings for campervans? Would you prefer a permanent or drive-away awning?