Australia is the perfect honeymoon destination. The huge country is home to some of the most incredible landscapes and unique experiences in the world. From it's stunning pristine beaches to lush rainforests and wildlife havens, to the trendy cosmopolitan cities and wine regions, Australia is home to some of the best romantic getaways.
*This post may contain affiliate links, as a result, we may receive a small commission (at no extra cost to you) on any bookings/purchases you make through the links in this post. As an Amazon Associate, we earn from qualifying purchases. Read our full disclosure
The expansive country has plenty of destinations to offer all kinds of couples, whether you're looking for a completely relaxing and indulgent honeymoon or prefer to get moving and explore the various national parks.
Australia really is a once in a lifetime kind of trip, which makes it the perfect place for your honeymoon.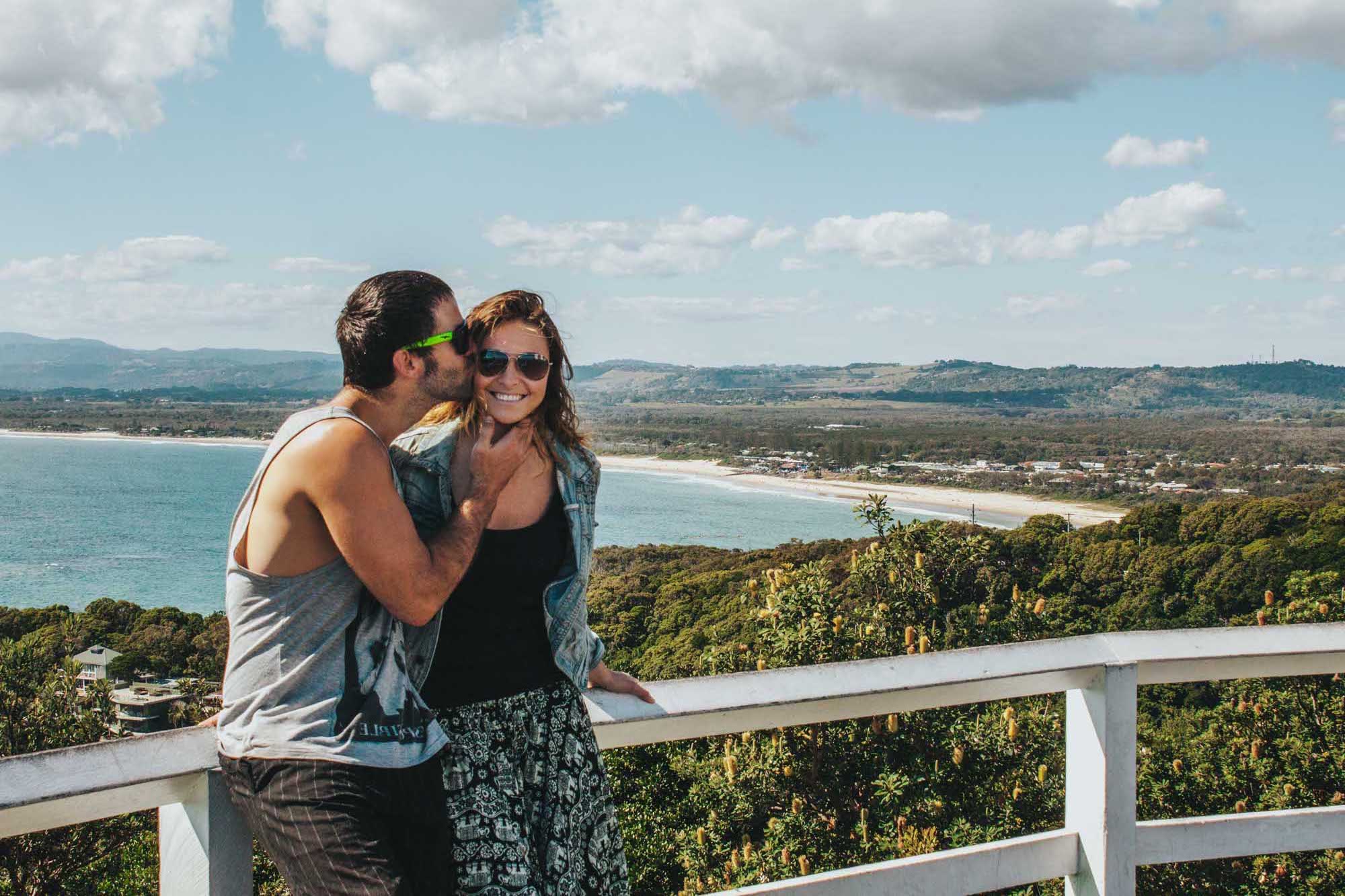 Traveling Soon?

Here is a list of our favourite travel providers and accessories to help get you ready for your upcoming trip!
Best Time To Visit Australia For Honeymoon
Australia has different climate zones from south to north, meaning that there is a place to visit no matter what time of the year you plan your honeymoon trip to Australia.
The best time to visit Australia really depends on where you plan on visiting and what you want to see.
The cooler winter months from May until September is the best time to visit the central and northern parts of the country. It remains warm and pleasant at this time in the Northern Territory, Queensland and the top half of Western Australia.
The hot summer months from November until March is when the southern half of the country comes to life with great weather for enjoying Victoria, New South Wales, Tasmania, South Australia and parts of Western Australia.
Best Destinations for Australian Honeymoon
The Whitsundays
The stunning Whitsunday Islands in Queensland are a paradise for beach lovers. This archipelago of 74 islands has crystal clear azure waters, white sand beaches and awe-inspiring sunsets. It's a dream location for a Queensland honeymoon. The luxurious islands not too far from the Great Barrier Reef are one of the best honeymoon places in Australia.
Hamilton Island is the largest and most popular island for all sorts of travelers, whereas Hayman Island and Daydream Island are more secluded, resort islands.
Things to do on the Whitsunday Islands
Snorkelling or scuba diving

is one of the most popular activities with day trips to the incredible Great Barrier Reef.

Enjoy the beaches! The islands also have some of the most pristine beaches in Australia and you can easily spend your days lounging on the sand.

Watch the sunset. The sunsets here are beautiful and part of what makes the islands one of the most romantic places in Australia.
Where to Stay in the Whitsundays
Daydream Island Resort – An incredible resort with 280 modern rooms offering beautiful views over the pool, the resort area or the turquoise waters of the sea. They have resident marine biologists who look after the surrounding reef so you can learn from them with hands-on experiences.
How to get there: Located off the coast of northern Queensland, Airlie Beach on the mainland is the central transport hub with domestic flights to major cities. Otherwise, you can catch a domestic flight directly to the island's main airport on Hamilton Island. The nearest international airports are at Townsville and Cairns to the north or Brisbane to the south.
Sydney and Surrounding Areas
Sydney is a beautiful cosmopolitan city with a stunning harbour, fun beaches and thriving nightlife. You'll never be short of something to do on a Sydney honeymoon.
However, part of the appeal of visiting the city is it's close proximity to some of New South Wales' beautiful natural landscapes and Hunter Valley wine country. You could easily decide to spend your romantic escape in the Blue Mountains or Hunter Valley, if you preferred more secluded Australian honeymoon destinations away from the bustling city.
Things to do in Sydney
Explore the

popular city attractions

like the

Harbour Bridge

and

Opera House

by a romantic sunset boat tour.

Head to the

Blue Mountains

for some hiking and relaxing amidst stunning landscapes.

Drive north of Sydney to the

Hunter Valley

for winery hopping and some indulgence.
Where to Stay in Sydney
Lilianfels Blue Mountains Resort & Spa – Set right on the edge of the Blue Mountains, this old heritage style resort has a pool and spa, as well as stunning views of the escarpment in the distance. It's close to walking trails and lookouts making it perfect for exploring the area.
How to get there: Sydney's International Airport is one of the largest in the country. From there, the best way to explore the city and surrounding areas is by renting a car for the ultimate freedom.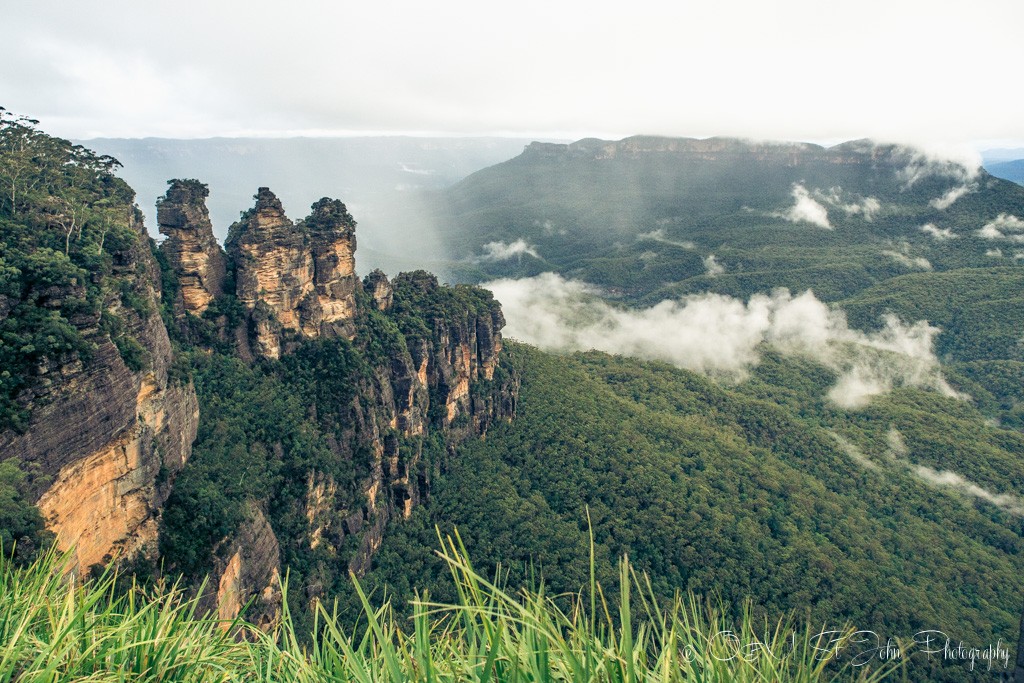 Tasmania
Tasmania is perhaps the most underrated destination in Australia and one of the best Australia honeymoon destinations. The small island at the southern end of the country has incredibly stunning raw beauty with a large number of national parks and protected areas.
It's one of the best Australian honeymoon destinations for lovers of the great outdoors.
Although it's small, Tasmania offers a variety of things to do and see across the whole island. Hobart, the state's capital, is perfect for a city retreat or you can choose to base yourself in a more secluded part of the island.
Things to do in Tasmania
Explore

Freycinet National Park

north of

Hobart

, a remote place of insane wild beauty with highlights being the secluded

Wineglass Bay

and a series of jagged peaks known as

The Hazards

.

Visit

Cradle Mountain

for some of the most beautiful hiking trails in the country.

Wander the stalls of the

Salamanca Market

in Hobart for handmade products and locally produced goods.
Where to Stay in Tasmania
Freycinet Resort – This stunning eco-certified retreat is right in the wilderness of the national park with 10 villas on offer. The resort has an incredible 360 degree view of The Hazards and the Tasman Sea. The resort was built with the intention of restoring the surrounding land after decades of logging and now the immediate area has become a wildlife haven with hiking trails.
How to get there: Hobart and Launceston have airports with direct flights to most Australian cities. You can also take a ferry across from Victoria.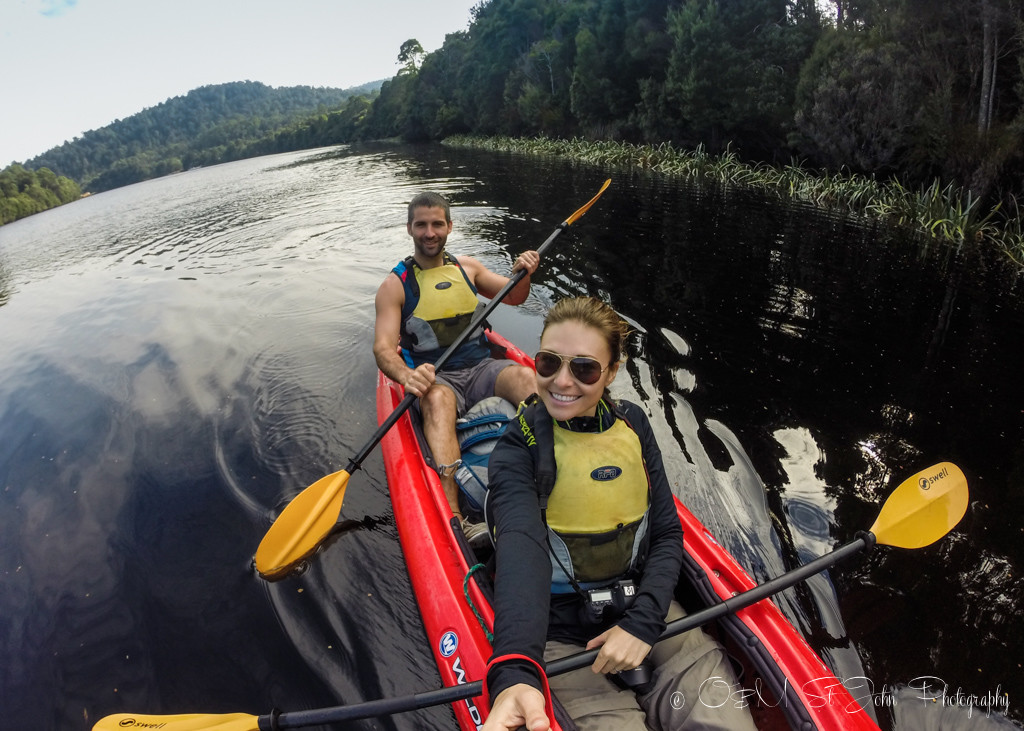 Northern Queensland
The northern half of the large state of Queensland offers plenty of Australian honeymoon destinations for adventurous couples. From beautiful beaches around Cairns and the Great Barrier Reef to the dense, wildlife haven of the Daintree Rainforest, there's a variety of places to explore.
It's best to have a real sense of adventure and hire a car to take you into the various national parks and secluded coastal areas, if you want to explore. Although a relaxing beach honeymoon in Australia in Port Douglas is equally enticing.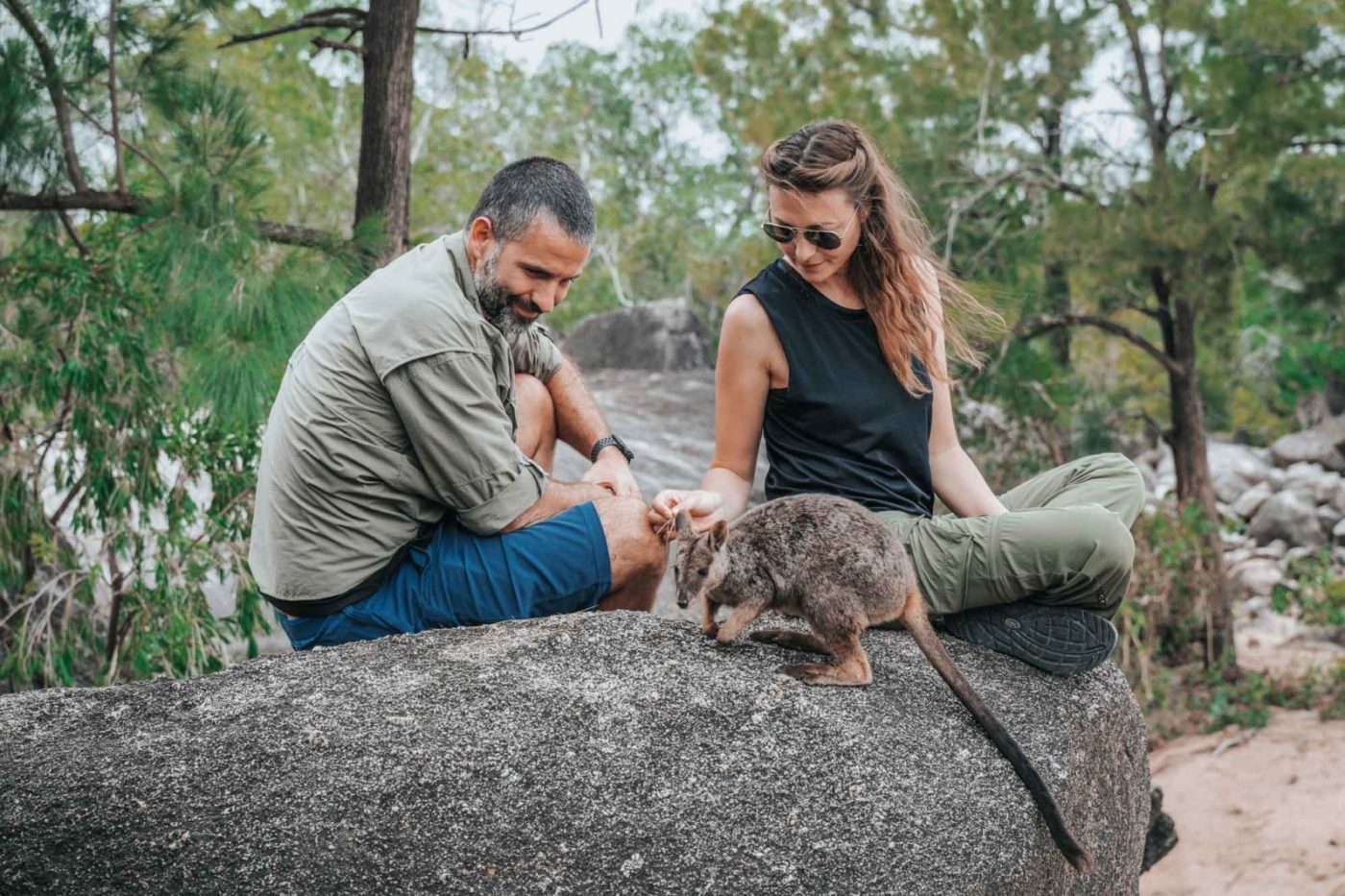 Things to do in Northern Queensland
Get adventurous around

Cairns

and go hiking, skydiving or scuba diving around the North Queensland city

Atherton Tablelands

near Cairns is a beautiful place of waterfalls and green rolling hills for some hiking

The

Daintree Rainforest

north of Cairns is one of the best places in the state for

wildlife

encounters

Port Douglas

is the perfect place for a romantic Australia honeymoon with the coastal resort town close proximity to the beautiful Great Barrier Reef
Where to stay in Northern Queensland
Riley Resort – A new modern hotel right on the esplanade in Cairns, they have over 300 rooms, many of which have stunning ocean views. The resort is part of the Crystalbrook Collection which takes responsible luxury seriously with a plastic-free policy across the hotel and restaurant as well as utilizing solar energy and their own cruelty-free farms for their meat and produce.
How to get there: Northern Queensland has international airports at Cairns and Townsville as well as airports further south at the Gold Coast and Brisbane.
Kangaroo Island
Kangaroo Island, off the mainland of South Australia, is one of the most romantic Australian getaways. Over a third of the island is a protected reserve and it's home to a number of native wildlife like kangaroos, sea lions and koalas. The secluded nature of the island as well as its idyllic beaches and coastline, make it one of the best honeymoon spots in Australia.
Things to do on Kangaroo Island
Get active together by hiking on one of the many trails on the island.
Kangaroo Island is also a top gourmet destination and you can enjoy plenty of food and wine tastings at local wineries.
Explore Flinders Chase National Park at the western end of the island, which is home to a wide variety of native wildlife.
Where to Stay in Kangaroo Island
Ecopia Retreat – They offer two bespoke luxury villas built in the middle of a 60-hectare natural wilderness. Intricately designed to be eco-friendly, the villas use 100% rainwater and off-grid solar power energy.
How to get there: There are domestic flights directly to Kangaroo Island's main airport Kingscote Airport. The nearest international airport is just a 30-minute flight away in Adelaide. There is also a daily ferry connection from the island to Cape Jervis on the mainland.
Barossa Valley
Barossa Valley is a world-renowned wine-producing region in South Australia. With charming guesthouses and perfectly manicured vineyards, it has to be one of the best Australian honeymoon destinations. It's easy to spend a few romantic days here indulging in world-famous food and wine.
Things to do in Barossa Valley
Wine tasting

is, of course, the main activity in Barossa Valley and there's nothing better than cellar door hoping your day around the region

Dine

at some of the best wineries in the valley and taste the exquisite local produce
Where to Stay in Barossa Valley
The Villas – The recently constructed accommodation has two villas available which were built with complete sensitivity to the environment and reflect the natural bush setting. The owners have a robust environmental policy, with the Villas run on rainwater, solar power and 100% waste-free amenities.
How to get there: Barossa Valley is just an hour's drive from Adelaide, where you'll find an international airport connected to most other cities in Australia as well as overseas.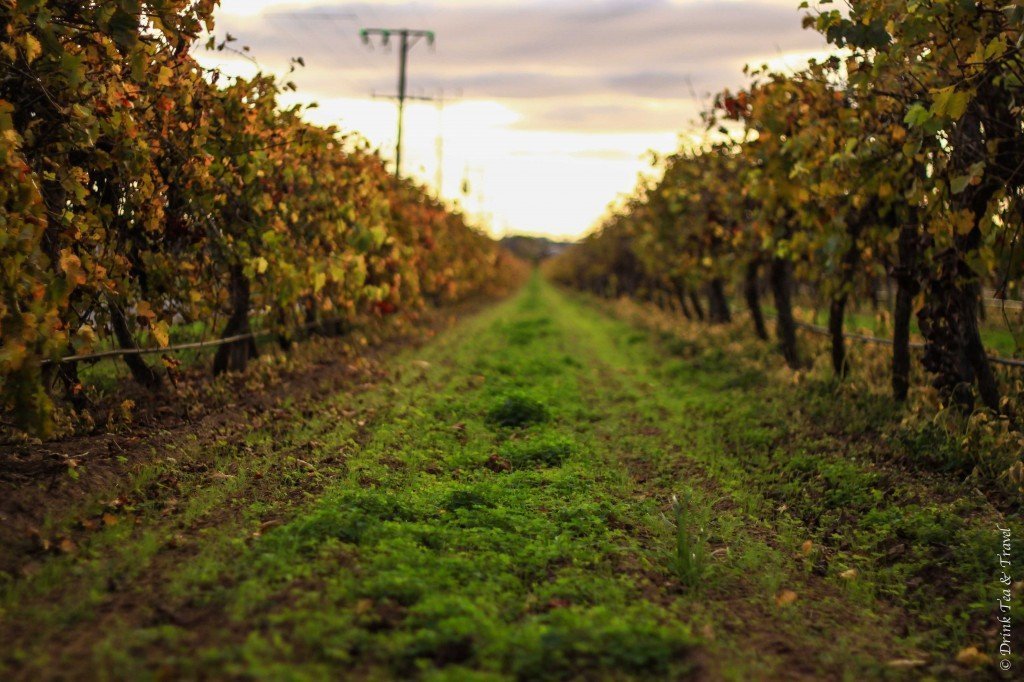 Lord Howe Island
This World Heritage-listed natural paradise off the coast of New South Wales is one of the best Australian honeymoon destinations. The island is 600km off the mainland and just 11km long and 2.8km at its widest point. What it lacks in size, it makes up for in natural beauty and biodiversity.
Things to do on Lord Howe Island
Hike up to

Mount Gower,

a 14 km return hike that must be done with a private guide

Enjoy

Ned's Beach

in the north which has coral-rich clear waters for swimming

There are numerous walking tracks around the island and taking a leisurely walk is the best way to explore.
Where to Stay on Lord Howe Island
Arajilla Retreat – This incredible tranquil retreat has 12 luxurious suites on offer for the perfect romantic Australia honeymoon. They also have an Ayurvedic spa onsite and a gourmet kitchen that produces its own fresh produce and serves line-caught fresh fish.
How to get there: The nearest international airports are at Sydney and Brisbane. The only way of getting to Lord Howe Island is by taking one of the limited flights from either Sydney or Brisbane.
Great Ocean Road
The Great Ocean Road is an incredibly scenic road trip route near Melbourne that follows the southern coastline of Australia. If you're looking for a Melbourne honeymoon then you really can't miss exploring the Great Ocean Road.
The road traverses along 245km of rugged coastal areas west of the city and you can easily take your time as you stop for scenic viewpoints, beach strolls and short hikes.
Things to do along the Great Ocean Road
Adventurous couples could tackle the

Great Ocean Road on foot

instead. It's one of the best multi-day hikes in Australia

Twelve Apostles lookout

is the most famous viewpoint of the incredible rock formations along the rugged coast and a must see

Stop at some of the surfing towns along the way such as

Torquay

, where the famous

Bells Beach

holds one of the biggest surfing competitions in the world
Where to Stay Along the Great Ocean Road
Desa Retreat – This boutique accommodation offers two eco villas made from natural materials near the coastline, between Torquay and Bells Beach. The self catering appliances and bathroom run on rainwater with solar electricity, so you can enjoy your stay completely off the grid.
How to get there: The nearest international and domestic airport is in Melbourne which is just 100km from Torquay, the starting point for most road trips. The best way to explore the coast is by hiring a car and self-driving.
Byron Bay
This small coastal town is on the north coast of New South Wales. It's a popular honeymoon destination in Australia because of its proximity to great beaches, surfing and diving locations. It has an intoxicating hippy and surfer culture with bustling weekend markets, plenty of healthy cafes and a vibrant nightlife. It's certainly won't be a secluded and quiet honeymoon, but Byron Bay is a fun place to be.
Things to do in Byron Bay
Whale watching

is possible from June to November just off the coast

Go

surfing

in some of the beaches or simply relax on the sand

Hit a

local market

on every Saturday night and Thursday morning
Where to Stay in Byron Bay
A Beach House at Byron – Choose from four different villas and studios each with individual personality right on an exclusive beachside location. Just a short walk to the main town, tucked away in a secluded garden.
How to get there: Byron Bay is situated just an hour drive south of the Gold Coast in Queensland. The nearest international airports would be at the Gold Coast or further north at Brisbane or south towards Sydney.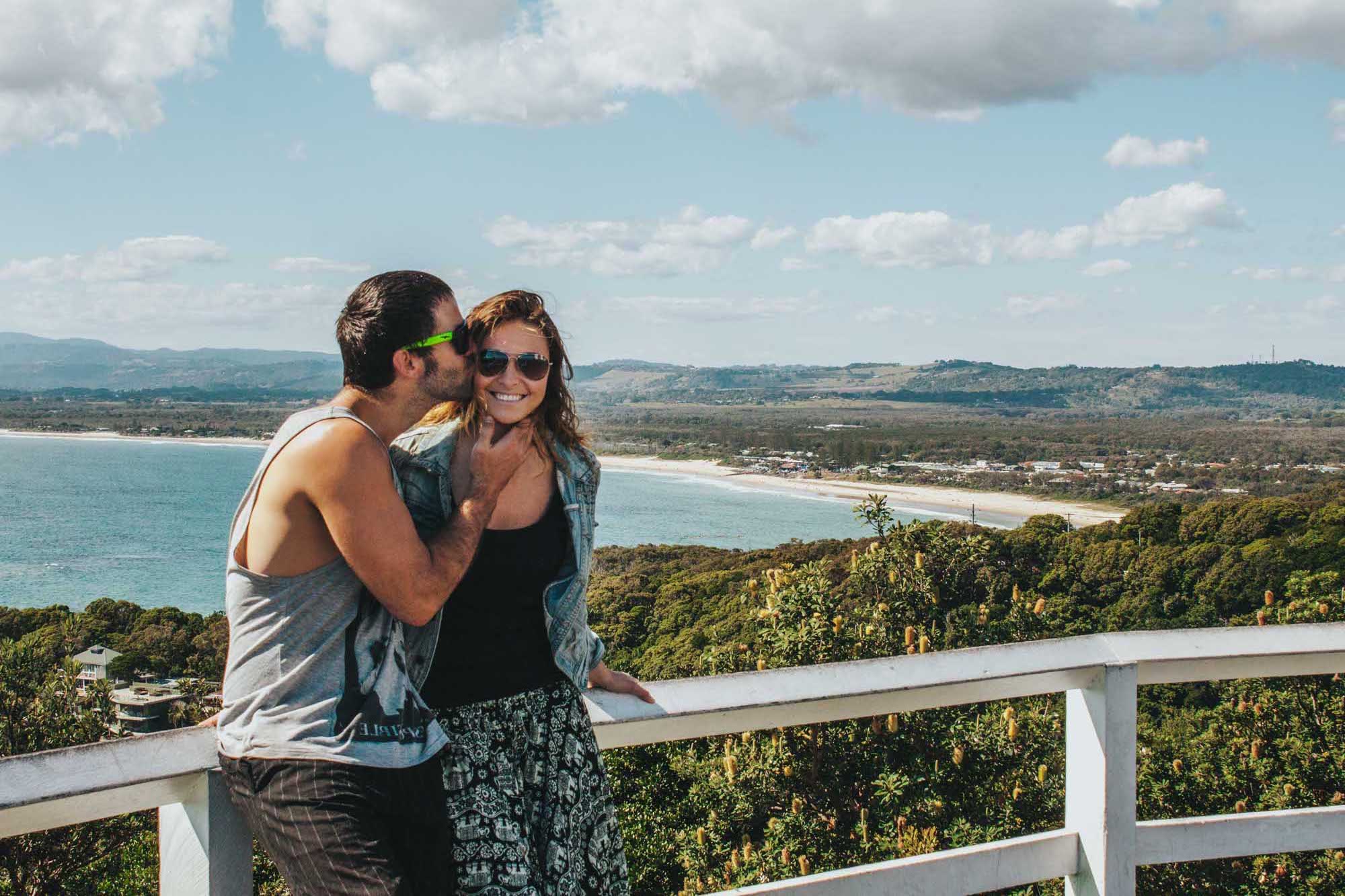 Perth
For a remote and yet cosmopolitan romantic escape, Perth is the best place for a Western Australia honeymoon. It has a laid back and culture with beautiful beaches nearby but retains a more sophisticated feel with plenty of bars, restaurants and festivals to indulge and explore. Perth is definitely worthy as one of the top Australian honeymoon destinations!
Perth is also a great base to explore further along the Western Australia coastline. A more rural escape from a Perth honeymoon is to head to Margaret River, just three hours south of the city. There you can take your pick from wineries, beaches, whale watching and surfing.
Things to do in Perth
Spend your time down at one of the many beaches along the city coastline
Take a ferry to Rottnest Island off the coast to meet the famous quokkas
Explore the Fremantle markets for some fresh produce and handicrafts
Where to Stay in Perth
Hidden Valley Eco Lodges offers six unique spa lodges nestled amongst surrounding forests, just 30 minutes from Perth. They also have an onsite day spa and dining room.
How to get there: Perth has an international airport that is connected to many overseas destinations. It's located over 25 hours away from another major city in Australia. Also, domestic flights connecting Perth to another major city is the best way to travel between them.
Are you planning an Australian honeymoon? What Australian honeymoon destinations are you hoping to visit during your trip?