Africa is a dream location for many people. Its incredible variety of landscapes, an abundance of wildlife and fascinating cultures provide the ultimate adventure for any couple. And there's no better time to finally explore this incredible region than on honeymoon with your loved one.
*This post may contain affiliate links, as a result, we may receive a small commission (at no extra cost to you) on any bookings/purchases you make through the links in this post. As an Amazon Associate, we earn from qualifying purchases. Read our full disclosure
A trip to Africa can be an expensive endeavour. Given that the best way to experience its national parks, wildlife, and islands often means staying in expensive accommodation. This makes a honeymoon to Africa the perfect adventure to splurge on with a once in a lifetime trip.
If you're considering a luxury African honeymoon, then here are the best African honeymoon destinations to help you decide where to go.
Traveling Soon?

Here is a list of our favourite travel providers and accessories to help get you ready for your upcoming trip!
Tanzania
Tanzania is one of the best honeymoon destinations in Africa. The East African nation is a premier wildlife viewing place with the Serengeti and Ngorongoro Crater offering the ultimate honeymoon safari. And if that's not one of the best honeymoon ideas in and of itself, a honeymoon in Zanzibar offers a popular add-on to any safari itinerary. The Indian Ocean coastline boasts turquoise waters, colourful coral reefs and white sand beaches for some relaxation.
Best time to go:
For a Tanzania honeymoon, the best time to go is in the dry season from June to October when wildlife viewing is at its best and the weather is cooler on Zanzibar.
Best Places to Visit in Tanzania
Serengeti National Park

is one of the best wildlife experiences in the world. This famous park is home to the big 5 animals and the perfect place for an Africa safari honeymoon.

Ngorongoro Crater

is a World Heritage Site and one of the country's best safari destinations. You can combine a Serengeti and Ngorongoro safari together.

Climbing

Mount Kilimanjaro

is the best adventure honeymoon you could possibly do in East Africa.

Explore the stunning islands of

Zanzibar

, by snorkelling, diving and relaxing in the crystal clear waters of the Indian Ocean.
Where to Stay in Tanzania
AndBeyond Ngorongoro Crater Lodge – This award-winning lodge has three intimate camps of 6-12 suites with incredible views over the caldera. They offer incredible safari honeymoon packages!
AndBeyond Mnemba Island – This exclusive barefoot resort on Mnemba Island has 12 incredibly luxurious bandas on the beach, perfect for a luxury Africa honeymoon.
Lemala Nanyukie – This fabulous Tanzania honeymoon safari lodge in the eastern Serengeti has 15 suites that offer plenty of luxury and stunning views. It's one of the best honeymoon resorts in the Serengeti.
How to get there: The most commonly used international airports are Dar Es Salaam and in between Moshi and Arusha. From there you can transfer to domestic flights to the Serengeti and Zanzibar Island.
Morocco
Morocco is a completely unique place to spend your Africa honeymoon. The North African country has a variety of destinations to suit all kinds of couples, from adventurous trips to romantic honeymoon getaways. There are lots of cities to discover and plenty of souks to get lost in and if you are looking for a unique add-on to your honeymoon in Africa. There is an opportunity to spend a few nights in the Sahara desert.
Best time to go:
The weather is pleasant from March to May and September to October. Winter and Summer are times of extreme weather in Morocco and best avoided, except for the temperate coastal areas.
Places to Visit in Morocco
Chefchaouen

or otherwise known as the Blue City, is an incredibly picturesque town and a charming place to spend time.

A honeymoon destination that you won't forget is spending the night under the stars in the

Merzouga

sand dunes of the Sahara desert.

The intoxicating city of

Marrakech

is one of the most popular places to visit in Morocco.
Where to Stay in Morocco
Lina Ryad and Spa – A luxurious traditional Moroccan riad with an onsite hammam and incredible views over the blue city and surrounding mountains.
Ecolodge Quaryati Marrakech – A traditional style exclusive guesthouse situated in a large garden with views over the Atlas Mountains and serving organic food.
How to get there: The most common getaways into Morocco are Casablanca, Fes and Marrakech. These airports offer direct flights to Europe and some, to North America as well.
South Africa
You're spoilt for choice for destinations if you're planning a South Africa honeymoon. From cosmopolitan Cape Town to the beautiful beaches along the Garden Route and wildlife of Kruger National Park, South Africa has something for every type of honeymoon in Africa.
Best time to go:
The best time in South Africa for honeymoon is in the dry season from May until October when game viewing is best. However, the western cape including Cape Town is also popular during the summer months from November to April.
Places to Visit in South Africa
Exploring the beautiful city of

Cape Town

is a highlight on any South Africa honeymoon itinerary.

For some indulgence, head to the

Cape Winelands

where you can sample some of the best wines of the country amidst a mountain backdrop.

For a honeymoon South Africa safari, you can't beat

Kruger National Park

where you can spot the big five animals.
Where to stay in South Africa
The Twelve Apostles Hotel and Spa – This oceanfront exclusive hotel in Camps Bay is one of the most incredible places to stay in Cape Town and the perfect South African honeymoon accommodation.
Singita Sweni Lodge – This intimate ultra-lux lodge on the edge of the Sweni River in Kruger National Park has seven suites to choose from.
How to get there: Most visitors arrive in South Africa via Cape Town or Johannesburg international airports, which have connections to most overseas destinations.
Namibia
Although Namibia may not seem like one of the most romantic honeymoon destinations, this southern African country is perfect for adventurous couples. Namibia is a country of extreme landscapes. It's one of the best places for a road trip with incredible sand dunes and rich wildlife to discover.
Best time to go:
The dry season from May to October is the best time to visit with pleasant weather and the best game viewing.
Best Places to Visit in Namibia
Etosha National Park

is home to an abundance of wildlife and is the best place in Namibia for a honeymoon African safari.

Swakopmund

is the adventure capital of Namibia and is the ideal base point for exploring the coastal areas.

Exploring the oldest desert in the world at

Sossusvlei

sand dunes is one of the most iconic places to visit on a Namibia honeymoon.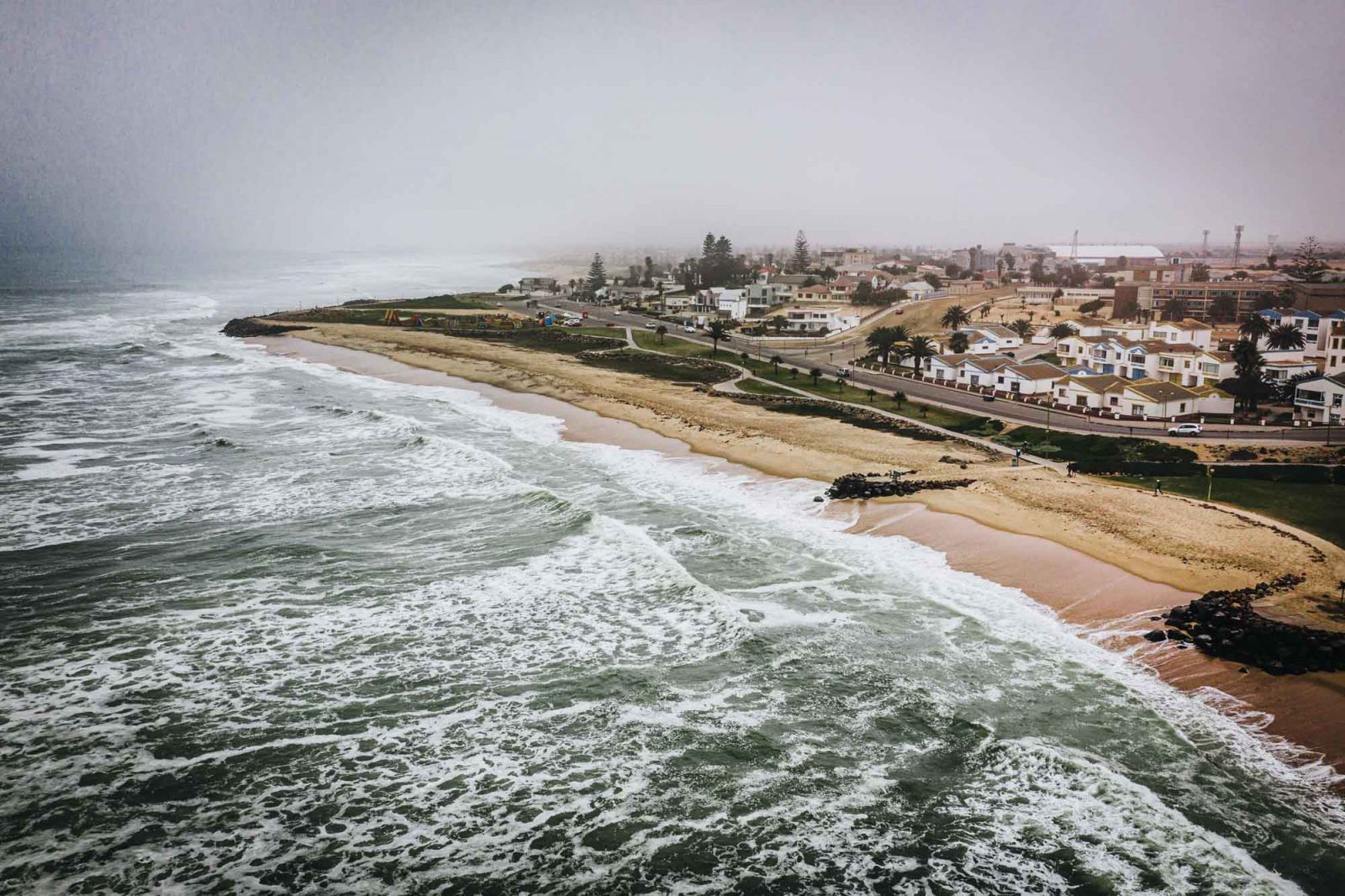 Where to stay in Namibia
Etosha Safari Lodge – A luxury lodge with 50 chalets located just outside of the Etosha National Park with a restaurant and bar onsite. Etosha Safari Camp offers a more budget-friendly option next door.
Desert Grace, a Gondwana Collection Hotel – There are 24 luxurious rooms in this oasis in the Namib Desert, just an hour from Sossusvlei.
How to get there: Most people arrive in Namibia via Hosea Kutako International Airport just 40km from the capital of Windhoek. There are no direct flights to North America but one daily to Germany.
Zambia
Zambia is a slightly off the beaten track destination in Southern Africa, beyond the famous Victoria Falls. Heading to Zambia is the perfect honeymoon for couples who prefer something more secluded and intrepid. From the thrill-seeking experiences at Victoria Falls to the untouched landscapes filled with wildlife, Zambia won't disappoint.
Best time to go:
The best time to visit is in the dry season from June to November when the wildlife viewing is best. However, the best time to visit Victoria Falls is from February to May after the summer rains.
Best Places to Visit in Zambia
A visit to

Victoria Falls

is a must on your southern African honeymoon. If you are visiting in the dry season, don't miss a chance to swim in the

Devil's Pool

.

For one of the most secluded and authentic African safari honeymoons, head to

South Luangwa National Park.
Where to Stay in Zambia
Tongabezi Lodge – This award-winning romantic safari lodge near Victoria Falls has six private houses and five river cottages to choose from.
andBeyond Chinzombo Camp – This incredibly elegant camp on the banks of the Luangwa River has six villas for the ultimate luxury safari honeymoon.
How to get there: Major international airlines fly into Zambia's Lusaka's international airport usually via Johannesburg or Harare. You can also fly from Johannesburg to Livingstone Airport near Victoria Falls.
Botswana
A Botswana honeymoon may not be high on many lists of places for honeymoon. However, this wildlife-rich country is a great place to experience Africa's raw beauty. For an African safari honeymoon, you can't beat the national parks of Botswana.
Best time to go:
The best time to visit for a honeymoon safari is in the dry season from May until October when game viewing is at its best.
Best Places to Visit in Botswana
Chobe National Park

is the country's most well-known game viewing park with an incredible diversity of landscapes and animals.

Okavango Delta

is a vast inland swamp and a wildlife haven. You can combine a perfect trip to both Chobe and the Delta for the ultimate safari honeymoon package.
Where to Stay in Botswana
Chobe Game Lodge – On the banks of the Chobe River, this eco-certified lodge has a variety of rooms to choose from and offers various game drives into the park.
How to get there: The main international airport is in Gaborone, the country's capital, but there are no direct flights to Europe or North America.
Read Next: Pangolin Photo Safaris In Chobe National Park, Botswana
Uganda
For animal lovers, Uganda is certainly one of the top 10 honeymoon destinations in Africa. The country offers not just a unique Africa honeymoon safari experience. But, it's also an opportunity to trek with mountain gorillas, see chimps, and visit some incredible waterfalls.
Best time to go:
Uganda has two dry seasons when wildlife viewing is at its best. This is from December to February and again from June to August.
Best Places to Visit in Uganda
For one of the most memorable honeymoon experiences, go

gorilla trekking

in

Bwindi National Park.
Queen Elizabeth National Park

has incredibly diverse landscapes and 96 mammal species, making it one of the best places for a honeymoon safari package.

Find the historic source of the

Nile River

in Jinja and ride its rapids if you're up for a real adventure.
Where to Stay in Uganda
Apoka Safari Lodge – Located in the heart of the Kidepo National Park, this intimate lodge has 10 cottages with private verandas offering sweeping views over the landscape.
Wildwaters Lodge – Located on a private island on the west bank of the Nile River, this conservation lodge has 10 rooms from where you can hear the thunder of the nearby rapids.
How to get there: Uganda has one international airport at Entebbe, 40km south of the capital, Kampala. There are no direct international flights from Europe and North America. So, visitors have to connect through Europe or another African country first.
Rwanda
Rwanda is a highly underrated destination in East Africa and is a somewhat surprising country to explore. It is rich in wildlife and lush landscapes with plenty of national parks. It's famous for an opportunity to track mountain gorillas but offers a traditional African safari honeymoon as well.
Best time to go:
The best time to visit Rwanda's national parks is during the dry seasons from December to February and again from June to September.
Best Places to Visit in Rwanda
Volcanoes National Park

is one of the prime reserves in Rwanda and most famous for its population of mountain gorillas.

Akagera National Park

is the top safari destination in Rwanda offering a chance to see the Big Five.

Lake Kivu

is a beautiful lake on the way to Volcanoes National Park where you can soak up the easy-going vibe and relax on the shoreline.
Where to stay in Rwanda
Bisate Lodge – This new eco-sensitive lodge next to Volcanoes National Park has six forest villas with incredible views overlooking the dramatic mountain peaks.
How to get there: Direct flights to Rwanda arrive into Kigali International Airport from Europe (Brussels and Amsterdam). Otherwise, incoming flights from North America or Europe come via Dubai, Istanbul or Addis.
Kenya
Kenya is East Africa's best place for honeymoon couples who want a balance of wildlife adventures and beach relaxation. The country has one of the best game viewing parks in the world. Also, Kenya possesses an exotic coastline with beautiful islands. For the perfect safari and beach honeymoon, Kenya is a top destination.
Best time to go:
The two dry seasons in Kenya run from January to March and July to October when animal viewing is at its peak.
Best Places to Visit in Kenya
Maasai Mara National Park

is one of the premier wildlife viewing parks on the entire continent and a Kenya honeymoon safari here is unforgettable.

Enjoy the white sand beaches along the coast in

Mombasa

, the largest city in eastern Kenya.

You can head across to

Lamu

, an idyllic island in the Indian Ocean and one of the most popular honeymoon destinations in Kenya.
Where to Stay in Kenya
andBeyond Bateleur Camp – With nine tented suites set amongst the forests at the foot of the Great Rift Valley in the Maasai Mara.
The Majlis – An exclusive resort made from natural materials with 25 rooms on Manda Island in the Lamu archipelago with breathtaking beachside views.
How to get there: Nairobi International Airport is the main hub in Kenya with direct flights to London, Amsterdam, Frankfurt, Paris and some North American cities.
Seychelles
When most people consider honeymoons in Africa, Seychelles tops the list. This insanely beautiful archipelago in the Indian Ocean is home to pristine beaches, coral reefs and nature reserves. Seychelles is one of the best places in Africa for a luxury honeymoon.
Best time to go:
For a honeymoon trip to Seychelles the best time to go is from April to May and October to November for the most pleasant weather.
Best places to visit in Seychelles:
Praslin Island

is one of the most popular destinations in Seychelles with incredible beaches and beautiful coral.

Mahe

is the main island. It has beautiful beaches with great opportunities for snorkelling, diving and fishing.
Where to Stay in Seychelles
Six Senses Zil Pasyon – They have 28 poolside villas, some with ocean views. They also have a committed sustainability program in preserving the coral and native plants on the island.
How to get there: The only international airport is in the capital city, Victoria, on Mahe Island. There are direct flights from London, otherwise most other European and North American flights require a layover.
Have you been dreaming about an African honeymoon? Which of these destinations are on your wish list?