Taman Negara Bako National Park is one of Sarawak, Malaysia's crown jewels. With opportunities to hike, boat, and spot fascinating wildlife, this nature reserve is a must visit if you're traveling in Borneo.
*This post may contain affiliate links, as a result, we may receive a small commission (at no extra cost to you) on any bookings/purchases you make through the links in this post. As an Amazon Associate, we earn from qualifying purchases. Read our full disclosure
We had the opportunity to visit Bako National Park during our recent trip to Sarawak, Malaysia and were fascinated by the abundance of wildlife within the park's borders. A 2-day trip to Bako National Park was a fantastic way to escape the Kuching City and spend some time in nature.
Bako National Park is incredibly biodiverse, with endangered species of monkeys, wild pigs, and unique plants. Since the national park sits on a peninsula, the beautiful beaches are a highlight, especially with the weird and massive rock formations along the coast.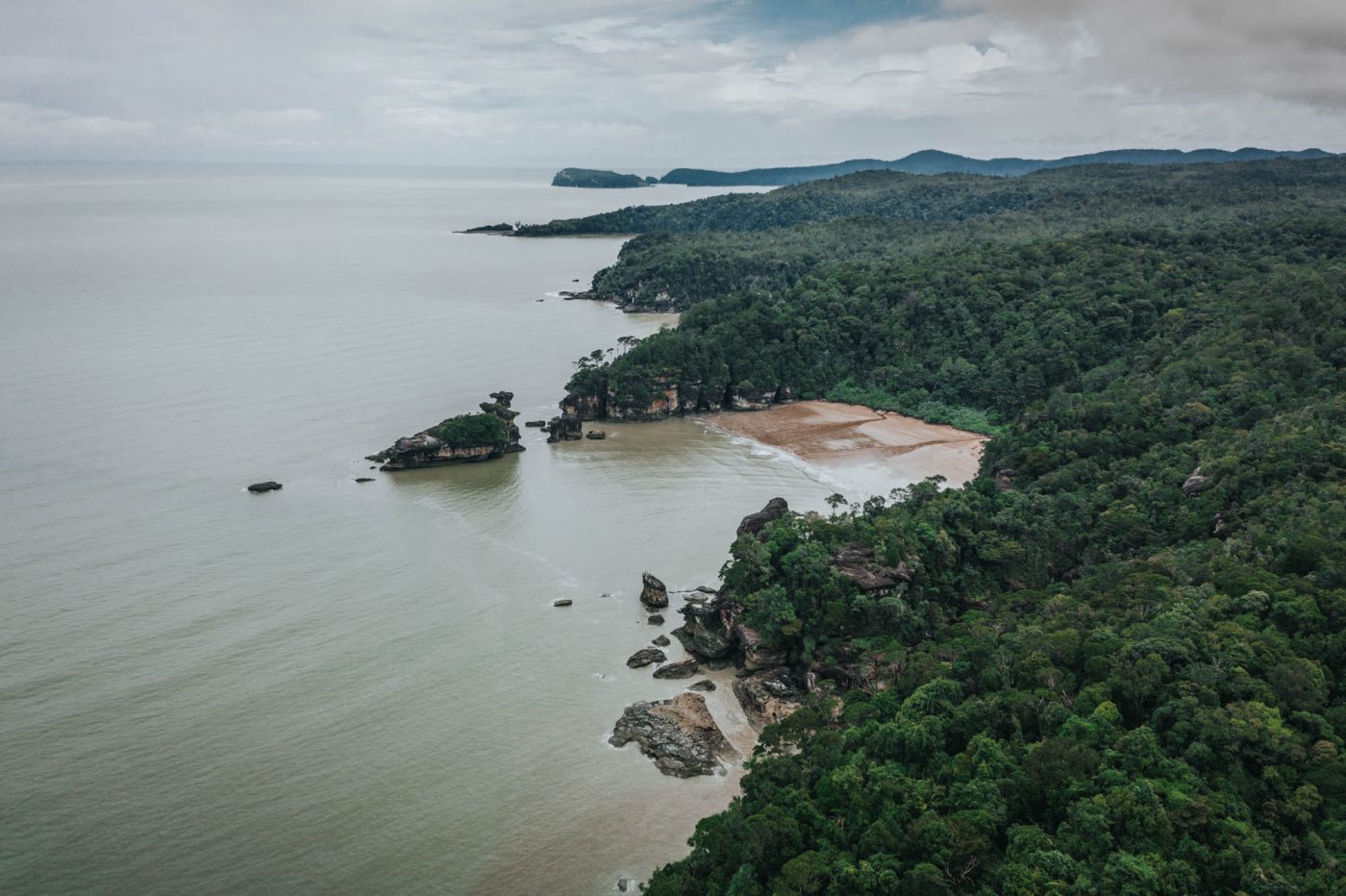 Traveling Soon?

Here is a list of our favourite travel providers and accessories to help get you ready for your upcoming trip!
In short, it's a nature lover's dream.
About Bako National Park
Bako National Park is located at the western tip of Sarawak, the large Malaysian state on the massive island of Borneo. It sits on the Muara Tebas peninsula, a piece of land jutting into the East China Sea just to the east of the state's capital, Kuching.
Although it is one of the smallest national parks in Borneo at 27 km² (16.75 Miles²), it is considered to be one of the most interesting for its incredibly diverse assortment of plants and animals. The park has been around since 1957, making it the oldest national park in Sarawak.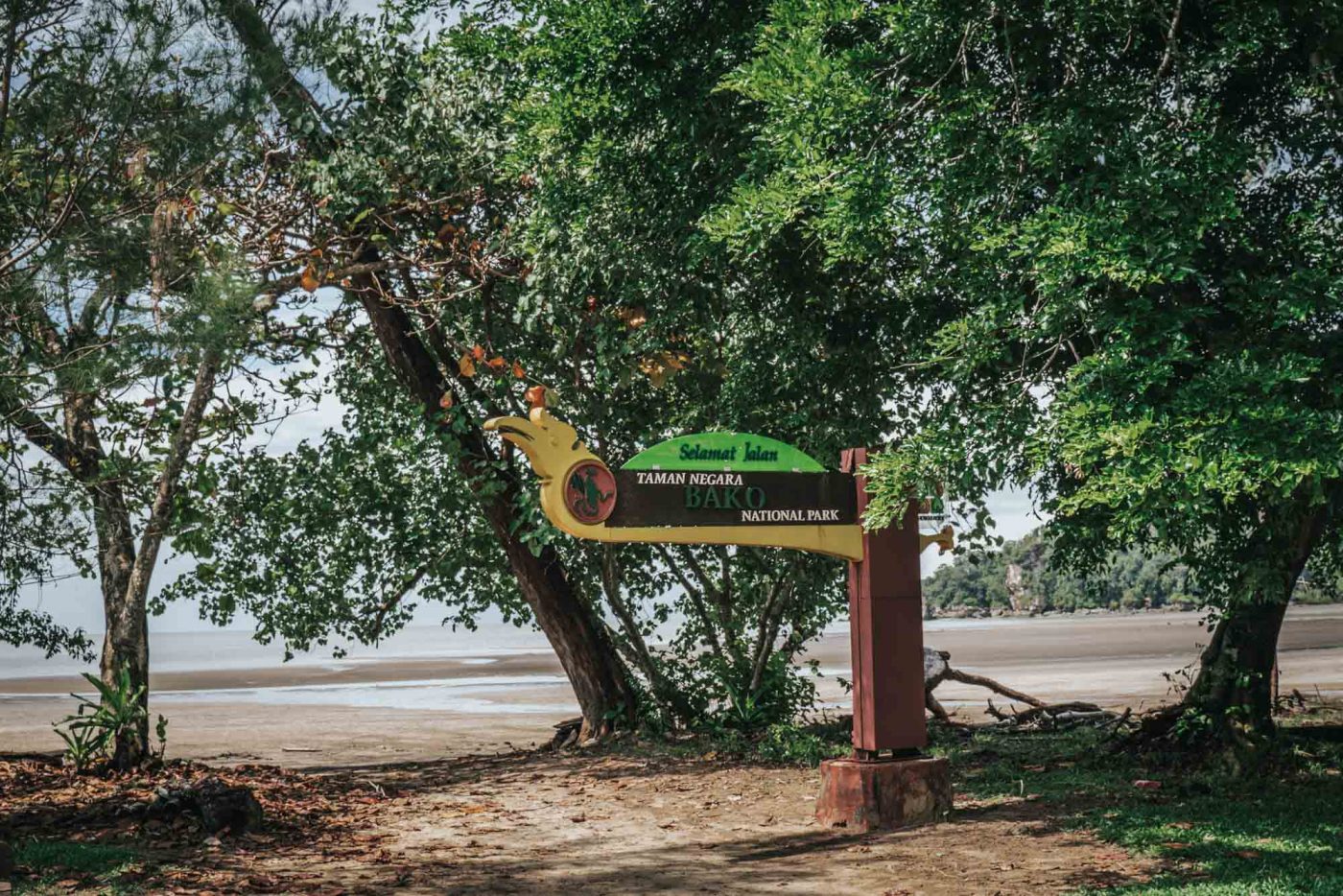 Things to do in Bako National Park
Hiking Trails
One of the best things to do in Bako National Park is to go for a hike. The park network has 18 well-marked trails for visitors to follow.
Most of the treks are relatively easy and short, requiring between one and three hours. However, there are a couple of longer trails that you can take such as the Telok Limau and Telok Kruin trails that will take you closer to seven hours to complete.
One of the most popular trails in the park is the Telok Pandan Kecil trail, a journey that leads down to the beach for views of wacky but beautiful rock formations. Another great option is the Lintang Loop which gives the hiker a little taste of everything near the park headquarters.
For a little extra adventure, try the Lintang and Telok Pandan Kecil trails. These routes pass over a barren plateau in the center of the park so if you choose to take these routes, make sure you are well prepared for the bright, hot sun.
No matter where you chose to hike in Bako National Park, just make sure to stay on the trails for your own safety. We also highly recommend exploring with a local guide, who is able to spot wildlife in their favourite habitat and point it out to you during the hike.
You can hire a guide at the Bako National Park Headquarters or book an all-inclusive tour with one of the many tour operators in Kuching.
Wildlife
Wildlife watching is one of the main reasons why people visit Bako National Park. The biodiversity here is fantastic and it is widely considered one of the best national parks in Malaysia for flora and fauna.
Animals You Might See
While you're visiting Taman Negara Bako, you'll have the chance to spot monkeys of all kinds. The most famous is probably the proboscis monkey, a hilarious looking ape with yellow-orange fur and a long bulbous nose. They are an endangered species, hurt most by hunting and habitat destruction.
Another monkey you might spot is the silver-leaf monkey, with its hairy grey beard and fluffy coat. These monkeys are most often found close to the water or in mangrove areas. Long-tailed macaques are another monkey species native to Borneo. Also known as crab-eating macaques, these social monkeys are the most populous in Bako National Park and are usually found without much trouble.
Another very special species found in Bako is the bearded wild pig. These funny looking creatures resemble warthogs and are quite mellow and calm compared to the lively monkeys.
Lizards are also quite common in Bako National Park. Monitor lizards can be spotted in forested areas, while crocodiles are becoming increasingly common in rivers and even the ocean near the shores.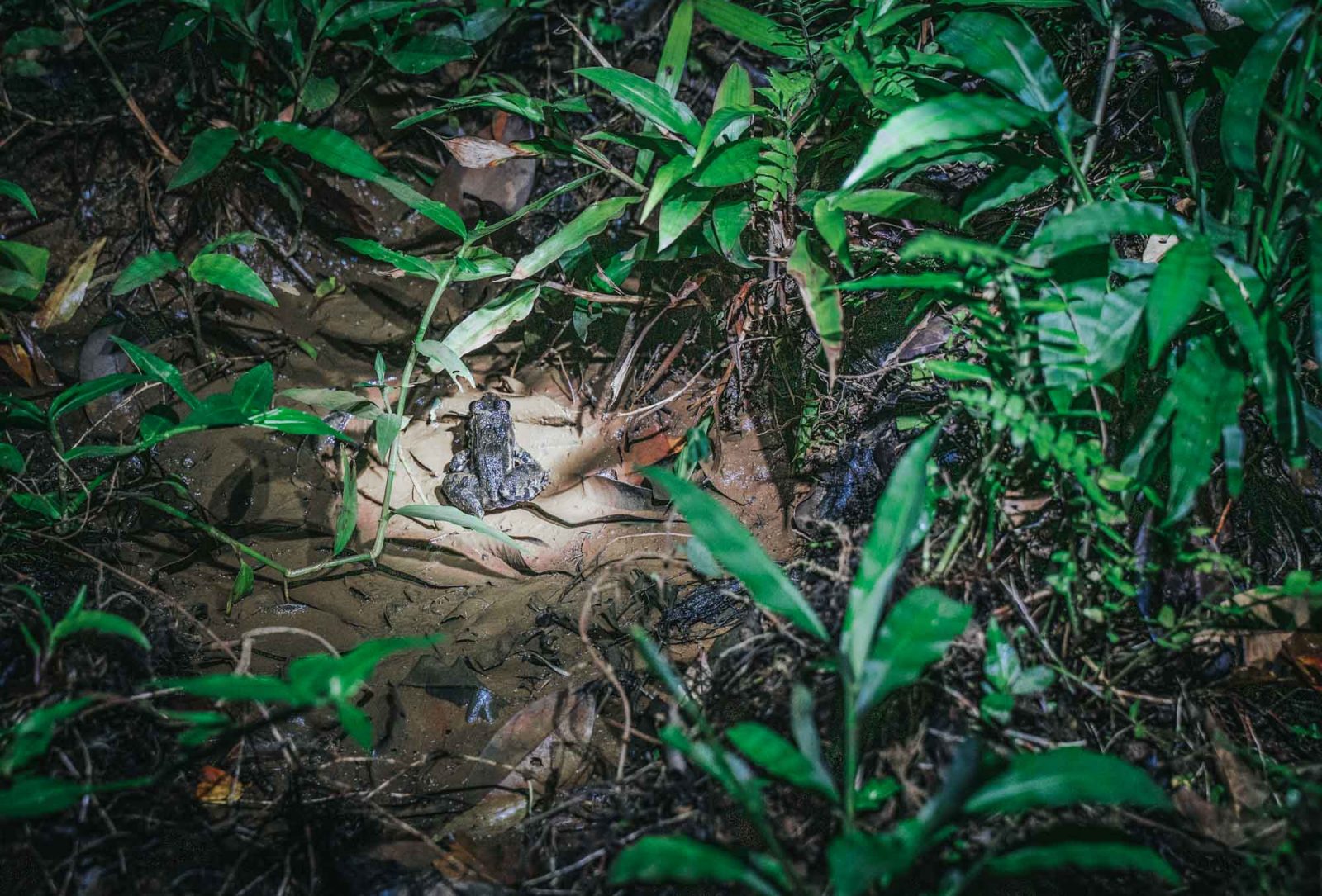 Lastly, you'll see countless other species of birds, frogs, insects, snakes, and even some carnivorous pitcher plants.
A Word of Caution
Seeing all this wildlife is an incredible treat for those visiting Taman Negara Bako. However, it is necessary to include a few words of caution in regards to the animals that live in the park. Since Bako is the old national park in Sarawak, the animals are very used to people being around them.
The monkeys, in particular, will not hesitate to come up to you and even attack you in search for food, drinks and especially candy.
So be careful with food while on the trails and never feed anything to wildlife!
In addition, crocodiles are becoming more and more bold, venturing to new aquatic areas all the time. For this reason, you can no longer swim at the beaches in Bako National Park.
Things to Know About Visiting Bako National Park
How to Get There
In order to reach the park, you'll need to catch a bus (the Red Bus No. 1) or a taxi from Kuching to the Bako jetty. At the jetty, you'll need to pay the park entrance fees (20RM or 5USD for adults.) Once you've paid, take either a group shuttle boat or a private water taxi into the park. The entire journey will take you around an hour and a half.
To make the most of your visit, we recommend staying for a minimum of 2 days. That way you can enjoy the park without rushing back to catch the boat back to Kuching.
What to Bring With You
If you are simply taking a day trip into Bako National Park, you'll need everything for a hot day in the jungle. Make sure to pack comfortable hiking clothes, sunscreen, a hat, sunglasses, broken-in hiking boots, and lots of water. It is also smart to have rain gear and backpack cover in case it starts to rain suddenly.
If you plan to stay overnight, bring a small bag of additional clothes and toiletries for the night. Also, consider packing some snacks since the food inside the park can be a bit bland.
Accommodation in Bako National Park
Although it is possible to visit Bako National Park as a day trip from the city of Kuching, it is much more enjoyable to stay overnight in the park.
There are a number of accommodation options in the park. They are pretty basic but completely sufficient for a 1-night stay.
Lodges
The most luxury option is to stay in one of the lodges at the Bako National Park Headquarters. The lodges are suitable for 2-3 people and are equipped with private bathrooms, hot water, and a fan. Although the lodges are very basic and not much is done in terms of their upkeep, they are outfitted with basic necessities for a comfortable stay. You won't have to worry about bringing your own sheets or sleeping in a sleeping bag or in a tent.
Shared Rooms
The alternative for lodges is shared rooms, which offers hostel-like accommodation with shared showers and toilet facilities.
None of the rooms offer a kitchen or a place to make your own meals, but luckily the onsite restaurant offers a sufficient selection of cheap local meals, drinks, and snacks.
Tours
In order to make your visit a little easier, consider taking a Bako National Park tour. Not only can it make your transportation a lot less of a struggle, but it's also great to have a local guide with you who knows the area well. You can learn a lot more about wildlife this way too.
We decided to take this two day Bako National Park tour and were very glad we did. Our guide made our trip a lot easier and allowed us to focus on enjoying the park and its wildlife. Our accommodation, meals, and transport were included in the price of the tour, as were 2 daily hikes inside the park with our knowledgable guide.
Have you ever visited Sarawak, Malaysia? What was the best wildlife experience you had?