Typical Costa Rican food is definitely not the most exciting cuisine on the planet. In fact, many people may even go as far as calling traditional Costa Rican foods unmemorable, boring, and bland. This is not surprising as the Costa Rican diet consists primarily of two staples: rice and beans.
*This post may contain affiliate links, as a result, we may receive a small commission (at no extra cost to you) on any bookings/purchases you make through the links in this post. As an Amazon Associate, we earn from qualifying purchases. Read our full disclosure
"How can they eat rice and beans every day, three times a day?" – I asked before my trip to Costa Rica.
"Just wait till you try them; then you'll understand," – I was told.
One day into my Costa Rican trip and three rice and beans meals later, it all made sense! I was hooked on typical Costa Rican food.
Traveling Soon?

Here is a list of our favourite travel providers and accessories to help get you ready for your upcoming trip!
Traditional Costa Rican Foods
Over the next two weeks, I had to force myself to branch away from the most famous Costa Rican food, rice and beans. I absolutely had to try some of the other traditional foods. The food in Costa Rica is fresh, and there is such a variety!
So, if you are curious about what food is like in Costa Rica, here are the eight that made my list of must-try, typical Costa Rican food.
Gallo Pinto
They say, "There is nothing more Tico (the term for local Costa Rican) than Gallo Pinto, "and it's true. Most days begin with a plate of Gallo Pinto, the national dish, consisting of Costa Rican rice and beans sautéed with garlic, onions, and cilantro, often served with 1-2 fried or scrambled eggs and a sausage on the side.
If you want to eat Gallo Pinto like a true local, you have to pour some Lizano salsa over your rice and beans and enjoy the meal with a cup of freshly brewed Costa Rican coffee (unfortunately, drinking tea is not a part of Costa Rican culture).
Depending on where you are when you visit Costa Rica, you might see a slight variation in the recipe. Along the Caribbean coast, you might see Gallo Pinto with either black or red beans, with some cooking the beans in coconut milk. Other regions prefer a spicier version, which is often served with sour cream to temper the heat.
Casado
At dinner time, locals savor another popular food, a traditional Costa Rican dish called Casado. Casado is a perfect combination of rice, beans, fried plantains (a type of not-sweet banana), cabbage and tomato salad, and a piece of fish/meat. You'll find a simple version of Casado in every local restaurant (known as a Costa Rican "Soda") and maybe a slightly different interpretation at the restaurants catering to tourists.
When preparing Casado, Costa Ricans always cook more rice and beans than they need for the meal and use leftovers to whip up a perfect Gallo Pinto the next morning. Yes, to delicious leftovers as a Costa Rican breakfast!
Olla de Carne
If you're in the mood for comfort food, you can't go wrong with Olla de Carne, a Costa Rican beef stew made with beef, a variety of vegetables, and a tasty broth. Translating to 'meat pot', this typical dish is traditionally slow-cooked in large clay pots to allow plenty of time for the meat to become tender.
This traditional beef and vegetable stew is made with local ingredients like sweet potatoes, plantains, yucca, and chayote squash, but you'll see many variations of it depending on what is available. In homes, Olla de Carne is often prepared for Sunday dinner, as it is meant to cook slowly and serve lots of people. You can usually find it in sodas throughout Costa Rica, but it might only be available on certain days.
Sopa Negra
For those who prefer a vegetable-based soup, Sopa Negra is a popular Costa Rican black bean soup that can be prepared with a vegan recipe. Traditionally, this soup has a base of chicken broth and is garnished with hard-boiled eggs, but you can find versions that are completely vegan.
There are also regional versions of Sopa Negra that include meat like pork or chicken, root vegetables, and a varying level of spice. It is typically served with white rice and/or tortillas and can be found in most neighborhood sodas.
Ceviche
Not just a typical Costa Rican food but a seafood dish popular in the coastal regions of both Central and South America. Ceviche is made from raw fish cooked in lime/lemon juice with onion, cilantro, salt, pepper, and other optional ingredients like bell peppers, celery, and tomatoes. As one of the more popular Costa Rican recipes, it is served as an appetizer and eaten with salt crackers or plantain chips.
The beauty of ceviche is that it has so many variations in Costa Rican cuisine, and each one tastes slightly different than the other. There is red snapper ceviche, tuna ceviche, Mahi Mahi ceviche, marlin ceviche. As well as a mix of shrimp, octopus, clams, ceviche, and many more!
If you like seafood, we guarantee you won't get tired of having this popular Costa Rican food with every meal!
Costa Rican Tamales
When it comes to traditional Costa Rican foods, Tamales tops the snack chart as the most traditional and delicious. Tamale is a dish made of masa (a starchy corn-based dough) mixed with vegetables, meats, and/or cheese, which is steamed or boiled in a banana leaf as one of the most loved Costa Rican snacks.
When ready to be consumed, tamales are opened, seasoned with Lizano salsa, and eaten with a fork or by hand. This delicious Costa Rican food is particularly popular over the festive season, so look out for tamales when traveling to Costa Rica around Christmas time. There may be better times to visit Costa Rica, but Tamales make the holiday time worth it!
Chicharrónes
Chicharrónes are not just a popular Costa Rican food. They are popular across all of Latin America. Chicharrónes are a snack food and essentially deep-fried pork rinds, the skin part of the pork, served with lime juice, fried yucca, and/or cabbage salad.
There is absolutely nothing healthy about them, and they probably carry very little nutritional value, but these crispy, crackly, juicy pork bits are a wicked treat that's impossible to resist. You can never have just one, so no wonder it ranks as one of the more popular foods in Costa Rica.
Chicharrónes are typically sold at local fiestas or outside of a Costa Rican Soda. You'll sometimes find this item on a menu at Western restaurants, but they are never as good there, so keep your eyes peeled for them on the streets of Costa Rica.
Carne Asada
Carne Asada is Spanish for roasted or grilled meat (specifically beef). Typically consumed as a late night snack but also served as a dinner main, Carne Asada is another typical Costa Rican food. It is often eaten with tortillas along with other local favorites like black beans, onions, guacamole, etc.
Tres Leches Cake
Tres Leches cake literally translates into "Three Milks", and is a popular traditional Costa Rican dessert. Tres Leches is a sponge cake/butter cake soaked in three kinds of milk: evaporated milk, condensed milk, and heavy cream for over three hours.
The cake is then stored in the fridge until it is ready to be consumed. Depending on the recipe Tres Leches cake might also come with an additional layer of whipped cream and a garnish on top. It's spongy, it's sweet, and it's delicious!
Arroz con Leche
A traditional Costa Rican rice pudding, Arroz con Leche is made with rice, sweetened condensed milk, sugar, vanilla, and lots of cinnamon. This sweet dessert is a favorite food all throughout Latin America, with different locales adding ingredients to create their unique recipes. You might find it with pineapple, raisins, and nuts – the variations are endless.
This dessert is served either hot or cold and is best enjoyed with a cup of Costa Rica's wonderful coffee or Agua Dulce, a traditional hot drink made with unbleached, unrefined sugarcane. If you have a chance to try Agua Dulce, don't skip it!
Chifrijo
You'll find delicious bowls of Chifrijos in cantinas (bars) across the country. With some locals claim that visitors to Costa Rica have not truly experienced the country until they dine on this typical Costa Rican food.
The bare bones of the traditional dish is a combination of chicharron, beans, chile, and chimichurri. Then topped with a chef's choice of pico de gallo, avocado, cabbage, and tortilla chips. And, of course, as one of our favorite Costa Rican dishes, Chifrijos must be accompanied by a refreshing beer. They are cantina staples after all!
Patacones
Another popular Costa Rican snack is patacones, which are fried plantains served with ground beans and chimichurri. Green plantains are cut into rounds, fried until softened, then flattened into disks and fried again. This might sound like a greasy mess, but they are absolutely delicious and satisfying.
They are usually served alongside a protein like beans or ceviche or as an accompaniment to traditional dishes with roasted meats or fish. Plantains fried in this way aren't unique to Costa Rica; you can find them throughout the Caribbean and Latin America, just called by a different name.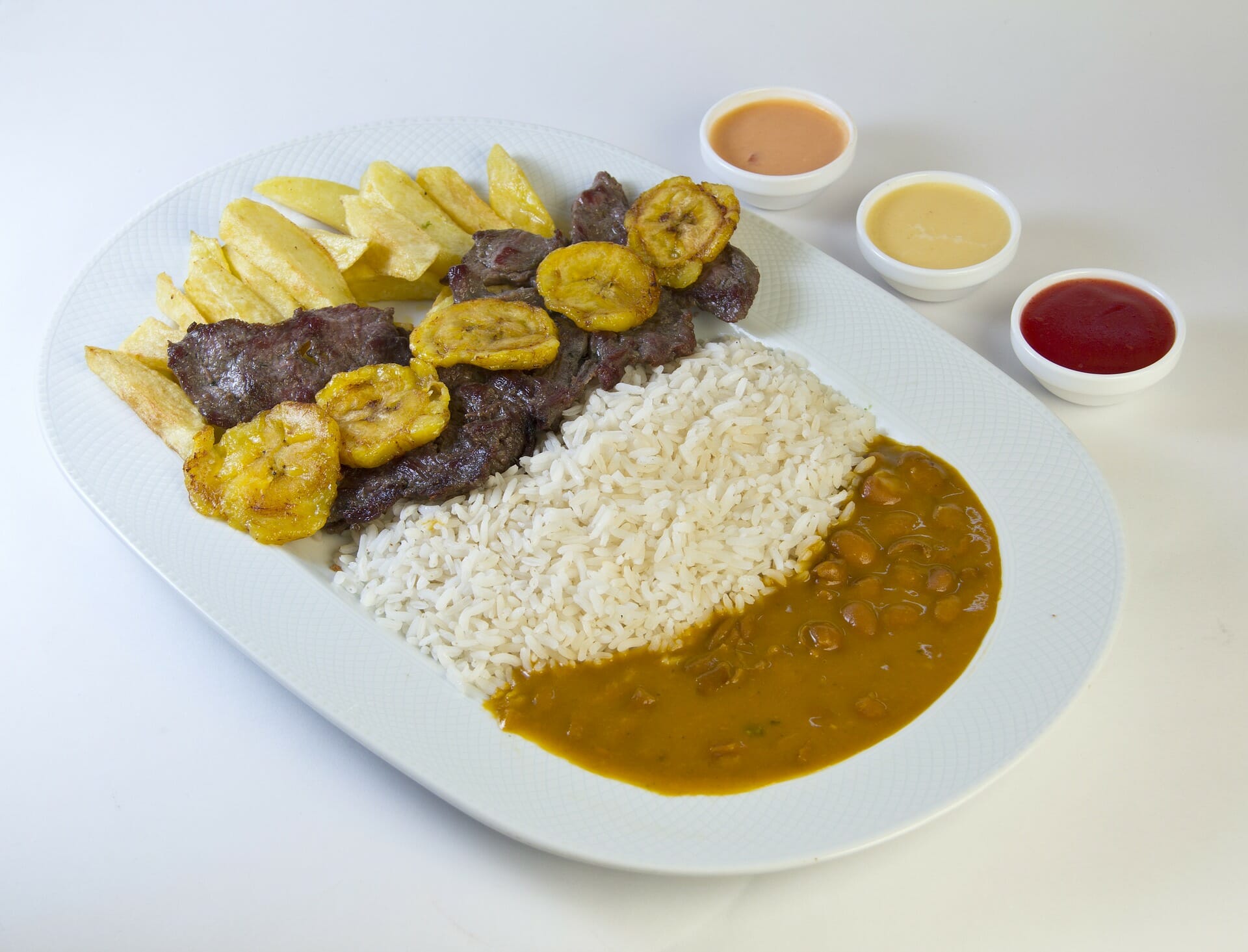 Empanadas
These hand-held snacks are perfect for road trips or picnics and can be found in bakeries, food trucks, and neighborhood sodas all over Costa Rica. These handmade pockets of dough are filled with either sweet or savory ingredients, then fried or baked to a golden brown.
The sweet and savory versions are usually made with different types of dough – the sweet empanadas typically have a pastry dough, while the savory versions use a cornmeal-based dough. There are endless variations to the fillings in empanadas, including vegan and vegetarian options like beans, potatoes, or fruit.
Chorreadas
Commonly found at festivals and food stands, chorreadas are corn pancakes that have similar ingredients to corn tortillas. In this case, fresh corn and milk are used, resulting in a richer flavor and cakey texture.
Chorreadas can be made to be sweet or savory. Sweet corn pancakes are usually topped with honey and eaten for breakfast, while savory versions can have cheese, onion, and fresh herbs mixed in with the batter. If you have a chance to try this popular street food, don't miss it! Typically, they are made to order, so they are wonderfully hot and fresh.
A trip to Costa Rica would not be complete without trying traditional Costa Rican food! While you are there, give them a go… you will be glad you did. So, if you have been wondering what type of food to try in Costa Rica, we hope this gives you a good idea of traditional Costa Rican cuisine to try as you travel.
Have you traveled to Costa Rica before? What are some of your suggestions for must-try Costa Rican foods?