*This post may contain affiliate links, as a result, we may receive a small commission (at no extra cost to you) on any bookings/purchases you make through the links in this post. As an Amazon Associate, I earn from qualifying purchases. Read our full disclosure.
Romanian Transylvania has earned itself a top spot on Lonely Planet's Top 10 Regions to travel to in 2016, which overnight raised its appeal with travelers from all over the world. Luckily, we got ahead of the travel trend curve (love when that happens!) with our amazing adventure in Romania this past October.
But we didn't just travel to Transylvania. During our 10-day visit to Romania, we embarked on a road trip from Bucharest to Săpânța (located on the Romanian-Ukrainian border) and back, crossing Transylvania, Maramures, and parts of Wallachia region. It was an action-packed trip full of incredible highlights!
1. The Bohemian Charm of Brașov
Our first stop, a town of Brasov, was an absolute treat. We stayed in the heart of the town, in the centre square, Piaţa Sfatului that offered plenty of great people watching. We loved meandering through its maze of cobblestone streets, admiring its Austro-Hungarian gingerbread roofs and medieval style buildings, popping into boutique shops, bohemian cafes, and traditional restaurants serving delicious Hungarian-Romanian cuisine.
A great way to view the town from above, and probably Max's favourite thing to do in Brasov, was to climb to the top of Tampa Hill. A brisk hour uphill and we found ourselves overlooking the entire town.
2. The House that Dracula Did Not Enter in Sighișoara
This incredibly well preserved medieval town won us over as soon as we got out of the car. Located in the historic region of Transylvania, some 1.5hrs drive from Brasov, Sighișoara felt like a stepping back in time. We loved roaming the narrow cobblestone streets of Sighișoara, admiring its colourful houses set amongst the rich autumn colours. And the view from the top of the Clock Tower was spectacular!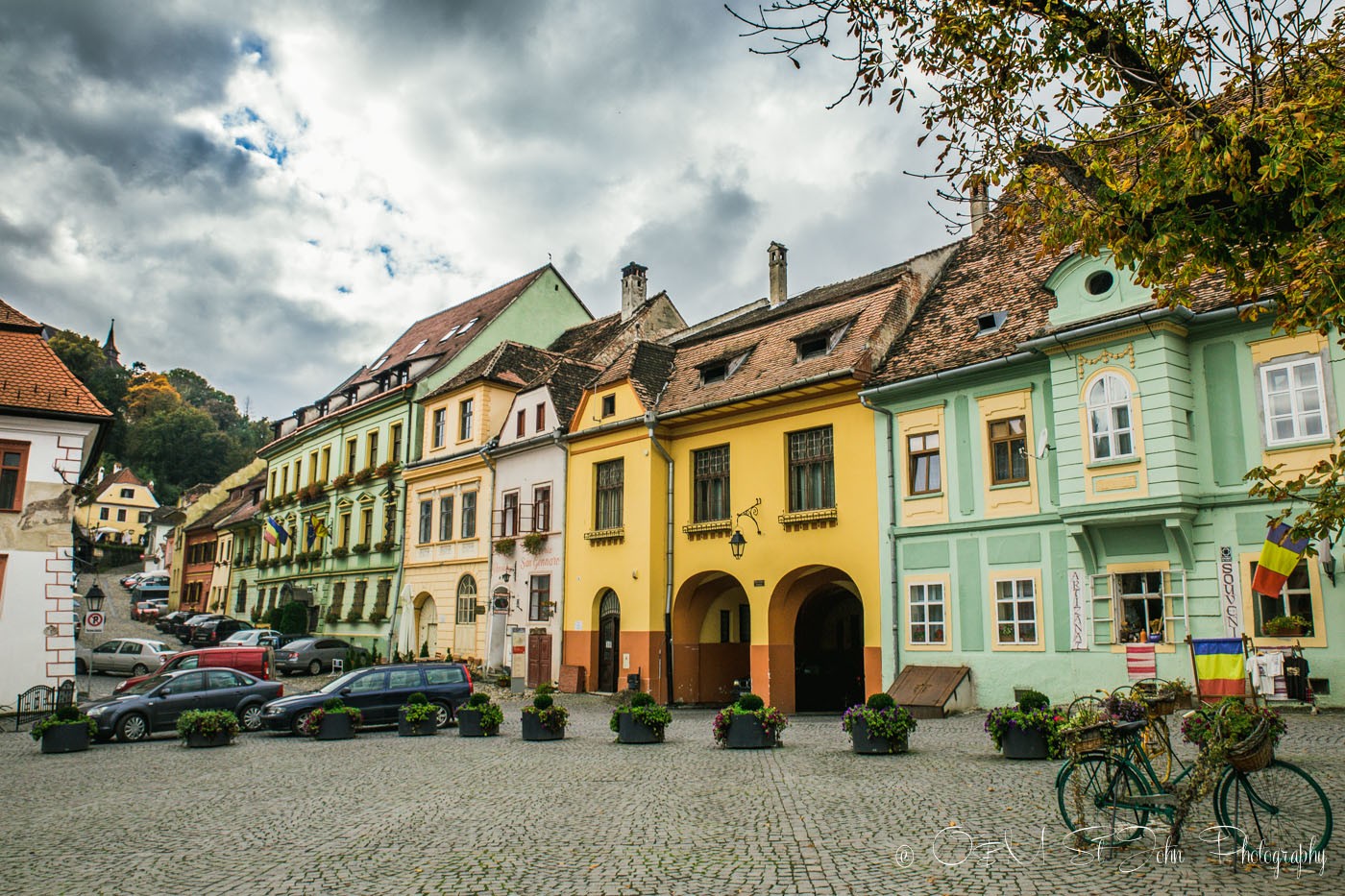 Visitors often come to Sighișoara to trace the roots of Vlad the Dracula, who allegedly was born in Casa Vlad Dracul just outside the Clock Tower located in the centre of the citadel. But we weren't that interested. The house seemed like a bit of a tourist trap and we found that our time was better spent in a different kind of house… House of Klein & Klemenzy, also known as the House Dracula Never Entered. It was here that we discovered a great selection of herbal teas, the best homemade chocolate!
From there, it was a long drive through beautiful pastures and rolling green hills, towards the town of Săpânța.
3. Merry Cemetery and Locals in Săpânța
Săpânța is small village located right on the border of Ukraine and Romania and is known to tourists and local travelers for one thing only – the Merry Cemetery. The cemetery, established back in 1935, features over 800 colourful tombstones inscribed with light-hearted poems about the life and death of the deceased that represented the villagers unique belief that death is a moment filled with joy and anticipation for a better life.
The humorous poems were inscribed in Romanian, but we were lucky enough to have been traveling with a friend fluent in Romanian who was kind enough to translate a few of the poems for us. The humour was dry and at times pretty dark.
But this bizarre and unique "attraction" wasn't the only thing that drew us to Săpânța. We loved the feel of the countryside itself and the incredible hospitality of the locals, especially at the small B&B that served us the best homemade sausage ever!
4. Virgin Forests of Maramures County
The best part of our drive through Maramures County was the beautiful laid back surroundings that we encountered along the way. The colourful trees, the horse and cart carriages, the never ending winding roads, the sprawling wheat fields, and the damp shaded virgin forest dotted with mushrooms of all shapes and sizes that we stumbled upon between the towns of Vişeu de Sus and Sighetu Marmaţiei.
This was nature at its best, unspoiled and untouched.
5. Towers and Ribs in Baia Mare
Not much has been written about Baia Mare in the guidebooks (or on Wikitravel for that matter), but as soon as we parked our car for a quick bite to eat on Piața Millennium, we knew this town was worth exploring. We strolled around the streets, admiring the old houses (some dating back to 1440s), and enjoying being the only foreigners in this small town in Maramures.
The biggest attractions here (other than a few museums that we weren't really interested in) was the Gothic-style 120-foot-tall watchtower, known locally as Stephen's Tower which towered over the city's centre. The tower used to be a part of the church that originally stood here in mid 1300s. Although the church itself no longer exists, its remains can be seen preserved underneath the glass all around the square.
Baia Mare also turned out to be home to THE BEST ribs in Romania (as voted by us) found only at Barbarossa Restaurant, located right in Piața Millennium. These alone, were worth a stop!
6. Driving on the Transfăgărășan
Transfăgărășan Road, that stretches some 130 kilometres and connects the historic regions of Transylvania and Wallachia, is possibly the most picturesque and fun road to drive on EVER! It was constructed back in 1974 as a way to ensure quick military access across the mountains in case of a Soviet invasion, but has since become an attraction for travelers, hikers, cyclists, and driving enthusiasts from around the world.
Driving along the Transfăgărășan, we quickly understood its appeal. This misty road, often completely covered in cloud, is set amongst some pretty spectacular natural surroundings. From rugged rock face, to powerful waterfalls and perfectly still lakes, to vast virgin forests, nature created a perfect backdrop for every turn single along the route. We made a ton of stops to enjoy the crisp air, the picturesque fall colours, and to admire the beauty of the Transfăgărășan itself.
7. Balea Lake
About half way along the Transfăgărășan, on the border between Wallachia and Transylvania, lies Balea Lake, a glacier lake situated at 2,034 m of altitude in the Făgăraș Mountains. Balea Lake was the last stop on our adventure through Romanian countryside and it was by far our favourite! The views at Balea Lake were UNREAL.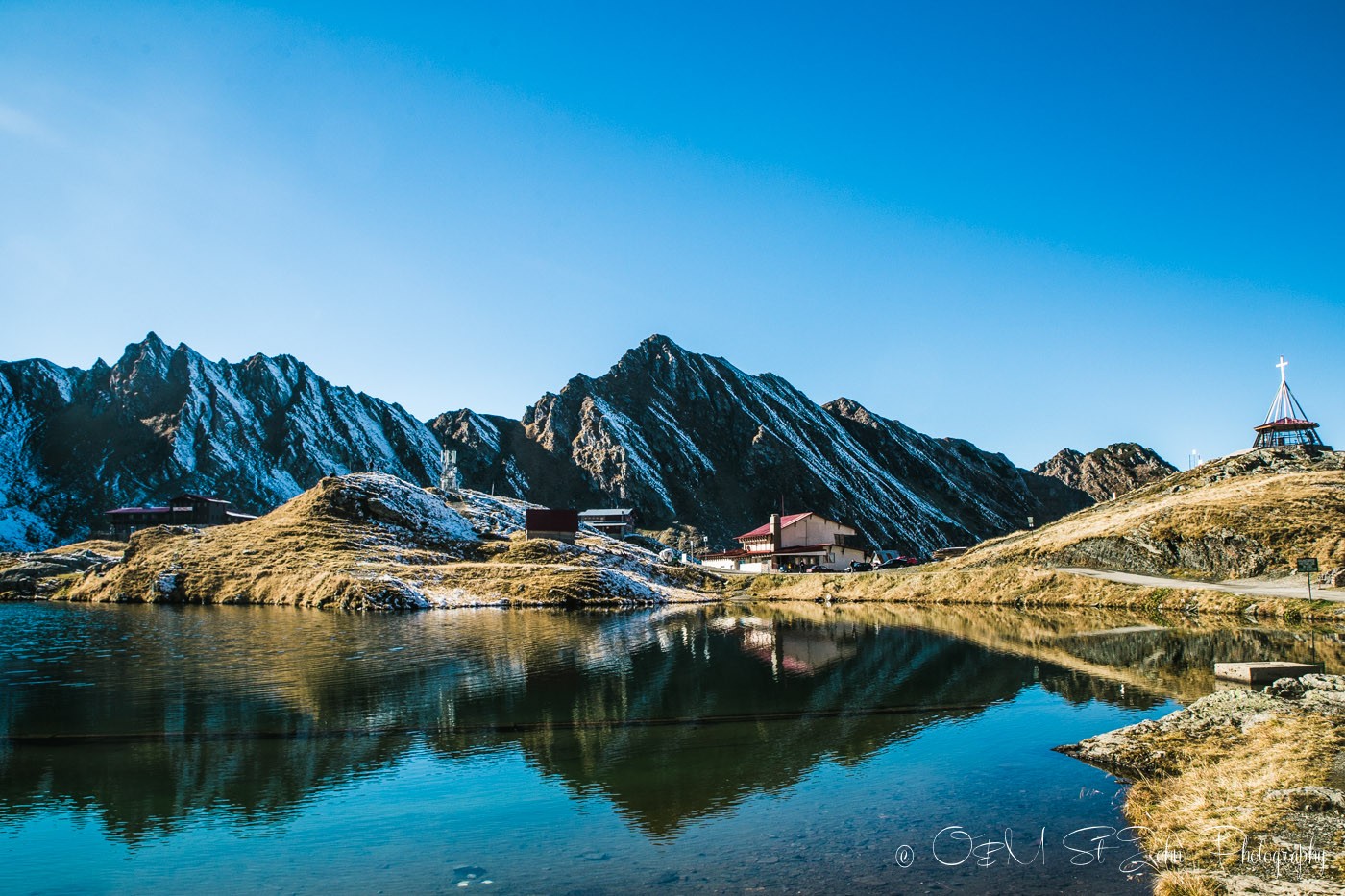 But we were there not just for the views from the bottom. We were in the heart of Romania's famous Făgăraș Mountains and we couldn't wait to finally do some trekking. Well Max's couldn't wait… you know how much he loves trekking. I, on the other hand, always drag my feet, and reluctantly tag along, trying my best not to fall down, or break down crying along the way.
There were a number of treks commencing from Bale Lake, ranging from a few hours to a full day and despite the frigid weather we embarked on a 3 hour hike to the mountain ridge. It was a challenging yet incredible afternoon that tested our perseverance and rewarded us with some spectacular views of Balea Lake, of Transfăgărășan Road and the peaks of the Făgăraș Mountains.
We know that we barely even scratched the surface of Romania during our short visit. But the breathtaking sights, the clean crisp air, the fall foliage, the incredible food, and ample of opportunities to explore off the beaten path have definitely convinced us that it's a country worth coming back too!
Like this post? Pin it for later
Have our Romanian highlights sparked your desire to explore this Eastern European gem?