It was pitch black as we began climbing Adam's Peak in Sri Lanka. The rain was beating down on the footsteps, the fog thickening with every step. The faint flashlight we took with us revealing only a few steps at a time, making us extra cautious and slightly tensed.
*This post may contain affiliate links, as a result, we may receive a small commission (at no extra cost to you) on any bookings/purchases you make through the links in this post. As an Amazon Associate, we earn from qualifying purchases. Read our full disclosure
It was the end of December, right in the heart of Sri Lanka's summer season, but the chilling wind at 457 m (1500 ft) was sending goosebumps up and down our bare legs. We felt more and more miserable with every passing moment.
Don't leave your home without Travel Insurance!

From the US? We recommend Allianz Travel Insurance, a world leader in travel protection and our trusted Travel Insurance partner for the last 5 years. Allianz offers Single Trip and Annual Travel Insurance Policies that include medical coverage, trip cancellation, rental car insurance and more! (Benefits vary by state and by plan, so read your policy carefully!)

Not a US resident? Consider Safety Wing, a budget friendly travel insurance provider with travel insurance plans for Digital Nomads and travelers from all around the world
Traveling Soon?

Here is a list of our favourite travel providers and accessories to help get you ready for your upcoming trip!
"How are you doing there? " – Max turned around to check up on me.
"I'm miserable. I'm wet, I'm cold, my feet are numb, I'm tired and I want nothing more than to be back in my warm bed in the hotel" – I said, holding myself back from crying.
But just how long does it take to climb Adam's Peak? By then, we'd been climbing Adam's Peak for about 2 hours and had another 1.5-2 hours to go to reach Adam's Peak full height.
The peak was 7 km (4.3 miles) away from the Dalhousie village, where we commenced our ascend shortly after 2:30 am, giving ourselves just enough time to reach the top by sunrise.
If you've been considering an Adam's Peak hike, you've likely been wondering at the height of Adam's Peak. At 2243m (7358 ft), it can seem pretty daunting.
There were around 5,500 steep steps on the way to Sri Pada Mountain (a.k.a. Adam's Peak), the 5th tallest but the most sacred mountain in Sri Lanka.
The Sacred Pilgrimage to Sri Pada/Adam's Peak
Every year, approximately 20,000 pilgrims, ranging widely in age, fitness level, and religious beliefs, take on the task of climbing Adam's Peak in search of moral and spiritual significance.
In Sri Lanka, Adam's Peak bears significant spiritual and religious meaning, not only to the Thevada Buddhists, that account for 70% of Sri Lanka's population, but also Hindus, Muslims, and Christians.
This summit is said by the Brahmans to be the footstep of Shiva and by the Buddhists of Buddha. Muslims and Christians in Sri Lanka, however, believe that it was Adam, the first Ancestor, that set foot on Adam's Peak, as he was exiled from the Garden of Eden.
The Climb up to Adam's Peak
As we climbed up Adam's Peak steps, a Sri Lankan family was making their way down the stairs. We later learned that many pilgrims choose to ascend during the day and spend the night camping out at the top, waiting for the ceremony of an Adam's Peak sunrise.
That night was especially unpleasant, leaving many to believe that the beautiful Adam's Peak sunrise, typically awarded to climbers that reach the top of the peak, was not in the books.
A frail older woman was carefully placing her barefoot on each step, holding onto two slightly younger-looking women with both arms. Their heads wrapped in scarves, their bodies clad in traditional saris, their feet – dirty and bare, stepping slowly into puddles freshly formed on the steps.
We moved to one side of the steps to let the women pass. We could tell the descent was tough on the older woman's knees. A glimmer of light brushed over her, exposing the ache and anguish reflecting on her face. She must've been at it for hours.

The path to Adam's Peak lit up at night. Photo by Dave Lonsdale.We immediately felt a bit foolish for grumbling so much just a few minutes earlier. For us this was just another hike, another challenging activity to push ourselves, to test our physical limits.
But to this 70-year-old Sri Lankan woman, climbing Adam's Peak in Sri Lanka was a deeply spiritual journey that, despite the pain and suffering, brought her inconceivable joy and enlightenment. In a way, we were a bit jealous of the deeper meaning that night brought to her.
"Do you want to stop for a cup of tea?" – Max asked me, pointing at a resting stop lined with a few tea shops. "Yes. Please" The man does know the one thing that will always make me feel just a little bit better.
Inside the makeshift tent, were 2 small stalls, serving hot tea and coffee. You could also pick up a few snacks or a hat and a pair of gloves. Climbers were resting their feet on a few benches along the wall.
The tea tasted incredible, as did all the tea we had in Sri Lanka. It immediately warmed up my insides and was exactly what I needed to get me through the remainder of 1500 steps to the top.
The Summit Of Adam's Peak
As we reached the top of Sri Pada, Sri Lanka, the crowd was already gathered along the perimeter of the buildings covering the summit. Everyone looking out into the black abyss.
The dawn broke and as if on cue, Adam's Peak weather faired. The rain stopped, and the clouds started to part, giving everything around us a deep blue hue. The yellow lights atop of the buildings were sparkling amidst the bluish hues creating a fairy tale-like ambience. We froze, slightly mesmerized by the sight…
"You are supposed to ring a bell, when you get to the top" – said a fellow traveler, pointing to the bell at the end of the platform, where a crowd was gathering.

Bell at the top of Adam's PeakWe made our way across and just as I reached over to ring the bell, the sound of drums and traditional Sri Lankan trumpets filled the air. It was rhythmic and captivating.
The sound reminded me of the tune of a snake charmer, but combined with the spirituality that surrounded us, it left a much deeper impression. It was at that moment that the pain and suffering of the last 4 hours seemed worth it.
The sunrise wasn't jaw-dropping, but given the pouring rain and the miserable weather over the last 4 hours, it was more beautiful than we expected.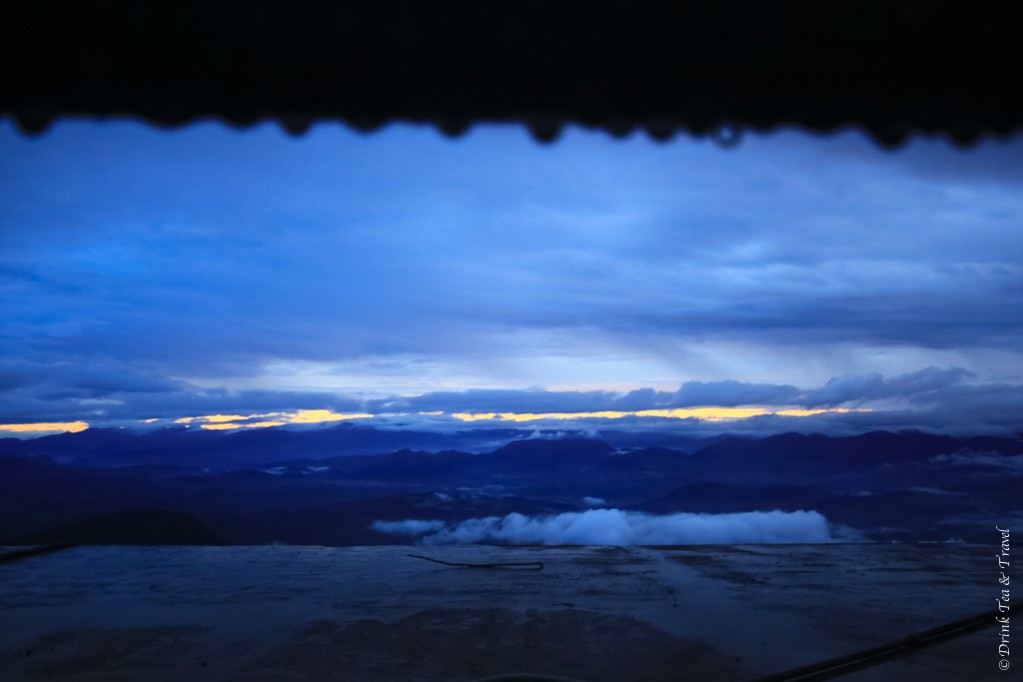 Within a few minutes, the sky was lit up and it was daylight. The clouds were hanging high above the peaks, giving us a clear view hundreds of miles away.
Descending Adam's Peak
The walk down was just as painful as the trek up to the top. By the time we reached the top, our legs felt like jelly and our calves were crying with pain and yet there were another 5500 steps to go until we would reach the bottom.
But on the flip side, this time it was light out and the beautiful views from Adam's Peak, Sri Lanka made the trek a lot more pleasant!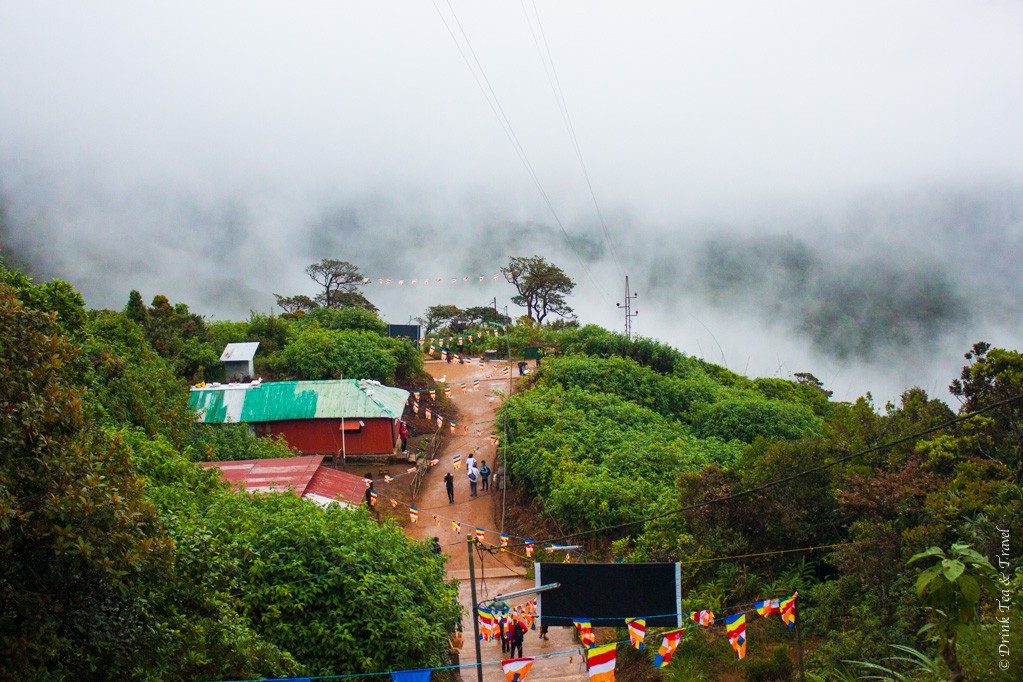 The descent didn't take nearly as long as walking up to the top. In only 1.5-2 hours, we were back in Dalhousie, with our friend, the Pup, running down alongside us for the majority of the way.
His loyalty definitely earned him a breakfast from the cafe at the bottom of the peak. I'm sure this wasn't the first time he got friendly for a plate of rice and meaty bones.
Adam's Peak is Not a Hike For Everyone
Looking back on the 7-hour return journey to Adam's Peak, we'll honestly say, hiking in Sri Lanka is not for everyone. If you love to hike and challenge yourself physically and mentally, or if you are a spiritual person, a hike to Adam's Peak, Sri Lanka will probably be the highlight of your trip to Sri Lanka.
But if you are not, think twice before setting off on this trek and if you do, be prepared to pay for it. No matter how fit you are, how often you hike, or run, or hit the gym, your body will be in pain for a couple of days after the hike. Some will recover within a day or so, but others will suffer for as long as 5-7 days as I did.
If there is one piece of advice we can give you about embarking on an Adam's Peak climb, it's this: Schedule a trip to Adam's Peak AFTER all the other hikes.
Your body will thank you for it!
Essential Travel Information for Climbing Adam's Peak
What to Expect at Sri Pada, Sri Lanka
If you're hiking in Sri Lanka, it tends to follow a few trends. Most travellers arrive at the trailhead at about 2:30 a.m to commence their hike to the summit in time for an Adam's Peak sunrise. The hike usually takes 3 to 6 hours. Most hikers then choose to descend down around 5:30/6:00 am and reach the village at approximately 8 a.m.
There are a number of tea shops and food stalls that line the trail almost all the way to the top of Adam's Peak. As well as toilets that can be used for a couple of rupees. However, the toilets are pretty grim and do not have any toilet paper.
Sometimes there can be a bit of a bottleneck near the summit, as the stairwell gets skinnier.
Visitors are expected to remove their footwear as they enter the monastery at the summit of Adams Peak. The sacred Adam's Peak footprint is enclosed in a small temple within the monastery. Foreigners and pilgrims are permitted to enter the temple and view the footprint (there is a blanket over it) or make offerings to it.
When to Go to Sri Pada
The pilgrimage season at Adam's Peak starts in December and lasts until March/April.
December and January are the busiest months on the trail when the weather is at its best. Days are hot and dry, so climbing before sunrise makes the trek more comfortable.
Going in the off season is not recommended due to bad weather. Storms are frequent during the monsoon months which runs from June to November. Be careful of Adam's Peak weather as the trail and steps become very slippery, and there is typically a risk of lightning. Most shops and Adam's Peak hotels close down during this time.
How to Get to Adam's Peak
Adam's Peak trail starts from the village called Delhouse (sometimes also spelled as Dalhousie), located about 30 km from Hatton in Central Province of Sri Lanka.
The easiest way to get to Delhouse is by taking a train to Hatton. It's about a 3-hour journey from Kandy or about 1.5 hrs from Nuwara Eliya, depending on which direction you are traveling in.
Tickets can be bought online or at the station. The trains have three classes, and seats can only be reserved for first-class berths.
First-class tickets can be purchased up to 30 days before your travel date. You can buy tickets online beforehand with Visit Sri Lanka Tours, and then pick them up from the train station on the day of your departure. You must have your reservation number, and passport ready to pick up the tickets. Keep in mind that first-class tickets sell out fast during the high season and for popular routes.
In second and third class sometimes passengers are forced to stand due to the limited availability of seats. It is often dependent on what time of day you are travelling, the popularity of the route, if you are joining the train mid-trip or if you are getting on at the first stop whether you will have to stand. Most people ask other passengers when they will be disembarking, in order to scoop a seat.
Second class reservations can be made with Sri Lanka tours as well, but there is often no need. Generally, there are always tickets available in the second or third class just before departure. If you are worried, arrive at the station early, or in the morning before your trip because tickets for these classes can only be purchased from the station on the day of your departure.
Second and third class berths differ very little. The second class typically has nicer seats, with a fold-down tray in front. While the third class has fabricated benches to share.
Always leave extra time when taking trains in Sri Lanka, as there tends to be late departures and delays.
Enjoying a scenic train ride in Sri LankaThe price for a second-class ticket from Kandy to Hatton is 100 rupees, and the third class is 55 rupees. Up to date schedules can be found on the official Sri Lankan Railways website.
Once in Hatton, you can choose to hire a car, a tuk-tuk, or hop on a local bus to get to Dalhousie. The journey will take about an hour. If you don't have too much luggage, we recommend getting a tuk-tuk. It's a bumpy but really interesting ride passing through beautiful waterfalls, small villages, and lush tea plantations.
Buses run often between the Hatton train station and Delhousie.
Where to Stay in Delhouse
Most travellers don't stay for any longer than one night in Delhouse. Besides, Adam's Peak there is not much to see or do in the immediate area. If you are crunched for time, we recommend arriving the day before your trek. Go to bed early, experience an Adam's Peak climb, then come back to have a nap and breakfast before checking out around 11 am.
There are a number of Adam's Peak hotels and accommodation options in Delhouse, ranging from really nice hotels to simple guesthouses. Room rates will often include breakfast. Booking ahead is not essential, but is recommended, especially during the busy season. We recommend the following:
Right at the foot of Adam's Peak, Queensark is a great choice for those looking for a clean, affordable and well-appointed rooms. A deluxe double room is $35 USD/night.
Adams Peak Inn exceeds expectations. The family-owned hotel is very clean, has great views, and offers a delicious, big breakfast just steps away from the main trail to Adam's Peak. A double room is $24 USD/night, and a triple is $22 USD/night.
Delhousie Hotel Galle is a great place to rest before and after your Adam's Peak hike. Rooms are clean, the food is good, and it is as close to the trailhead as it gets. A double room is $40 USD/night and includes breakfast.
Binoya Tea Estate Bungalow is situated a little bit farther from the foot of the trail but they offer a little more luxury and shuttles to and from the hike. This option is nestled in amongst a tea plantation and has bike rentals for exploring the area. A deluxe double room is $80 USD/night.
Hiring a Guide
If you are climbing Adam's Peak with a partner, or in a group, you do not need to hire a guide to navigate your way to the top.
There is only 1 path, it's well lit and is easy to follow. You will not get lost.
If you are traveling by yourself, consider meeting up with some other travelers from your hotel to climb together, alternatively, you can hire a guide to keep you company and if you'd like to support a local. Any Adam's Peak hotel will be able to arrange this for you.
Has a challenging trek ever pushed you to your limits?
Was the pain worth it for you in the end?