This post was originally published in 2015 and has been updated in 2018 with even more tips on things to do in Broome.
*This post may contain affiliate links, as a result, we may receive a small commission (at no extra cost to you) on any bookings/purchases you make through the links in this post. As an Amazon Associate, I earn from qualifying purchases. Read our full disclosure.
Located in the Kimberley region in Western Australia, Broome is a small town, home to just 12,000-14,000 people, surrounded by crystal clear turquoise waters of the Indian Ocean and renowned for the iconic images of its 22.5km long white sandy Cable Beach.
It's a place where the sun dips into the ocean, where red rocks and blue waters coexist in perfect harmony, and where the red dirt meets the white sandy beaches.
Enjoy the Laid Back Lifestyle of Broome Australia
When we arrived in Broome, Western Australia we immediately felt the laid-back vibe. The streets were quiet, almost deserted, but life was in full swing inside the Cable Beach Caravan Park.
You'll find bohemian style caravans lining the streets, kids running around the grassy areas, laughter mixing with the notes of Bob Marley's classics echoing in the distance. Join the holidaymakers lounging in camp chairs with a book or a beer in hand, squinting at the late afternoon sun.
Visit Cable Beach Broome
Get yourself a blanket and make your way to Cable Beach. You'll be pleasantly surprised! Despite being the biggest attraction in Broome it's almost secluded. On the day we visited Cable Beach Broome, about a dozen lounge chairs dotted the wide beach. Take a walk down towards the Southern end on the beach, to the swim area and enjoy one of the best beaches of Broome.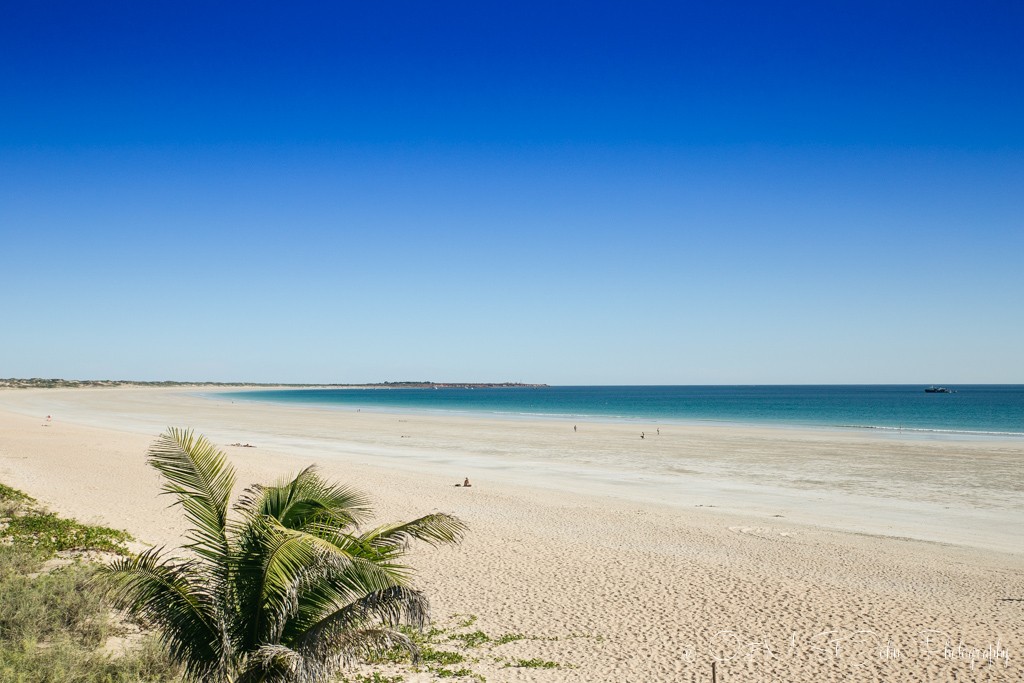 You can also find a trailer at the back of the beach offering visitors a pick of activities for a fun day at Cable Beach Broome. Hire umbrellas, lounge chairs, boogie boards, stand up paddle boards, surfboards, or even a bucket of toys for the little ones.
The water can be bit chilly, but if you don't fancy a refreshing dip in the ocean, just stretch out on the white sand and enjoy the sunshine.
Watch the Magnificent Sunsets
If you're on a budget and wondering what to do in Broome for free, you can't go wrong with a sunset! There is something really magical about watching the sun dip into the ocean, especially for us, having lived on the East Coast for the last 2.5 years. We are not committed enough to wake up for sunrise, so it's a pretty rare sight for us and one we will never get tired of seeing.
Finish the day with some cocktails and snacks at Zanders on the Esplanade, and then take a leisurely sunset walk to the Northern part of the beach.
Watch as the colours start to change, blue shades blend with golden rays of the sun and fill the beach with a warm glow.
Just as the sun grazes the horizon, you're likely to see a train of camels appear in the distance as they meandered along Cable Beach Broome, loaded with tourists enjoying a camel ride. Keep your camera handy for the perfect photo moment.
Enjoy a Camel Ride in Broome
As we just mentioned, one of the most popular tourist things to do in Broome is to take a camel ride along the splendour of Cable Beach. There are many different operators providing the camel rides in Broome and prices range from $40 to $95. (Just be sure to use a reputable and sustainable tour provider, making sure that the animals are well cared for.) You can also choose between a morning, afternoon, or sunset stroll along the pristine sand atop one of these unique animals
We didn't actually get to experience the camel rides Broome after all but I was perfectly happy with just having seen them.
Go Bargain Hunting at the Courthouse Markets
One of our favourite things to do in Broome (or anywhere for that matter!) is to wake up early and head to the markets. Courthouse Markets have been a fixture in Broome for over 20 years, operating weekly on Saturdays and Sundays (April to October) and are the heart of the Broome community.
Not only will you get an enjoyable browsing and buying experience, but it's a great way to contribute to the small local businesses.
Soak up the atmosphere as stallholders joyfully chat with one another, catching up on the week's events, while you browse the stalls. You'll find local pearls, photography, handmade clothing, toiletries, art pieces, and don't forget the amazing Kimberly Coffee, and crepes from the Patty Wagon. Worth getting up early for!
Take a Day Trip to Cape Leveque
An absolute must on the list of things to do in Broome is a visit to Cape Leveque, located on the tip of the Dampier Peninsula. It's just 200km north of Broome, Australia, and takes about 2-3 hours. You will need a 4×4 to get to Cape Leveque as it is mostly dirt road along the way. If you don't want to drive it, you can join one of the Broome tours to Cape Leveque.
Once you get there, you'll be greeted with colourful, natural beauty. We love Cable Beach, but Cape Leveque takes the beaches of Broome to a whole new level. Pristine white beaches that run into turquoise water, backed by the red sandstone cliffs that seem to turn to gold in the sunshine.
There are plenty of activities to keep you entertained at Cape Leveque. Go snorkelling in the azure waters, try a spot of fishing, or jump aboard a glass-bottom boat. It's one of the Broome tours that you will never forget!
Visit Gantheaume Point
Here you can view 130 million-year-old dinosaur footprints, which can be spotted on the red rock cliffs overlooking the turquoise waters. A replica of the footprints is located at the entrance to Gantheaume Point allowing visitors to see the signs of ancient life even at high tide.
The red rocks hug the jagged shore, offering a stark contrast and ideal opportunity for photo enthusiasts. On our visit, we took our time exploring the rocks, pausing to admire their beauty and reflect on the historic significance of the site.
Fall in Love with Broome Australia
Without much effort, Broome has made its way onto the list of our favourite places in all of Australia. Its simplicity and uncomplicated ways, make it a perfect place to wind down and reflect on your Western Australia adventure.
Broome's community feeling, intriguing history, encapsulated by a beautiful setting make it a city easy to enjoy. We're sure the locals can give you 50 other things to do in Broome which will make for a great excuse to visit again and again.
Have you got ideas for more things to do in Broome? Share them with us!