Today we are celebrating Oksana's 31st birthday! I thought today would be a perfect day to give her a break from writing and share a few little-known facts about her! 
*This post may contain affiliate links, as a result, we may receive a small commission (at no extra cost to you) on any bookings/purchases you make through the links in this post. As an Amazon Associate, we earn from qualifying purchases. Read our full disclosure
1. Oksana is fluent in 3 languages (English, Russian, and Ukrainian) and is currently in the process of learning Spanish. 
2. Oksana was born in Ukraine. When she was 15 years old,  her family immigrated to Canada, where she spent the next 10 years of her life. 
3. Oksana's parents and her brother live just outside of Toronto, Canada, but she still has family in Ukraine, and some St. Petersburg, Florida. 
Traveling Soon?

Here is a list of our favourite travel providers and accessories to help get you ready for your upcoming trip!
4. As a child, Oksana was an avid dancer. She joined a dance school at the age of 7 and continued to dance up until she left Ukraine. Her dance school competed in a number of international competitions and allowed her to travel to destinations like Egypt, Turkey, and Cyprus. 
5. It took Oksana 30 years to break her first bone. The unfortunate accident which resulted in a tib/fib fracture on her left leg happened earlier this year. (She's almost fully recovered now!)
6. Oksana is a cat addict! Sure, she likes other animals too, but show her a cat, or even better, a kitten, and she will be entertained for hours. 
7. Oksana loves walking. Drop her in an interesting city and she can easily log over 15km in a single day.
8. Oksana does not like sports or working out, but she does love Yoga!
9. Although Oksana is terrified of bungee jumping, she mustered up the courage to go Skydiving in Cairns, Australia back in 2010. 
10. Oksana has lived in 6 different countries (Ukraine, Canada, Costa Rica, UK, China, and Australia)
11. Oksana is a huge Greys Anatomy fan. She has watched every episode of every season and our travel lifestyle hasn't stopped her from continuing to follow the show from the road.
12. Oksana is absolutely obsessed with markets. Whenever we go to a new country she seeks out potential markets for us to visit. Her favourite is still the Anjuna Flea Market in Goa.
13. Oksana's favourite flower is the frangipani. In countries were frangipanis are common, you'll often spot her wearing a frangipani in her hair.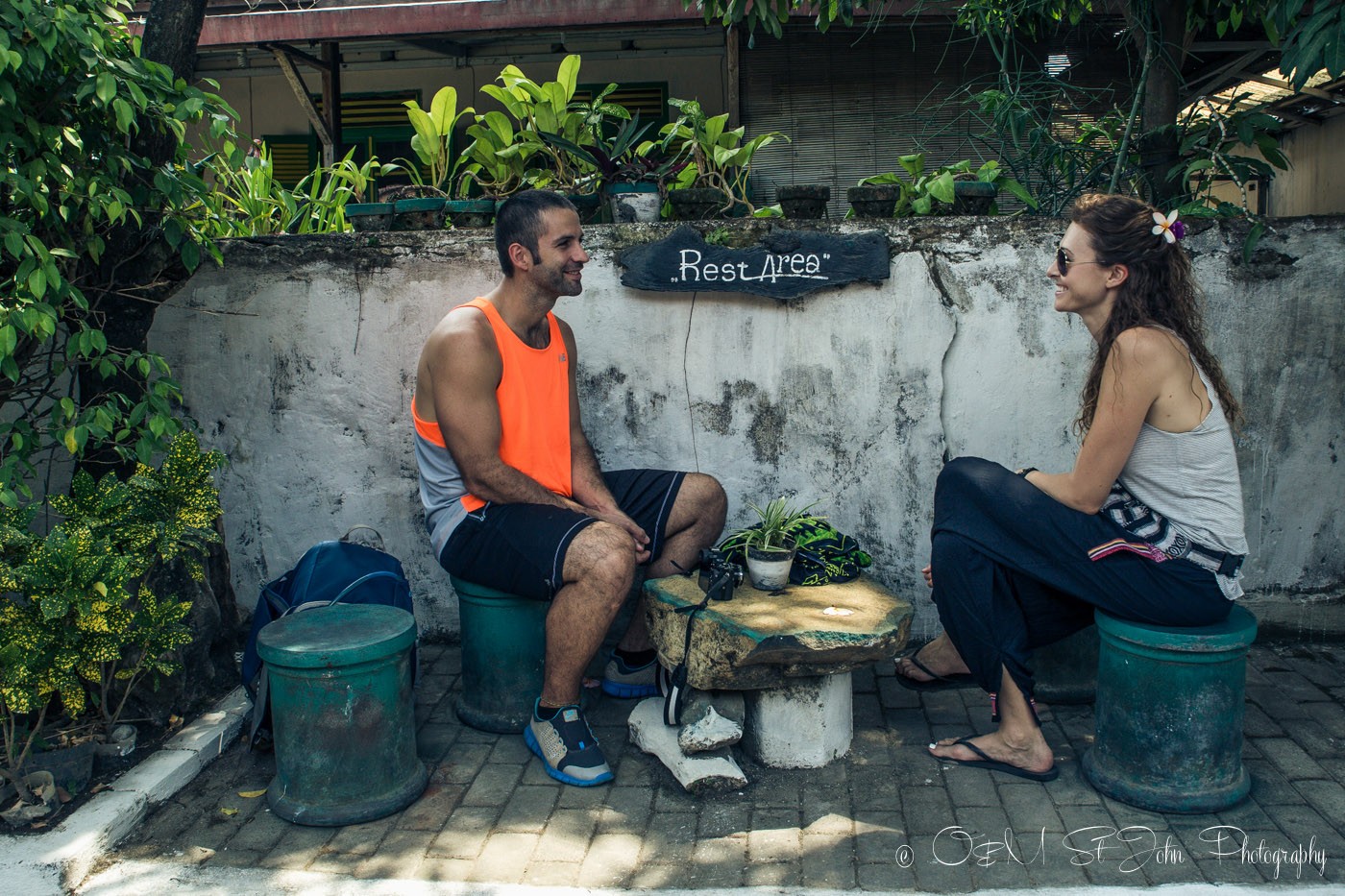 14. Her favourite TV show is Anthony Bourdain's Parts Unknown.
15. Oksana's favourite piece of clothing are her Teeki Yoga Pants. She loves the fact that they are manufactured from recycled plastic bottles and offer unique designs. 
16. Oksana's favourite movie is The Time Travelers Wife
17. Oksana has a terrible memory! Luckily she has me to help her remember things.
18. This year Oksana has worked hard on her work/life balance and is finally on track to achieve one of her New Years resolution, which was to read 1 book a month.  So far, she has read 11 books and counting.
19. Oksana's first solo trip was to Thailand in 2012. (She had traveled quite a bit before but always with friends or on a tour). In was in 2012, that she discovered the joy of unplanned long-term travel and completely fell in love with the travel lifestyle. 
20. Oksana's favourite food is sushi.
21. Oksana's favourite countries in the world are Thailand, Indonesia, and a recent addition, Croatia .
22. Oksana does not know how to ride a bike…well. She claims she's ridden one before, but I have yet to witness that. One day, she hopes to learn (or as she says, "get better at it")
23. Oksana doesn't drink much anymore, but if you were to buy her a drink, a Canadian Caesar would be the winner. Note: In the event of no Clamato juice, a Bloody Mary may be accepted as a substitute.
24. If you are hanging out at a pub, she'll be drinking Belgian White Beer.
25. Oksana got her Open Water and Advanced Scuba Diving Certifications on the island of Koh Tao in Thailand.
26. Oksana moved to London in 2011 to pursue her Masters in Business Administration. She says it was the best decision she has ever made. 
27. She took her last semester of her MBA in Shanghai, China. 
28. In 2012, while getting her MBA degree at Hult International Business School, Oksana and a group of friends entered into a Social Entrepreneurship competition that had a mission to bring solar lighting to communities in East Africa. With their solution, Oksana's team won multiple rounds of the competition and was flown to New York City to present their solution in the final. Their team didn't win, but they got a chance to meet the Nobel Peace Prize Winner, Muhammad Yunus and Former President Clinton. 
29. Oksana spends a lot of her online time on Facebook. But if you think she is using it to creep her friends and acquaintances, you are mistaken. Her feed is filled with news articles, travel companies, and other bloggers and she uses it purely as a way to curate all things travel.  
30. The top country on Oksana's travel wish list is Chile, where she hopes to indulge in some of her favourite red wine. 
Plus the one thing you already knew…
Oksana LOVES TEA! Her love for tea and travel is what inspired her to start this blog back in 2014!
Can you relate to any of Oksana's quirks and interesting facts?